Abstract
Background
Mild Cognitive Impairment (MCI) has been considered as a prodromal stage of Alzheimer disease (AD). Subtle changes in specific aspects of executive function like inhibitory control have been found in MCI.
Aims
We examined attentional and inhibitory control with the aim to distinguish between amnestic MCI patients and healthy controls.
Method
Using neuropsychological, behavioral, and oculomotor function experiments, we examined executive function in 59 normal control, 49, multiple domain amnestic MCI (a-MCI) subjects, and 21 early stage AD patients using eye tracking and Simon task as measures of attentional control, to determine which saccade and behavioral tasks were sensitive enough to identify a-MCI. Saccades were investigated in gap and overlap pro-saccade and anti-saccade tasks.
Results
Scores on the Simon task were inversely correlated with general cognitive status and can distinguish a-MCI from controls with excellent specificity (AUC = 0.65 for reaction time and 0.59 for false responses). More importantly, our results showed that saccadic gains were affected in a-MCI and were the most sensitive measures to distinguish a-MCI from normal participants AST gap task AUC = 0.7, PST gap task AUC = 0.63, AST overlap task (AUC = 0.73). Moreover, these parameters were strongly correlated with neuropsychological measures. Using tests in parallel model, improved sensitivity up to 0.97.
Conclusion
The present results enable us to suggest eye tracking along with behavioral data as a possible sensitive tools to detect a-MCI in preclinical stage.
This is a preview of subscription content, log in to check access.
Access options
Buy single article
Instant access to the full article PDF.
US$ 39.95
Price includes VAT for USA
Subscribe to journal
Immediate online access to all issues from 2019. Subscription will auto renew annually.
US$ 99
This is the net price. Taxes to be calculated in checkout.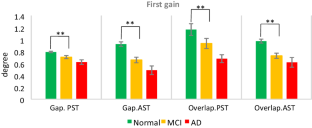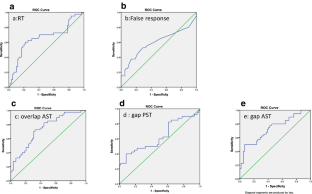 References
1.

Price JL, McKeel DW Jr, Buckles VD et al (2009) Neuropathology of nondemented aging: presumptive evidence for preclinical Alzheimer disease. Neurobiol Aging 30:1026–1036

2.

Monsell SE, Mock C, Hassenstab J et al (2014) Neuropsychological changes in asymptomatic persons with Alzheimer disease neuropathology. Neurology 83:434–440

3.

Petersen RC, Caracciolo B, Brayne C et al (2014) Mild cognitive impairment: a concept in evolution. J Intern Med 275:214–228

4.

Winblad B, Palmer K, Kivipelto M et al (2004) Mild cognitive impairment—beyond controversies, towards a consensus: report of the International Working Group on Mild Cognitive Impairment. J Intern Med 256:240–246

5.

Collins O, Dillon S, Finucane C et al (2012) Parasympathetic autonomic dysfunction is common in mild cognitive impairment. Neurobiol Aging 33:2324–2333

6.

Muller S, Preische O, Heymann P et al (2017) Increased diagnostic accuracy of digital vs. conventional clock drawing test for discrimination of patients in the early course of Alzheimer's disease from cognitively healthy individuals. Front Aging Neurosci 9:101

7.

Limongi F, Noale M, Bianchetti A et al (2018) The instruments used by the Italian centres for cognitive disorders and dementia to diagnose mild cognitive impairment (MCI). Aging Clin Exp Res. https://doi.org/10.1007/s40520-018-1032-8

8.

Elkana O, Eisikovits OR, Oren N et al (2016) Sensitivity of neuropsychological tests to identify cognitive decline in highly educated elderly individuals: 12 months follow up. J Alzheimers Dis 49:607–616

9.

Hutchison KA, Balota DA, Duchek JM (2010) The utility of Stroop task switching as a marker for early-stage Alzheimer's disease. Psychol Aging 25:545–559

10.

Alichniewicz KK, Brunner F, Klunemann HH et al (2013) Neural correlates of saccadic inhibition in healthy elderly and patients with amnestic mild cognitive impairment. Front Psychol 4:467

11.

Ewers M, Sperling RA, Klunk WE et al (2011) Neuroimaging markers for the prediction and early diagnosis of Alzheimer's disease dementia. Trends Neurosci 34:430–442

12.

Chau SA, Herrmann N, Sherman C et al (2017) Visual selective attention toward novel stimuli predicts cognitive decline in Alzheimer's disease patients. J Alzheimers Dis 55:1339–1349

13.

Racine AM, Clark LR, Berman SE et al (2016) Associations between performance on an abbreviated CogState battery, other measures of cognitive function, and biomarkers in people at risk for Alzheimer's disease. J Alzheimers Dis 54:1395–1408

14.

Petersen RC, Smith GE, Waring SC et al (1999) Mild cognitive impairment: clinical characterization and outcome. Arch Neurol 56:303–308

15.

Pouretemad HR, Khatibi A, Ganjavi A et al (2009) Validation of Addenbrooke's cognitive examination (ACE) in a Persian-speaking population. Dement Geriatr Cogn Disord 28:343–347

16.

Zurron M, Lindin M, Cespon J et al (2018) Effects of mild cognitive impairment on the event-related brain potential components elicited in executive control tasks. Front Psychol 9:842

17.

Cespon J, Galdo-Alvarez S, Diaz F (2013) Electrophysiological correlates of amnestic mild cognitive impairment in a simon task. PLoS One 8 (12):e81506

18.

Cespon J, Galdo-Alvarez S, Pereiro AX et al (2015) Differences between mild cognitive impairment subtypes as indicated by event-related potential correlates of cognitive and motor processes in a Simon task. J Alzheimers Dis 43:631–647

19.

Yang Q, Wang T, Su N et al (2011) Long latency and high variability in accuracy-speed of prosaccades in Alzheimer's disease at mild to moderate stage. Dement Geriatr Cogn Dis Extra 1:318–329

20.

Shakespeare TJ, Kaski D, Yong KX et al (2015) Abnormalities of fixation, saccade and pursuit in posterior cortical atrophy. Brain 138:1976–1991

21.

Molitor RJ, Ko PC, Ally BA (2015) Eye movements in Alzheimer's disease. J Alzheimers Dis 44:1–12

22.

Clark K, Squire RF, Merrikhi Y et al (2015) Visual attention: linking prefrontal sources to neuronal and behavioral correlates. Prog Neurobiol 132:59–80

23.

Shafiq-Antonacci R, Maruff P, Masters C et al (2003) Spectrum of saccade system function in Alzheimer disease. Arch Neurol 60:1272–1278

24.

Crawford TJ, Higham S, Mayes J et al (2013) The role of working memory and attentional disengagement on inhibitory control: effects of aging and Alzheimer's disease. Age (Dordr) 35:1637–1650

25.

Noiret N, Carvalho N, Laurent E et al (2018) Saccadic eye movements and attentional control in Alzheimer's disease. Arch Clin Neuropsychol 33:1–13

26.

Salthouse TA (2000) Steps toward the explanation of adult age differences in cognition

27.

Heuer HW, Mirsky JB, Kong EL et al (2013) Antisaccade task reflects cortical involvement in mild cognitive impairment. Neurology 81:1235–1243

28.

Lagun D, Manzanares C, Zola SM et al (2011) Detecting cognitive impairment by eye movement analysis using automatic classification algorithms. J Neurosci Methods 201:196–203

29.

Lugli L, Baroni G, Nicoletti R et al (2016) The Simon effect with Saccadic eye movements. Exp Psychol 63:107–116

30.

Crawford TJ, Higham S, Renvoize T et al (2005) Inhibitory control of saccadic eye movements and cognitive impairment in Alzheimer's disease. Biol Psychiatry 57:1052–1060

31.

Davies P, Resnick J, Gilman S et al (1998) Consensus report of the Working Group on: "molecular and biochemical markers of Alzheimer's disease". Neurobiol Aging 19:109–116
Acknowledgements
Authors would like to thank Dr. Mohsen Moslem for his careful reading and commenting on the manuscript also we are tankful of prof. van Wezel for editing the manuscript.
Ethics declarations
Conflict of interest
The authors confirm that there is not any conflict of interest for the present study.
Ethical approval
This study was approved by ethics committee of University of Social welfare and rehabilitation sciences (Iran), code: IR.USWR.REC.1395.250.
Informed consent
After a detailed description of the study, written informed consent was obtained from all the participants.
Additional information
Publisher's Note
Springer Nature remains neutral with regard to jurisdictional claims in published maps and institutional affiliations.
About this article
Cite this article
Chehrehnegar, N., Nejati, V., Shati, M. et al. Behavioral and cognitive markers of mild cognitive impairment: diagnostic value of saccadic eye movements and Simon task. Aging Clin Exp Res 31, 1591–1600 (2019). https://doi.org/10.1007/s40520-019-01121-w
Received:

Accepted:

Published:

Issue Date:
Keywords
Mild cognitive impairments

Eye movement

Simon task

Elderly