Abstract
Background
Cognitive training (CT) is defined as guided practice on a set of standard tasks designed to stimulate particular cognitive functions. Recent studies have shown that physical exercise is beneficial for cognitive activity in older adults and patients with degenerative diseases.
Aims
The main objective of the present study is to create a new cognitive tool able to provide training for cognitive functions that take advantage of the physical activity involved in the execution of the task. A study concerning the application of a new CT tool for episodic memory is presented and divided in two parts. The first one aims at developing a new sensorized device, called SmartTapestry, for physical and cognitive training. The second part aims at understanding its technical viability and level of sensitivity in stimulating the same cognitive domain covered by the standardized tests, despite the introduction of the physical activity variable.
Methods
The SmartTapestry device was tested with a total of 53 subjects, 29 healthy subjects and 24 subjects suffering from mild cognitive impairment.
Results and discussions
The results show a good correlation between the two approaches (p < 0.005), suggesting that SmartTapestry can stimulate the same cognitive functions of traditional cognitive tasks, with the addition of physical exercise.
Conclusions
The results of this study may be useful in designing ecological and combined cognitive-physical tools, which can be used daily at home, reducing the presence of clinical staff, to train at the same time the brain and the body so as to improve the cognitive treatments efficacy.
This is a preview of subscription content, log in to check access.
Access options
Buy single article
Instant access to the full article PDF.
US$ 39.95
Price includes VAT for USA
Subscribe to journal
Immediate online access to all issues from 2019. Subscription will auto renew annually.
US$ 99
This is the net price. Taxes to be calculated in checkout.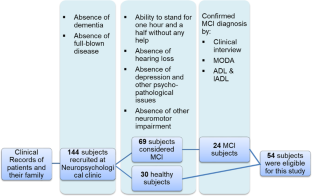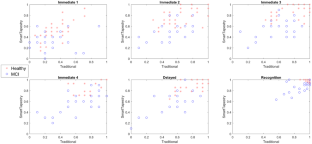 Abbreviations
CT:

Cognitive training

MCI:

Mild cognitive impairment

VPA:

Verbal paired associated

WMS-IV:

Wechsler Memory Scale-Fourth Edition

ROM:

Range of motion

TCT:

Traditional cognitive tasks

SUS:

System usability scale
References
1.

Eurostat (2018) Population structure and ageing—statistics explained. http://ec.europa.eu/eurostat/statistics-explained/index.php/Population_structure_and_ageing. Accessed 29 Jan 2018

2.

Lee TM, Chan FH, Chu LW et al (2017) Auditory-based cognitive training programme for attention and memory in older people at risk of progressive cognitive decline: a randomised controlled trial. Hong Kong Med J 23:12

3.

Gregory MA, Gill DP, Shellington EM et al (2016) Group-based exercise and cognitive-physical training in older adults with self-reported cognitive complaints: the multiple-modality, mind-motor (M4) study protocol. BMC Geriatr 16:17

4.

Alzheimer's Association (2017) 2017 Alzheimer's disease facts and figures. Alzheimer's Dement 13:325–373

5.

Kallio EL, Öhman H, Kautiainen H et al (2017) Cognitive training interventions for patients with Alzheimer's disease: a systematic review. J Alzheimer's Dis 56:1349–1372

6.

Lampit A, Hallock H, Valenzuela M (2014) Computerized cognitive training in cognitively healthy older adults: a systematic review and meta-analysis of effect modifiers. PLoS Med 11:e1001756

7.

Bherer L, Erickson KI, Liu-Ambrose T (2013) A review of the effects of physical activity and exercise on cognitive and brain functions in older adults. J Aging Res

8.

Belleville S (2008) Cognitive training for persons with mild cognitive impairment. Int Psychogeriatr 20:57–66

9.

Forte R, Boreham CA, Leite JC et al (2013) Enhancing cognitive functioning in the elderly: multicomponent vs resistance training. Clin Interv Aging 8:19

10.

Suzuki T, Shimada H, Makizako H et al (2012) Effects of multicomponent exercise on cognitive function in older adults with amnestic mild cognitive impairment: a randomized controlled trial. BMC Neurol 12:128

11.

Petersen RC (2004) Mild cognitive impairment as a diagnostic entity. J Intern Med 256:183–194

12.

Amieva H, Jacqmin-Gadda H, Orgogozo JM et al (2005) The 9 year cognitive decline before dementia of the Alzheimer type: a prospective population-based study. Brain 128:1093–1101

13.

Zhu X, Yin S, Lang M et al (2016) The more the better? A meta-analysis on effects of combined cognitive and physical intervention on cognition in healthy older adults. Ageing Res Rev 31:67–79

14.

Lai L, Bruce H, Bherer L et al (2017) Comparing the transfer effects of simultaneously and sequentially combined aerobic exercise and cognitive training in older adults. J Cogn Enhanc 1:1–13

15.

Fraser SA, Li KZH, Berryman N et al (2017) Does combined physical and cognitive training improve dual-task balance and gait outcomes in sedentary older adults? Front Hum Neurosci 10:688

16.

Rahe J, Petrelli A, Kaesberg S et al (2015) Effects of cognitive training with additional physical activity compared to pure cognitive training in healthy older adults. Clin Interv Aging 10:297

17.

Theill N, Schumacher V, Adelsberger R et al (2013) Effects of simultaneously performed cognitive and physical training in older adults. BMC Neurosci 14:103

18.

Wechsler D, Holdnack JA, Drozdick LW (2009) Wechsler memory scale (technical and interpretive manual, 4th edn). NCS Pearson Inc., San Antonio

19.

Harada CN, Love MCN, Triebel KL (2013) Normal cognitive aging. Clin Geriatr Med 29:737–752

20.

Hiscox LV, Johnson CL, McGarry MDJ et al (2018) Hippocampal viscoelasticity and episodic memory performance in healthy older adults examined with magnetic resonance elastography. Brain Imaging Behav. https://doi.org/10.1007/s11682-018-9988-8

21.

Monti JM, Cooke GE, Watson PD et al (2014) Relating hippocampus to relational memory processing across domains and delays. J Cogn Neurosci 27:234–245

22.

Guo JJ, Wu K, Guan H et al (2016) Three-year follow-up of conservative treatments of shoulder osteoarthritis in older patients. Orthopedics 39:e634–e641

23.

Whitehurst MA, Johnson BL, Parker CM et al (2005) The benefits of a functional exercise circuit for older adults. J Strength Cond Res 19:647

24.

Brazzelli M, Capitani E, Della Sala S et al (1994) MODA Milan Overall Dementia Assessment: manuale. O.S. Organizzazioni Speciali, Firenze

25.

Katz S, Downs TD, Cash HR et al (1970) Progress in development of the index of ADL. Gerontologist 10:20–30

26.

Graf C (2009) The Lawton instrumental activities of daily living (IADL) scale. Gerontologist 9:179–186

27.

Petersen RC, Morris JC (2005) Mild cognitive impairment as a clinical entity and treatment target. Arch Neurol 62:1160–1163

28.

Brooke J (1996) SUS-A quick and dirty usability scale. Usability Eval Ind 189:4–7

29.

Maselli M, Fiorini L, Castro E et al (2017) Development and testing of a new cognitive technological tool for episodic memory: a feasibility study. In: Engineering in Medicine and Biology Society (EMBC), 39th annual international conference of the IEEE (pp 893–896). IEEE

30.

Buczylowska D, Petermann F (2016) Age-related differences and heterogeneity in executive functions: analysis of NAB executive functions module scores. Arch Clin Neuropsychol 31:254–262

31.

Meyer SRA, De Jonghe JFM, Schmand B et al (2018) Visual associations to retrieve episodic memory across healthy elderly, mild cognitive impairment, and patients with Alzheimer's disease. Aging Neuropsychol Cognit. https://doi.org/10.1080/13825585.2018.1475002

32.

Brustio PR, Magistro D, Zecca M et al (2017) Age-related decrements in dual-task performance: comparison of different mobility and cognitive tasks. A cross sectional study. PLoS One 12:e0181698

33.

Klein Selle N, Ben-Shakhar G, Kindt M et al (2018) Preliminary evidence for physiological markers of implicit memory. Biol Psychol 135:220–235

34.

De Simone MS, Perri R, Fadda L et al (2017) Different deficit patterns on word lists and short stories predict conversion to Alzheimer's disease in patients with amnestic mild cognitive impairment. J Neurol 264:2258–2267

35.

Nouchi R, Taki Y, Takeuchi H et al (2014) Four weeks of combination exercise training improved executive functions, episodic memory, and processing speed in healthy elderly people: evidence from a randomized controlled trial. Age 36:787–799

36.

Barnard Y, Bradley MD, Hodgson F et al (2013) Learning to use new technologies by older adults: perceived difficulties, experimentation behaviour and usability. Comput Hum Behav 29:1715–1724

37.

Bangor A, Kortum PT, Miller JT (2008) An empirical evaluation of the system usability scale. Int J Hum Comput Interact 24:574–594

38.

Krieger N (2003) Genders, sexes, and health: what are the connections—and why does it matter? Int J Epidemiol 32:652–657

39.

Giuliani MV, Scopelliti M, Fornara F (2005) Elderly people at home: technological help in everyday activities. In: Robot and human interactive communication, 2005. IEEE international workshop on (pp 365–370). IEEE
Acknowledgements
This research has been supported by TIM S.p.A., Services Innovation Department—Joint Open Lab initiative. The authors thank Ms. Irene Mannari for her precious contributions in the mechanical realization of the system prototype, and also thank the clinical team (Ilenia Natola, Luca Tommasini, Cristiana Parrini, Chiara Rossi, Stefania Tocchini) of Laboratory of Neuropsychology of Pontedera (USL nordovest Toscana) for their clinical support during the protocol definition and during the experimentation phase.
Ethics declarations
Conflict of interest
The authors declare that they have no conflict of interest.
Research involving human participants and/or animals
The study design and protocol, including subject privacy and sensitive data treatment, were approved by the Ethics Committee of the Scuola Superiore Sant'Anna, Pisa. All procedures performed in studies involving human participants were in accordance with the ethical standards of the institutional and/or national research committee and with the 1964 Helsinki declaration and its later amendments or comparable ethical standards.
Informed consent
Informed consent was obtained from all individual participants included in the study.
Additional information
Publisher's Note
Springer Nature remains neutral with regard to jurisdictional claims in published maps and institutional affiliations.
About this article
Cite this article
Maselli, M., Fiorini, L., Cecchi, F. et al. Can physical and cognitive training based on episodic memory be combined in a new protocol for daily training?. Aging Clin Exp Res 31, 1615–1623 (2019). https://doi.org/10.1007/s40520-018-1107-6
Received:

Accepted:

Published:

Issue Date:
Keywords
Combined cognitive-motor exercise

Elderly

Sensorized cognitive tool

SmartTapestry tool