Abstract
Background
Mental chronometry, commonly used to evaluate motor imagery ability, measures the imagined time required for movements. Previous studies investigating mental chronometry of walking have investigated healthy older adults. However, mental chronometry in frail older adults has not yet been clarified.
Aims
To investigate temporal characteristics of imagined and actual walking in frail older adults.
Methods
We investigated the time required for imagined and actual walking along three walkways of different widths [width(s): 50, 25, 15 cm × length: 5 m] in 29 frail older adults and 20 young adults. Imagined walking was measured with mental chronometry.
Results
We observed significantly longer imagined and actual walking times along walkways of 50, 25, and 15 cm width in frail older adults compared with young adults. Moreover, temporal differences (absolute error) between imagined and actual walking were significantly greater in frail older adults than in young adults along walkways with a width of 25 and 15 cm. Furthermore, we observed significant differences in temporal differences (constant error) between frail older adults and young adults for walkways with a width of 25 and 15 cm. Frail older adults tended to underestimate actual walking time in imagined walking trials.
Conclusions
Our results suggest that walkways of different widths may be a useful tool to evaluate age-related changes in imagined and actual walking in frail older adults.
This is a preview of subscription content,
to check access.
Access this article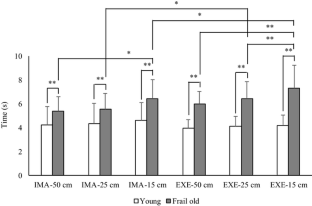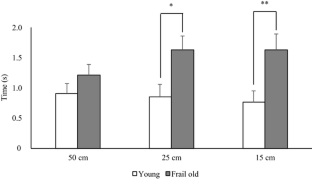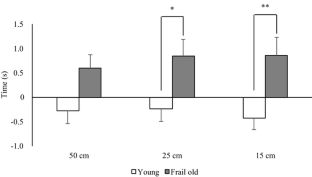 Similar content being viewed by others
References
Jeannerod M (1994) The representing brain: neural correlates of motor intention and imagery. Behav Brain Sci 17:187–245

Pascual-Leone A, Nguyet D, Cohen LG et al (1995) Modulation of muscle responses evoked by transcranial magnetic stimulation during the acquisition of new fine motor skills. J Neurophysiol 74:1037–1045

Yue G, Cole KJ (1992) Strength increases from the motor program: comparison of training with maximal voluntary and imagined muscle contractions. J Neurophysiol 67:1114–1123

Sharma N, Pomeroy VM, Baron JC (2006) Motor imagery: a backdoor to the motor system after stroke? Stroke 37:1941–1952

Debarnot U, Sperduti M, Di Rienzo F et al (2014) Experts bodies, experts minds: how physical and mental training shape the brain. Front Hum Neurosci 8:280

Hétu S, Grégoire M, Saimpont A et al (2013) The neural network of motor imagery: an ALE meta-analysis. Neurosci Biobehav Rev 37:930–949

Collet C, Guillot A, Lebon F et al (2011) Measuring motor imagery using psychometric, behavioral, and psychophysiological tools. Exerc Sport Sci Rev 39:85–92

Pollock A, Farmer SE, Brady MC et al (2014) Interventions for improving upper limb function after stroke. Cochrane Database Syst Rev CD010820

Oostra KM, Oomen A, Vanderstraeten G et al (2015) Influence of motor imagery training on gait rehabilitation in sub-acute stroke: a randomized controlled trial. J Rehabil Med 47:204–209

Malouin F, Richards CL, Durand A et al (2008) Reliability of mental chronometry for assessing motor imagery ability after stroke. Arch Phys Med Rehabil 89:311–319

Decety J (1996) Do imagined and executed actions share the same neural substrate? Brain Res Cogn Brain Res 3:87–93

Schott N, Munzert J (2007) Temporal accuracy of motor imagery in older women. Int J Sport Psychol 38:304–320

Schott N (2012) Age-related differences in motor imagery: working memory as a mediator. Exp Aging Res 38:559–583

Personnier P, Kubicki A, Laroche D et al (2010) Temporal features of imagined locomotion in normal aging. Neurosci Lett 476:146–149

Kalicinski M, Kempe M, Bock O (2015) Motor imagery: effects of age, task complexity, and task setting. Exp Aging Res 41:25–38

McPhee JS, French DP, Jackson D et al (2016) Physical activity in older age: perspectives for healthy ageing and frailty. Biogerontology 17:567–580

Ministry of Health, Labour and Welfare (2016) Health and Welfare Services for the Elderly. http://www.mhlw.go.jp/english/wp/wp-hw10/dl/10e.pdf. Accessed 26 Jan 2018

Saito T, Izawa KP, Watanabe S (2017) The relative and absolute reliability of the Functional Independence and Difficulty Scale in community-dwelling frail elderly Japanese people using long-term care insurance services. Aging Clin Exp Res 29:549–556

Boyle PA, Buchman AS, Wilson RS et al (2010) Physical frailty is associated with incident mild cognitive impairment in community-based older persons. J Am Geriatr Soc 58:248–255

Sakurai R, Fujiwara Y, Yasunaga M et al (2017) Older Adults with fear of falling show deficits in motor imagery of gait. J Nutr Health Aging 21:721–726

Hoang OT, Jullamate P, Piphatvanitcha N et al (2017) Factors related to fear of falling among community-dwelling older adults. J Clin Nurs 26:68–76

Cumming RG, Salkeld G, Thomas M et al (2000) Prospective study of the impact of fear of falling on activities of daily living, SF-36 scores, and nursing home admission. J Gerontol A Biol Sci Med Sci 55:M299–M305

Liepert J, Greiner J, Nedelko V et al (2012) Reduced upper limb sensation impairs mental chronometry for motor imagery after stroke: clinical and electrophysiological findings. Neurorehabil Neural Repair 26:470–478

Heremans E, Feys P, Nieuwboer A et al (2011) Motor imagery ability in patients with early- and mid-stage Parkinson disease. Neurorehabil Neural Repair 25:168–177

Heremans E, Nieuwboer A, Feys P et al (2012) External cueing improves motor imagery quality in patients with Parkinson disease. Neurorehabil Neural Repair 26:27–35
Acknowledgements
We would like to thank all volunteers who participated in this study.
Ethics declarations
Conflict of interest
The authors declare that they have no conflict of interest.
Ethical approval
All procedures performed in studies involving human participants were in accordance with the ethical standards of the institutional research committee and with the 1964 Helsinki Declaration and its later amendments or comparable ethical standards.
Informed consent
Informed consent was obtained from all individual participants included in the study.
About this article
Cite this article
Nakano, H., Murata, S., Shiraiwa, K. et al. Temporal characteristics of imagined and actual walking in frail older adults. Aging Clin Exp Res 30, 1453–1457 (2018). https://doi.org/10.1007/s40520-018-0963-4
Received:

Accepted:

Published:

Issue Date:

DOI: https://doi.org/10.1007/s40520-018-0963-4
Keywords