Abstract
Aim
Drugs may interact with geriatric syndromes by playing a role in the continuation, recurrence or worsening of these conditions. Aim of this study is to assess the prevalence of interactions between drugs and three common geriatric syndromes (delirium, falls and urinary incontinence) among older adults in nursing home and home care in Europe.
Methods
We performed a cross-sectional multicenter study among 4023 nursing home residents participating in the Services and Health for Elderly in Long-TERm care (Shelter) project and 1469 home care patients participating in the Identifying best practices for care-dependent elderly by Benchmarking Costs and outcomes of community care (IBenC) project. Exposure to interactions between drugs and geriatric syndromes was assessed by 2015 Beers criteria.
Results
790/4023 (19.6%) residents in the Shelter Project and 179/1469 (12.2%) home care patients in the IBenC Project presented with one or more drug interactions with geriatric syndromes. In the Shelter project, 288/373 (77.2%) residents experiencing a fall, 429/659 (65.1%) presenting with delirium and 180/2765 (6.5%) with urinary incontinence were on one or more interacting drugs. In the IBenC project, 78/172 (45.3%) participants experiencing a fall, 80/182 (44.0%) presenting with delirium and 36/504 (7.1%) with urinary incontinence were on one or more interacting drugs.
Conclusion
Drug–geriatric syndromes interactions are common in long-term care patients. Future studies and interventions aimed at improving pharmacological prescription in the long-term care setting should assess not only drug–drug and drug–disease interactions, but also interactions involving geriatric syndromes.
This is a preview of subscription content, log in to check access.
Access options
Buy single article
Instant access to the full article PDF.
US$ 39.95
Price includes VAT for USA
Subscribe to journal
Immediate online access to all issues from 2019. Subscription will auto renew annually.
US$ 99
This is the net price. Taxes to be calculated in checkout.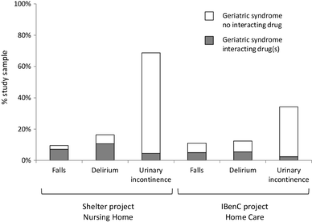 References
1.

Lee PG, Cigolle C, Blaum C (2009) The co-occurrence of chronic diseases and geriatric syndromes: the health and retirement study. J Am Geriatr Soc 57:511–516

2.

Inouye SK, Studenski S, Tinetti ME et al (2007) Geriatric syndromes: clinical, research, and policy implications of a core geriatric concept. J Am Geriatr Soc 55:780–791

3.

Rosso AL, Eaton CB, Wallace R et al (2013) Geriatric syndromes and incident disability in older women: results from the women's health initiative observational study. J Am Geriatr Soc 61:371–379

4.

De Buyser SL, Petrovic M, Taes YE et al (2014) A multicomponent approach to identify predictors of hospital outcomes in older in-patients: a multicentre, observational study. PLoS One 9:e115413

5.

Sganga F, Landi F, Volpato S et al (2017) Predictors of rehospitalization among older adults: results of the CRIME study. Geriatr Gerontol Int 17:1588–1592

6.

Simmons SF, Bell S, Saraf AA et al (2016) Stability of geriatric syndromes in hospitalized medicare beneficiaries discharged to skilled nursing facilities. J Am Geriatr Soc 64:2027–2034

7.

Bell SP, Vasilevskis EE, Saraf AA et al (2016) Geriatric syndromes in hospitalized older adults discharged to skilled nursing facilities. J Am Geriatr Soc 64:715–722

8.

Tinetti ME, Inouye SK, Gill TM et al (1995) Shared risk factors for falls, incontinence, and functional dependence. Unifying the approach to geriatric syndromes. JAMA 273:1348–1353

9.

Wierenga PC, Buurman BM, Parlevliet JL et al (2012) Association between acute geriatric syndromes and medication-related hospital admissions. Drugs Aging 29:691–699

10.

Hein C, Forgues A, Piau A et al (2014) Impact of polypharmacy on occurrence of delirium in elderly emergency patients. J Am Med Dir Assoc 15:850.e11–850.e15

11.

Gnjidic D, Johnell K (2013) Clinical implications from drug–drug and drug–disease interactions in older people. Clin Exp Pharmacol Physiol 40:320–325

12.

Onder G, Carpenter I, Finne-Soveri H et al (2012) Assessment of nursing home residents in Europe: the Services and Health for Elderly in Long TERm care (SHELTER) study. BMC Health Serv Res 12:5

13.

Garms-Homolová V, Notthoff N, Declercq A et al (2017) Social and functional health of home care clients with different levels of cognitive impairments. Aging Ment Health 21:18–23

14.

Bernabei R, Landi F, Onder G et al (2008) Second and third generation assessment instruments: the birth of standardization in geriatric care. J Gerontol A Biol Sci Med Sci 63:308–313

15.

Morris JN, Fries BE, Mehr DR et al (1994) The MDS cognitive performance scale. J Gerontol 49:174–182

16.

Morris JN, Fries BE, Morris SA (1999) Scaling ADL's within the MDS. J Gerontol 4:M546–M553

17.

Burrows AB, Morris JN, Simon SE et al (2000) Development of a minimum data set-based depression rating scale for use in nursing homes. Age Ageing 29:165–172

18.

By the American Geriatrics Society 2015 Beers Criteria Update Expert Panel (2015) American Geriatrics Society 2015 updated beers criteria for potentially inappropriate medication use in older adults. J Am Geriatr Soc 63:2227–2246

19.

Pahor M, Chrischilles EA, Guralnik JM et al (1994) Drug data coding and analysis in epidemiological studies. Eur J Epidemiol 10:405–411

20.

Zia A, Kamaruzzaman SB, Tan MP (2017) The consumption of two or more fall risk-increasing drugs rather than polypharmacy is associated with falls. Geriatr Gerontol Int 17:463–470

21.

Vetrano DL, La Carpia D, Grande G et al (2016) Anticholinergic medication burden and 5-year risk of hospitalization and death in nursing home elderly residents with coronary artery disease. J Am Med Dir Assoc 17:1056–1059

22.

Naja M, Zmudka J, Hannat S et al (2016) In geriatric patients, delirium symptoms are related to the anticholinergic burden. Geriatr Gerontol Int 16:424–431

23.

Goode PS, Burgio KL, Richter HE et al (2010) Incontinence in older women. JAMA 303:2172–2181

24.

Corbi G, Gambassi G, Pagano G et al (2015) Impact of an innovative educational strategy on medication appropriate use and length of stay in elderly patients. Medicine (Baltimore) 94:e918

25.

Marengoni A, Nobili A, Onder G (2015) Best practices for drug prescribing in older adults: a call for action. Drugs Aging 32:887–890

26.

Franchi C, Mari D, Tettamanti M et al (2014) E-learning to improve the drug prescribing in the hospitalized elderly patients: the ELICADHE feasibility pilot study. Aging Clin Exp Res 26:435–443

27.

Onder G, van der Cammen TJ, Petrovic M et al (2013) Strategies to reduce the risk of iatrogenic illness in complex older adults. Age Ageing 42:284–291
Acknowledgements
The Shelter and IBenC projects were funded by the 7th Framework Programme of the European Union. The work of ET was partly supported by the Grant no. 16-33463A Ministry of Health of the Czech Republic. IBenC data released in May 2017 were used for this study.
Ethics declarations
Conflict of interest
Authors have no conflicts of interest to declare.
Statement of human and animal rights
All procedures performed in this study involving human participants were in accordance with the ethical approval and standards of the local ethics committees.
Ethical approval
Ethical approval was obtained from the ethics committees of the participating centers.
Informed consent
All participants gave written informed consent.
About this article
Cite this article
Onder, G., Giovannini, S., Sganga, F. et al. Interactions between drugs and geriatric syndromes in nursing home and home care: results from Shelter and IBenC projects. Aging Clin Exp Res 30, 1015–1021 (2018). https://doi.org/10.1007/s40520-018-0893-1
Received:

Accepted:

Published:

Issue Date:
Keywords
Delirium

Drugs

Falls

Geriatric Syndromes

Interactions

Tailored therapy