Abstract
Aim
Exercise is one of the most important components in frailty prevention and treatment. Therefore, we systematically reviewed the effect of resistance training (RT) alone or combined with multimodal exercise intervention on muscle hypertrophy, maximal strength, power output, functional performance, and falls incidence in physically frail elderly.
Methods
MEDLINE, Cochrane CENTRAL, PEDro, and SPORTDiscus databases were searched from 2005 to 2017. Studies must have mentioned the effects of RT (i.e., included or not in multimodal training) on at least one of the following parameters: muscle mass, muscle strength, muscle power, functional capacity, and risk of falls in frail elderly.
Results
The initial search identified 371 studies and 16 were used for qualitative analysis for describing the effect of strength training performed alone or in a multimodal exercise intervention. We observed that RT alone or in a multimodal training may induce increases of 6.6–37% in maximal strength; 3.4–7.5% in muscle mass, 8.2% in muscle power, 4.7–58.1% in functional capacity and risk of falls, although some studies did not show enhancements.
Conclusion
Frequency of 1–6 sessions per week, training volume of 1–3 sets of 6–15 repetitions and intensity of 30–70%1-RM promoted significant enhancements on muscle strength, muscle power, and functional outcomes. Therefore, in agreement with previous studies, we suggest that supervised and controlled RT represents an effective intervention in frailty treatment.
This is a preview of subscription content, log in to check access.
Access options
Buy single article
Instant access to the full article PDF.
US$ 39.95
Price includes VAT for USA
Subscribe to journal
Immediate online access to all issues from 2019. Subscription will auto renew annually.
US$ 99
This is the net price. Taxes to be calculated in checkout.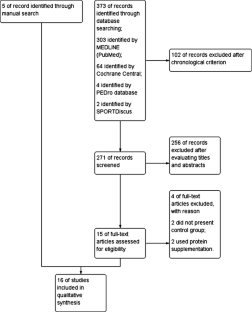 References
1.

Fried LP et al (2001) Frailty in older adults: evidence for a phenotype. J Gerontol A 56:M146–M156

2.

Rockwood K, Stadnyk K, MacKnight C, McDowell I, Hebert R, Hogan DB (1999) A brief clinical instrument to classify frailty in elderly people. Lancet 353:205–206

3.

Hogan DB, MacKnight C, Bergman H, Steering Committee CIoF, Aging (2003) Models, definitions, and criteria of frailty. Aging Clin Exp Res 15:1–29

4.

Ferrucci L, Guralnik JM, Studenski S, Fried LP, Cutler GB Jr, Walston JD, Interventions on Frailty Working G (2004) Designing randomized, controlled trials aimed at preventing or delaying functional decline and disability in frail, older persons: a consensus report. J Am Geriatr Soc 52:625–634

5.

Izquierdo M, Casas-Herrero A, Martinez-Velilla N, Alonso-Bouzon C, Rodriguez-Manas L, en representacion del Grupo de I (2017) An example of cooperation for implementing programs associated with the promotion of exercise in the frail elderly. European Erasmus + <<Vivifrail>> program. Rev Esp Geriatr Gerontol 52:110–111.

6.

Liu CK, Fielding RA (2011) Exercise as an intervention for frailty. Clin Geriatr Med 27:101–110

7.

Freiberger E, de Vreede P, Schoene D, Rydwik E, Mueller V, Frandin K, Hopman-Rock M (2012) Performance-based physical function in older community-dwelling persons: a systematic review of instruments. Age Ageing 41:712–721

8.

Cadore EL, Rodriguez-Manas L, Sinclair A, Izquierdo M (2013) Effects of different exercise interventions on risk of falls, gait ability, and balance in physically frail older adults: a systematic review. Rejuvenation Res 16:105–114

9.

Daniels R, van Rossum E, de Witte L, Kempen GI, van den Heuvel W (2008) Interventions to prevent disability in frail community-dwelling elderly: a systematic review. BMC Health Serv Res research 8:278

10.

Theou O, Stathokostas L, Roland KP, Jakobi JM, Patterson C, Vandervoort AA, Jones GR (2011) The effectiveness of exercise interventions for the management of frailty: a systematic review. J Aging Res 2011:569194

11.

Chou CH, Hwang CL, Wu YT (2012) Effect of exercise on physical function, daily living activities, and quality of life in the frail older adults: a meta-analysis. Arch Phys Med Rehabil 93:237–244

12.

Giné-Garriga M, Roque-Figuls M, Coll-Planas L, Sitja-Rabert M, Salva A (2014) Physical exercise interventions for improving performance-based measures of physical function in community-dwelling, frail older adults: a systematic review and meta-analysis. Arch Phys Med Rehabil 95:753–769 e753

13.

Liberati A et al (2009) The PRISMA statement for reporting systematic reviews and meta-analyses of studies that evaluate healthcare interventions: explanation and elaboration. BMJ 339:b2700

14.

Furlan AD, Pennick V, Bombardier C, van Tulder M, Editorial Board CBRG. (2009) 2009 updated method guidelines for systematic reviews in the Cochrane Back Review Group. Spine 34:1929–1941

15.

Kim H et al (2015) Effects of exercise and milk fat globule membrane (MFGM) supplementation on body composition, physical function, and hematological parameters in community-dwelling frail Japanese women: a randomized double blind, placebo-controlled, follow-up trial. PLoS ONE 10:e0116256

16.

Zech A, Drey M, Freiberger E, Hentschke C, Bauer JM, Sieber CC, Pfeifer K (2012) Residual effects of muscle strength and muscle power training and detraining on physical function in community-dwelling prefrail older adults: a randomized controlled trial. BMC Geriatr 12:68

17.

Kim HK, Suzuki T, Saito K, Yoshida H, Kobayashi H, Kato H, Katayama M (2012) Effects of exercise and amino acid supplementation on body composition and physical function in community-dwelling elderly Japanese sarcopenic women: a randomized controlled trial. J Am Geriatr Soc 60:16–23

18.

Cadore EL et al (2014) Multicomponent exercises including muscle power training enhance muscle mass, power output, and functional outcomes in institutionalized frail nonagenarians. Age 36:773–785

19.

Kryger AI, Andersen JL (2007) Resistance training in the oldest old: consequences for muscle strength, fiber types, fiber size, and MHC isoforms. Scand J Med Sci Sports 17:422–430

20.

Ikezoe T, Tsutou A, Asakawa Y, Tsuboyama T (2005) Low intensity training for frail elderly women: Long-term effects on motor function and mobility. J Phys Ther Sci 17:43–49

21.

Giné-Garriga M, Guerra M, Pages E, Manini TM, Jimenez R, Unnithan VB (2010) The effect of functional circuit training on physical frailty in frail older adults: a randomized controlled trial. J Aging Phys Act 18:401–424

22.

Lustosa LP, Silva JP, Coelho FM, Pereira DS, Parentoni AN, Pereira LS (2011) Impact of resistance exercise program on functional capacity and muscular strength of knee extensor in pre-frail community-dwelling older women: a randomized crossover trial. Rev Bras Fisioter 15:318–324

23.

Gudlaugsson J et al (2012) Effects of a 6-month multimodal training intervention on retention of functional fitness in older adults: a randomized-controlled cross-over design. Int J Behav Nutr Phys Act 9:107

24.

Lee HC, Chang KC, Tsauo JY, Hung JW, Huang YC, Lin SI, Fall Prevention Initiatives in Taiwan I (2013) Effects of a multifactorial fall prevention program on fall incidence and physical function in community-dwelling older adults with risk of falls. Arch Phys Med Rehabil 94:606–615, 615 e601

25.

Ng TP et al (2015) Nutritional, Physical, Cognitive, and Combination Interventions and Frailty Reversal Among Older Adults: A Randomized Controlled Trial. Am J Med 128:1225–1236 e1221

26.

Hess JA, Woollacott M, Shivitz N (2006) Ankle force and rate of force production increase following high intensity strength training in frail older adults. Aging Clin Exp Res 18:107–115

27.

Rosendahl E et al (2006) High-intensity functional exercise program and protein-enriched energy supplement for older persons dependent in activities of daily living: a randomised controlled trial. Aust J Physiother 52:105–113

28.

Serra-Rexach JA et al (2011) Short-term, light- to moderate-intensity exercise training improves leg muscle strength in the oldest old: a randomized controlled trial. J Am Geriatr Soc 59:594–602

29.

Jeon MY, Jeong H, Petrofsky J, Lee H, Yim J (2014) Effects of a randomized controlled recurrent fall prevention program on risk factors for falls in frail elderly living at home in rural communities. Med Sci Monit 20:2283–2291

30.

Giné-Garriga M, Guerra M, Unnithan VB (2013) The effect of functional circuit training on self-reported fear of falling and health status in a group of physically frail older individuals: a randomized controlled trial. Aging Clin Exp Res 25:329–336

31.

Izquierdo M, Ibanez J, Gorostiaga E, Garrues M, Zuniga A, Anton A et al (1999) Maximal strength and power characteristics in isometric and dynamic actions of the upper and lower extremities in middle-aged and older men. Acta Physiol Scand 167:57–68

32.

Trombetti A, Reid KF, Hars M, Herrmann FR, Pasha E, Phillips EM et al (2016) Age-associated declines in muscle mass, strength, power, and physical performance: impact on fear of falling and quality of life. Osteoporos Int 27:463–471

33.

Odding E, Valkenburg HA, Algra D, Vandenouweland FA, Grobbee DE, Hofman A (1995) Association of locomotor complaints and disability in the Rotterdam study. Ann Rheum Dis 54:721–725

34.

Guralnik JM et al (1995) Lower extremity function and subsequent disability: consistency across studies, predictive models, and value of gait speed alone compared with the short physical performance battery. J Gerontol A 55:M221–M231

35.

Guralnik JM, Winograd CH (1994) Physical performance measures in the assessment of older persons. Aging 6:303–305

36.

Rodriguez-Manas L et al (2013) Searching for an operational definition of frailty: a Delphi method based consensus statement: the frailty operative definition-consensus conference project. J Gerontol A 68:62–67

37.

Campbell AJ, Buchner DM (1997) Unstable disability and the fluctuations of frailty. Age Ageing 26:315–318

38.

Walston J, Fried LP (1999) Frailty and the older man. Med Clin N Am 83:1173–1194

39.

Rockwood K, Mitnitski A (2007) Frailty in relation to the accumulation of deficits. J Gerontol A 62:722–727
Acknowledgements
We would like to thank the CNPq (Conselho Nacional de Desenvolvimento Científico e Tecnológico) and CAPES (Coordenação de Aperfeiçoamento de Pessoal de Nível Superior) for their financial support. This research did not receive any specific grant from funding agencies in the public, commercial, or not-for-profit sectors.
Ethics declarations
Conflict of interest
The authors declare no conflict of interest.
Ethical approval
This article does not contain any studies with human participants or animals performed by any of the authors.
About this article
Cite this article
Lopez, P., Pinto, R.S., Radaelli, R. et al. Benefits of resistance training in physically frail elderly: a systematic review. Aging Clin Exp Res 30, 889–899 (2018). https://doi.org/10.1007/s40520-017-0863-z
Received:

Accepted:

Published:

Issue Date:
Keywords
Aging

Frailty

Multimodal training

Exercise prescription

Physical outcomes