Abstract
Objectives
The objective of the study was to determine the prevalence and severity of urinary incontinence and associated factors in patients receiving home care nursing service.
Methods
From June to September 2015, a multicenter cross-sectional study was conducted in 923 patients from 102 home care services throughout Germany. The ICIQ-SF was used to determine the characteristics of UI and its impact on QoL. To determine the risks for UI, demographic and social risks, the Barthel Index and medical diagnoses were determined in descriptive and logistic regression analysis.
Results
The prevalence of UI was 62.5% (95% CI 59.3–65.6). The most common reasons for UI were before getting to the toilet 27.6% and when coughing or sneezing 27.3%. If the amount of leakage was medium (high), the mean of the impact on QoL was 4.9, SD 2.7 (5.0, SD 3.6). If the frequency of UI was higher than once a day (permanent), the mean of the impact on QoL was 4.2, SD 2.7 (4.8, SD 3.2). The results of the logistic regression analysis show the highest odds ratios for mobility—inability to walk (4.49), presence of dementia (2.59), and female sex (1.81). The metric variables age (1.02), Barthel Index (0.93), and BMI (1.05) were also statistically significant.
Conclusions
The prevalence of UI in home care in Germany is high. Since UI is strongest associated with (im-) mobility, preserving or regaining patients' mobility should play a central role in providing care to avoid/minimize UI.
Access options
Buy single article
Instant access to the full article PDF.
US$ 39.95
Tax calculation will be finalised during checkout.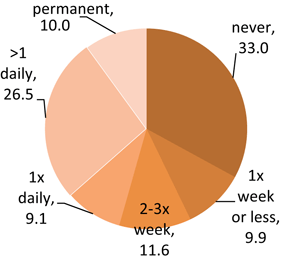 References
1.

Inouye SK, Studenski S, Tinetti ME et al (2007) Geriatric syndromes: clinical, research, and policy implications of a core geriatric concept. J Am Geriatr Soc 55:780–791. doi:10.1111/j.1532-5415.2007.01156.x

2.

Abrams P, Andersson KE, Birder L et al (2010) Fourth International Consultation on Incontinence Recommendations of the International Scientific Committee: Evaluation and treatment of urinary incontinence, pelvic organ prolapse, and fecal incontinence. Neurourol Urodyn 29:213–240. doi:10.1002/nau.20870

3.

Aslan E, Beji NK, Erkan HA et al (2009) The prevalence of and the related factors for urinary and fecal incontinence among older residing in nursing homes. J Clin Nurs 18:3290–3298. doi:10.1111/j.1365-2702.2009.02936.x

4.

Milsom I, Coyne KS, Nicholson S et al (2014) Global prevalence and economic burden of urgency urinary incontinence: a systematic review. Eur Urol 65:79–95. doi:10.1016/j.eururo.2013.08.031

5.

Offermans MP, Du Moulin MF, Hamers JP et al (2009) Prevalence of urinary incontinence and associated risk factors in nursing home residents: a systematic review. Neurourol Urodyn 28:288–294. doi:10.1002/nau.20668

6.

Kim MS, Lee SH (2008) Prevalence rate and associated factors of urinary incontinence among nursing home residents. Taehan Kanho Hakhoe Chi 38:92–100

7.

Leung FW, Schnelle JF (2008) Urinary and fecal incontinence in nursing home residents. Gastroenterol Clin N Am 37:697–707. doi:10.1016/j.gtc.2008.06.005.x

8.

Park J, Hong GR, Yang W (2015) Factors associated with self-reported and medically diagnosed urinary incontinence among community-dwelling older women in Korea. Int Neurourol J 19:99–106. doi:10.5213/inj.2015.19.2.99

9.

Kirschner-Hermanns R, Anding R (2016) Characteristic features of urinary incontinence–diagnostic investigation in geriatric patients. Aktuelle Urol 47:60–64. doi:10.1055/s-0041-106456

10.

Mohide EA, Pringle DM, Robertson D et al (1988) Prevalence of urinary incontinence in patients receiving home care services. CMAJ 139:953–956

11.

Du Moulin MF, Hamers JP, Ambergen AW, Janssen MA, Halfens RJ (2008) Prevalence of urinary incontinence among community-dwelling adults receiving home care. Res Nurs Health 31:604–612. doi:10.1002/nur.20291

12.

John G, Gerstel E, Jung M et al (2014) Urinary incontinence as a marker of higher mortality in patients receiving home care services. BJU Int 113:113–119. doi:10.1111/bju.12359

13.

Blaivas JG, Appell RA, Fantl JA et al (1997) Definition and classification of urinary incontinence: recommendations of the urodynamic society. Neurourol Urodyn 16:149–151

14.

Wilson EB (1927) Probable inference, the law of succession, and statistical inference. J Am Stat Assoc 22:3

15.

Newcombe RG (1998) Two-sided confidence intervals for the single proportion: comparison of seven methods. Stat Med 17:857–872

16.

Halfens RJ, Meesterberends E, van Nie-Visser NC et al (2013) International prevalence measurement of care problems: results. J Adv Nurs 69:e5–e17. doi:10.1111/jan.12189

17.

Kasikci M, Kilic D, Avsar G et al (2015) Prevalence of urinary incontinence in older Turkish women, risk factors, and effect on activities of daily living. Arch Gerontol Geriatr 61:217–223. doi:10.1016/j.archger.2015.06.008

18.

Jerez-Roig J, Santos MM, Souza DL et al (2016) Prevalence of urinary incontinence and associated factors in nursing home residents. Neurourol Urodyn 35:102–107. doi:10.1002/nau.22675

19.

Burge AT, Lee AL, Kein C et al (2016) Prevalence and impact of urinary incontinence in men with chronic obstructive pulmonary disease: a questionnaire survey. Physiotherapy. doi:10.1016/j.physio.2015.11.004

20.

Chang S, Kim H, Park HK et al (2013) Prevalence and risk factors of male urinary incontinence: results of a Korean population-based study. Low Urin Tract Symp 5:150–153. doi:10.1111/luts.12009

21.

Roe B, Flanagan L, Maden M (2015) Systematic review of systematic reviews for the management of urinary incontinence and promotion of continence using conservative behavioural approaches in older people in care homes. J Adv Nurs 71:1464–1483. doi:10.1111/jan.12613

22.

Leiske M, Lahmann NA, Lindena G et al (2015) Patients with pain in outpatient care. A nationwide cross-sectional survey with path model. Schmerz 29:431–439. doi:10.1007/s00482-015-0001-9

23.

Gosch M, Talasz H, Nicholas JA et al (2015) Urinary incontinence and poor functional status in fragility fracture patients: an underrecognized and underappreciated association. Arch Orthop Trauma Surg 135:59–67. doi:10.1007/s00402-014-2113-6

24.

Heyn P, Abreu BC, Ottenbacher KJ (2004) The effects of exercise training on elderly persons with cognitive impairment and dementia: a meta-analysis. Arch Phys Med Rehabil 85:1694–1704
Acknowledgements
We are grateful for the correction of the English language by Sarah Stacy and Katharina Lux and like to express our gratefulness to the participating home care services and clients who supported this study.
Ethics declarations
Conflict of interest
We hereby declare that none of the contributing authors have any conflict of interest, including specific financial interests or relationships and affiliations relevant to the subject matter or materials discussed in the manuscript.
Human and animal rights
All procedures followed were in accordance with the ethical standards of the responsible committee on human experimentation (institutional and national) and with the Helsinki Declaration of 1975, as revised in 2000 (5).
Informed consent
Informed consent was obtained from all patients for being included in the study.
About this article
Cite this article
Suhr, R., Lahmann, N.A. Urinary incontinence in home care: a representative multicenter study on prevalence, severity, impact on quality of life, and risk factors. Aging Clin Exp Res 30, 589–594 (2018). https://doi.org/10.1007/s40520-017-0816-6
Received:

Accepted:

Published:

Issue Date:
Keywords
Urinary incontinence

Home care

Prevalence

Severity

Risk factors