Abstract
Background
Certain features of the social environment could maintain and even improve not only psychological well-being, but also health and cognition of the elderly.
Aims
We tested the association between social network characteristics and the number of chronic diseases in the elderly.
Methods
A randomized sample of the elderly population of Brescia, Italy, was evaluated (N = 200, age ≥65 years). We performed a comprehensive geriatric assessment, including information on socio-demographic variables (family, friendships, and acquaintance contacts). We measured each person's social network, i.e., degree, efficiency, and variety.
Results
The sample included 118 women and 82 men, mean age 77.7 years. The mean number of chronic diseases was 3.5. A higher social network degree, i.e., more social connections, was associated with fewer diseases. We also found that having more contacts with people similar to each other or intense relationships with people who do not know each other were associated with fewer diseases.
Conclusion
More healthy people tend to share certain characteristics of social networks. Our study indicates that it is important to look at diseases and health as complex phenomena, which requires integrating different levels of analysis.
Access options
Buy single article
Instant access to the full article PDF.
USD 39.95
Price excludes VAT (USA)
Tax calculation will be finalised during checkout.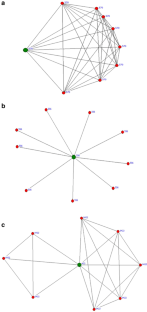 References
P. D. United Nations, Department of Economic and Social Affairs (2015) World population prospects: the 2015 revision, key findings and advance tables, Work. Pap. No. ESA/P/WP.241

ISTAT (2014) Annuario statistico italiano 2014

Omran AR (1971) The epidemiologic transition. A theory of the epidemiology of population change. Milbank Mem Fund Q 49:509–538

Marengoni A, Angleman S (2011) Aging with multimorbidity: a systematic review of the literature. Ageing Res Rev 10:430–439

Barnes MK, Duck S (1994) Everyday communicative contexts for social support. Sage Publications, Inc., New York

Uchino B (2004) Social support and physical health: understanding the health consequences of relationships. Yale University Press, New Haven

Langford CP, Bowsher J, Maloney JP et al. (1997) Social support: a conceptual analysis. J Adv Nurs 25:95–100

de Belvis AG, Ferrè F, Specchia ML et al. (2012) The financial crisis in Italy: implications for the healthcare sector. Health Policy (New York) 106:10–16

Karanikolos M, Mladovsky P, Cylus J et al (2013) Financial crisis, austerity, and health in Europe. Lancet 381:1323–1331

Anderson R, Mikuliç B, Vermeylen G et al (2009) Second European quality of life survey—overview, Office for Official Publications of the European Communities, Luxembourg (ISBN 9789289708470)

Karp A, Ebrahimi R, Marengoni A and Fratiglioni L (2010) Informal care and voluntary assistance: a systematic literature review of quantitative and qualitative aspects of assistance to elderly persons in Sweden, Italy, the United Kingdom and Canada.  Swedish Government Inquiries, Social Council, Stockholm

Quattrini BCS, Melchiorre MG (2003) Studio Europeo ESAW: la condizione dei carers familiari di persone anziane in Italia. In: 48° conference of the Italian Society of gerontology and geriatrics

Holt-Lunstad J, Smith TB, Baker M et al. (2015) Loneliness and social isolation as risk factors for mortality: a meta-analytic review. Perspect Psychol Sci 10:227–237

Nicholson N (2012) A review of social isolation: an important but underassessed condition in older adults. J Prim Prev 33:137–152

Mazzella F, Cacciatore F, Galizia G, et al. (2010) Social support and long-term mortality in the elderly: role of comorbidity. Arch Gerontol Geriatr 51:323–328

Iwase T, Suzuki E, Fujiwara T et al. (2012) Do bonding and bridging social capital have differential effects on self-rated health? A community based study in Japan. J Epidemiol Community Health 66:557–562

Windsor TD, Rioseco P, Fiori KL et al. (2016) Structural and functional social network attributes moderate the association of self-rated health with mental health in midlife and older adults. Int Psychogeriatr 28:49–61

Rizzuto D, Orsini N, Qiu C et al. (2012) Lifestyle, social factors, and survival after age 75: population based study. Br Med J 345:e5568

Sundquist K, Hamano T, Li X et al (2014) Linking social capital and mortality in the elderly: a Swedish national cohort study. Exp Gerontol 55:29–36

Martire LM, Franks MM (2014) The role of social networks in adult health: introduction to the special issue. Heal Psychol 33:501–504

Seeman TE (1996) Social ties and health: the benefits of social integration. Ann Epidemiol 6:442–451

Krueger KR, Wilson RS, Kamenetsky JM et al. (2009) Social engagement and cognitive function in old age. Exp Aging Res 35:45–60

Wald C (2016) Social networks: better together. Nature 531:S14–S15

Bernabei R, Landi F, Onder G et al. (2008) Second and third generation assessment instruments: the birth of standardization in geriatric care. J Gerontol A Biol Sci Med Sci 63:308–313

Steverink N, Lindenberg S (2006) Which social needs are important for subjective well-being? What happens to them with aging? Psychol Aging 21:281–290

Van Der Gaag M, Snijders TAB (2005) The resource generator: social capital quantification with concrete items. Soc Netw 27:1–29

Burt RS (2009) Structural holes: the social structure of competition. Harvard University Press, Cambridge

Blau P (1977) Inequality and heterogeneity: a primitive theory of social structure. Free Press, New York

Li T, Zhang Y (2015) Social network types and the health of older adults: Exploring reciprocal associations

Steptoe A, Shankar A, Demakakos P et al. (2013) Social isolation, loneliness, and all-cause mortality in older men and women. Proc Natl Acad Sci USA 110:5797–5801

Vassilev I., Rogers A, Blickem C et al. (2013) Social networks, the 'work' and work force of chronic illness self-management: a survey analysis of personal communities. PLoS One 8:e59723

Ellwardt L, Van Tilburg TG, Aartsen MJ (2015) The mix matters: complex personal networks relate to higher cognitive functioning in old age". Soc Sci Med 125:107–115

Rafnsson SB, Shankar A, Steptoe A (2015) Longitudinal influences of social network characteristics on subjective well-being of older adults: findings from the ELSA study. J Aging Health 27:919–934

Fratiglioni L, Wang HX, Ericsson K et al. (2000) Influence of social network on occurrence of dementia: a community-based longitudinal study. Lancet 355:1315–1319

Ellwardt L, Aartsen M, Deeg D et al. (2013) Does loneliness mediate the relation between social support and cognitive functioning in later life? Soc Sci Med 98:116–124

Squazzoni F (2013) A social science-inspired complexity policy: beyond the mantra of incentivization. Complexity 19:5–13

Smith KP, Christakis NA (2008) Social networks and health. Annu Rev Sociol 34:405–429
Acknowledgements
This work received official support by the Municipality of Brescia and Province of Brescia. The authors are grateful to Leonardo Pedroni for his help with the data input.
Ethics declarations
Funding
This work was supported by a grant of Fondazione EULO and the University of Brescia (Grant: ANZIANI IN-RETE) and a grant of Senior Italia Federanziani. The funding agencies had no role in the study design, data analysis, preparation, or approval of the manuscript.
Conflict of interest
The authors do not have any conflict of interest to disclose.
Ethical approval
All procedures performed in studies involving human participants were in accordance with the ethical standards of the Ethical committee of the Local Health Unit (ASL) of Brescia (Italy) and with the 1964 Helsinki declaration and its later amendments or comparable ethical standards.
Informed consent
Informed consent was obtained from all individual participants included in the study.
Electronic supplementary material
Below is the link to the electronic supplementary material.
About this article
Cite this article
Bianchetti, L., Squazzoni, F., Casnici, N. et al. Social networks and health status in the elderly: the 'ANZIANI IN-RETE' population-based study. Aging Clin Exp Res 29, 1173–1179 (2017). https://doi.org/10.1007/s40520-017-0726-7
Received:

Accepted:

Published:

Issue Date:

DOI: https://doi.org/10.1007/s40520-017-0726-7
Keywords
Aging

Social networks

Health status

Network degree

Social factors

Chronic diseases