Abstract
Objectives
Processing of horizontal face cues has been shown to be an important element in face recognition of adults aged up to 30 years. In contrast, horizontally aligned facial features do not appear to contribute to older adults' (60–75 years) recognition in a similar way. To this end, we investigated potential learning effects on the ability to recognize faces based on horizontal features. Previous research suggests face recognition based on all face information experiences an accelerated decline after the age of 70. However, recognition based only on horizontal face information has not yet been studied in old age (75+ years of age). Thus, we investigated whether older adults (aged up to as well as starting at 75 years) can learn to recognize faces based on horizontal face cues alone.
Method
One younger and two older adult groups (20–30, 60–75, and 75+ years) were familiarized with a high and a low amount of previously unfamiliar faces—some containing all face cues and others containing only horizontal face cues (reduced information). Subsequently, all groups received a recognition test.
Results
Repeated learning increased natural face recognition for all three age groups when all face cues were available. However, increases in face recognition were only observed for younger adults when horizontal face cued were only available.
Discussion
The importance of horizontally aligned spatial frequencies for recognizing human faces is lessened before the age of 60 (and plateaus thereon), whereas recognition of stimuli containing all face cues is still capable of improvement.
Access options
Buy single article
Instant access to the full article PDF.
US$ 39.95
Tax calculation will be finalised during checkout.
Subscribe to journal
Immediate online access to all issues from 2019. Subscription will auto renew annually.
US$ 79
Tax calculation will be finalised during checkout.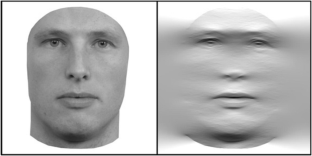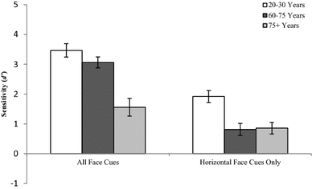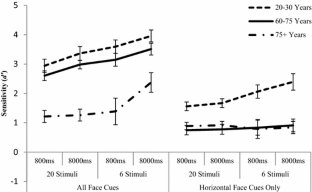 References
1.

Bartlett JC, Fulton A (1991) Familiarity and recognition of faces in old age. Mem Cognit 19:229–238

2.

Bryce MS, Dodson CS (2013) Cross-age effect in recognition performance and memory monitoring for faces. Psychol Aging 28:87–98. doi:10.1037/a0030213

3.

Edmonds EC, Glisky EL, Bartlett JC et al (2012) Cognitive mechanisms of false facial recognition in older adults. Psychol Aging 27:54–60. doi:10.1037/a0024582

4.

Konar Y, Bennett PJ, Sekuler AB (2013) Effects of aging on face identification and holistic face processing. Vision Res 9:38–46. doi:10.1016/j.visres.613.06.003

5.

Lamont AC, Stewart-Williams S, Podd J (2005) Face recognition and aging: effects of target age and memory load. Mem Cogn 33:1017–1024

6.

Firestone A, Turk-Browne NB, Ryan JD (2007) Age-related deficits in face recognition are related to underlying changes in scanning behavior. Neuropsychol Develop Cogn Sect B Aging Neuropsychol Cognit 14:594–607

7.

Obermeyer S, Kolling T, Schaich A et al (2012) Differences between old and young adults' ability to recognize human faces underlie processing of horizontal information. Front Aging Neuroscience. doi:10.3389/fnagi.612.00003

8.

Goffaux V, Dakin SC (2010) Horizontal information drives the behavioral signatures of face processing. Front Psychol 28:143. doi:10.3389/fpsyg.610.00143

9.

Dakin SC, Watt RJ (2009) Biological "bar codes" in human faces. J Vision. doi:10.1167/9.4.2

10.

Grady CL, Maisog JM, Horwitz B et al (1994) Age-related changes in cortical blood flow activation during visual processing of faces and location. J Neurosci 14:1450–1462

11.

Crook TH, Larrabee GJ (1992) Changes in facial recognition memory across the adult life span. J Gerontol Psychol Sci 47:138–141

12.

Yip AW, Sinha P (2002) Contribution of color to face recognition. Perception 31:995–1003. doi:10.1068/p3376

13.

Langner O, Dotsch R, Bijlstra G et al (2010) Presentation and validation of the Radboud Faces Database. Cogn Emot 24:1377–1388. doi:10.1080/02699930903485076
Ethics declarations
Conflict of interest
On behalf of all authors, the corresponding author states that there is no conflict of interest.
Statement of human and animal rights
All procedures performed in this study involving human participants were in accordance with the ethical standards of the institutional and national research committee and with the 1964 Helsinki declaration. Procedures performed in this study did not invovle animals.
Informed consent
Informed consent was obtained from all individual participants included in the study.
About this article
Cite this article
Obermeyer, S., Kubik, V., Schaich, A. et al. Learning to recognize younger faces at an older age. Aging Clin Exp Res 29, 191–196 (2017). https://doi.org/10.1007/s40520-016-0537-2
Received:

Accepted:

Published:

Issue Date:
Keywords
Face recognition

Aging

Development

Memory