Abstract
Background
Wheeled walkers (WWs) are used to improve mobility and for fall prevention in older persons, but not all users are satisfied with the usability of WWs. Intelligent WWs are being developed to improve the usability.
Aims
The aim of this study was to support the development of intelligent WWs by investigating possible problems of using a WW.
Methods
This study investigated 22 geriatric in-patients (median age 82 years) with and without their WW while opening a door against the direction of walking and passing through. Other possible problems when using WWs were identified by interview.
Results
Walking through the door was faster without than with using the WW (8.71 versus 12.86 s, p < 0.001), while interference between door and WW was documented in 41 of 44 (93 %) cases. Backward walking performance was better when using a WW with regard to gait speed, step width and walk ratio (all p < 0.002). Most referred problems when using a WW were walking downhill (83 %) and uphill (77 %) and obstacle crossing in general (77 %).
Conclusions
Problems with opening a door against the direction of walking and the optimization of downhill and uphill walking as well as obstacle crossing should be regarded when developing an intelligent WW.
Access options
Buy single article
Instant access to the full article PDF.
USD 39.95
Price includes VAT (USA)
Tax calculation will be finalised during checkout.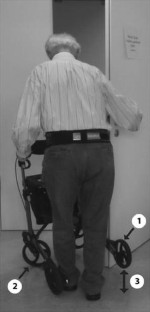 References
1.

Steffen TM, Hacker TA, Mollinger L (2002) Age- and gender-related test performance in community-dwelling elderly people: 6-min walk test, Berg Balance Scale, Timed Up and Go Test, and gait speeds. Phys Ther 82:128–137

2.

Bateni H, Maki BE (2005) Assistive devices for balance and mobility: benefits, demands, and adverse consequences. Arch Phys Med Rehabil 86:134–145

3.

Salminen AL, Brandt A, Samuelsson K et al (2009) Mobility devices to promote activity and participation: a systematic review. J Rehabil Med 41:697–706

4.

Graafmans WC, Lips P, Wijlhuizen GJ et al (2003) Daily physical activity and the use of a walking aid in relation to falls in elderly people in a residential care setting. Zeitschrift Für Gerontologie Und Geriatrie 36:23–28

5.

Van Riel KMM, Hartholt KA, Panneman MJM et al (2014) Four-wheeled walker related injuries in older adults in the Netherlands. Inj Prev 20:11–15

6.

Bryant MS, Pourmoghaddam A, Thrasher A (2012) Gait changes with walking devices in persons with Parkinson's disease. Disabil Rehabil Assist Technol 7:149–152

7.

Brandt A, Iwarsson S, Stahl A (2003) Satisfaction with rollators among community-living users: a follow-up study. Disabil Rehabil 25:343–353

8.

Simoneau M, Teasdale N, Bourdin C et al (1999) Aging and postural control: postural perturbations caused by changing the visual anchor. J Am Geriatr Soc 47:235–240

9.

Bateni H, Heung E, Zettel J et al (2004) Can use of walkers or canes impede lateral compensatory stepping movements? Gait Posture 20:74–83

10.

Tung JY, Chee JN, Zabjek KF et al (2014) Combining ambulatory and laboratory assessment of rollator use for balance and mobility in neurologic rehabilitation in-patients. Disabil Rehabil Assist Technol. doi:10.3109/17483107.2014.908243

11.

Fritz NE, Worstell AM, Kloos AD et al (2013) Backward walking measures are sensitive to age-related changes in mobility and balance. Gait Posture 37:593–597

12.

Rentschler AJ, Cooper RA, Blasch B et al (2003) Intelligent walkers for the elderly: performance and safety testing of VA-PAMAID robotic walker. J Rehabil Res Dev 40:423–431

13.

Umea University (2014) Biotech Umeå—developing an intelligent rollator. http://www.biotechumea.se/developing-an-intelligent-rollator. Accessed 22 July 2014

14.

University of Stuttgart (2014) Institut für Automatisierungs- und Softwaretechnik. http://www.ias.uni-stuttgart.de/?page_id=46&demo_id=18. Accessed 17 July 2014

15.

Sekiya N, Nagasaki H (1998) Reproducibility of the walking patterns of normal young adults: test-retest reliability of the walk ratio (step-length/step-rate). Gait Posture 7:225–227

16.

Jones CJ, Rikli RE, Beam WC (1999) A 30-s chair-stand test as a measure of lower body strength in community-residing older adults. Res Q Exerc Sport 70:113–119

17.

Groll DL, To T, Bombardier C et al (2005) The development of a comorbidity index with physical function as the outcome. J Clin Epidemiol 58:595–602

18.

Callisaya ML, Blizzard L, McGinley JL et al (2012) Risk of falls in older people during fast-walking–the TASCOG study. Gait Posture 36:510–515
Acknowledgments
The authors thank Aaron Haslbauer, Karin Kampe and Elisabeth Petrias for data collection and technical support and the authors thank Aileen Currie for proofreading the manuscript.
Ethics declarations
Conflict of interest
This work was supported by the Robert Bosch Foundation as the owner of the Robert-Bosch-Hospital where the study was conducted. The authors declare that they have no conflict of interest.
Ethical standards
All procedures performed in studies involving human participants were in accordance with the ethical standards of the institutional research committee and with the 1964 Helsinki declaration and its later amendments or comparable ethical standards.
Informed consent
Informed consent was obtained from all individual participants included in the study.
About this article
Cite this article
Lindemann, U., Schwenk, M., Klenk, J. et al. Problems of older persons using a wheeled walker. Aging Clin Exp Res 28, 215–220 (2016). https://doi.org/10.1007/s40520-015-0410-8
Received:

Accepted:

Published:

Issue Date:
Keywords
Door

Older persons

Usability

Wheeled walker