Abstract
Background
Long lies after a fall remain a public health challenge. Many successful fall prevention programmes have been developed but only few of them include recovery strategies after a fall. Once better understood, such movement strategies could be implemented into training interventions.
Aims
A model of motion sequences describing successful movement strategies for rising from the floor in different age groups was developed. Possible risk factors for poor rising performance such as flexibility and muscle power were evaluated.
Methods
Fourteen younger subjects between 20 and 50 years of age and 10 healthy older subjects (60+ years) were included. Movement strategies and key components of different rising sequences were determined from video analyses. The temporal parameters of transfers and number of components within the motion sequences were calculated. Possible explanatory variables for differences in rising performance were assessed (leg extension power, flexibility of the knee- and hip joints).
Results
Seven different components were identified for the lie-to-stand-walk transfer, labelled as lying, initiation, positioning, supporting, elevation, or stabilisation component followed by standing and/or walking. Median time to rise was significantly longer in older subjects (older 5.7s vs. younger 3.7s; p < 0.001), and leg extension power (left p = 0.002, right p = 0.013) and knee flexibility (left p = 0.019, right p = 0.025) were significantly lower. The number of components for rising was correlated with hip flexibility (r = 0.514) and maximal power (r = 0.582). The time to rise was correlated with minimal goniometric knee angle of the less flexible leg (r = 0.527) and maximal leg extension power (r = 0.725).
Conclusions
A motion sequence model containing seven different components identified by individual key-frames could be established. Age-related differences in rising strategies and performance were identified.
Access options
Buy single article
Instant access to the full article PDF.
US$ 39.95
Tax calculation will be finalised during checkout.
Subscribe to journal
Immediate online access to all issues from 2019. Subscription will auto renew annually.
US$ 79
Tax calculation will be finalised during checkout.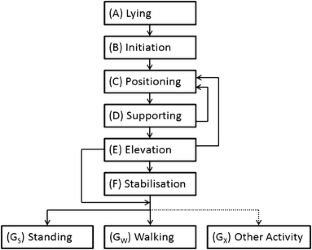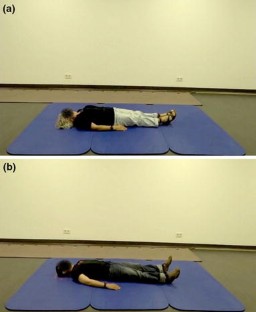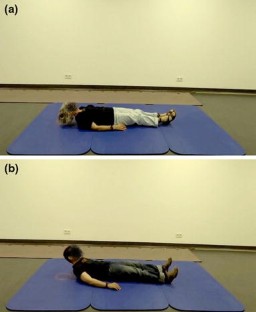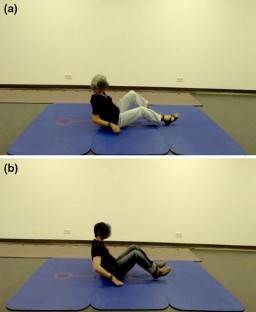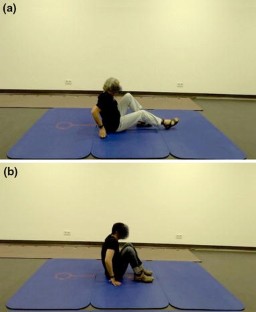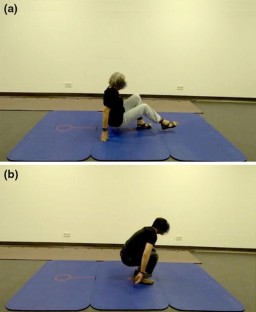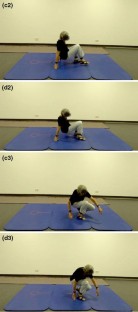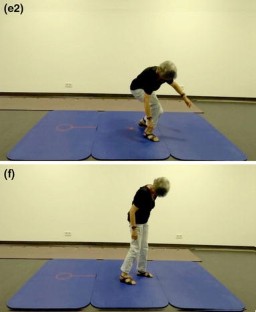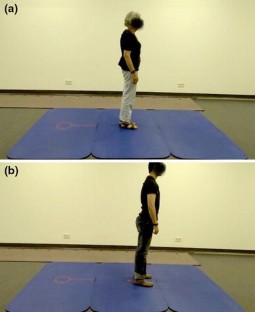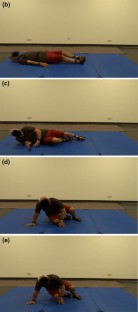 References
1.

Gurley RJ, Lum N, Sande M et al (1996) Persons found in their homes helpless or dead. N Engl J Med 334(26):1710–1716

2.

Fleming J, Brayne C, Cambridge City over-75s Cohort (CC75C) study collaboration (2008) Inability to get up after falling, subsequent time on floor, and summoning help: prospective cohort study in people over 90. BMJ 337:a2227

3.

Tinetti ME, Liu WL, Claus EB (1993) Predictors and prognosis of inability to get up after falls among elderly persons. JAMA J Am Med Assoc 269(1):65–70

4.

Mann WC, Belchior P, Tomita MR et al (2005) Use of personal emergency response systems by older individuals with disabilities. Assist Technol Off J RESNA 17(1):82–88

5.

Heinbüchner B, Hautzinger M, Becker C et al (2010) Satisfaction and use of personal emergency response systems. Z Für Gerontol Geriatr 43(4):219–223

6.

Levine DA, Tideiksaar R (1995) Personal emergency response systems: factors associated with use among older persons. Mt Sinai J Med N Y 62(4):293–297

7.

Bagalà F, Becker C, Cappello A et al (2012) Evaluation of accelerometer-based fall detection algorithms on real-world falls. PLoS One 7(5):e37062

8.

Schwickert L, Becker C, Lindemann U et al (2013) Fall detection with body-worn sensors: a systematic review. Z Für Gerontol Geriatr 46(8):706–719

9.

Becker C, Schwickert L, Mellone S et al (2012) Proposal for a multiphase fall model based on real-world fall recordings with body-fixed sensors. Z Für Gerontol Geriatr 45(8):707–715

10.

Hofmeyer MR, Alexander NB, Nyquist LV et al (2002) Floor-rise strategy training in older adults. J Am Geriatr Soc 50(10):1702–1706

11.

Alexander NB, Ulbrich J, Raheja A et al (1997) Rising from the floor in older adults. J Am Geriatr Soc 45(5):564–569

12.

Ulbrich J, Raheja A, Alexander NB (2000) Body positions used by healthy and frail older adults to rise from the floor. J Am Geriatr Soc 48(12):1626–1632

13.

VanSant AF (1990) Life-span development in functional tasks. Phys Ther 70(12):788–798

14.

Reitan RM (1955) The relation of the trail making test to organic brain damage. J Consult Psychol 19(5):393–394

15.

Bohannon RW (1997) Comfortable and maximum walking speed of adults aged 20–79 years: reference values and determinants. Age Ageing 26(1):15–19

16.

Tinetti ME (1986) Performance-oriented assessment of mobility problems in elderly patients. J Am Geriatr Soc 34(2):119–126

17.

Guralnik JM, Winograd CH (1994) Physical performance measures in the assessment of older persons. Aging Milan Italy 6(5):303–305

18.

Bassey EJ, Short AH (1990) A new method for measuring power output in a single leg extension: feasibility, reliability and validity. Eur J Appl Physiol 60(5):385–390

19.

Jones CJ, Rikli RE, Max J et al (1998) The reliability and validity of a chair sit-and-reach test as a measure of hamstring flexibility in older adults. Res Q Exerc Sport 69(4):338–343

20.

McDermott MM, Liu K, Guralnik JM et al (1998) Measurement of walking endurance and walking velocity with questionnaire: validation of the walking impairment questionnaire in men and women with peripheral arterial disease. J Vasc Surg 28(6):1072–1081

21.

Reece AC, Simpson JM (1996) Preparing older people to cope after a fall. Physiotherapy 82(4):227–235

22.

Campbell AJ, Robertson MC, Gardner MM et al (1999) Falls prevention over 2 years: a randomized controlled trial in women 80 years and older. Age Ageing 28(6):513–518

23.

Skelton D, Dinan S, Campbell M et al (2005) Tailored group exercise (Falls Management Exercise—FaME) reduces falls in community-dwelling older frequent fallers (an RCT). Age Ageing 34(6):636–639
Conflict of interest
The authors certify that there is no actual or potential conflict of interest in relation to this article.
Human and Animal Rights
All procedures were in accordance with the ethical standards of the responsible committee of the University of Tübingen, Germany and with the Helsinki Declaration of 1975, as revised in 2008.
Informed consent
Informed consent was obtained from all individual participants included in the study.
About this article
Cite this article
Schwickert, L., Oberle, C., Becker, C. et al. Model development to study strategies of younger and older adults getting up from the floor. Aging Clin Exp Res 28, 277–287 (2016). https://doi.org/10.1007/s40520-015-0397-1
Received:

Accepted:

Published:

Issue Date:
Keywords
Recovery strategy

Rising

Motion sequence

Fall detection

Prevention