Abstract
Background and aims
Gait and balance impairments lead to falls and injuries in older people. Walking aids are meant to increase gait safety and prevent falls, yet little is known about how their use alters gait parameters. This study aimed to quantify gait in older adults during walking without and with different walking aids and to compare gait parameters to matched controls.
Methods
This retrospective study included 65 older (≥60 years) community dwellers who used a cane, crutch or walker and 195 independently mobile-matched controls. Spatio-temporal gait parameters were measured with an electronic walkway system during normal walking.
Results
When walking unaided or aided, walking aid users had significantly worse gait than matched controls. Significant differences between the walking aid groups were found for stride time variability (cane vs. walker) in walking unaided only. Gait performances significantly improved when assessed with vs. without the walking aid for the cane (increased stride time and length, decreased cadence and stride length variability), crutch (increased stride time and length, decreased cadence, stride length variability and double support) and walker (increased gait speed and stride length, decreased base of support and double support) users.
Conclusion
Gait in older adults who use a walking aid is more irregular and unstable than gait in independently mobile older adults. Walking aid users have better gait when using their walking aid than when walking without it. The changes in gait were different for the different types of walking aids used. These study results may help better understand gait in older adults and differentiate between pathological gait changes and compensatory gait changes due to the use of a walking aid.
Access options
Buy single article
Instant access to the full article PDF.
US$ 39.95
Tax calculation will be finalised during checkout.
Subscribe to journal
Immediate online access to all issues from 2019. Subscription will auto renew annually.
US$ 79
Tax calculation will be finalised during checkout.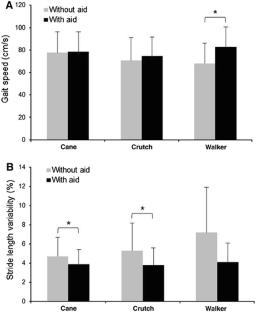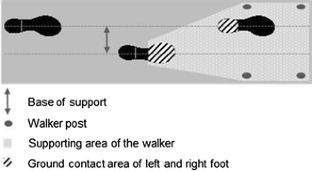 References
1.

Sudarsky L (1990) Geriatrics: gait disorders in the elderly. N Engl J Med 322(20):1441–1446

2.

Verghese J, LeValley A, Hall CB, Katz MJ, Ambrose AF, Lipton RB (2006) Epidemiology of gait disorders in community-residing older adults. J Am Geriatr Soc 54(2):255–261

3.

Metz DH (2000) Mobility of older people and their quality of life. Transp Policy 7(2):149–152

4.

Rubenstein LZ, Josephson KR (2006) Falls and their prevention in elderly people: what does the evidence show? Med Clin North Am 90(5):807–824

5.

Bateni H, Maki BE (2005) Assistive devices for balance and mobility: benefits, demands, and adverse consequences. Arch Phys Med Rehabil 86(1):134–145

6.

Hartke RJ, Prohaska TR, Furner SE (1998) Older adults and assistive devices: use, multiple-device use, and need. J Aging Health 10(1):99–116

7.

Rubenstein LZ, Josephson KR (2002) The epidemiology of falls and syncope. Clin Geriatr Med 18(2):141–158

8.

Bateni H, Heung E, Zettel J, McLlroy WE, Maki BE (2004) Can use of walkers or canes impede lateral compensatory stepping movements? Gait Posture 20(1):74–83

9.

Bateni H, Zecevic A, McIlroy WE, Maki BE (2004) Resolving conflicts in task demands during balance recovery: does holding an object inhibit compensatory grasping? Exp Brain Res 157(1):49–58

10.

Aminzadeh F, Edwards N (1998) Exploring seniors' views on the use of assistive devices in fall prevention. Public Health Nurs 15(4):297–304

11.

Bridenbaugh SA, Kressig RW (2011) Laboratory review: the role of gait analysis in seniors' mobility and fall prevention. Gerontology 57(3):256–264

12.

Menz HB, Lord SR, Fitzpatrick RC (2003) Age-related differences in walking stability. Age Ageing 32(2):137–142

13.

Verghese J, Holtzer R, Lipton RB, Wang C (2009) Quantitative gait markers and incident fall risk in older adults. J Gerontol A Biol Sci Med Sci 64(8):896–901

14.

Hausdorff JM, Edelberg HK, Mitchell SL, Goldberger AL, Wei JY (1997) Increased gait unsteadiness in community-dwelling elderly fallers. Arch Phys Med Rehabil 78(3):278–283

15.

Maki BE (1997) Gait changes in older adults: predictors of falls or indicators of fear. J Am Geriatr Soc 45(3):313–320

16.

Hausdorff JM, Rios DA, Edelberg HK (2001) Gait variability and fall risk in community-living older adults: a 1-year prospective study. Arch Phys Med Rehabil 82(8):1050–1056

17.

Hollman JH, McDade EM, Petersen RC (2011) Normative spatiotemporal gait parameters in older adults. Gait Posture 34(1):111–118

18.

Bilney B, Morris M, Webster K (2003) Concurrent related validity of the GAITRite walkway system for quantification of the spatial and temporal parameters of gait. Gait Posture 17(1):68–74

19.

Kressig RW, Beauchet O (2006) Guidelines for clinical applications of spatio-temporal gait analysis in older adults. Aging Clin Exp Res 18(2):174–176

20.

Lamb SE, Jørstad-Stein EC, Hauer K, Becker C (2005) Development of a common outcome data set for fall injury prevention trials: the Prevention of Falls Network Europe consensus. J Am Geriatr Soc 53(9):1618–1622

21.

Folstein MF, Folstein SE, McHugh PR (1975) "Mini-mental state". A practical method for grading the cognitive state of patients for the clinician. J Psychiatr Res 12(3):189–198

22.

Podsiadlo D, Richardson S (1991) The timed "Up & Go": a test of basic functional mobility for frail elderly persons. J Am Geriatr Soc 39(2):142–148

23.

Shumway-Cook A, Brauer S, Woollacott M (2000) Predicting the probability for falls in community-dwelling older adults using the Timed Up & Go Test. Phys Ther 80(9):896–903

24.

Montero-Odasso M, Muir SW, Hall M et al (2011) Gait variability is associated with frailty in community-dwelling older adults. J Gerontol A Biol Sci Med Sci 66(5):568–576

25.

Bryant MS, Pourmoghaddam A, Thrasher A (2012) Gait changes with walking devices in persons with Parkinson's disease. Disabil Rehabil Assist Technol 7(2):149–152

26.

Kloos AD, Kegelmeyer DA, White SE, Kostyk SK (2012) The impact of different types of assistive devices on gait measures and safety in Huntington's disease. PLoS One 7(2):e30903

27.

Liu HH, McGee M, Wang W, Persson M (2009) Comparison of gait characteristics between older rolling walker users and older potential walker users. Arch Gerontol Geriatr 48(3):276–280

28.

Protas EJ, Raines ML, Tissier S (2007) Comparison of spatiotemporal and energy cost of the use of 3 different walkers and unassisted walking in older adults. Arch Phys Med Rehabil 88(6):768–773

29.

Polese JC, Teixeira-Salmela LF, Nascimento LR et al (2012) The effects of walking sticks on gait kinematics and kinetics with chronic stroke survivors. Clin Biomech 27(2):131–137

30.

Schwenk M, Schmidt M, Pfisterer M, Oster P, Hauer K (2011) Rollator use adversely impacts on assessment of gait and mobility during geriatric rehabilitation. J Rehabil Med 43(5):424–429
Acknowledgments
The authors would like to thank Prof. Dr. Manfred Berres for the advice in statistical analyses. We also thank Dr. Katrin Singler for helpful ideas on initial research questions for this analysis.
Conflict of interest
None.
About this article
Cite this article
Härdi, I., Bridenbaugh, S.A., Gschwind, Y.J. et al. The effect of three different types of walking aids on spatio-temporal gait parameters in community-dwelling older adults. Aging Clin Exp Res 26, 221–228 (2014). https://doi.org/10.1007/s40520-014-0204-4
Received:

Accepted:

Published:

Issue Date:
Keywords
Mobility aids

Gait

Older adults

Community living