Abstract
The benefits of progressive resistance training (PRT) among the older adults are evident, especially in the prevention of sarcopenia and improving muscle strength, which reverse the age-related loss of functional ability. However, PRT carries some risk, particularly when participants are older adults with a certain degree of muscle weakness. The purpose of this article is to discuss the PRT-related injuries, and present an overview of documented shoulder injuries among the elderly, discerning possible mechanisms of injury and risk factors. A literature search was conducted in the PUBMED database to identify the relevant literature using combinations of keywords: strength-training injuries, resistance-training injuries, sports injuries in the elderly, shoulder complex, shoulder injury, and shoulder disorder. Acute and chronic injuries attributed to PRT have been cited in the epidemiological literature. The shoulder complex, has been alluded to as one of the most prevalent regions of injury, particularly in exercises that place the arm extended above the head and posterior to the trunk. However, the risk for injuries appears to be higher for testing than for training itself. One-repetition maximum strength testing may result in a greater injury risk. This technique, though acceptable, needs additional precautions in inexperience older adults to prevent injury. Thus, the best treatment for PRT age-related injuries is prevention. Appropriate and individualized training programs, the use of safe equipment, careful warming up and cooling down, correct range of motion, progressive intensity training, cardiovascular and musculoskeletal fitness are essential aspects of injury prevention among the elderly.
This is a preview of subscription content, log in to check access.
Access options
Buy single article
Instant access to the full article PDF.
US$ 39.95
Price includes VAT for USA
Subscribe to journal
Immediate online access to all issues from 2019. Subscription will auto renew annually.
US$ 99
This is the net price. Taxes to be calculated in checkout.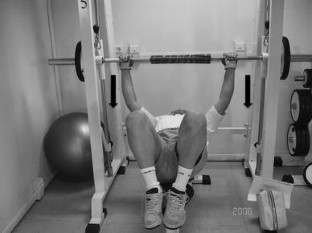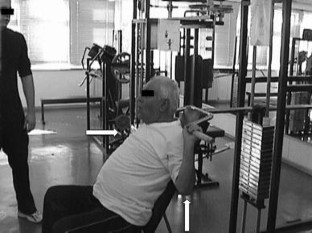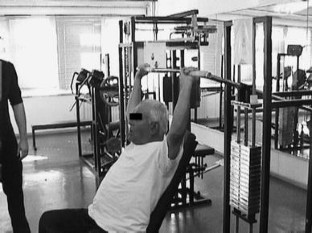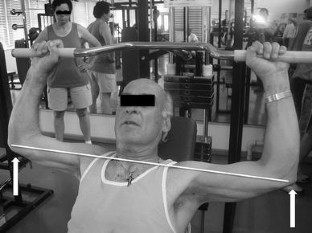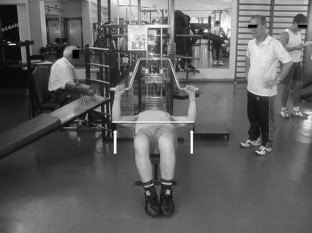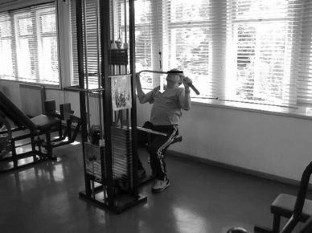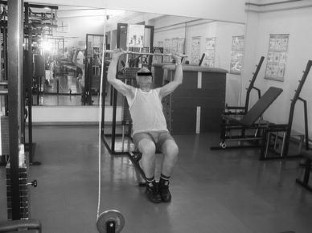 References
1.

Geirsdottir OG, Arnarson A, Briem K, Ramel A, Jonsson PV, Thorsdottir I (2012) Effect of 12-week resistance exercise program on body composition, muscle strength, physical function, and glucose metabolism in healthy, insulin-resistant, and diabetic elderly Icelanders. J Gerontol A Biol Sci Med Sci 67:1259–1265

2.

Sousa N, Mendes R, Abrantes C, Sampaio J (2011) Differences in maximum upper and lower limb strength in older adults after a 12 week intense resistance training program. J Hum Kinet 30:183–188

3.

Latham NK, Bennett DA, Stretton CM, Anderson CS (2004) Systematic review of progressive resistance strength training in older adults. J Gerontol A Med Sci 59A:48–61

4.

Mendes R, Sousa N, Themudo-Barata J (2011) Physical activity and public health: recommendations for exercise prescription. Acta Med Port 24:1025–1030

5.

Sundell J (2011) Resistance training is an effective tool against metabolic and frailty syndromes. Adv Prev Med 2011:984683

6.

Valente EA, Sheehy ME, Avila JJ, Gutierres JA, Delmonico MJ, Lofgren IE (2011) The effect of the addition of resistance training to a dietary education intervention on apolipoproteins and diet quality in overweight and obese older adults. Clin Interv Aging 6:235–241

7.

Chodzko-Zajko WJ, Proctor DN, Fiatarone Singh MA et al (2009) Exercise and physical activity for older adults. American College of Sports Medicine position stand. Med Sci Sports Exerc 41:1510–1530

8.

Mayer F, Scharhag-Rosenberger F, Carlsohn A, Cassel M, Müller S, Scharhag J (2011) The intensity and effects of strength training in the elderly. Dtsch Arztebl Int 108:359–364

9.

Sousa N, Sampaio J (2005) Effects of progressive strength training on the performance of the functional reach test and the timed get-up-and-go test in an elderly population from the rural north of Portugal. Am J Hum Biol 17:746–751

10.

Sousa N, Mendes R, Abrantes C, Sampaio J, Oliveira J (2013) Is once-weekly resistance training enough to prevent sarcopenia? J Am Geriatr Soc 61:1423–1424

11.

Layne JE, Nelson ME (1999) The effects of progressive resistance training on bone density: a review. Med Sci Sports Exerc 31:25–30

12.

Kristensen J, Franklyn-Miller A (2012) Resistance training in musculoskeletal rehabilitation: a systematic review. Br J Sports Med 46:719–726

13.

Kolber MJ, Beekhuizen KS, Cheng MS, Hellman MA (2010) Shoulder injuries attributed to resistance training: a brief review. J Strength Cond Res 24:1696–1704

14.

Colado JC, Garcia-Massó X (2009) Technique and safety aspects of resistance exercises: a systematic review of the literature. Phys Sportsmed 37:104–111

15.

Cope MR, Ali A, Bayliss NC (2004) Biceps rupture in bodybuilders: three case reports of rupture of the long head of the biceps at the tendon-labrum junction. J Shoulder Elbow Surg 13:580–582

16.

Lavallee ME, Balam T (2010) An overview of strength training injuries: acute and chronic. Curr Sports Med Rep 9:307–313

17.

Forthomme B, Crielaard J-M, Croisier J-L (2008) Scapular positioning in athlete's shoulder: particularities, clinical measurements and implications. Sports Med 38:369–386

18.

Phadke V, Camargo PR, Ludewig PM (2009) Scapular and rotator cuff muscle activity during arm elevation: a review of normal function and alterations with shoulder impingement. Rev Bras Fisioter 13:1–9

19.

Gearhart RF, Lagally KM, Riechman SE, Andrews RD (2011) Safety of using the adult OMNI Resistance Exercise Scale to determine 1-RM in older men and women. Percept Mot Skills 113:671–676

20.

Levinger I, Goodman C, Hare DL, Jerums G, Toia D, Selig S (2009) The reliability of the 1RM strength test for untrained middle-aged individuals. J Sci Med Sport 12:310–316

21.

Shaw CE, McCully KK, Posner JD (1995) Injuries during the one repetition maximum assessment in the elderly. J Cardiopulm Rehabil 15:283–287

22.

Borstad JD, Ludewig PM (2002) Comparison of scapular kinematics between elevation and lowering of the arm in the scapular plane. Clin Biomech 17:650–659

23.

Brushoj C, Larsen K, Albrecht-Beste E, Nielsen MB, Loye F, Holmich P (2008) Prevention of overuse injuries by a concurrent exercise program in subjects exposed to an increase in training load—a randomized controlled trial of 1020 army recruits. Am J Sport Med 36:663–670

24.

Camargo PR, Haik MN, Filho RB, Mattiello-Rosa SM, Salvini TF (2008) Bilateral deficits in muscle contraction parameters during shoulder scaption in patients with unilateral subacromial impingement syndrome. Isokinet Exerc Sci 16:93–99

25.

Carrington JL (2005) Aging bone and cartilage: cross-cutting issues. Biochem Bioph Res Co 328:700–708

26.

Peat M (1986) Functional anatomy of the shoulder complex. Phys Ther 66:1855–1865

27.

Terry GC, Chopp TM (2000) Functional anatomy of the shoulder. J Athl Train 35:248–255

28.

Sharkey NA, Marder RA, Hanson PB (1994) The entire rotator cuff contributes to elevation of the arm. J Orthop Res 12:699–708

29.

Sharkey NA, Marder RA (1995) The rotator cuff opposes superior translation of the humeral head. Am J Sports Med 23:270–275

30.

Johnson GR, Pandyan AD (2005) The activity in the three regions of the trapezius under controlled loading conditions—an experimental and modelling study. Clin Biomech 20:155–161

31.

Valeriote J, Purchase RJ, Kelly JD (2005) Simultaneous bilateral pectoralis major muscle rupture. Am J Orthop 34:301–302

32.

Haupt HA (2001) Upper extremity injuries associated with strength training. Clin Sport Med 20:481–490

33.

Lin JJ, Lim HK, Yang JL (2006) Effect of shoulder tightness on glenohumeral translation, scapular kinematics, and scapulohumeral rhythm in subjects with stiff shoulders. J Orthop Res 24:1044–1051

34.

Lin JJ, Hanten WP, Olson SL, Roddey TS et al (2005) Functional activity characteristics of individuals with shoulder dysfunctions. J Electromyogr Kinesiol 15:576–586

35.

Ludewig PM, Cook TM (2000) Alterations in shoulder kinematics and associated muscle activity in people with symptoms of shoulder impingement. Phys Ther 80:276–291

36.

Lodhia K, Barunashish B, Mcgillicuddy J (2005) Peripheral nerve injuries in resistance training. Phys Sportsmed 33:1–19

37.

Freemont AJ, Hoyland JA (2007) Morphology, mechanisms and pathology of musculoskeletal ageing. J Patho 211:252–259

38.

Pollock ML, Carroll JF, Graves JE et al (1991) Injuries and adherence to walk/jog and resistance training programs in the elderly. Med Sci Sports Exerc 23:1194–1200

39.

Kallinen M, Markku A (1995) Aging, physical activity and sports injuries: an overview of common sports injuries in the elderly. Sports Med 20:41–52
Conflict of interest
On behalf of all authors, the corresponding author states that there is no conflict of interest.
About this article
Cite this article
Sousa, N., Mendes, R., Monteiro, G. et al. Progressive resistance strength training and the related injuries in older adults: the susceptibility of the shoulder. Aging Clin Exp Res 26, 235–240 (2014). https://doi.org/10.1007/s40520-013-0157-z
Received:

Accepted:

Published:

Issue Date:
Keywords
Aging

Older adults

Resistance training

Shoulder pain

Shoulder disorders

Sport injuries