Abstract
Purpose
Severe headaches (HAs) have been associated with eating disorders (ED) as well as with trauma, posttraumatic stress disorder (PTSD), major depression and anxiety. However, data addressing all of these factors in the same subjects are limited.
Methods
In a large sample of patients (n = 1461, 93% female) admitted to residential treatment (RT) for an ED, we assessed within 48–72 h of admission subjective reports of frequent HAs and their associations with severity of ED, PTSD, major depressive and state–trait anxiety symptoms, as well as quality of life measures. HA ratings were significantly correlated to the number of lifetime trauma types as well as to symptoms of PTSD, major depression, and state–trait anxiety.
Results
Results indicated that 39% of patients endorsed that frequent HAs occurred "often" or "always" (HA+) in association with their eating or weight issues. This HA-positive (HA+) group had statistically significant higher numbers of lifetime trauma types, higher scores on measures of ED, PTSD, major depressive, and state–trait anxiety symptoms, and worse quality of life measures (p ≤ 0.001) in comparison to the HA-negative (HA−) group, who endorsed that frequent HAs occurred "never," "rarely," or "sometimes" in association with their eating or weight issues. The HA + group also had a significantly higher rate of a provisional PTSD diagnosis (64%) than the HA− group (35%) (p ≤ .001). Following comprehensive RT, HA frequency significantly improved (p ≤ .001).
Conclusion
These findings have important implications for the assessment and treatment of HAs in the context of ED, PTSD and related psychiatric comorbidities, especially at higher levels of care. In addition, the importance of identifying traumatic histories and treating comorbid PTSD and related psychopathology in individuals presenting with severe HAs is emphasized.
Level of evidence
III Evidence obtained from well-designed cohort or case–control analytic studies.
Access options
Buy single article
Instant access to the full article PDF.
USD 39.95
Price excludes VAT (USA)
Tax calculation will be finalised during checkout.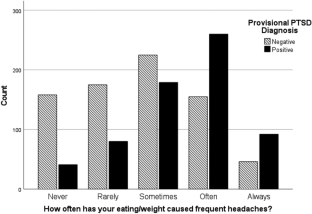 Data availability
Data are proprietary and not available.
References
George MS, Brewerton TD, Harden RN (1993) Bulimia nervosa in outpatients with migraine: a pilot study. J Nerv Ment Dis 181:704–706

Brewerton TD, George MS (1993) Is migraine related to the eating disorders? Int J Eat Disord 14:75–79

Brewerton TD, George MS, Harden RN (1993) Migraine and the eating disorders. Psychiatry Res 46:201–202

Ostuzzi R, D'Andrea G, Francesconi F, Musco F (2008) Eating disorders and headache: coincidence or consequence? Neurol Sci 29(Suppl 1):S83-87

D'Andrea G, Ostuzzi R, Francesconi F, Musco F, Bolner A, d'Onofrio F, Colavito D (2009) Migraine prevalence in eating disorders and pathophysiological correlations. Neurol Sci 30(Suppl 1):S55-59

D'Andrea G, Ostuzzi R, Bolner A, Colavito D, Leon A (2012) Is migraine a risk factor for the occurrence of eating disorders? Prevalence and biochemical evidences. Neurol Sci 33(Suppl 1):S71-76

Demirci K, Demirci S, Akpinar A, Demirdas A, Atay IM (2015) Evaluation of eating attitude in patients with migraine. Noro Psikiyatr Ars 52:367–370

de Oliveira-Souza AIS, da Silva Freitas D, Ximenes RCC, Raposo MCF, de Oliveira DA (2021) The presence of migraine symptoms was associated with a higher likelihood to present eating disorders symptoms among teenage students. Eat Weight Disord

Ray S, Singh SB, Halford JC, Harrold JA, Kumar R (2016) A pilot study of obesogenic eating behaviors in children with migraine. J Child Neurol 31:895–898

Smitherman TA, Burch R, Sheikh H, Loder E (2013) The prevalence, impact, and treatment of migraine and severe headaches in the United States: a review of statistics from national surveillance studies. Headache 53:427–436

Diamond S, Bigal ME, Silberstein S, Loder E, Reed M, Lipton RB (2007) Patterns of diagnosis and acute and preventive treatment for migraine in the United States: results from the American Migraine Prevalence and Prevention study. Headache 47:355–363

Streatfeild J, Hickson J, Austin SB, Hutcheson R, Kandel JS, Lampert JG, Myers EM, Richmond TK, Samnaliev M, Velasquez K, Weissman RS, Pezzullo L (2021) Social and economic cost of eating disorders in the United States: Evidence to inform policy action. Int J Eat Disord 54:851–868

Wu J, Liu J, Li S, Ma H, Wang Y (2020) Trends in the prevalence and disability-adjusted life years of eating disorders from 1990 to 2017: results from the Global Burden of Disease Study 2017. Epidemiol Psychiatr Sci 29:e191

Kandemir G, Hesapcioglu ST, Kurt ANC (2018) What are the psychosocial factors associated with migraine in the child? Comorbid psychiatric disorders, family functioning, parenting style, or mom's psychiatric symptoms? J Child Neurol 33:174–181

Mustelin L, Raevuori A, Kaprio J, Keski-Rahkonen A (2014) Association between eating disorders and migraine may be explained by major depression. Int J Eat Disord 47:884–887

Cripe SM, Sanchez SE, Gelaye B, Sanchez E, Williams MA (2011) Association between intimate partner violence, migraine and probable migraine. Headache 51:208–219

Baskin SM, Smitherman TA (2009) Migraine and psychiatric disorders: comorbidities, mechanisms, and clinical applications. Neurol Sci 30(Suppl 1):S61-65

Brewerton TD, Murphy DL, Mueller EA, Jimerson DC (1988) Induction of migrainelike headaches by the serotonin agonist m-chlorophenylpiperazine. Clin Pharmacol Ther 43:605–609

Brewerton TD, Murphy DL, Lesem MD, Brandt HA, Jimerson DC (1992) Headache responses following m-Chlorophenylpiperazine in bulimics and controls. Headache J Head Face Pain 32:217–222

Brewerton TD (1995) Toward a unified theory of serotonin dysregulation in eating and related disorders. Psychoneuroendocrinology 20:561–590

Marcus DA (1993) Serotonin and its role in headache pathogenesis and treatment. Clin J Pain 9:159–167

Wilkinson F (2001) Migraine, eating disorders, and triptans: an unrecognized risk? Headache 41:914–915

Gazerani P, Cairns BE (2020) Sex-specific pharmacotherapy for migraine: a narrative review. Front Neurosci 14:222

Brewerton TD (2012) Antipsychotic agents in the treatment of anorexia nervosa: neuropsychopharmacologic rationale and evidence from controlled trials. Curr Psychiatry Rep 14:398–405

Attia E, Steinglass JE, Walsh BT, Wang Y, Wu P, Schreyer C, Wildes J, Yilmaz Z, Guarda AS, Kaplan AS, Marcus MD (2019) Olanzapine versus placebo in adult outpatients with anorexia nervosa: a randomized clinical trial. Am J Psychiatry 176:449–456

Himmerich H, Treasure J (2018) Psychopharmacological advances in eating disorders. Expert Rev Clin Pharmacol 11:95–108

Papetti L, Moavero R, Ferilli MAN, Sforza G, Tarantino S, Ursitti F, Ruscitto C, Vigevano F, Valeriani M (2021) Truths and myths in pediatric migraine and nutrition. Nutrients 13:2714

Hindiyeh NA, Zhang N, Farrar M, Banerjee P, Lombard L, Aurora SK (2020) The role of diet and nutrition in migraine triggers and treatment: a systematic literature review. Headache 60:1300–1316

Altamura C, Cecchi G, Bravo M, Brunelli N, Laudisio A, Caprio PD, Botti G, Paolucci M, Khazrai YM, Vernieri F (2020) The healthy eating plate advice for migraine prevention: an interventional study. Nutrients 12

Hajjarzadeh S, Mahdavi R, Shalilahmadi D, Nikniaz Z (2020) The association of dietary patterns with migraine attack frequency in migrainous women. Nutr Neurosci 23:724–730

Razeghi JS, Ghorbani Z, Martelletti P, Lampl C, Togha M (2019) School of advanced studies of the European headache F: association of diet and headache. J Headache Pain 20:106

Andreeva VA, Szabo de Edelenyi F, Druesne-Pecollo N, Touvier M, Hercberg S, Galan P (2018) Macronutrient. Nutrients 10

Yokoyama M, Yokoyama T, Funazu K, Yamashita T, Kondo S, Hosoai H, Yokoyama A, Nakamura H (2009) Associations between headache and stress, alcohol drinking, exercise, sleep, and comorbid health conditions in a Japanese population. J Headache Pain 10:177–185

Panconesi A (2016) Alcohol-induced headaches: evidence for a central mechanism? J Neurosci Rural Pract 7:269–275

Gupta R, Bhatia MS (2011) Comparison of clinical characteristics of migraine and tension type headache. Indian J Psychiatry 53:134–139

Vargas BB (2008) Tension-type headache and migraine: two points on a continuum? Curr Pain Headache Rep 12:433–436

Turner DP, Smitherman TA, Black AK, Penzien DB, Porter JAH, Lofland KR, Houle TT (2015) Are migraine and tension-type headache diagnostic types or points on a severity continuum? An exploration of the latent taxometric structure of headache. Pain 156:1200–1207

Engel SG, Wittrock DA, Crosby RD, Wonderlich SA, Mitchell JE, Kolotkin RL (2006) Development and psychometric validation of an eating disorder-specific health-related quality of life instrument. Int J Eat Disord 39:62–71

Brewerton TD, Suro G, Gavidia I, Perlman MM (2021) Sexual and gender minority individuals report higher rates of lifetime traumas and current PTSD than cisgender heterosexual individuals admitted to residential eating disorder treatment. Eat Weight Disord

Brewerton TD, Perlman MM, Gavidia I, Suro G, Genet J, Bunnell DW (2020) The association of traumatic events and posttraumatic stress disorder with greater eating disorder and comorbid symptom severity in residential eating disorder treatment centers. Int J Eat Disord 53:2061–2066

Berg KC, Peterson CB, Frazier P, Crow SJ (2012) Psychometric evaluation of the eating disorder examination and eating disorder examination-questionnaire: a systematic review of the literature. Int J Eat Disord 45:428–438

Garner DM (1991) Eating Disorder Inventory-2: Professional manual. Psychological Assessment Resources, Odessa

Kroenke K, Spitzer RL, Williams JB (2001) The PHQ-9: validity of a brief depression severity measure. J Gen Intern Med 16:606–613

Spielberger CD, Gorsuch RL, Lushene R, Vagg PR, Jacobs GA (1983) Manual for the state-trait anxiety inventory (STAI). CA, Consulting Psychologists Press, Palo Alto

Weathers F.W., Blake D.D., Schnurr P.P., Kaloupek D.G., Marx B.P., Keane T.M.: The Life Events Checklist for DSM-5 (LEC-5). National Center for PTSD, 2013.

Blevins CA, Weathers FW, Davis MT, Witte TK, Domino JL (2015) The Posttraumatic Stress Disorder Checklist for DSM-5 (PCL-5): development and initial psychometric evaluation. J Trauma Stress 28:489–498

American Psychiatric Association (2013) Diagnostic and statistical manual of mental disorders. American Psychiatric Press, Washington, DC

Brewerton TD, McShane M, Genet J, Gavidia I, Suro G, Coffin M, Bunnell D (2019) Assessment and treatment results using an integrated approach with cognitive processing therapy for eating disorders and PTSD in a residential treatment center. Eating Disorders Research Society, Chicago

Burch R, Rizzoli P, Loder E (2021) The prevalence and impact of migraine and severe headache in the United States: updated age, sex, and socioeconomic-specific estimates from government health surveys. Headache 61:60–68

Silberstein S, Loder E, Diamond S, Reed ML, Bigal ME, Lipton RB (2007) Probable migraine in the United States: results of the American Migraine Prevalence and Prevention (AMPP) study. Cephalalgia 27:220–229

Lautenbacher S, Pauls AM, Strian F, Pirke K-M, Krieg J-C (1991) Pain sensitivity in anorexia nervosa and bulimia nervosa. Biol Psychiat 29:1073–1078

Papezova H, Yamamotova A, Uher R (2005) Elevated pain threshold in eating disorders: physiological and psychological factors. J Psychiatr Res 39:431–438

Moeller-Bertram T, Keltner J, Strigo IA (2012) Pain and post traumatic stress disorder - review of clinical and experimental evidence. Neuropharmacology 62:586–597

Thompson T, Correll CU, Gallop K, Vancampfort D, Stubbs B (2016) Is pain perception altered in people with depression? A systematic review and meta-analysis of experimental pain research. J Pain 17:1257–1272

Hermesdorf M, Berger K, Baune BT, Wellmann J, Ruscheweyh R, Wersching H (2016) Pain sensitivity in patients with major depression: differential effect of pain sensitivity measures, somatic cofactors, and disease characteristics. J Pain 17:606–616

Petolicchio B, Squitieri M, Vigano A, Toscano M, Sirolli A, Aielli S, Di Giambattista R, Vicenzini E, Gillieron E, Di Piero V (2015) Psychodynamic functioning in chronic headache patients: a short term psychodynamic psychotherapy (STPP) study. J Headache Pain 16:105
Acknowledgements
This work was supported by Monte Nido and Affiliates (MNA).
Ethics declarations
Conflict of interest
Timothy D. Brewerton is a paid, independent consultant for MNA. Molly Perlman, Ismael Gavidia, Giulia Suro, and Joel Jahraus are all employees of MNA.
Ethics approval
This study was approved by the Salus Institutional Review Board.
Informed consent
All participants provided informed consent prior to their participation.
Consent to participate
All participants gave written informed consent and were deidentified prior to analysis of data.
Additional information
Publisher's Note
Springer Nature remains neutral with regard to jurisdictional claims in published maps and institutional affiliations.
About this article
Cite this article
Brewerton, T.D., Perlman, M.M., Gavidia, I. et al. Headache, eating disorders, PTSD, and comorbidity: implications for assessment and treatment. Eat Weight Disord 27, 2693–2700 (2022). https://doi.org/10.1007/s40519-022-01414-6
Received:

Accepted:

Published:

Issue Date:

DOI: https://doi.org/10.1007/s40519-022-01414-6
Keywords
Eating disorders

Headache

Trauma

PTSD

Depression

Comorbidity