Abstract
Purpose
This study aims to test the effect of the components of the Information-Motivation-Behavioral Skills Model on Orthorexia Nervosa (ON) behavior of pregnant women and health outcomes using a hypothetical model.
Methods
The study is cross-sectional research and was carried out with 350 pregnant women who had the Non-Stress Test in the obstetrics outpatient clinic of a university hospital. The participants were selected using the convenience sampling method. The data were collected with a questionnaire. Data were analyzed using the structural equation model.
Results
It was found that 26.6% of pregnant women had an ON tendency. High information for obsession with obsession with healthy eating causes more ON behaviors (β =  – 0.25, p < 0.001). The higher motivation for obsession with healthy eating obsession (β = 0.73, p < 0.01) and a higher tendency to ON behaviors (β =  – 0.16, p < 0.05) are associated with better health outcomes.
Conclusion
Our findings show that high levels of information and motivation about the obsession with healthy eating effect ON tendency and health outcomes. The findings are significant in that they lead and guide the interventions for the detection, prevention, and treatment of ON during pregnancy.
Level of Evidence
Level V, cross-sectional study
Access options
Buy single article
Instant access to the full article PDF.
US$ 39.95
Tax calculation will be finalised during checkout.
Subscribe to journal
Immediate online access to all issues from 2019. Subscription will auto renew annually.
US$ 79
Tax calculation will be finalised during checkout.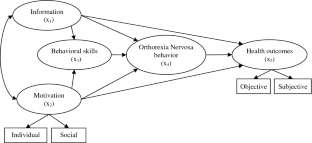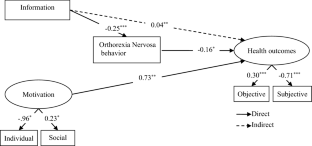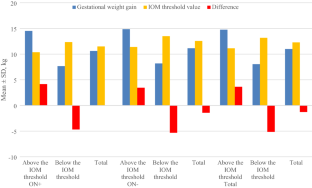 References
1.

Bratman S (1997) Health Food Junkie. Yoga J 8:42–50

2.

Bartrina J (2007) Orthorexia or when a healthy diet becomes an obsession. Arch Latinoam Nutr 57:313–315

3.

Mathieu J (2005) What is orthorexia? J Am Diet Assoc 105:1510–1512. https://doi.org/10.1016/j.jada.2005.08.021

4.

Koven NS, Abry AW (2015) The clinical basis of orthorexia nervosa: emerging perspectives. Neuropsychiatr Dis Treat 11:385–394. https://doi.org/10.2147/NDT.S61665

5.

Lopes R, Melo R, Dias Pereira B (2020) Orthorexia nervosa and comorbid depression successfully treated with mirtazapine: a case report. Eat Weight Disord 25:163–167. https://doi.org/10.1007/s40519-018-0539-5

6.

Moroze RM, Dunn TM, Craig Holland J et al (2015) Microthinking about micronutrients: a case of transition from obsessions about healthy eating to near-fatal "orthorexia nervosa" and proposed diagnostic criteria. Psychosomatics 56:397–403. https://doi.org/10.1016/j.psym.2014.03.003

7.

Park SW, Kim JY, Go GJ et al (2011) Orthorexia nervosa with hyponatremia, subcutaneous emphysema, pneumomediastinum, pneumothorax, and pancytopenia. Electrolyte Blood Press 9:32–37. https://doi.org/10.5049/EBP.2011.9.1.32

8.

Pieczykolan A, Flis E, Bień A (2017) Eating disorders during pregnancy. Nursing and Public Health 7:223–226. https://doi.org/10.17219/pzp/66326

9.

American Psychiatric Association (2013) Diagnostic and Statistical Manual of Mental Disorders (DSM-5). 5th edn. American Psychiatric Association, Arlington, VA.  https://www.psychiatry.org/psychiatrists/practice/dsm. Accessed 17 Jan 2021

10.

Dunn TM, Bratman S (2016) On orthorexia nervosa: A review of the literature and proposed diagnostic criteria. Eat Behav 21:11–17. https://doi.org/10.1016/j.eatbeh.2015.12.006

11.

Dunn TM, Gibbs J, Whitney N, Starosta A (2017) Prevalence of orthorexia nervosa is less than 1%: data from a US sample. Eat Weight Disord 22:185–192. https://doi.org/10.1007/s40519-016-0258-8

12.

Oberle CD, De Nadai AS, Madrid LA (2021) Orthorexia Nervosa Inventory (ONI): development and validation of a new measure of orthorexic symptomatology. Eat Weight Disord 26:609–622. https://doi.org/10.1007/s40519-020-00896-6

13.

İpkirmaz İB, Saka M (2020) The evaluation of healthy nutrition obsession (Orthorexia Nervosa) and eating attitudes of pregnant women. Başkent Univ Fac Heal Sci J 5:17–30

14.

Varga M, Dukay-Szabó S, Túry F, Van Furth EF (2013) Evidence and gaps in the literature on orthorexia nervosa. Eat Weight Disord 18:103–111. https://doi.org/10.1007/s40519-013-0026-y

15.

Currin L, Schmidt U, Treasure J, Jick H (2005) Time trends in eating disorder incidence. Br J Psychiatry 186:132–135. https://doi.org/10.1192/bjp.186.2.132

16.

Dukay-Szabó S, Varga M, Túry F (2016) Eating disorders and pregnancy - a review of literature. Clin Neurosci 69:299-305. https://doi.org/10.18071/isz.69.0299

17.

Abramowitz JS, Nelson CA, Rygwall R, Khandker M (2007) The cognitive mediation of obsessive-compulsive symptoms: A longitudinal study. J Anxiety Disord 21:91–104. https://doi.org/10.1016/j.janxdis.2006.05.003

18.

Siriken B, Siriken F, Ünsal C, Çi̇ftci̇ G, (2018) Nutrition and epigenetic. J Harran Univ Fac Vet Med 7:12–18

19.

Shin D, Lee KW, Song WO (2016) Pre-Pregnancy weight status is associated with diet quality and nutritional biomarkers during pregnancy. Nutrients 8:1–12. https://doi.org/10.3390/nu8030162

20.

Yang S, Peng A, Wei S et al (2015) Pre-pregnancy body mass index, gestational weight gain, and birth weight: A cohort study in China. PLoS ONE 10:1–12. https://doi.org/10.1371/journal.pone.0130101

21.

Brytek-Matera A, Gramaglia C, Gambaro E et al (2018) The psychopathology of body image in orthorexia nervosa. J Psychopathol 24:133–140

22.

Kadioğlu M, Oskay Ü (2017) The effects of eating disorders on pregnancy and postpartum period. J Women's Heal Nurs 3:40–53

23.

dos Santos AM, Benute GRG, dos Santos NO et al (2017) Presence of eating disorders and its relationship to anxiety and depression in pregnant women. Midwifery 51:12–15. https://doi.org/10.1016/j.midw.2017.05.005

24.

Fisher JD, Fisher WA (1992) Changing AIDS - risk behavior. Psychol Bull 111:455–474. https://doi.org/10.1037/0033-2909.111.3.455

25.

Osborn CY, Rivet Amico K, Fisher WA et al (2010) An information-motivation-behavioral skills analysis of diet and exercise behavior in puerto ricans with diabetes. J Health Psychol 15:1201–1213. https://doi.org/10.1177/1359105310364173

26.

Fisher JD, Fisher WA, Misovich SJ et al (1996) Changing AIDS risk behavior: effects of an intervention emphasizing AIDS risk reduction information, motivation, and behavioral skills in a college student population. Health Psychol 15:114–123. https://doi.org/10.1037//0278-6133.15.2.114

27.

Daly P, Pace T, Berg J et al (2016) A mindful eating intervention: A theory-guided randomized anti-obesity feasibility study with adolescent Latino females. Complement Ther Med 28:22–28. https://doi.org/10.1016/j.ctim.2016.07.006

28.

Sinley RC, Albrecht JA, Author C, State M (2018) Application of the IMB Model to the reported intake of fruits and vegetables of Native American Children. J Health Dispar Res Pract 11:16–30

29.

Peyman N, Abdollahi M (2017) Using of information-motivation-behavioral skills model on nutritional behaviors in controlling anemia among girl students. J Res Health 7:736–744. https://doi.org/10.18869/acadpub.jrh.7.2.736

30.

Özdamar K (2015) Biostatistics with SPSS, 10th edn. Nisan Bookstore, Eskişehir

31.

Swami V, Salem N, Furnham A, Tovée MJ (2008) Initial examination of the validity and reliability of the female photographic figure rating scale for body image assessment. Pers Individ Dif 44:1752–1761. https://doi.org/10.1016/j.paid.2008.02.002

32.

Arusoǧlu G, Kabakçi E, Köksal G, Kutluay Merdol T (2008) Orthorexia nervosa and adaptation of ORTO-11 into Turkish. Turkish J Psychiatry 19:283–291

33.

Bandura A (2006) Guide for Constructing Self-Efficacy Scales. In: Urdan T, Pajares F (eds) Self-Efficacy Beliefs of Adolescents. Information Age Pub, Greenwich, CT, pp 307–337

34.

Sevinç S, Argon G (2014) Turkish reliability and validity of self-efficacy to regulate eating habits scale in the cardiac patients. J Ege Univ Nurs Fac 30:19–33

35.

Donini LM, Marsili D, Graziani MP et al (2005) Orthorexia nervosa: Validation of a diagnosis questionnaire. Eat Weight Disord 10:e28-32. https://doi.org/10.1007/BF03327537

36.

IOM (Institute of Medicine), (2009) Weight gain during pregnancy: reexamining the guidelines. The National Academies Press, Washington (DC)

37.

Kumcağiz H, Ersanli E, Murat N (2017) The development of a self-perception of pregnants scale and its psychometric features. J Psychiatr Nurs 8:23–31. https://doi.org/10.14744/phd.2017.12599

38.

Kline RRB (2011) Principles and Practice of Structural Equation Modeling, 3rd edn. The Guilford Press, New York

39.

Gürbüz S (2019) Structural Equation Modeling with AMOS. Seçkin Publishing, Ankara

40.

Easter A, Treasure J, Micali N (2011) Fertility and prenatal attitudes towards pregnancy in women with eating disorders: Results from the Avon Longitudinal Study of Parents and Children. BJOG An Int J Obstet Gynaecol 118:1491–1498. https://doi.org/10.1111/j.1471-0528.2011.03077.x

41.

Kominiarek MA, Peaceman AM (2017) Gestational weight gain. Am J Obstet Gynecol 217:642–651. https://doi.org/10.1016/j.ajog.2017.05.040

42.

Fisher WA, Fisher JD, Harman J (2003) The information-motivation-behavioral skills model: a general social psychological approach to understanding and promoting health behavior. In: Suls J, Wallston KA (eds) Social Psychological Foundations of Health and Illness. Blackwell Publishing Ltd, Malden, MA, pp 82–106

43.

Maupome AL, Muro MÁV, Garduño MLM (2020) Improving food choices when eating with peers: An IMB Model-based weight-loss intervention. Curr Dev Nutr 4:1327. https://doi.org/10.1093/cdn/nzaa059_044

44.

Gavgani RM, Poursharifi H, Aliasgarzadeh A (2010) Effectiveness of information-motivation and behavioral skill (IMB) model in improving self-care behaviors & Hba1c measure in adults with type2 diabetes in Iran-Tabriz. Procedia Soc Behav Sci 5:1868–1873. https://doi.org/10.1016/j.sbspro.2010.07.380

45.

Tabari NSM, Faramarzi M, Shirvani MA et al (2019) Effect of counseling based on Information-Behavioral Motivation Model on health promoting lifestyle behaviors and psychological well-being in obese and overweight pregnant women: a randomized clinical trial. J Maz Univ Med Sci 29:99–110

46.

Khoramabadi M, Dolatian M, Hajian S et al (2015) Effects of education based on health belief model on dietary behaviors of iranian pregnant women. Glob J Health Sci 8:230–239. https://doi.org/10.5539/gjhs.v8n2p230

47.

Chitsaz A, Javadi M, Lin C-Y, Pakpour A (2017) The predictors of healthy eating behavior among pregnant women: An application of the Theory of Planned Behavior. Int J Pediatr 5:5897–5905. https://doi.org/10.22038/ijp.2017.25576.2176

48.

Jelsma JGM, Van Leeuwen KM, Oostdam N et al (2016) Beliefs, barriers, and preferences of European overweight women to adopt a healthier lifestyle in pregnancy to minimize risk of developing gestational diabetes mellitus: An explorative study. J Pregnancy 2016:1–11. https://doi.org/10.1155/2016/3435791

49.

Sharafi SF, Javadi M, Barikani A (2016) Reliability and validity of Short Food Frequency Questionnaire among pregnant females. Biotechnol Heal Sci 3:e34608. https://doi.org/10.17795/bhs-34608

50.

O'Brien OA, Lindsay KL, McCarthy M et al (2017) Influences on the food choices and physical activity behaviours of overweight and obese pregnant women: A qualitative study. Midwifery 47:28–35. https://doi.org/10.1016/j.midw.2017.02.003

51.

de Jersey SJ, Mallan K, Callaway L et al (2017) A cross-sectional comparison of predisposing, reinforcing, and enabling factors for lifestyle health behaviors and weight gain in healthy and overweight pregnant women. Matern Child Health J 21:626–635. https://doi.org/10.1007/s10995-016-2148-0

52.

Scott J, Oxlad M, Dodd J et al (2020) Creating healthy change in the preconception period for women with overweight or obesity: A qualitative study using the Information – Motivation – Behavioural Skills Model. J Clin Med 9:1–20. https://doi.org/10.3390/jcm9103351

53.

Brytek-Matera A (2012) Orthorexia nervosa - An eating disorder, obsessive-compulsive disorder or disturbed eating habit? Arch Psychiatry Psychother 1:55–69

54.

Watson HJ, Zerwas S, Torgersen L et al (2017) Maternal eating disorders and perinatal outcomes: A three-generation study in the Norwegian mother and child cohort study. J Abnorm Psychol 126:552–564. https://doi.org/10.1037/abn0000241

55.

Mandera A, Pawlikowska A, Szuster EM et al (2019) The pregorexia - anorexia during the pregnancy. J Educ Heal Sport 9:137–144. https://doi.org/10.5281/zenodo.2718477
Ethics declarations
Conflict of interest
The authors declare that they have no conflict of interest in the research and writing of this manuscript.
Ethical statement
All procedures performed in studies involving human participants were by the ethical standards of the institutional and/or national research committee and with the 1964 Helsinki Declaration and its later amendment or comparable ethical standards.
Informed consent
Informed consent was administered to all participants.
Additional information
Publisher's Note
Springer Nature remains neutral with regard to jurisdictional claims in published maps and institutional affiliations.
The original online version of this article was revised to update the figure 1.
Supplementary Information
Below is the link to the electronic supplementary material.
About this article
Cite this article
Taştekin Ouyaba, A., Çiçekoğlu Öztürk, P. The effect of the information-motivation-behavioral skills (IMB) model variables on orthorexia nervosa behaviors of pregnant women. Eat Weight Disord (2021). https://doi.org/10.1007/s40519-021-01237-x
Received:

Accepted:

Published:
Keywords
Information-Motivation-Behavioral Skills Model

Pregnancy

Orthorexia Nervosa