Abstract
Purpose
Psychedelic therapy is showing promise for a broad range of mental health conditions, indicative of a transdiagnostic action. While the efficacy of symptom-focused treatments for eating disorders (EDs) is limited, improved mental health and psychological wellbeing are thought to contribute to greater treatment outcomes. This study provides the first quantitative exploration of the psychological effects of psychedelics in those reporting an ED diagnosis.
Methods
Prospective, online data were collected from individuals planning to take a psychedelic drug. Twenty-eight participants reporting a lifetime ED diagnosis completed measures of depressive symptomology (Quick Inventory of Depressive Symptomology; QIDS-SR16) and psychological wellbeing (Warwick–Edinburgh Mental Wellbeing Scale; WEMWBS) 1–2 weeks before, and 2 weeks after a psychedelic experience. Twenty-seven of these participants also completed a measure of emotional breakthrough [Emotional Breakthrough Inventory (EBI)] in relation to the acute psychedelic experience.
Results
Bayesian t tests demonstrated overwhelming evidence for improvements in depression and wellbeing scores following the psychedelic experience. Marginal evidence was also found for a correlation between emotional breakthrough and the relevant mental health improvements.
Conclusion
These findings provide supportive evidence for positive psychological aftereffects of a psychedelic experience that are relevant to the treatment of EDs. It is hoped that this will encourage further research and will bolster initiatives to directly examine the safety and efficacy of psychedelic assisted therapy as a treatment of EDs in future clinical trials.
Level of evidence
Level III, cohort study.
This is a preview of subscription content, log in to check access.
Access options
Buy single article
Instant access to the full article PDF.
US$ 39.95
Price includes VAT for USA
Subscribe to journal
Immediate online access to all issues from 2019. Subscription will auto renew annually.
US$ 99
This is the net price. Taxes to be calculated in checkout.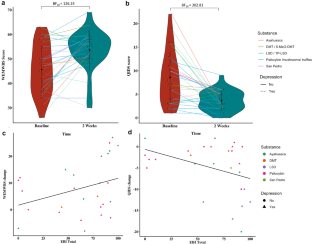 Data availability
The data that support the findings of this study are available from the corresponding author upon reasonable request.
Code availability
The code used for analysis is available from the corresponding author upon reasonable request.
References
1.

Davis LE, Attia E (2019) Recent advances in therapies for eating disorders. F1000Research. https://doi.org/10.12688/f1000research.19847.1

2.

de Vos JA, LaMarre A, Radstaak M, Bijkerk CA, Bohlmeijer ET, Westerhof GJ (2017) Identifying fundamental criteria for eating disorder recovery: a systematic review and qualitative meta-analysis. J Eat Disord 5(1):34. https://doi.org/10.1186/s40337-017-0164-0

3.

Tomba E, Offidani E, Tecuta L, Schumann R, Ballardini D (2014) Psychological well-being in out-patients with eating disorders: a controlled study. Int J Eat Disord 47(3):252–258. https://doi.org/10.1002/eat.22197

4.

Nutt D, Erritzoe D, Carhart-Harris R (2020) Psychedelic psychiatry's Brave new world. Cell 181(1):24–28. https://doi.org/10.1016/j.cell.2020.03.020

5.

Roseman L, Haijen E, Idialu-Ikato K, Kaelen M, Watts R, Carhart-Harris R (2019) Emotional breakthrough and psychedelics: validation of the emotional breakthrough inventory. J Psychopharmacol (Oxf) 33(9):1076–1087. https://doi.org/10.1177/0269881119855974

6.

Kaye W (2008) Neurobiology of anorexia and bulimia nervosa. Physiol Behav 94(1):121–135. https://doi.org/10.1016/j.physbeh.2007.11.037

7.

Cowdrey FA, Park RJ (2011) Assessing rumination in eating disorders: principal component analysis of a minimally modified ruminative response scale. Eat Behav 12(4):321–324. https://doi.org/10.1016/j.eatbeh.2011.08.001

8.

Lafrance A, Loizaga-Velder A, Fletcher J, Renelli M, Files N, Tupper KW (2017) Nourishing the spirit: exploratory research on ayahuasca experiences along the continuum of recovery from eating disorders. J Psychoactive Drugs 49(5):427–435. https://doi.org/10.1080/02791072.2017.1361559

9.

Zeifman R, Zagner AC, Watts R, Kettner H, Mertens LJ, Carhart-Harris RL (2020) Post-Psychedelic Reductions in Experiential Avoidance Are Associated With Decreases in Depression Severity and Suicidal Ideation. Frontiers Psychiatry 11

10.

Haijen EC et al (2018) Predicting responses to psychedelics: a prospective study. Front Pharmacol 9:897. https://doi.org/10.3389/fphar.2018.00897

11.

Tennant R et al (2007) The Warwick-Edinburgh mental well-being scale (WEMWBS): development and UK validation. Health Qual Life Outcomes 5(1):63. https://doi.org/10.1186/1477-7525-5-63

12.

Rush AJ et al (2003) The 16-item quick inventory of depressive symptomatology (QIDS), clinician rating (QIDS-C), and self-report (QIDS-SR): a psychometric evaluation in patients with chronic major depression. Biol Psychiatry 54(5):573–583. https://doi.org/10.1016/S0006-3223(02)01866-8

13.

Morey RD, Rouder JN, Jamil T (2015) BayesFactor: computation of Bayes factors for common designs. R Package Version 09, vol 9

14.

Wickham H (2009) ggplot2: elegant graphics for data analysis. Springer, New York

15.

Wickham H (2011) The split-apply-combine strategy for data analysis. J Stat Softw 40(1):1–29

16.

Ackard DM, Richter S, Egan A, Engel S, Cronemeyer CL (2014) The meaning of (quality of) life in patients with eating disorders: a comparison of generic and disease-specific measures across diagnosis and outcome. Int J Eat Disord 47(3):259–267. https://doi.org/10.1002/eat.22193
Acknowledgements
The authors would like to thank Eline Haijen, Lea Mertens, and Leor Roseman for assistance in survey design and data collection. We would also like to thank the psychedelic retreats that assisted in data collection, as well as Kenneth Jønck and Nicolai Lassen for creation of the online platform Psychedelic Survey are currently running new online survey studies. For more information, see www.psychedelicsurvey.com. This research was funded by the Ad Astra Chandaria Foundation and the funders of the Centre for Psychedelic Research (www.imperial.ac.uk/psychedelic-research-centre/funding-partners/).
Ethics declarations
Conflict of interest
There is no conflict of interest to report.
Ethical approval
All surveys received ethical approval from the Imperial College Research Ethics Committee and the Joint Research Compliance Office at Imperial College London and were conducted within the framework of Good Clinical Practice.
Informed consent
Informed consent was obtained from all participants.
Additional information
Publisher's Note
Springer Nature remains neutral with regard to jurisdictional claims in published maps and institutional affiliations.
About this article
Cite this article
Spriggs, M.J., Kettner, H. & Carhart-Harris, R.L. Positive effects of psychedelics on depression and wellbeing scores in individuals reporting an eating disorder. Eat Weight Disord (2020). https://doi.org/10.1007/s40519-020-01000-8
Received:

Accepted:

Published:
Keywords
Anorexia

Bulimia

Binge eating disorder

Prospective online survey

Longitudinal

Psychedelics