Abstract
Purpose
Parental invalidation and narcissism have been proposed to play an important role in understanding the etiology of eating disorders. The current research aimed to address two main gaps in the literature. The first aim was to determine the differential associations of grandiose and vulnerable narcissism with eating disorder pathology. The second aim was to find a common mediator between both maternal and paternal invalidation and eating disorder pathology. It was hypothesized that when controlling for vulnerable narcissism, grandiose narcissism would not predict eating disorder pathology. In addition, it was hypothesized that vulnerable narcissism would be a mediator of the relationship between parental invalidation and eating disorder pathology.
Methods
Participants were 352 women aged 18–30 years who were recruited from the general and tertiary student population, and as such constituted a community sample. Participants completed the Invalidating Childhood Environment Scale, Brief-Pathological Narcissism Inventory, Eating Disorder Examination Questionnaire, the Avoidance of Affect Subscale of the Distress Tolerance Scale, and the Emotional Expression as a Sign of Weakness Subscale of the Attitudes Towards Emotional Expression Scale in an online survey.
Results
Results showed that, when controlling for vulnerable narcissism, grandiose narcissism was no longer associated with eating disorder pathology. It was also found that parental invalidation had a positive indirect effect upon eating disorder pathology, via vulnerable narcissism.
Conclusions
The findings indicate that vulnerable narcissism is more strongly associated with eating disorder pathology as opposed to grandiose narcissism and help to further elucidate the mechanisms via which parental invalidation might exert its negative effect on eating disorder pathology.
Level of evidence
A cross-sectional survey (Level V).
Access options
Buy single article
Instant access to the full article PDF.
USD 39.95
Price excludes VAT (USA)
Tax calculation will be finalised during checkout.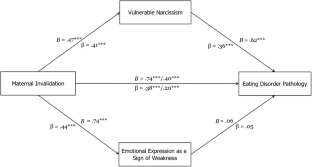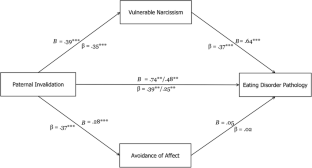 Notes
The full break down of the ethnicities and country of origin of the participants are included in Appendix A of the supplemental materials.
References
Stice E (2002) Risk and maintenance factors for eating pathology: a meta-analytic review. Psychol Bull 128:825–848. https://doi.org/10.1037//0033-2909.128.5.825

Zerach G (2014) The associations between pathological narcissism, alexithymia and disordered eating attitudes among participants of pro-anorexic online communities. Eat Weight Disord 19:337–345. https://doi.org/10.1007/s40519-013-0096-x

Pincus AL et al (2009) Initial construction and validation of the Pathological Narcissism Inventory. Psychol Assess 21:365. https://doi.org/10.1037/a0016530

Boucher K et al (2015) The relationship between multidimensional narcissism, explicit and implicit self-esteem in eating disorders. Psychology 6:2025. https://doi.org/10.4236/psych.2015.615200

Dakanalis A, Clerici M, Carrà G (2016) Narcissistic vulnerability and grandiosity as mediators between insecure attachment and future eating disordered behaviors: a prospective analysis of over 2,000 freshmen. J Clin Psychol 72:279–292 https://doi.org/10.1002/jclp.22237

Gordon KH, Dombeck JJ (2010) The associations between two facets of narcissism and eating disorder symptoms. Eat Behav 11:288–292. https://doi.org/10.1016/j.eatbeh.2010.08.004

Mountford V et al (2007) Development of a measure to assess invalidating childhood environments in the eating disorders. Eat Behav 8:48–58. https://doi.org/10.1016/j.eatbeh.2006.01.003

Haslam M et al (2008) Invalidating childhood environments in anorexia and bulimia nervosa. Eat Behav 9:313–318. https://doi.org/10.1016/j.eatbeh.2007.10.005

Haslam M et al (2012) Attitudes towards emotional expression mediate the relationship between childhood invalidation and adult eating concern. Eur Eat Disord Rev 20:510–514. https://doi.org/10.1002/erv.2198

Linehan MM (1993) Cognitive behavioral therapy of borderline personality disorder. Guilford Press, New York

Huxley E, Bizumic B (2017) Parental invalidation and the development of narcissism. J Psychol 151:130–147. https://doi.org/10.1080/00223980.2016.1248807

Monell E et al (2015) Emotion dysregulation, self-image and eating disorder symptoms in University Women. J Eat Disord 3:44. https://doi.org/10.1186/s40337-015-0083-x

Dickinson K, Pincus AL (2003) Interpersonal analysis of grandiose narcissism and vulnerable narcissism. J Pers Disord 17:188–207. https://doi.org/10.1521/pedi.17.3.188.22146

Hartmann A, Zeeck A, Barrett MS (2010) Interpersonal problems in eating disorders. Int J Eat Disord 43:619–627. https://doi.org/10.1002/eat.20747

Rieger E et al (2010) An eating disorder-specific model of interpersonal psychotherapy (IPT-ED): causal pathways and treatment implications. Clin Psychol Rev 30:400–410. https://doi.org/10.1016/j.cpr.2010.02.001

Krizan Z, Herlache AD (2017) The narcissism spectrum model. Personal Soc Psychol Rev 22:3–31. https://doi.org/10.1177/1088868316685018

Hudson JI et al (2007) The prevalence and correlates of eating disorders in the national comorbidity survey replication. Biol Psychiatry 61:348–358. https://doi.org/10.1016/j.biopsych.2006.03.040

Schoenleber M et al (2015) Development of a brief version of the pathological narcissism inventory. Psychol Assess 27:1520–1526. https://doi.org/10.1037/pas0000158

Fairburn CG, Beglin S (2008) Eating disorder examination questionnaire (EDE-Q 6.0). In: Fairburn CG (ed) Cognitive behaviour therapy for eating disorders. Guildford Press, New York

Joseph S et al (1994) The preliminary development of a measure to assess attitudes towards emotional expression. Personal Individ Differ 16:869–875. https://doi.org/10.1016/0191-8869(94)90231-3

Hayes AF (2013) Introduction to mediation, moderation, and conditional process analysis: a regression based approach. Guilford Press, New York

Tabachnick BG, Fidell LS (2013) Using multivariate statistics, 6th edn. Pearson, London

Krause ED, Mendelson T, Lynch TR (2003) Childhood emotional invalidation and adult psychological distress: the mediating role of emotional inhibition. Child Abuse Negl 27:199–213. https://doi.org/10.1016/S0145-2134(02)00536-7

Robertson CD, Kimbrel NA, Nelson-Gray RO (2013) The Invalidating Childhood Environment Scale (ICES): psychometric properties and relationship to borderline personality symptomatology. J Personal Disord 27:402–410. https://doi.org/10.1521/pedi_2012_26_062

Shenk CE, Fruzzetti AE (2013) Parental validating and invalidating responses and adolescent psychological functioning: an observational study. Fam J 22:43–48. https://doi.org/10.1177/1066480713490900

Foster JD, Campbell WK, Twenge JM (2003) Individual differences in narcissism: inflated self-views across the lifespan and around the world. J Res Personal 37:469–486. https://doi.org/10.1016/S0092-6566(03)00026-6

O'Brien ML (1987) Examining the dimensionality of pathological narcissism: factor analysis and construct validity of the O'Brien multiphasic narcissism inventory. Psychol Rep 61:499–510. https://doi.org/10.2466/pr0.1987.61.2.499

Pincus AL, Cain NM, Wright AGC (2014) Narcissistic grandiosity and narcissistic vulnerability in psychotherapy. Personal Disord Theory Res Treat 5:439–443. https://doi.org/10.1037/per0000031

Campbell MA, Waller G, Pistrang N (2009) The Impact of narcissism on drop-out from cognitive-behavioral therapy for the eating disorders: a pilot study. J Nerv Ment Dis 197:278–281. https://doi.org/10.1097/NMD.0b013e31819dc150
Funding
There has been no funding received in conducting the study and in the preparation of this manuscript.
Ethics declarations
Conflict of interest
On behalf of all authors, the corresponding author states that there is no conflict of interest.
Ethical approval
All procedures performed in this study involving human participants were in accordance with the Human Research Ethics Committee of the Australian National University (ANU) and with the 1964 Helsinki declaration and its later amendments or comparable ethical standards. Ethics approval was obtained from the ANU Human Research Ethics Committee prior to conducting this research.
Informed consent
Informed consent was obtained from all individual participants included in the study.
Data availability
The data sets generated during and/or analyzed during the current study are available in the Open Science Framework repository, https://mfr.osf.io/render?url=https://osf.io/6xpfg/?action=download%26mode=render.
Additional information
Publisher's Note
Springer Nature remains neutral with regard to jurisdictional claims in published maps and institutional affiliations.
This article is part of the Topical Collection on Personality and eating and weight disorders.
Electronic supplementary material
Below is the link to the electronic supplementary material.
About this article
Cite this article
Sivanathan, D., Bizumic, B., Rieger, E. et al. Vulnerable narcissism as a mediator of the relationship between perceived parental invalidation and eating disorder pathology. Eat Weight Disord 24, 1071–1077 (2019). https://doi.org/10.1007/s40519-019-00647-2
Received:

Accepted:

Published:

Issue Date:

DOI: https://doi.org/10.1007/s40519-019-00647-2
Keywords
Eating disorders

Narcissism

Parental invalidation

Mediation analysis