Abstract
Background
Neck circumference (NC) is a relatively unused index of upper body adiposity. The present study aims to analyze the associations of NC with anthropometric measures of obesity, as well as cardiovascular and metabolic risks in Arab women.
Methods
This cross-sectional study included 623 women (aged 18–70 years) recruited from different primary care centers in Riyadh, Saudi Arabia. NC, waist circumference (WC), body mass index (BMI), blood pressure, and metabolic and serological markers were measured in all participants. Covariance and regression analyses were used to evaluate the associations between NC and cardiometabolic risk factors.
Results
The correlation coefficients of NC and WC with the clinical indices were highly significant (p < 0.01). Overall, the NC was positively correlated with all cardiometabolic markers except total cholesterol and LDLc (p < 0.001). Interestingly, NC was associated with cardiometabolic risk factors independent of other anthropometric indices.
Conclusion
NC is significantly and independently associated with cardiometabolic risk factors in Arab women.
Level of evidence
V, cross-sectional descriptive study.
This is a preview of subscription content, log in to check access.
Access options
Buy single article
Instant access to the full article PDF.
US$ 39.95
Price includes VAT for USA
Subscribe to journal
Immediate online access to all issues from 2019. Subscription will auto renew annually.
US$ 99
This is the net price. Taxes to be calculated in checkout.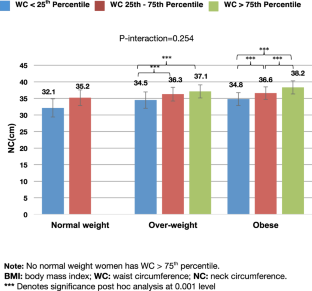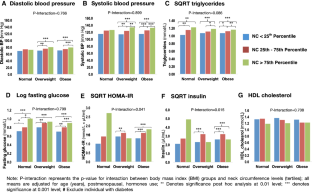 References
1.

Hnoosh A, Vega-Hernández G, Jugrin A, Todorova L (2012) Direct medical costs of diabetes-related complications in Saudi Arabia. Value Health 15:A178. https://doi.org/10.1016/j.jval.2012.03.966

2.

Memish ZA, El Bcheraoui C, Tuffaha M et al (2014) Obesity and associated factors—Kingdom of Saudi Arabia, 2013. Prev Chronic Dis 11:E174. https://doi.org/10.5888/pcd11.140236

3.

Alnuaim A (2014) Rising prevalence of diabetes mellitus in Saudi Arabia: cause for concern and call for urgent control program. Ann Saudi Med 34(6):463–464. https://doi.org/10.5144/0256-4947.2014.463

4.

Fast facts: obesity—a global problem (2016) http://www.fastfacts.com/_files/ff%20obesity%20a%20global%20problem.pdf. Accessed 14 Feb 2016

5.

Loan MV (1998) Skinfolds, circumferences, and bioimpedance. In: St. Jeor ST (ed) Obesity assessment tools, methods, interpretations. International Thomson Publishing, New York, pp 68–82

6.

Busetto L, Tregnaghi A, De Marchi F, Segato G, Foletto M, Serqi G et al (2002) Liver volume and visceral obesity in women with hepatic steatosis undergoing gastric banding. Obes Res 10(5):408–411. https://doi.org/10.1038/oby.2002.56

7.

Giannetti M, Piaggi P, Ceccarini G, Mazzeo S, Querci G, Fierabracci P et al (2012) Hepatic left lobe volume is a sensitive index of metabolic improvement in obese women after gastric banding. Int J Obes (Lond) 36:336–341. https://doi.org/10.1038/ijo.2011.243

8.

Seidell JC, Flegal KM (1997) Assessment and classification of overweight and obesity. Br Med Bull 53(2):238–252

9.

Preis SR, Massaro JM, Robins SJ et al (2010) Abdominal subcutaneous and visceral adipose tissue and insulin resistance in the Framingham heart study. Obes (Silver Spring) 18:2191–2198. https://doi.org/10.1038/oby.2010.59

10.

Klein S, Allison DB, Heymsfield SB et al (2007) Waist circumference and cardiometabolic risk: a consensus statement from Shaping America's Health: Association for Weight Management and Obesity Prevention; NAASO, the Obesity Society; the American Society for Nutrition; and the American Diabetes Association. Obes (Silver Spring) 15:1061–1067. https://doi.org/10.1038/oby.2007.632

11.

Preis SR, Massaro JM, Hoffmann U et al (2010) Neck circumference as a novel measure of cardiometabolic risk: the Framingham Heart study. J Clin Endocrinol Metab 95:3701–3710. https://doi.org/10.1210/jc.2009-1779

12.

Jensen MD (1997) Lipolysis: contribution from regional fat. Annu Rev Nutr 17:127–139

13.

Ben-Noun L, Sohar E, Laor A (2001) Neck circumference as a simple screening measure for identifying overweight and obese patients. Obes Res 9:470–477. https://doi.org/10.1542/peds.2010-0242

14.

Onat A, Hergenc G, Yuksel H, Can G, Ayhan E, Kaya Z, Dursunoglu D (2009) Neck circumference as a measure of central obesity: associations with metabolic syndrome and obstructive sleep apnea syndrome beyond waist circumference. Clin Nutr 28:46–51. https://doi.org/10.1016/j.clnu.2008.10.006

15.

Ben-Noun L, Laor A (2003) Relationship of neck circumference to cardiovascular risk factors. Obes Res 11(2):226–231. https://doi.org/10.1038/oby.2003.35

16.

Sjostrom CD, Håkangård AC, Lissner L, Sjostrom L (1995) Body compartment and subcutaneous adipose tissue distribution risk factor patterns in obese subjects. Obes Res 3:9–22

17.

The National Health and Nutrition Examination Survey (2002) Anthropometry procedures manual. https://www.cdc.gov/nchs/data/nhanes/nhanes_07_08/manual_an.pdf

18.

Friedewald WT, Levy RI, Fredrickson DS (1972) Estimation of the concentration of low-density lipoprotein cholesterol in plasma, without use of the preparative ultracentrifuge. Clin Chem 18:499–502

19.

Bonora E, Formentini G, Calcaterra F et al (2002) HOMA-estimated insulin resistance is an independent predictor of cardiovascular disease in type 2 diabetic subjects prospective data from the Verona Diabetes Complications Study. Diabetes Care 25:1135–1141. https://doi.org/10.2337/diacare.25.7.1135

20.

Alberti KG, Zimmet P, Shaw J. IDF Epidemiology Task Force Consensus Group (2005) The metabolic syndrome: a new worldwide definition. Lancet 366:1059–1062. https://doi.org/10.1016/S0140-6736(05)67402-8

21.

Alberti KGMM, Eckel RH, Grundy SM et al (2009) Harmonizing the Metabolic Syndrome: a joint interim statement of the International Diabetes Federation Task Force on Epidemiology and Prevention; National Heart, Lung and Blood Institute; American Heart Association; World Heart Federation; International Atherosclerosis Society and International Association for the Study of Obesity. Circulation 120(16):1640–1645. https://doi.org/10.1161/CIRCULATIONAHA.109.192644

22.

Ross R, Freeman J, Hudson R et al (2002) Abdominal obesity, muscle composition and insulin resistance in premenopausal women. J Clin Endocrinol Metab 87:5044–5051. https://doi.org/10.1210/jc.2002-020570

23.

Aswathappa J, Garg S, Kutty K, Shankar V (2014) Utility of neck circumference, a simple and novel measure as anthropometric marker of obesity in adults. World J Pharm Pharm Sci 3(3):1618–1629

24.

Hingorjo MR, Qureshi MA, Mehdi A (2012) Neck circumference as a useful marker of obesity: a comparison with body mass index and waist circumference. J Pak Med Assoc 62(1):36–40

25.

Stabe C, Vasques ACJ, Lima MMO et al (2013) Neck circumference as a simple tool for identifying the metabolic syndrome and insulin resistance: results from the Brazilian Metabolic Syndrome Study. Clin Endocrinol (Oxf) 78(6):874–881. https://doi.org/10.1111/j.1365-2265.2012.04487.x

26.

Joshipura K, Muñoz-Torres F, Vergara J, Palacios C, Pérez C (2016) Neck circumference may be a better alternative to standard anthropometric measures. J Diabetes Res 2016:6058916. https://doi.org/10.1155/2016/6058916

27.

LaBerge RC, Vaccani JP, Gow RM, Gaboury I, Hoey L, Katz SL (2009) Inter- and intra-rater reliability of neck circumference measurements in children. Pediatr Pulmonol 44:64–69. https://doi.org/10.1002/ppul.20944

28.

Wang J, Thornton JC, Bari S et al (2003) Comparisons of waist circumferences measured at 4 sites. Am J Clin Nutr 77:379–384. https://doi.org/10.1093/ajcn/77.2.379

29.

Zhou JY, Ge H, Zhu MF et al (2013) Neck circumference as an independent predictive contributor to cardio-metabolic syndrome. Cardiovasc Diabetol 12:76. https://doi.org/10.1186/1475-2840-12-76

30.

Yusuf S, Hawken S, Ounpuu S, Bautista L, Franzosi MG, Commerford P et al (2005) Obesity and the risk of myocardial infarction in 27,000 participants from 52 countries: a case-control study. Lancet 366:1640–1649. https://doi.org/10.1016/S0140-6736(05)67663-5

31.

Pischon T, Boeing H, Hoffmann K, Bergmann M, Schulze MB, Overvad K et al (2008) General and abdominal adiposity and risk of death in Europe. N Engl J Med 359:2105–2120. https://doi.org/10.1056/NEJMoa0801891

32.

Ejtahed HS, Qorbani M, Motlagh ME, Angoorani P, Hasani-Ranjbar S, Ziaodini H et al (2018) Association of anthropometric indices with continuous metabolic syndrome in children and adolescents: the CASPIAN-V study. Eat Weight Disord 23(5):597–604. https://doi.org/10.1007/s40519-017-0455-0

33.

Kumar NV, Ismail MH, Mahesha P, Girish M, Tripathy M (2014) Neck circumference and cardio- metabolic syndrome. J Clin Diagn Res 8(7):MC23–MC25. https://doi.org/10.7860/JCDR/2014/8455.4641

34.

Yan Q, Sun D, Li X et al (2014) Neck circumference is a valuable tool for identifying metabolic syndrome and obesity in Chinese elder subjects: a community-based study. Diabetes Metab Res Rev 30:69–76. https://doi.org/10.1002/dmrr.2464

35.

Rosenquist KJ, Massaro JM, Pencina KM et al (2013) Neck circumference, carotid wall intima-media thickness, and incident stroke. Diabetes Care 36(9):e153–e154. https://doi.org/10.2337/dc13-0379

36.

Ferrannini E, Haffner SM, Mitchell BD et al (1991) Hyperinsulinemia: the key feature of a cardiovascular and metabolic syndrome. Diabetologia 34:416–422

37.

Martin ML, Jensen MD (1991) Effects of body fat distribution on regional lipolysis in obesity. J Clin Invest 88:609–613

38.

Kissebah AH, Alfarsi S, Adams PW, Wynn V (1976) Role of insulin resistance in adipose tissue and liver in the pathogenesis of endogenous hypertriglyceridaemia in man. Diabetologia 12:563–571

39.

Ataie-Jafari A, Namazi N, Djalalinia S, Chaghamirzayi P, Abdar ME, Zadehe SS et al (2018) Neck circumference and its association with cardiometabolic risk factors: a systematic review and meta-analysis. Diabetol Metab Syndr 10:72. https://doi.org/10.1186/s13098-018-0373-y
Acknowledgements
The authors are grateful to Malak Nawaz Khan Khattak for the statistical analysis.
Funding
The study was funded by the Deanship of Scientific Research, Chair for Biomarkers of Chronic Diseases, Biochemistry Department, College of Science, King Saud University, Riyadh, 11421, Saudi Arabia.
Ethics declarations
Conflict of interest
The authors declare that they have no conflict of interest.
Ethical approval
The research protocol and the consent documents were approved by the Ethics Committee of KSU, in Riyadh, KSA (No. 429679/67/4) and the University of Maryland College Park Institutional Review Board (IRB) (No. 411873-4).
Informed consent
All subjects gave their informed consent after we provided a full explanation of the study.
Additional information
Publisher's Note
Springer Nature remains neutral with regard to jurisdictional claims in published maps and institutional affiliations.
Electronic supplementary material
Below is the link to the electronic supplementary material.
About this article
Cite this article
Albassam, R.S., Lei, K.Y., Alnaami, A.M. et al. Correlations of neck circumference with body composition and cardiometabolic risk factors in Arab women. Eat Weight Disord 24, 1121–1130 (2019). https://doi.org/10.1007/s40519-018-0630-y
Received:

Accepted:

Published:

Issue Date:
Keywords
Neck circumference

Adiposity

Metabolic risk

Saudis