Abstract
Purpose
The combination of physical activity and healthy eating habits has potentially positive effects on health. However, both practices can also lead to pathological behaviors such as exercise addiction (EA) and orthorexia nervosa (ON), thus generating negative effects. So far, studies analyzing the connection between these two phenomena cannot be found. The current paper is aiming to close this gap.
Methods
The sample (n = 1.008) consisted of 559 male and 449 female active members of three fitness studios, and was analyzed in a cross-sectional study design. The Exercise Addiction Inventory (EAI) was used to establish exercise addiction and the Düsseldorfer Orthorexie Skala (DOS) was used to evaluate orthorectic eating behavior.
Results
Out of the whole sample, 10.2% exhibit EA, while ON is prevalent in 3.4%. Twenty-three (2.3%) individuals suffer from both. There is a significant positive correlation between DOS and EAI (p < .001, r = .421). Female participants (p < .001, r = .452) show a higher correlation compared to male participants (p < .001, r = .418).
Conclusion
The results suggest a positive correlation between ON and EA in the context of German fitness sports. Both seem to be serious phenomena and require further investigation.
Level of evidence
Level V (cross-sectional descriptive study).
Access options
Buy single article
Instant access to the full article PDF.
USD 39.95
Price excludes VAT (USA)
Tax calculation will be finalised during checkout.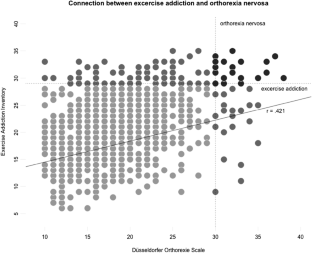 References
Biddle SJH, Mutrie N (2007) Psychology of physical activity: determinants, well-being and interventions. Routledge, Abingdon

McAuley E, Rudolph D (1995) Physical activity, aging, and psychological well-being. J Aging Phys Act 3:67–96. doi:10.1123/japa.3.1.67

Biddle SJH, Asare M (2011) Physical activity and mental health in children and adolescents: a review of reviews. Br J Sports Med 45:886–895. doi:10.1136/bjsports-2011-090185

Bouchard C, Blair SN, Haskell WL (2012) Physical activity and health, 2nd edn. Human Kinetics, Champaign

World Health Organization (2000) Obesity: preventing and managing the global epidemic: report of a WHO consultation. World Health Organization, Geneva

Baekeland F (1970) Exercise deprivation. Sleep and psychological reactions. Arch Gen Psychiatry 22:365–369. doi:10.1001/archpsyc.1970.01740280077014

Berkman ND, Lohr KN, Bulik CM (2007) Outcomes of eating disorders: a systematic review of the literature. Int J Eat Disord 40:293–309. doi:10.1002/eat.20369

Hausenblas HA, Downs DS (2002) How much is too much? The development and validation of the exercise dependence scale. Psychol Health 17:387–404. doi:10.1080/0887044022000004894

Szabo A, Griffiths MD, de La Vega Marcos R et al (2015) Methodological and conceptual limitations in exercise addiction research. Yale J Biol Med 88:303–308

Zeeck A, Leonhart R, Mosebach N et al (2013) Psychopathologische Aspekte von Sport: Eine deutsche Adaptation der "Exercise Dependence Scale" (EDS-R). Z Für Sportpsychol 20:94–106. doi:10.1026/1612-5010/a000099

Morgan W (1979) Negative addiction in runners. Phys Sportsmed 7:57–70

Breuer S, Kleinert J (2009) Primäre Sportsucht und bewegungs-bezogene Abhängigkeit—Beschreibung, Erklärung und Diagnostik. Rausch Ohne Drog. Springer, Vienna, pp 191–218

Coverley Veale DMW (1987) Exercise dependence. Addiction 82:735–740. doi:10.1111/j.1360-0443.1987.tb01539.x

Hausenblas HA, Symons Downs D (2002) Exercise dependence: a systematic review. Psychol Sport Exerc 3:89–123. doi:10.1016/S1469-0292(00)00015-7

Griffiths M (2005) A "components" model of addiction within a biopsychosocial framework. J Subst Use 10:191–197. doi: 10.1080/14659890500114359

Holden C (2001) "Behavioral" addictions: do they exist? Science 294:980–982. doi:10.1126/science.294.5544.980

Terry A, Szabo A, Griffiths M (2004) The exercise addiction inventory: a new brief screening tool. Addict Res Theory 12:489–499. doi:10.1080/16066350310001637363

Griffiths MD, Szabo A, Terry A (2005) The exercise addiction inventory: a quick and easy screening tool for health practitioners. Br J Sports Med 39:e30–e30. doi: 10.1136/bjsm.2004.017020

Ziemainz H, Stoll O, Drescher A et al (2013) Die Gefährdung zur Sportsucht in Ausdauersportarten. Dtsch Z Für Sportmed 2013:57–64. doi:10.5960/dzsm.2012.057

Zeulner B, Ziemainz H, Beyer C et al (2016) Disordered eating and exercise dependence in endurance athletes. Adv Phys Educ 6:76–87. doi: 10.4236/ape.2016.62009

Szabo A, Griffiths MD (2007) Exercise addiction in British sport science students. Int J Ment Health Addict 5:25–28. doi:10.1007/s11469-006-9050-8

Lichtenstein MB, Jensen TT (2016) Exercise addiction in CrossFit: prevalence and psychometric properties of the exercise addiction inventory. Addict Behav Rep 3:33–37. doi:10.1016/j.abrep.2016.02.002

Lichtenstein MB, Larsen KS, Christiansen E et al (2014) Exercise addiction in team sport and individual sport: prevalences and validation of the exercise addiction inventory. Addict Res Theory 22:431–437. doi:10.3109/16066359.2013.875537

Kohl HW, Craig CL, Lambert EV et al (2012) The pandemic of physical inactivity: global action for public health. Lancet 380:294–305. doi: 10.1016/S0140-6736(12)60898-8

Pierce EF, Rohaly KA, Fritchley B (1997) Sex differences on exercise dependence for men and women in a Marathon Road Race. Percept Mot Skills 84:991–994. doi:10.2466/pms.1997.84.3.991

Furst DM, Germone K (1993) Negative addiction in male and female runners and exercisers. Percept Mot Skills 77:192–194. doi:10.2466/pms.1993.77.1.192

Modoio VB, Antunes HKM, Gimenez PRB de et al (2011) Negative addiction to exercise: are there differences between genders? Clinics 66:255–260. doi:10.1590/S1807-59322011000200013

Bratman S (1997) The health food eating disorder. Yoga J Sept./Oct.:42–50

Dunn TM, Bratman S (2016) On orthorexia nervosa: a review of the literature and proposed diagnostic criteria. Eat Behav 21:11–17. doi:10.1016/j.eatbeh.2015.12.006

Barthels F, Meyer F, Pietrowsky R (2015) Die Düsseldorfer Orthorexie Skala–Konstruktion und Evaluation eines Fragebogens zur Erfassung ortho-rektischen Ernährungsverhaltens. Z Für Klin Psychol Psychother 44:97–105. doi:10.1026/1616-3443/a000310

Barthels F, Pietrowsky R (2012) Orthorektisches Ernährungsverhalten—Nosologie und Prävalenz. PPmP Psychother Psychosom Med Psychol 62:445–449. doi:10.1055/s-0032-1312630

Chaki B, Pal S, Bandyopadhyay A (2013) Exploring scientific legitimacy of orthorexia nervosa: a newly emerging eating disorder. J Hum Sport Exerc 8:1045–1053. doi:10.4100/jhse.2013.84.14

Brytek-Matera A (2012) Orthorexia nervosa—an eating disorder, obsessive compulsive disorder or disturbed eating habit? Arch Psychiatry Psychother 14:55–60

Mathieu J (2005) What is orthorexia? J Am Diet Assoc 105:1510–1512. doi:10.1016/j.jada.2005.08.021

Depa J, Schweizer J, Bekers S-K et al (2016) Prevalence and predictors of orthorexia nervosa among German students using the 21-item-DOS. Eat Weight Disord Stud Anorex Bulim Obes. doi:10.1007/s40519-016-0334-0

Håman L, Barker-Ruchti N, Patriksson G, Lindgren E-C (2015) Orthorexia nervosa: An integrative literature review of a lifestyle syndrome. Int J Qual Stud Health Well-Being. doi:10.3402/qhw.v10.26799

Bratman S (2000) Health food junkies: overcoming the obession with healthful eating. Broadway Books, New York

Arusoğlu G, Kabakçi E, Köksal G, Merdol TK (2008) Orthorexia nervosa and adaptation of ORTO-11 into Turkish. Turk Psikiyatri Derg Turk J Psychiatry 19:283–291

Sundgot-Borgen J, Torstveit MK (2004) Prevalence of eating disorders in elite athletes is higher than in the general population. Clin J Sport Med 14:25–32. doi:10.1097/00042752-200401000-00005

Brehm BJ, Steffen JJ (2013) Links among eating disorder characteristics, exercise patterns, and psychological attributes in college students. SAGE Open 3:215824401350298. doi:10.1177/2158244013502985

Seigel K, Hetta J (2001) Exercise and eating disorder symptoms among young females. Eat Weight Disord Stud Anorex Bulim Obes 6:32–39. doi:10.1007/BF03339749

Herranz Valera J, Acuña Ruiz P, Romero Valdespino B, Visioli F (2014) Prevalence of orthorexia nervosa among ashtanga yoga practitioners: a pilot study. Eat Weight Disord Stud Anorex Bulim Obes 19:469–472. doi:10.1007/s40519-014-0131-6

Aksoydan E, Camci N (2009) Prevalence of orthorexia nervosa among Turkish performance artists. Eat Weight Disord Stud Anorex Bulim Obes 14:33–37. doi:10.1007/BF03327792

Rudolph S, Göring A, Jetzke M et al (2017) Zur Prävalenz von orthorektischem Ernährungsverhalten bei sportlich aktiven Studierenden. Dtsch Z Für Sportmed 2017:10–13. doi:10.5960/dzsm.2016.262

Eriksson L, Baigi A, Marklund B, Lindgren EC (2008) Social physique anxiety and sociocultural attitudes toward appearance impact on orthorexia test in fitness participants. Scand J Med Sci Sports 18:389–394. doi:10.1111/j.1600-0838.2007.00723.x

Segura-García C, Papaianni MC, Caglioti F et al (2012) Orthorexia nervosa: A frequent eating disordered behavior in athletes. Eat Weight Disord Stud Anorex Bulim Obes 17:e226–e233. doi: 10.3275/8272
Ethics declarations
Conflict of interest
The author declares that she has no conflict of interest.
Ethical approval
This article does not contain any studies with human participants or animals performed by the author.
Additional information
This article is part of the topical collection on Orthorexia Nervosa.
About this article
Cite this article
Rudolph, S. The connection between exercise addiction and orthorexia nervosa in German fitness sports. Eat Weight Disord 23, 581–586 (2018). https://doi.org/10.1007/s40519-017-0437-2
Received:

Accepted:

Published:

Issue Date:

DOI: https://doi.org/10.1007/s40519-017-0437-2
Keywords
Orthorexia nervosa

Exercise addiction

Fitness sport

Düsseldorfer orthorexie skala

Exercise addiction inventory