Abstract
Purpose
Identification of patient characteristics that are associated with behavioral weight loss success among bariatric surgery candidates could inform selection of optimal bariatric surgery candidates. We examined the associations between psychosocial characteristics and weight loss in a group of Veterans with severe obesity who participated in a behavioral weight loss intervention.
Methods
The MAINTAIN trial involved a 16-week weight loss program followed by randomization among participants losing at least 4 kg to a maintenance intervention or usual care. This secondary analysis was performed on Veterans who participated in the 16-week weight loss program and met NIH criteria for bariatric surgery (body mass index [BMI] 35.0–39.9 with at least 1 obesity-related comorbidity or BMI ≥ 40). Unadjusted and adjusted associations between baseline patient characteristics and weight loss during the 16-week induction phase were evaluated with linear regression. Missing weight measurements were multiply imputed, and results combined across ten imputations.
Results
Among the 206 patients who met inclusion criteria, mean initial BMI was 40.8 kg/m2 (SD 6.0), and mean age was 59.2 years (SD 9.4). Approximately 20% of participants were female, 51.5% were Black, and 44.7% were White. Estimated mean 16-week weight loss was 5.16 kg (SD 4.31). In adjusted analyses, greater social support and older age were associated with greater weight loss (p < 0.05). None of the nine psychosocial characteristics we examined were associated with greater weight loss.
Conclusions
Understanding and strengthening the level of social support for bariatric surgery candidates may be important given that it appears to be strongly correlated with behavioral weight loss success.
Level of evidence
Level II, Evidence obtained from well-designed controlled trials without randomization.
Trial registration
ClinicalTrials.gov NCT01357551 http://clinicaltrials.gov/show/NCT01357551.
This is a preview of subscription content, log in to check access.
Access options
Buy single article
Instant access to the full article PDF.
US$ 39.95
Price includes VAT for USA
Subscribe to journal
Immediate online access to all issues from 2019. Subscription will auto renew annually.
US$ 99
This is the net price. Taxes to be calculated in checkout.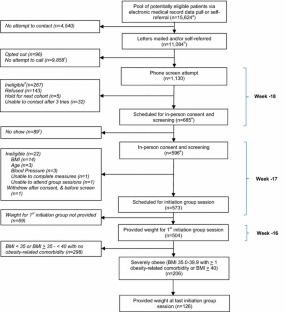 References
1.

Chang SH, Stoll CR, Song J, Varela JE, Eagon CJ, Colditz GA (2013) The effectiveness and risks of bariatric surgery: an updated systematic review and meta-analysis, 2003–2012. JAMA Surg 149:275–287

2.

Schauer PR, Bhatt DL, Kirwan JP, Wolski K, Brethauer SA, Navaneethan SD et al (2014) Bariatric surgery versus intensive medical therapy for diabetes—3-Year outcomes. N Engl J Med 370:2002–2013

3.

Arterburn DE, Olsen MK, Smith VA, Livingston EH, Van Scoyoc L, Yancy WS Jr et al (2015) Association between bariatric surgery and long-term survival. JAMA 313:62–70

4.

Cooper TC, Simmons EB, Webb K, Burns JL, Kushner RF (2015) Trends in weight regain following Roux-en-Y Gastric Bypass (RYGB) bariatric surgery. Obes Surg 25:1474–1481

5.

Golomb I, Ben David M, Glass A, Kolitz T, Keidar A (2015) Long-term metabolic effects of laparoscopic sleeve gastrectomy. JAMA Surg 150:1051–1057

6.

Al-Khyatt W, Ryall R, Leeder P, Ahmed J, Awad S (2017) Predictors of inadequate weight loss after laparoscopic gastric bypass for morbid obesity. Obes Surg 27:1446–1452

7.

Sethi M, Beitner M, Magrath M, Schwack B, Kurian M, Fielding G et al (2016) Previous weight loss as a predictor of weight loss outcomes after laparoscopic adjustable gastric banding. Surg Endosc 30:1771–1777

8.

Gerber P, Anderin C, Thorell A (2015) Weight loss prior to bariatric surgery: an updated review of the literature. Scand J Surg 104:33–39

9.

Voils CI, Olsen MK, Gierisch JM, McVay MA, Grubber JM, Gaillard L et al (2017) Maintenance of weight loss after initiation of nutrition training: a randomized trial. Ann Intern Med 166:463–471

10.

Voils CI, Gierisch JM, Olsen MK, Maciejewski ML, Grubber J, McVay MA et al (2014) Study design and protocol for a theory-based behavioral intervention focusing on maintenance of weight loss: the Maintenance After Initiation of Nutrition TrAINing (MAINTAIN) study. Contemp Clin Trials 39:95–105

11.

VA Informatics and Computer Infrastructure (VINCI), VA HSR HIR 08-204, US Department of Veterans Affairs. 2008. (Accessed October 12, 2016, 2016, at https://vaww.VINCI.med.va.gov.)

12.

Voils CI, Gierisch JM, Yancy WS Jr, Sandelowski M, Smith R, Bolton J et al (2014) Differentiating behavior initiation and maintenance: theoretical framework and proof of concept. Health Edu Behav 41:325–336

13.

Baldwin AS, Rothman AJ, Jeffery RW (2009) Satisfaction with weight loss: examining the longitudinal covariation between people's weight-loss-related outcomes and experiences and their satisfaction. Ann Behav Med 38:213–224

14.

Finch EA, Linde JA, Jeffery RW, Rothman AJ, King CM, Levy RL (2005) The effects of outcome expectations and satisfaction on weight loss and maintenance: correlational and experimental analyses–a randomized trial. Health Psychol 24:608–616

15.

Schwarzer R, Schuz B, Ziegelmann JP, Lippke S, Luszczynska A, Scholz U (2007) Adoption and maintenance of four health behaviors: theory-guided longitudinal studies on dental flossing, seat belt use, dietary behavior, and physical activity. Ann Behav Med 33:156–166

16.

Williams GC, Grow VM, Freedman ZR, Ryan RM, Deci EL (1996) Motivational predictors of weight loss and weight-loss maintenance. J Personality Soc Psychol 70:115–126

17.

Ajzen I, Fishbien M (1980) Understanding attitudes and predicting social behavior. Prentice-Hall, Englewood Cliffs

18.

Allison PD. Missing data: Sage University Paper Series on quantitative applications in the social sciences. Thousand Oaks, CA2001

19.

Lemstra M, Bird Y, Nwankwo C, Rogers M, Moraros J (2016) Weight loss intervention adherence and factors promoting adherence: a meta-analysis. Patient Prefer Adherence 10:1547–1559

20.

Livhits M, Mercado C, Yermilov I, Parikh JA, Dutson E, Mehran A et al (2011) Is social support associated with greater weight loss after bariatric surgery?: a systematic review. Obes Rev 12:142–148

21.

ASMBS Bariatric Surgery Support Group Facilitator Manual. (Accessed March 6, 2017, at https://asmbs.org/resources/asmbs-bariatric-surgery-support-group-facilitator-manual.)

22.

Statz AK, Stroud AM, Jolles SA, Greenberg JA, Lidor AO, Shada AL et al. (2017) Psychosocial factors are associated with quality of life after laparoscopic anti-reflux surgery. Surg Endosc

23.

Idler EL, Boulifard DA, Contrada RJ (2012) Mending broken hearts: marriage and survival following cardiac surgery. J Health Soc Behav 53:33–49

24.

King KB, Reis HT (2012) Marriage and long-term survival after coronary artery bypass grafting. Health Psychol 31:55–62

25.

Neuman MD, Werner RM (2016) Marital status and postoperative functional recovery. JAMA Surg 151:194–196

26.

Greenleaf EK, Cooper AB, Hollenbeak CS (2016) Marital status and survival in patients with carcinoid tumors. Health Serv Insights 9:3–11

27.

Wang L, Wilson SE, Stewart DB, Hollenbeak CS (2011) Marital status and colon cancer outcomes in US Surveillance, epidemiology and end results registries: does marriage affect cancer survival by gender and stage? Cancer Epidemiol 35:417–422

28.

Eskander MF, Schapira EF, Bliss LA, Burish NM, Tadikonda A, Ng SC et al (2016) Keeping it in the family: the impact of marital status and next of kin on cancer treatment and survival. Am J Surg 212:691–699

29.

Christakis NA, Fowler JH (2007) The spread of obesity in a large social network over 32 years. N Engl J Med 357:370–379

30.

Voils CI, Grubber JM, McVay MA, Olsen MK, Bolton J, Gierisch JM et al (2016) Recruitment and retention for a weight loss maintenance trial involving weight loss prior to randomization. Obes Sci Pract 2:355–365

31.

Byrne S, Barry D, Petry NM (2012) Predictors of weight loss success. Exercise vs. dietary self-efficacy and treatment attendance. Appetite 58:695–698

32.

Annesi JJ, Mareno N, McEwen K (2016) Psychosocial predictors of emotional eating and their weight-loss treatment-induced changes in women with obesity. Eat Weight Disord 21:289–295

33.

Teixeira PJ, Silva MN, Mata J, Palmeira AL, Markland D (2012) Motivation, self-determination, and long-term weight control. Int J Behav Nutr Phys Act 9:22

34.

Funk LM, Jolles SA, Greenberg CC, Schwarze ML, Safdar N, McVay MA et al (2016) Primary care physician decision making regarding severe obesity treatment and bariatric surgery: a qualitative study. Surg Obes Relat Dis 12:893–901

35.

Austin JL, Smith JE, Gianini L, Campos-Melady M (2013) Attitudinal familism predicts weight management adherence in Mexican-American women. J Behav Med 36:259–269

36.

Colley RC, Hills AP, O'Moore-Sullivan TM, Hickman IJ, Prins JB, Byrne NM (2008) Variability in adherence to an unsupervised exercise prescription in obese women. Int J Obes (Lond) 32:837–844

37.

Steinberg DM, Levine EL, Lane I, Askew S, Foley PB, Puleo E et al (2014) Adherence to self-monitoring via interactive voice response technology in an eHealth intervention targeting weight gain prevention among Black women: randomized controlled trial. J Med Internet Res 16:e114

38.

Abraham A, Ikramuddin S, Jahansouz C, Arafat F, Hevelone N, Leslie D (2016) Trends in bariatric surgery: procedure selection, revisional surgeries, and readmissions. Obes Surg 26:1371–1377

39.

Giordano S, Victorzon M (2015) Bariatric surgery in elderly patients: a systematic review. Clin Interv Aging 10:1627–1635

40.

Larjani S, Spivak I, Hao Guo M, Aliarzadeh B, Wang W, Robinson S et al (2016) Preoperative predictors of adherence to multidisciplinary follow-up care postbariatric surgery. Surg Obes Relat Dis 12:350–356

41.

Burgess E, Hassmen P, Pumpa KL (2017) Determinants of adherence to lifestyle intervention in adults with obesity: a systematic review. Clin Obes 7:123–135
Acknowledgements
The authors thank Jamiyla Bolton MS, Jahdai Dawes, Marsha Turner, and Terry Ervin, RN for assistance with recruitment and conducting measurements; Elizabeth Strawbridge, MPH, RD, and Leslie Gaillard, RD, for delivery of the weight loss intervention; and Lesa Powell and Aviel Alkon for programming and database development. Finally, the authors thank all study participants.
Ethics declarations
Funding
This study was funded by a grant awarded to Drs. Voils and Yancy by the Department of Veterans Affairs (DVA) Health Services Research & Development Service (IIR 11-040). Effort on this study and manuscript were also made possible by a VA Career Development Award to Dr. Funk (CDA 15-060), an NIH career development award to Dr. McVay (K23 HL127334), and a Research Career Scientist award to Dr. Voils (RCS 14-443). This work was supported by the Center of Innovation for Health Services Research in Primary Care (CIN 13-410) at the Durham VA Medical Center. The views represented in this article represent those of the authors and not those of the DVA or the US Government.
Conflict of interest
Effort on this study and manuscript was made possible by a VA Career Development Award to Dr. Funk, an NIH career development award to Dr. McVay, and a Research Career Scientist award to Dr. Voils. This work was also supported by the Center of Innovation for Health Services Research in Primary Care at the Durham VA Medical Center. The views represented in this article represent those of the authors and not those of the DVA or the US Government. The authors declare no conflicts of interest related to these funding sources.
Ethical approval
All procedures performed in studies involving human participants were in accordance with the ethical standards of the institutional and/or national research committee and with the 1964 Helsinki declaration and its later amendments or comparable ethical standards.
Informed consent
Informed consent was obtained from all individual participants included in the study.
About this article
Cite this article
Funk, L.M., Grubber, J.M., McVay, M.A. et al. Patient predictors of weight loss following a behavioral weight management intervention among US Veterans with severe obesity. Eat Weight Disord 23, 587–595 (2018). https://doi.org/10.1007/s40519-017-0425-6
Received:

Accepted:

Published:

Issue Date:
Keywords
Clinical trials

Weight loss

Severe obesity

Bariatric surgery