Abstract
Aim
The aim of this study was to investigate symptoms of swallowing difficulty in Panic Disorder (PD) patients and the factors associated with these symptoms.
Methods
In the pre-phase of the study, 22 PD patients who were treated in psychiatry outpatient clinics and who were found to have swallowing difficulty were evaluated. PD patients were asked to write about their thoughts, feelings and behaviors associated with swallowing difficulty. Later, these texts were examined and 41 expressions were identified in which patients described their swallowing difficulty. These expressions were evaluated by mental health workers in the field and twelve different swallowing difficulty items were defined. In the main phase of the study, 119 PD outpatients were evaluated using twelve different swallowing difficulty items and psychometric tests [Panic and Agoraphobia Scale (PAS), Separation Anxiety Symptom Inventory (SASI), Beck Depression Inventory (BDI) and State-Trait Anxiety Inventory (STAI-1/STAI-2)].
Results
As a result of the validity and reliability analysis, a valid one-factor instrument with ten items was obtained. Cronbach's alpha value for this measurement tool was 0.89 and it was termed the "Swallowing Anxiety Scale (SAS)". It was found that SAS items "always" accompany PD patients at rates of 5–20.2%. According to hierarchical regression analysis, 35% of SAS scores were explained by PAS, SASI, STAI-2 and BDI scores.
Conclusion
Swallowing difficulty items in PD patients involved anxious, phobic and somatic symptoms associated with swallowing. In addition, swallowing difficulty symptoms in PD patients can be confounded with eating disorder symptoms.
Access options
Buy single article
Instant access to the full article PDF.
USD 39.95
Price excludes VAT (USA)
Tax calculation will be finalised during checkout.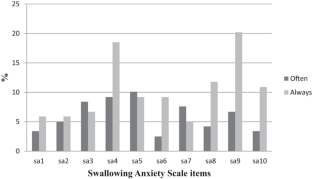 References
Okada A, Tsukamoto C, Hosogi M, Yamanaka E, Watanabe K, Ootyou K, Morishima T (2007) Study of psychopathology and treatment of children with phagophobia. Acta Med Okayama 61:261–269

Lopes R, Melo R, Curral R, Coelho R, Roma-Torres A (2014) A case of choking phobia: towards a conceptual approach. Eat weight disord 19:125–131. doi:10.1007/s40519-013-0048-5

American Psychiatric Association (2013) Diagnostic and Statistical Manual of Mental Disorders (DSM-5®). American Psychiatric Pub, Arlington

Bailly D, MB de Chouly de Lenclave, Dhaussy S, Baert F, Turck D (2003) Choking phobia in childhood: a differential diagnosis with anorexia nervosa. Arch Pediatr 10:337–339

De Jongh A, Broeke E (1998) Treatment of Choking Phobia by Targeting Traumatic Memories with EMDR: A Case Study. Clin Psychol Psychother 5:264–269

De Lucas Taracena TN, Montanes Rada F (2006) Swallowing phobia: symptoms, diagnosis and treatment. Actas Esp Psiquiatr 34:309–316

Marilov VV (2000) Aspects of the development in dysphagia and its functional dynamics. ZhNevrol Psikhiatr Im S S Korsakova 12:32–36

Finkenbine R, Miele VJ (2004) Globus hystericus: a brief review. Gen Hosp Psychiatry 26:78–82

Verdonschot RJ, Baijens LW, Serroyen JL, Leue C, Kremer B (2013) Symptoms of anxiety and depression assessed with the Hospital Anxiety and Depression Scale in patients with oropharyngeal dysphagia. J Psychosom Res 75:451–457. doi:10.1016/j.jpsychores.2013.08.021

Kessler RC, Chiu WT, Demler O, Walters EE (2005) Prevalence, severity, and comorbidity of twelve-month DSM-IV disorders in the National Comorbidity Survey Replication (NCS-R). Arch Gen Psychiatry 62:617–627. doi:10.1001/archpsyc.62.6.617

Becker ES, Rinck M, Türke V, Kause P, Goodwin R, Neumer S, Margraf J (2007) Epidemiology of specific phobia subtypes: findings from the Dresden Mental Health Study. Eur Psychiatry 22:69–74. doi:10.1016/j.eurpsy.2006.09.006

Bruce SE, Yonkers KA, Otto MW, Eisen JL, Weisberg RB, Pagano M, Shea MT, Keller MB (2005) Influence of psychiatric comorbidity on recovery and recurrence in generalized anxiety disorder, social phobia, and panic disorder: a 12-year prospective study. Am J Psychiatry 162:1179–1187. doi:10.1176/appi.ajp.162.6.1179

Bandelow B (1995) Assessing the efficiacy of treatments for panic disorder and agoraphobia. II. The Panic and Agoraphobia Scale. Int Clin Psychopharmacol 10:73–81

Sheikh JI, Leskin GA, Klein DF (2002) Gender differences in panic disorder: findings from the National Comorbidity Survey. Am J Psychiatry 159:55–58. doi:10.1176/appi.ajp.159.1.55

Sawchuk CN, Roy-Byrne P, Noonan C, Craner JR, Goldberg J, Manson S, Buchwald D; AI-SUPERPFP Team (2016) Panic attacks and panic disorder in the American Indian community. J Anxiety Disord. doi:10.1016/j.janxdis.2016.10.004

Tural Ü, Fidaner H, Alkın T, Bandelow B (2000) Panik ve Agorafobi Ölçeğinin Güvenirlik ve Geçerliği. Turk Psikiyatri Derg 11:29–39

Spielberger CD, Gorsuch RL, Lushene RE (1970) State-trait anxiety inventory (self-evaluation questionnaire). Consulting Psychololgists Press. doi:10.1002/9780470479216

Öner N, Le Compte W.A (1983) Durumluk ve Sürekli Kaygı Envanteri El Kitabı. Boğaziçi Üniversitesi Yayınları, İstanbul

Beck AT, Ward C, Mendelson M (1961) Beck depression inventory (BDI). Arch Gen Psychiatry 4:561–571

Hisli N (1988) Validity and reliability of the Beck Depression Scale in a Turkish sample. Psikoloji Dergisi 6:118–122

Silove D, Manicavasagar V, O'Connell D, Blaszczynski A, Wagner A, Henry J (1993) The development of the Separation Anxiety Symptom Inventory (SASI). Aust NZ J Psychiatry 273:477–488

Diriöz PM, Alkin T, Yemez B, Onur E, Eminağaoğlu PN (2012) The validity and reliability of Turkish version of separation anxiety symptom inventory and adult separation anxiety questionnaire. Turk Psikiyatri Derg 23:108–116

Warren SL, Gunnar MR, Kagan J, Anders TF, Simmens SJ, Rones M, Wease S, Aron E, Dahl RE, Sroufe LA (2003) Maternal panic disorder: infant temperament, neurophysiology, and parenting behaviors. J Am Acad Child Adolesc Psychiatry 42:814–825. doi:10.1097/01.CHI.0000046872.56865.02

Zou Z, Huang Y, Wang J, He Y, Min W, Chen X, Wang J, Zhou B (2016) Association of childhood trauma and panic symptom severity in panic disorder: Exploring the mediating role of alexithymia. J Affect Disord 206:133–139. doi:10.1016/j.jad.2016.07.027

Plehn K, Peterson RA (2002) Anxiety sensitivity as a predictor of thedevelopment of panic symptoms, panic attacks, and panic disorder: a prospective study. J Anxiety Disord 16:455–474

Schmidt NB, Zvolensky MJ, Maner JK (2006) Anxiety sensitivity: Prospective prediction of panic attacks and axis I pathology. J Psychiatr Res 40:691–699. doi:10.1016/j.jpsychires.2006.07.009

Anderson ER, Hope DA (2009) The relationship among socialphobia, objective and perceived physiological reactivity, and anxiety sensitivity in an adolescent population. J Anxiety Disord 23:18–26. doi:10.1016/j.janxdis.2008.03.011

Bogaerde AV, De Raedt R (2011) The moderational role of anxiety sensitivity in flight phobia. J Anxiety Disord 25:422–426. doi:10.1016/j.janxdis.2010.11.005

Kossowsky J, Pfaltz MC, Schneider S, Taeymans J, Locher C, Gaab J (2013) These paration anxiety hypothesis of panic disorder revisited: a meta-analysis. Am J Psychiatry 170:768–781. doi:10.1176/appi.ajp.2012.12070893
Acknowledgements
The authors thank everyone who provided assistance for the study including medical secretaries and psychiatry assistants.
Ethics declarations
Conflict of interest
On behalf of all authors, the corresponding author states that there is no conflict of interest.
Ethical approval
The study was conducted in 2014 with Institutional Review Board approval.
Informed consent
Written informed consent was obtained from all the participants included in this study.
About this article
Cite this article
Budak, E., Taymur, İ., Önen, S. et al. Symptoms of swallowing anxiety in panic disorder patients and associated psychopathologic factors. Eat Weight Disord 23, 487–497 (2018). https://doi.org/10.1007/s40519-017-0367-z
Received:

Accepted:

Published:

Issue Date:

DOI: https://doi.org/10.1007/s40519-017-0367-z
Keywords
Swallowing difficulty

Swallowing anxiety

Swallowing phobia

Panic disorder

Eating disorder