Abstract
Purpose
This study examined the MMPI-2 and EDI-2 scores of 205 Korean women with eating disorders to identify difference between early and adulthood onset of dieting groups.
Methods
101 women had started dieting in their childhood to adolescence (EARLYdieting group) and 104 had started dieting in their adulthood (ADULTdieting group).
Results
Both of the MMPI-2 and EDI-2 scores were significantly different between the two groups before and after adjusting for the duration since the onset of eating disorder. EARLYdieting group scored higher in the MMPI-2 clinical scales 1, 3, 0 and the EDI-2 bulimia scale. EARLYdieting group tended to use a more varied dieting strategy.
Conclusions
The findings suggested that starting to diet early in life may be related to more severe psychopathology and dieting behaviors in adulthood.
This is a preview of subscription content, log in to check access.
Access options
Buy single article
Instant access to the full article PDF.
US$ 39.95
Price includes VAT for USA
Subscribe to journal
Immediate online access to all issues from 2019. Subscription will auto renew annually.
US$ 99
This is the net price. Taxes to be calculated in checkout.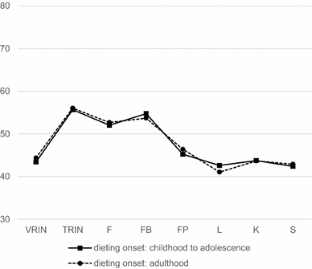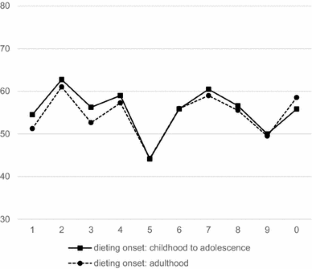 References
1.

Steinhausen HC (1994) Anorexia and bulimia nervosa. In: Rutter M, Taylor E, Hersov L (eds) Child and adolescent psychiatry. Blackwell, London, pp 425–440

2.

Stice E (2002) Risk and maintenance factors for eating pathology: a meta-analytic review. Psychol Bull 128(5):825–848. doi:10.1037//0033-2909.128.5.825

3.

Johnson JG, Cohen P, Kasen S, Brook JS (2002) Childhood adversities associated with risk for eating disorders or weight problems during adolescence or early adulthood. Am J Psychiatry 159:394–400. doi:10.1176/appi.ajp.159.3.394

4.

Hsu LG (1997) Can dieting cause an eating disorder? Psychol Med 27(03):509–513. doi:10.1017/S0033291797004753

5.

Polivy J, Herman CP (1985) Dieting and binging: a causal analysis. Am Psychol 40(2):193. doi:10.1037/0003-066X.40.2.193

6.

Hill AJ, Oliver S, Rogers PJ (1992) Eating in the adult world: the rise of dieting in childhood and adolescence. Br J Clin Psychol 31:95–105. doi:10.1111/j.2044-8260.1992.tb00973.x

7.

Patton GC, Carlin JB, Shao Q, Hibbert ME, Rosier M, Selzer R, Bowes G (1997) Adolescent dieting: healthy weight control or borderline eating disorder? J Child Psychol Psychiatry 38(3):299–306. doi:10.1111/j.1469-7610.1997.tb01514.x

8.

Gustafson-Larson AM, Terry RD (1992) Weight-related behaviors and concerns of fourth-grade children. J Am Diet Assoc 92:818–822

9.

Jacobi C, Hayward C, de Zwaan M, Kraemer HC, Agras WS (2004) Coming to terms with risk factors for eating disorders: application of risk terminology and suggestions for a general taxonomy. Psychol Bull 130:19–65. doi:10.1037/0033-2909.130.1.19

10.

Marchi M, Cohen P (1990) Early childhood eating behaviours and adolescent eating disorders. J Am Acad Child Adolesc Psychiatry 29:112–117. doi:10.1097/00004583-199001000-00017

11.

Neumark-Sztainer D, Wall M, Guo J, Story M, Haines J, Eisenberg M (2006) Obesity, disordered eating, and eating disorders in a longitudinal study of adolescents: how do dieters fare 5 years later? J Am Diet Assoc 106(4):559–568

12.

Patton GC, Selzer R, Coffey CCJB, Carlin JB, Wolfe R (1999) Onset of adolescent eating disorders: population based cohort study over 3 years. BMJ 318(7186):765–768. doi:10.1136/bmj.318.7186.765

13.

Holland LA, Forney KJ, Keel PK (2014) Secular and longitudinal trends in dieting strategies in young adult women from 1982 to 2012: Implications for use of extreme weight control behaviors, alcohol misuse, and weight status 10-years later. Unpublished results presented at SSIB, July 29–August 2, Seattle

14.

Brausch AM, Gutierrez PM (2009) The role of body image and disordered eating as risk factors for depression and suicidal ideation in adolescents. Suicide Life Threat Behav 39(1):58–71. doi:10.1521/suli.2009.39.1.58

15.

Stice E, Hayward C, Cameron RP, Killen JD, Taylor CB (2000) Body-image and eating disturbances predict onset of depression among female adolescents: a longitudinal study. J Abnorm Psychol 109(3):438. doi:10.1037/0021-843X.109.3.438

16.

Swinbourne J, Hunt C, Abbott M, Russell J, St Clare T, Touyz S (2012) The comorbidity between eating disorders and anxiety disorders: prevalence in an eating disorder sample and anxiety disorder sample. Aust N Z J Psychiatry 46(2):118–131. doi:10.1177/0004867411432071

17.

Cassin SE, von Ranson KM (2005) Personality and eating disorders: a decade in review. Clin Psychol Rev 25(7):895–916. doi:10.1016/j.cpr.2005.04.012

18.

Keys A, Brožek J, Henschel A, Mickelsen O, Taylor HL (1950) The biology of human starvation, vol I–II. University of Minnesota Press, Minneapolis

19.

Vitousek K, Manke F (1994) Personality variables and disorders in anorexia nervosa and bulimia nervosa. J Abnorm Psychol 103(1):137. doi:10.1037/0021-843X.103.1.137

20.

Waller G, Ormonde L, Kuteyi Y (2013) Clusters of personality disorder cognitions in the eating disorders. Eur Eat Disord Rev 21(1):28–31. doi:10.1002/erv.2209

21.

Association American Psychiatric, Association American Psychiatric (1994) Diagnostic and statistical manual of mental disorders (DSM). American Psychiatric Association, Washington, pp 143–147

22.

Butcher JN, Dahlstrom WG, Graham JR, Tellegen A, Kaemmer B (1989) Manual for the restandardized Minnesota multiphasic personality inventory: MMPI-2. An administrative and interpretative guide. University of Minnesota Press, Minneapolis

23.

Kim JS, Han K, Lim J, Lee J, Min B, Moon K (2005) Korean MMPI-2 users' manual. Maumsarang, Seoul

24.

Garner DM (1991) Eating Disorders Inventory II. Psychological Assessment Resources, Odessa

25.

Lee JH, Shin MY, Jo HH, Jung YC, Kim JK, Kim KR (2012) Validation of the Korean version of the Eating Disorder Inventory-2: psychometric properties and cross-cultural comparison. Yonsei Med J 53(6):1099–1106. doi:10.3349/ymj.2012.53.6.1099

26.

Beck AT, Ward C, Mendelson M (1961) Beck Depression Inventory (BDI). Arch Gen Psychiatry 4(6):561–571

27.

Lee YH, Song JY (1991) Development of Korean version of BDI, SDS, and MMPI-D: a reliability and validity study. Kor J Clin Psychol 10:98–113

28.

Beck AT, Epstein N, Brown G, Steer RA (1988) An inventory for measuring clinical anxiety: psychometric properties. J Consult Clin Psychol 56(6):893. doi:10.1037/0022-006X.56.6.893

29.

Yook SP, Kim ZS (1997) A clinical study on the Korean version of Beck Anxiety Inventory: comparative study of patient and non-patient. Kor J Clin Psychol 16(1):185–197

30.

Erdfelder E, Faul F, Buchner A (1996) GPOWER: a general power analysis program. Beh Res Meth Instr Comp 28(1):1–11. doi:10.3758/BF03203630

31.

Cohen J (1988) Statistical power analysis for the behavioral science. Lawrence Erlbaum Associates Inc, Hillsdale

32.

Colleen Stiles-Shields E, Labuschagne Z, Goldschmidt AB, Doyle AC, Grange DL (2012) The use of multiple methods of compensatory behaviors as an indicator of eating disorder severity in treatment-seeking youth. Int J Eat Disord 45(5):704–710. doi:10.1002/eat.22004

33.

Haedt AA, Edler C, Heatherton TF, Keel PK (2006) Importance of multiple purging methods in the classification of eating disorder subtypes. Int J Eat Disord 39(8):648–654. doi:10.1002/eat.20335

34.

Tobin DL, Johnson CL, Dennis AB (1992) Divergent forms of purging behavior in bulimia nervosa patients. Int J Eat Disord 11(1):17–24. doi:10.1002/1098-108X(199201)11:1<17:AID-EAT2260110104>3.0.CO;2-6

35.

Vitousek KB, Daly J, Heiser C (1991) Reconstructing the internal world of the eating-disordered individual: overcoming denial and distortion in self-report. Int J Eat Disord 10(6):647–666. doi:10.1002/1098-108X(199111)10:6<647:AID-EAT2260100604>3.0.CO;2-T

36.

Lilenfeld LR, Wonderlich S, Riso LP, Crosby R, Mitchell J (2006) Eating disorders and personality: a methodological and empirical review. Clin Psychol Rev 26(3):299–320. doi:10.1016/j.cpr.2005.10.003

37.

Lippincott J, Hwang H (1999) On cultural similarities in attitudes toward eating of women students in Pennsylvania and South Korea. Psychol Rep 85:701–702. doi:10.2466/pr0.1999.85.2.701

38.

Kjelsås E, Bjørnstrøm C, Götestam KG (2004) Prevalence of eating disorders in female and male adolescents (14–15 years). Eat Behav 5(1):13–25. doi:10.1016/S1471-0153(03)00057-6

39.

Muise AM, Stein DG, Arbess G (2003) Eating disorders in adolescent boys: a review of the adolescent and young adult literature. J Adolesc Health 33(6):427–435. doi:10.1016/S1054-139X(03)00060-0

40.

Hart LM, Granillo MT, Jorm AF, Paxton SJ (2011) Unmet need for treatment in the eating disorders: a systematic review of eating disorder specific treatment seeking among community cases. Clin Psychol Rev 31(5):727–735. doi:10.1016/j.cpr.2011.03.004
Ethics declarations
Funding
Research was supported by a Grant from Yonsei University College of Medicine (6-2014-0142).
Conflict of interest
On behalf of all authors, the corresponding author states that there is no conflict of interest.
Ethical approval
All procedures performed in studies involving human participants were in accordance with the ethical standards of the institutional and/or national research committee and with the 1964 Helsinki declaration and its later amendments or comparable ethical standards. This article does not contain any studies with animals performed by any of the authors.
Informed consent
Informed consent was obtained from all individual participants included in the study.
About this article
Cite this article
Chung, Y.I., Kim, J.K., Lee, J. et al. Onset of dieting in childhood and adolescence: implications for personality, psychopathology, eating attitudes and behaviors of women with eating disorder. Eat Weight Disord 22, 491–497 (2017). https://doi.org/10.1007/s40519-016-0285-5
Received:

Accepted:

Published:

Issue Date:
Keywords
Eating disorders

Minnesota Multiphasic Personality Inventory-2

MMPI-2

Eating Disorder Inventory-2

EDI-2

Onset of dieting