Abstract
The impact of stress on circulating levels of appetite-regulating hormones remains largely unknown. The aim of this study was to analyze the effect of acute psychosocial stress on the gut hormone peptide YY (PYY) secretion in obese and normal weight women. Therefore, we compared pre- and post-prandial plasma PYY secretion of 42 obese and 43 normal weight women in a repeated measure randomized controlled laboratory experiment. PYY and cortisol concentrations were measured and ratings of stress and satiety were also recorded in response to a psychological stressor (Trier Social Stress Test, TSST). PYY samples were collected in the fasting state both before participating in the TSST and before a control session. Participants had a standardized meal after the TSST and control session, respectively. PYY was measured both 30 and 60 min after the TSST and control session, respectively. Stress inhibited PYY secretion as well as food intake in all women, but did not influence subjective satiety perception. The present data indicate that despite of lower PYY levels the subjects' requirement to overeat was not increased. From an evolutionary perspective this finding is adaptive. After stress the organism is prepared for fight or flight reaction, whereas not primarily necessary functions are inhibited. Therefore, increased food intake during stress would be dysfunctional.
Access options
Buy single article
Instant access to the full article PDF.
USD 39.95
Price excludes VAT (USA)
Tax calculation will be finalised during checkout.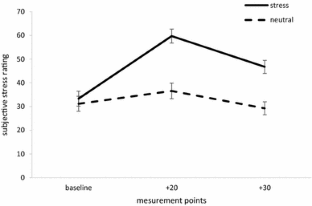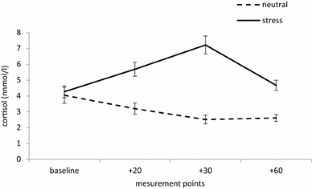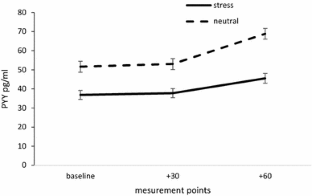 References
Torres SJ, Nowson CA (2007) Relationship between stress, eating behavior, and obesity. Nutrition 23(11):887–894

Le Roux CW, Bloom SR (2005) Peptide YY, appetite and food intake. Proc Nutrition Soc 64(02):213–216. doi:10.1079/PNS2005427

Adrian TE, Ferri GL, Bacarese-Hamilton AJ, Fuessl HS, Polak JM, Bloom SR (1985) Human distribution and release of a putative new gut hormone, peptide YY. Gastroenterology 89(5):1070–1077

Batterham RL, Bloom SR (2003) The gut hormone peptide YY regulates appetite. Ann N Y Acad Sci 994(1):162–168. doi:10.1111/j.1749-6632.2003.tb03176.x

Ashby D, Bloom SR (2007) Recent progress in PYY research—an update report for 8th NPY meeting. Peptides 28(2):198–202. doi:10.1016/j.peptides.2006.10.019

Lawson EA, Eddy KT, Donoho D, Misra M, Miller KK, Meenaghan E, Lydecker J, Herzog D, Klibanski A (2011) Appetite-regulating hormones cortisol and peptide YY are associated with disordered eating psychopathology, independent of body mass index. Eur J Endocrinol 164(2):253–261. doi:10.1530/EJE-10-0523

Zwirska-Korczala K, Konturek SJ, Sodowski M, Wylezol M, Kuka D, Sowa P, Adamczyk-Sow M, Kukla M, Berdowska A, Rehfeld JF, Bielanski W, Brzozowsk T (2007) Basal and postprandial plasma levels of PYY, ghrelin, cholecystokinin, gastrin and insulin in women with moderate and morbid obesity and metabolic syndrome. J Physiol Pharmacol 58(1):13–35

Bartolomé MA, Borque M, Martinez-Sarmiento J, Aparicio E, Hernández C, Cabrerizo L, Fernandez-Represa JA (2002) Peptide YY secretion in morbidly obese patients before and after vertical banded gastroplasty. Obes Surg 12(3):324–327. doi:10.1381/096089202321088084

Batterham RL, Cohen MA, Ellis SM, Le Roux CW, Withers DJ, Frost GS, Ghatei MA, Bloom SR (2003) Inhibition of food intake in obese subjects by peptide YY3–36. N Engl J Med 349(10):941–948. doi:10.1056/NEJMoa030204

Le Roux CW, Batterham RL, Aylwin SJB, Patterson M, Borg CM, Wynne KJ, Kent A, Vincent RP, Gardiner J, Ghatei MA, Bloom SR (2006) Attenuated peptide YY release in obese subjects is associated with reduced satiety. Endocrinology 147(1):3–8. doi:10.1210/en.2005-0972

Vazquez Roque MI, Camilleri M, Stephens DA, Jensen MD, Burton DD, Baxter KL, Zinsmeister AR (2006) Gastric sensorimotor functions and hormone profile in normal weight, overweight, and obese people. Gastroenterology 131(6):1717–1724. doi:10.1053/j.gastro.2006.10.025

Roth CL, Enriori PJ, Harz K, Woelfle J, Cowley MA, Reinehr T (2005) Peptide YY is a regulator of energy homeostasis in obese children before and after weight loss. J Clin Endocrinol Metab 90(12):6386–6391. doi:10.1210/jc.2005-1357

Challis BG, Coll AP, Yeo GSH, Pinnock SB, Dickson SL, Thresher RR, Dixon J, O'Rahilly S (2004) Mice lacking pro-opiomelanocortin are sensitive to high-fat feeding but respond normally to the acute anorectic effects of peptide-YY3-36. Proc Natl Acad Sci USA 101(13):4695–4700. doi:10.1073/pnas.0306931101

Halatchev IG, Ellacott KL, Fan W, Cone RD (2004) Peptide YY3–36 inhibits food intake in mice through a melanocortin-4 receptor-independent mechanism. Endocrinology 145(6):2585–2590. doi:10.1210/en.2003-1754

Abbott CR, Small CJ, Sajedi A, Smith KL, Parkinson JRC, Broadhead LL, Ghatei MA, Bloom SR (2006) The importance of acclimatisation and habituation to experimental conditions when investigating the anorectic effects of gastrointestinal hormones in the rat. Int J Obes 30(2):288–292. doi:10.1038/sj.ijo.0803137

Faul F, Erdfelder E, Lang AG, Buchner A (2007) G* Power 3: a flexible statistical power analysis program for the social, behavioral, and biomedical sciences. Behav Res Methods 39(2):175–191. doi:10.3758/BF03193146

Chandarana K, Drew ME, Emmanuel J, Karra E, Gelegen C, Chan P, Cron NJ, Batterham RL (2009) Subject standardization, acclimatization, and sample processing affect gut hormone levels and appetite in humans. Gastroenterology 136(7):2115–2126. doi:10.1053/j.gastro.2009.02.047

Kirschbaum C, Hellhammer DH (1989) Salivary cortisol in psychobiological research: an overview. Neuropsychobiology 22:150–169. doi:10.1159/000118611

Pruessner JC, Kirschbaum C, Meinlschmid G, Hellhammer DH (2003) Two formulas for computation of the area under the curve represent measures of total hormone concentration versus time-dependent change. Psychoneuroendocrinology 28:916–931. doi:10.1016/S0306-4530(97)00072-3

Kirschbaum C, Pirke KM, Hellhammer DH (1993) The 'Trier Social Stress Test'—a tool for investigating psychobiological stress responses in a laboratory setting. Neuropsychobiology 28:76–81. doi:10.1159/000119004

Dressendörfer RA, Kirschbaum C, Rohde W, Stahl F, Strasburger CJ (1992) Synthesis of a cortisol-biotin conjugate and evaluation as a tracer in an immunoassay for salivary cortisol measurement. J Steroid Biochem Mol Biol 43:683–692. doi:10.1016/0960-0760(92)90294-S

World Health Organization (2013) BMI classification 2013. World Health Organization. http://apps.who.int/bmi/index.jsp
Ethics declarations
Conflict of interest
Authors have no potential conflict of interest.
Ethical approval
The study was approved by the ethical committee of medicine in Rheinland‐ Pfalz, Germany (20.4.2012).
Informed consent
Informed consent was obtained from all individual participants included in the study.
About this article
Cite this article
Kiessl, G.R.R., Laessle, R.G. Stress inhibits PYY secretion in obese and normal weight women. Eat Weight Disord 21, 245–249 (2016). https://doi.org/10.1007/s40519-015-0231-y
Received:

Accepted:

Published:

Issue Date:

DOI: https://doi.org/10.1007/s40519-015-0231-y
Keywords
Stress

PYY

Obesity

Eating behavior