Abstract
Purpose
Over the last decades, the prevalence of overweight and obesity in elementary school children has steadily increased worldwide. This phenomenon is also linked to food habits. The main purpose of our study was to understand the role that environmental factors may play in this context; in particular, we investigated how and to what extent family food habits and children lifestyle are associated with the spread of children obesity.
Methods
One hundred and nine primary schools, with 6–11-year-old children (n = 14,500), were recruited for this cross-sectional study in Milan (Italy). Children anthropometric data were measured and reported by parents; citizenship, fruit and vegetable consumption data of both parents and children were collected. Time spent watching television and doing physical activity was also investigated in children.
Results
The study revealed that children's vegetable (not fruit) consumption was positively associated with physical activity, while negatively associated with time watching TV; in particular, fewer hours spent watching television were a stronger protective factor than more hours spent doing physical activity. Moreover, the parental feeding style was associated with children's attitudes toward consumption of fruit and vegetable. Family characteristics (family size and level of parents' education) and children gender were associated to the risk of being overweight/obese.
Conclusions
Our findings support the relevance of environmental factors in childhood food consumption and BMI distribution among children in an urban city. This is the reason why we stress the need to design ad hoc interventions, which should be developed in accordance with the socio-economic peculiarities of a cosmopolitan city suburb.
Access options
Buy single article
Instant access to the full article PDF.
US$ 39.95
Tax calculation will be finalised during checkout.
Subscribe to journal
Immediate online access to all issues from 2019. Subscription will auto renew annually.
US$ 79
Tax calculation will be finalised during checkout.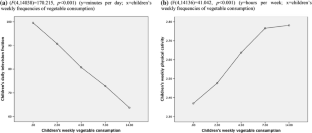 References
1.

Flegal KM, Graubard BI, Williamson DF et al (2005) Excess deaths associated with underweight, overweight, and obesity. JAMA 293(15):1861–1867. doi:10.1001/jama.293.15.1861

2.

Juonala M, Magnussen CG, Berenson GS et al (2011) Childhood adiposity, adult adiposity, and cardiovascular risk factors. N Engl J Med 365(20):1876–1885. doi:10.1056/NEJMoa1010112

3.

Wang Y, Lobstein T (2006) Worldwide trends in childhood overweight and obesity. Int J Pediatr Obes 1(1):11–25. doi:10.1080/17477160600586747

4.

Davinelli S, Sapere N, Zella D et al (2012) Pleiotropic protective effects of phytochemicals in Alzheimer's disease. Oxid Med Cell Longev 2012:386527. doi: 10.1155/2012/386527

5.

Gilbert PA, Khokhar S (2008) Changing dietary habits of ethnic groups in Europe and implications for health. Nutr Rev 66(4):203–215. doi:10.1111/j.1753-4887.2008.00025.x

6.

Bracale R, Labruna G, Finelli C et al (2012) The absence of polymorphisms in ADRB3, UCP1, PPARγ, and ADIPOQ genes protects morbid obese patients toward insulin resistance. J Endocrinol Invest 35:2–4. doi:10.1007/BF03345413

7.

Holsten JE, Deatrick JA, Kumanyika S et al (2012) Children's food choice process in the home environment. A qualitative descriptive study. Appetite 58:64–73. doi:10.1016/j.appet.2011.09.002

8.

MacFarlane A, Cleland V, Crawford D et al (2009) Longitudinal examination of the family food environment and weight status among children. Int J Pediatr Obes 4:343–352. doi:10.3109/17477160902846211

9.

Lissner L, Lanfer A, Gwozdz W et al (2012) Television habits in relation to overweight, diet and taste preferences in European children: the IDEFICS study. Eur J Epidemiol 27:705–715. doi:10.1007/s10654-012-9718-2

10.

Feldman S, Eisenberg ME, Neumark-Sztainer D et al (2007) Associations between watching TV during family meals and dietary intake among adolescents. Nutr Educ Behav 39(5):257–263. doi:10.1016/j.jneb.2007.04.181

11.

Yannakoulia M, Ntalla I, Papoutsakis C et al (2010) Consumption of vegetables, cooked meals, and eating dinner is negatively associated with overweight status in children. J Pediatr 157:815–820. doi:10.1016/j.jpeds.2010.04.077

12.

Šumonja S, Novaković B (2013) Determinants of fruit, vegetable, and dairy consumption in a sample of school children, Northern Serbia, 2012. Prev Chronic Dis 10:130072. doi:10.5888/pcd10.130072

13.

Jones LR, Steer CD, Rogers IS et al (2010) Influences on child fruit and vegetable intake: sociodemographic, parental and child factors in a longitudinal cohort study. Public health Nutr 13(07):1122–1130. doi:10.1017/S1368980010000133

14.

Volken T, Rueschl P, Guggisberg J (2013) Fruit and vegetable consumption among migrants in Switzerland. Public Health Nutr 16(1):156–163. doi:10.1017/S1368980012001292

15.

Cardel M, Willig AL, Dulin-Keita A et al (2012) Parental feeding practices and socioeconomic status are associated with child adiposity in a multi-ethnic sample of children. Appetite 58(1):347–353. doi:10.1016/j.appet.2011.11.005

16.

Liu Ji-Hong, Sonya JJ, Sun H et al (2012) Diet, physical activity, and sedentary behaviors as risk factors for childhood obesity: an urban and rural comparison. Child Obes 8(5):440–448. doi:10.1089/chi.2011.0090

17.

Valdés Pizarro J, Royo-Bordonada MA (2012) Prevalence of childhood obesity in Spain: national health survey 2006–2007. Nutr Hosp 27(1):154–160. doi:10.3305/nh.2012.27.1.5414

18.

Bereket A, Atay Z (2010) Current status of childhood obesity and its associated morbidities in Turkey. J Clin Res Pediatr Endocrinol 4(1):1–7. doi:10.4274/jcrpe.506

19.

Donatiello E, Dello Russo M, Formisano A et al (2013) Physical activity, adiposity and urbanization level in children: results for the Italian cohort of the IDEFICS study. Public Health 127(8):761–765. doi:10.1016/j.puhe.2013.04.031

20.

Tambalis KD, Panagiotakos DB, Kavouras SA et al (2013) Higher prevalence of obesity in greek children living in rural areas despite increased levels of physical activity. J Paediatr Child Health 49(9):769–774. doi:10.1111/jpc.12253

21.

Spinelli A, Baglio G, Cattaneo C et al (2008) Promotion of healthy lifestyle and growth in primary school children (OKkio alla SALUTE). Ann Ig 20(4):337–344

22.

Brambilla P, Vezzoni M, Lucchini R et al (2012) Is the prevalence of overweight reducing at age 5–6 years? Ten years data collection in ASL Milano 2. Ital J Pediatr 38:24. doi:10.1186/1824-7288-38-24

23.

Bracale R, Milani L, Ferrara E et al (2013) Prevalence of obese and overweight children and their parents: study in primary schools in Milan. Eat Weight Disord 18(2):183–191. doi:10.1007/s40519-013-0036-9

24.

Nyholm M, Gullberg B, Merlo J et al (2007) The validity of obesity based on self-reported weight and height: implications for population studies. Obesity 15:197–208. doi:10.1038/oby.2007.536

25.

Cole TJ, Bellizzi MC, Flegal KM et al (2000) Establishing a standard definition for child overweight and obesity worldwide: international survey. BMJ 320:1240–1246. doi:10.1136/bmj.320.7244.1240

26.

Basterfield L, Jones AR, Parkinson KN et al (2014) Physical activity, diet and BMI in children aged 6–8 years: a cross-sectional analysis. BMJ Open 4(6):1–7. doi:10.1136/bmjopen-2014-005001

27.

Pearson N, Biddle SJH, Gorely T (2008) Family correlates of fruit and vegetable consumption in children and adolescents: a systematic review. Public Health Nutr 12(2):267–283. doi:10.1017/S1368980008002589

28.

Maffeis C (2008) Physical activity in the prevention and treatment of childhood obesity: physio-pathologic evidence and promising experiences. Int J Pediatr Obes 3(2):29–32. doi:10.1080/17477160802404699

29.

Strasburger VC (2011) Children, adolescents, obesity, and the media. Pediatrics 128(1):201–208. doi:10.1542/peds.2011-1066

30.

Hassapidou M, Papadopoulou SK, Frossinis A et al (2009) Sociodemographic, ethnic and dietary factors associated with childhood obesity in Thessaloniki, Northern Greece. Hormones 8(1):53–59

31.

Laureati M, Bergamaschi V, Pagliarini E (2014) School-based intervention with children. Peer-modeling, reward and repeated exposure reduce food neophobia and increase liking of fruits and vegetables. Appetite 83:26–32. doi:10.1016/j.appet.2014.07.031
Acknowledgments
This study was financially supported partially by the Municipality of Milan (Department of Research, Innovation and Human Capital), Milano Ristorazione S.p.A. through a grant to M.O.C. at Center for Study and Research on Obesity, University of Milan.
Conflict of interest
The authors declare no conflict of interest.
Ethical approval
All procedures performed in studies involving human participants were in accordance with the ethical standards of the institutional and/or national research committee and with the 1964 Helsinki declaration and its later amendments or comparable ethical standards. This article does not contain any studies with animals performed by any of the authors.
About this article
Cite this article
Bracale, R., Milani Marin, L.E., Russo, V. et al. Family lifestyle and childhood obesity in an urban city of Northern Italy. Eat Weight Disord 20, 363–370 (2015). https://doi.org/10.1007/s40519-015-0179-y
Received:

Accepted:

Published:

Issue Date:
Keywords
Fruit and vegetable consumption

Physical activity

Children

Parents

Obesity

Television watching