Abstract
Body dissatisfaction and dieting are risk factors for eating disorders. Understanding young people's views about factors underlying body dissatisfaction and dieting may be helpful for those designing preventative interventions. This study explored adolescents' views on causes of body dissatisfaction and dieting and recommendations for prevention. Four 1-h focus groups were conducted with 22 female adolescents (aged 13–15 years). Transcripts were explored using thematic analysis. Body dissatisfaction and dieting was explained by four themes: peer acceptance; social comparison online; pressure from family; and pressure from the media and fashion industries. There were seven areas of recommendation for prevention: building sources of support; learning to be critical of the media; monitoring the school gym; working with parents; educating about signs and symptoms of eating disorders; working with people who have suffered from eating disorders; and providing help from professionals. Implications of these findings for the development of prevention programmes are discussed.
Access options
Buy single article
Instant access to the full article PDF.
USD 39.95
Price includes VAT (USA)
Tax calculation will be finalised during checkout.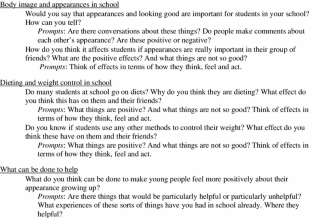 References
1.

Stice E, Whitenton K (2002) Risk factors for body dissatisfaction in adolescent girls: a longitudinal investigation. Dev Psychol 38:669–678

2.

Neumark-Sztainer D, Wall M, Larson NI et al (2011) Dieting and disordered eating behaviors from adolescence to young adulthood: findings from a 10-year longitudinal study. J Am Diet Assoc 111:1004–1011

3.

Patton GC, Johnson-Sabine E, Wood K et al (1990) Abnormal eating attitudes in London schoolgirls—a prospective epidemiological study: outcome at twelve month follow-up. Psychol Med 20:383–394

4.

Stice E, Marti CN, Durant S (2011) Risk factors for onset of eating disorders: evidence of multiple risk pathways from an 8-year prospective study. Behav Res Ther 49:622–627

5.

Patton GC, Selzer R, Coffey C et al (1999) Onset of adolescent eating disorders: population based cohort study over 3 years. Br Med J 318:765–768

6.

Ghaderi A, Scott B (2001) Prevalence, incidence and prospective risk factors for eating disorders. Acta Psychiatr Scand 104:122–130

7.

Killen JD, Taylor CB, Hayward C et al (1996) Weight concerns influence the development of eating disorders: a 4-year prospective study. J Consult Clin Psychol 64:936–940

8.

Stice E, Marti CN, Rohde P et al (2011) Testing mediators hypothesized to account for the effects of a dissonance-based eating disorder prevention program over longer term follow-up. J Consult Clin Psychol 79:398–405

9.

Clark L, Tiggemann M (2006) Appearance culture in nine- to 12-year-old girls: media and peer influences on body dissatisfaction. Soc Dev 15:628–643

10.

Field A, Camargo CA, Taylor C et al (2001) Peer, parent, and media influences on the development of weight concerns and frequent dieting among preadolescent and adolescent girls and boys. Pediatrics 107:54–60

11.

McCabe MP, Ricciardelli LA (2003) Sociocultural influences on body image and body changes among adolescent boys and girls. J Soc Psychol 143:5–26

12.

Jones DC, Crawford JK (2006) The peer appearance culture during adolescence: gender and body mass variations. J Youth Adolesc 35:257–269

13.

Jones DC (2004) Body image among adolescent girls and boys: a longitudinal study. Dev Psychol 40:823–835

14.

Myers TA, Crowther JH (2009) Social comparison as a predictor of body dissatisfaction: a meta-analytic review. J Abnorm Psychol 118:683–698

15.

Stice E (2001) A prospective test of the dual-pathway model of bulimic pathology: mediating effects of dieting and negative affect. J Abnorm Psychol 110:124–135

16.

Menzel JE, Schaefer LM, Burke NL et al (2010) Appearance-related teasing, body dissatisfaction, and disordered eating: a meta-analysis. Body Image 7:261–270

17.

Meyer C, Waller G (2001) Social convergence of disturbed eating attitudes in young adult women. J Nerv Ment Dis 189:114–119

18.

Paxton SJ, Schutz HK, Wertheim EH et al (1999) Friendship clique and peer influences on body image concerns, dietary restraint, extreme weight-loss behaviors, and binge eating in adolescent girls. J Abnorm Psychol 108:255–266

19.

Nichter M (2001) Fat talk: what girls and their parents say about dieting. Harvard University Press, Cambridge

20.

Nichter M, Vuckovic N. Fat talk: body image among adolescent girls. In: Sault N, editor. Many mirrors: body image and social relations. New Jersey: Rutgers University Press; 1994. pp. 109–131

21.

Wertheim EH, Paxton SJ, Schutz HK et al (1997) Why do adolescent girls watch their weight? An interview study examining sociocultural pressures to be thin. J Psychosom Res 42:345–355

22.

Tiggemann M, Gardiner M, Slater A (2000) "I would rather be size 10 than have straight A's": a focus group study of adolescent girls' wish to be thinner. J Adolesc 23:645–659

23.

Haines J, Neumark-Sztainer D, Thiel L (2007) Addressing weight-related issues in an elementary school: what do students, parents, and school staff recommend? Eat Disord 15:5–21

24.

Stice E, Marti CN, Shaw H et al (2009) An 8-year longitudinal study of the natural history of threshold, subthreshold, and partial eating disorders from a community sample of adolescents. J Abnorm Psychol 118:587–597

25.

Stiles WB (1999) Evaluating qualitative research. Evid Based Ment Health 2:99–101

26.

Braun V, Clarke V (2006) Using thematic analysis in psychology. Qual Res Psychol 3:77–101

27.

McCabe MP, Ricciardelli LA (2005) A prospective study of pressures from parents, peers, and the media on extreme weight change behaviors among adolescent boys and girls. Behav Res Ther 43:653–668

28.

Baker KJM. Tragic trend: teens ask YouTube commenters if they're ugly. Jezebel 2012 [cited 2012 March]. http://jezebel.com/5886241/teens-are-now-asking-youtube-commenters-if-theyre-ugly

29.

Haferkamp N, Krämer NC (2011) Social comparison 2.0: examining the effects of online profiles on social-networking sites. Cyberpsychol Behav Soc Netw 14:309–314

30.

Sebastian C, Viding E, Williams KD et al (2011) Social brain development and the affective consequences of ostracism in adolescence. Brain Cogn 72:134–145

31.

Piran N (1999) Eating disorders: a trial of prevention in a high risk school setting. J Prim Prev 20:75–90

32.

McVey G, Tweed S, Blackmore E (2007) Healthy schools-healthy kids: a controlled evaluation of a comprehensive universal eating disorder prevention program. Body Image 4:115–136

33.

Knightsmith J. "We just don't know how best to help": staff experiences of eating disorders in UK schools in academy for eating disorders, international conference on eating disorders. 2010: Salzburg

34.

Neumark-Sztainer D, Story M, Coller T (1999) Perceptions of secondary school staff toward the implementation of school-based activities to prevent weight-related disorders: a needs assessment. Am J Health Promot 13:153–156

35.

Piran N (2004) Prevention series. Eat Disord 12:1–9

36.

Richardson SM, Paxton SJ (2010) An evaluation of a body image intervention based on risk factors for body dissatisfaction: a controlled study with adolescent girls. Int J Eat Disord 43:112–122

37.

Wilksch SM, Wade TD (2009) Reduction of shape and weight concern in young adolescents: a 30-month controlled evaluation of a media literacy program. J Am Acad Child Adolesc Psychiatry 48:652–661

38.

Haines J, Neumark-Sztainer D, Perry CL et al (2006) V.I.K. (Very Important Kids): a school-based program designed to reduce teasing and unhealthy weight-control behaviors. Health Educ Res 21:884–895

39.

Warschburger P, Helfert S, Krentz EM (2011) POPS: a school-based prevention programme for eating disorders. J Public Health 19:367–376

40.

McVey G, Lieberman M, Voorberg N et al (2003) School-based peer support groups: a new approach to the prevention of disordered eating. Eat Disord 11:169–185

41.

Moreno AB, Thelen MH (1993) A preliminary prevention program for eating disorders in a junior high school population. J Youth Adolesc 22:109–124

42.

Wilksch SM, Tiggemann M, Wade TD (2006) Impact of interactive school-based media literacy lessons for reducing internalization of media ideals in young adolescent girls and boys. Int J Eat Disord 39:385–393
Acknowledgments
This report/article presents independent research commissioned by the National Institute for Health Research (NIHR) under its Programme Grants for Applied Research scheme (RP-PG-0606-1043). The views expressed in this publication are those of the author(s) and not necessarily those of the NHS, the NIHR or the Department of Health. This work was supported by a grant from the NIHR Biomedical Research Centre for Mental Health, South London and Maudsley NHS Foundation Trust and Institute of Psychiatry, King's College London.
Conflict of interest
The authors declare that they have no conflict of interest.
About this article
Cite this article
Sharpe, H., Damazer, K., Treasure, J. et al. What are adolescents' experiences of body dissatisfaction and dieting, and what do they recommend for prevention? A qualitative study. Eat Weight Disord 18, 133–141 (2013). https://doi.org/10.1007/s40519-013-0023-1
Received:

Accepted:

Published:

Issue Date:
Keywords
Body dissatisfaction

Dieting

Adolescent

Qualitative

Prevention