Abstract
Purpose
Existing assessment and decision support tools have limited application to real-world food-energy-water (FEW) Nexus challenges. Integrated assessment approaches are often discipline-specific or highly theoretical, lacking grounding in real-world FEW issues.
Recent Findings
FEW systems require application of integrated techniques that address multiple attributes of trade-off analyses, dynamic and disparate datasets, and difficult decision contexts. Research must enable: appropriate tool sets matched with FEW Nexus hotspots; customizing existing tools to fit local specifics; compatibility between collected data and integrative nexus assessment tool needs; evaluation of these assessments through incorporation of stakeholder input and guidance forward for solution implementation.
Summary
The core challenge is identification and design of a set of strategies that are robust under various future conditions (scenarios). Successful strategies must address natural, technological, and human system settings. Approaches that clarify the range of beneficial and potentially adverse trade-offs will support the identification of decisions and intervention options.
This is a preview of subscription content, log in to check access.
Access options
Buy single article
Instant access to the full article PDF.
US$ 39.95
Price includes VAT for USA
Subscribe to journal
Immediate online access to all issues from 2019. Subscription will auto renew annually.
US$ 99
This is the net price. Taxes to be calculated in checkout.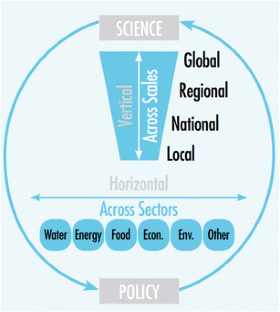 References
Papers of particular interest, published recently, have been highlighted as: • Of importance
1.

• Mohtar RH, Daher B. Water-energy-food nexus framework for facilitating multi-stakeholder dialogue. Water Int. 2016; doi:10.1080/02508060.2016.1149759. This work introduced a Water-Energy-Food Nexus Framework for integrated science–stakeholders dialogue..

2.

Daher, B. (2017). Sustainability in the Water-Energy-Food Nexus: Bridging Science and Policy Making. Policy Briefing Water International 2017 6. Retrieved from: http://www.iwra.org/doc/PB-N6final_web.pdf.

3.

SEI. Water evaluation and planning. 2014. Tool found on: http://www.weap21.org/index.asp?action=200.

4.

SEI. Long range energy alternatives planning system. 2013. Tool found on: http://sei-us.org/software/leap.

5.

FAO (2013). An innovative accounting framework for the food-energy-water nexus Retrieved from http://www.fao.org/docrep/019/i3468e/i3468e.pdf.

6.

KTH. CLEWs – climate, land, energy and water strategies to navigate the nexus 2013. Last accessed on July 2, 2014. Retrieved from http://www.kth.se/en/itm/inst/energiteknik/forskning/desa/researchareas/clews-climate-land-energy-and-water-strategies-to-navigate-the-nexus-1.432255.

7.

• FAO. Walking the nexus talk: Assessing the water–energy–food nexus in the context of the sustainable energy for all initiative. Retrieved from http://www.fao.org/3/a-i3959e.pdf (2014). This work highlights a wide list of water-energy-food nexus tools in the literature, outlines their data needs, output indicators, and target users.

8.

• IRENA. Renewable energy and the water, energy and food nexus 2015. Retrieved from: http://www.irena.org/documentdownloads/publications/irena_water_energy-food_nexus_2015.pdf. This work highlights a list of water-energy-food nexus tools in the literature with the respective questions they address, their data needs, inputs and outputs.

9.

Hamilton SH, ElSawah S, Guillaume JHA, Jakeman AJ, Pierce SA. Integrated assessment and modelling: overview and synthesis of salient dimensions. Environ Model Softw. 2015;64:215–29.

10.

Guzinski R, Kass S, Huber S, Bauer-Gottwein P, Jensen IH, Naeimi V, et al. Enabling the use of earth observation data for integrated water resource management in Africa with the water observation and information system. Remote Sens. 2014;6(8):7819–39. doi:10.3390/rs6087819.

11.

Mannschatz T, Buchroithner MF, Hülsmann S. Visualization of water services in Africa: data applications for Nexus governance. In: Kurian M, Ardakanian R, editors. Governing the Nexus. Springer International Publishing; 2015. p. 189–217. doi:10.1007/978-3-319-05747-7_9.

12.

Kurian M, Ardakanian R, Veiga LG, Meyer K. Resources, services and risks: how can data observatories bridge the science-policy divide in environmental governance? Springer briefs in environmental science. Switzerland: Springer; 2016. https://books.google.com.lb/books?id=svJeCwAAQBAJ&pg=PA74&lpg=PA74&dq=KurianM,+Ardakanian+R,+Veiga+LG,+Meyer+K.+Resources,+services&source=bl&ots=ldb06821AI&sig=oc35B0WwV9mwtC53rmXGw4U_Flg&hl=en&sa=X&ved=0ahUKEwjul6uoyvTUAhXML8AKHarjAqsQ6AEIIzAA#v=onepage&q=KurianM%2C%20Ardakanian%20R%2C%20Veiga%20LG%2C%20Meyer%20K.%20Resources%2C%20services&f=false.

13.

Mannschatz T, Wolf T, Hülsmann S. Nexus tools platform: web-based comparison of modelling tools for analysis of water-soil-waste nexus. Environ Model Softw. 2016;76:137–53. doi:10.1016/j.envsoft.2015.10.031.

14.

Ellis EA, Bentrup G, Schoeneberger MM. Computer-based tools for decision support in agroforestry: current state and future needs. Agrofor Syst. 2004;61–2(1):401–21. doi:10.1023/B:AGFO.0000029015.64463.65.

15.

Wenkel KO, Wieland R, Mirschel W, Berg M, Koestner B. LandCaRe-DSS—a model- and GIS-based interactive information and decision support system for the development of economic effective application strategies of agriculture to climate change. EFITA/WCCA. 2011;11:67–75.

16.

Koestner B, Wenkel K-O, Berg M, Ch B, Goemann H, Weigel H-J. Integrating regional climatology, ecology, and agronomy for impact analysis and climate change adaptation of German agriculture: ai Introduction to the LandCaRe2020 project. Eur J Agron. 2014;52:1–10. doi:10.1016/j.eja.2013.08.003.

17.

Poortinga A, Delobel F, Rojas O. MOSAICC: an inter-disciplinary system of models to evaluate the impact of climate change on agriculture. Agro Environ. 2012. https://library.wur.nl/ojs/index.php/AE2012/article/viewFile/12415/12606.

17.

MOSAICC. Modelling System for Agricultural Impacts of Climate Change. 2015 Accessed June 22. http://www.fao.org/climatechange/mosaicc/en/.

19.

Voinova A, Kolagani N, McCall M, Glynn P, Kragt M, Ostermann F, et al. Modelling with stakeholders—next generation. Environ Model Softw. 2016;77:196–220.

20.

Bennett ND, Croke BFW, Guariso G, Guillaume JHA, Hamilton SH, Jakeman AJ, et al. Characterising performance of environmental models. Environ Model Softw. 2013;40:1–20.

21.

Başar T, Olsder GJ. Dynamic noncooperative game theory. Philadelphia: SIAM Series in Classics in Applied Mathematics; 1999.

22.

Han Z, Niyato D, Saad W, Başar T, Hjorungnes A. Game theory in wireless and communication networks: theory, models, and applications. New York: Cambridge University Press; 2012.

23.

Saad W, Han Z, Poor HV, Başar T. Game theoretic methods for the smart grid. IEEE Signal Process Mag Special issue on Signal Processing for the Smart Grid. 2012;29(5):86–105.

24.

Gale D, Shapley LS. College admissions and the stability of marriage. Am Math Mon. Jan. 1962;69(1):9–15.

25.

Halbe J, Reusser DE, Holtz G, Haasnoot M, Stosius A, Avenhaus W, et al. Lessons for model use in transition research: a survey and comparison with other research areas. Environ Innov Soc Trans. 2015;15(June):194–210. doi:10.1016/j.eist.2014.10.001.

26.

Yuksel M., Quint T., Guvenc I., Saad W., Kapucu N. Fostering Wireless Spectrum Sharing via Subsidization. In: Proc. of the 51st Allerton Conference on Communication, Control, and Computing, Monticello, IL, USA, 2013.

27.

Hamidouche K, Saad W, Debbah M. A multi-game framework for harmonized LTE-U and WiFi coexistence over unlicensed bands. IEEE Wirel Commun Mag Special Issue on LTE in Unlicensed Spectrum. 2016;23(6):62–9.

28.

Zhu Q, Başar T. Game-theoretic methods for robustness, security, and resilience of cyberphysical control systems: games-in-games principle for optimal cross-layer resilient control systems. IEEE Control Syst. 2015;35(1):46–65.

29.

Holme P, Saramaki J. Temporal networks. New York: Springer; 2013.

30.

Hamilton SH, ElSawah S, Guillaume JHA, Jakeman AJ, Pierce SA. Integrated assessment and modelling: overview and synthesis of salient dimensions. Environ Model Softw. 2015;64:215–29.
Acknowledgements
This research was partially supported by the Texas A&M WEF Nexus initiative.
Ethics declarations
Conflict of Interest
Bassel Daher, Walid Saad, Suzanne A. Pierce, Stephan Hülsmann, and Rabi H. Mohtar declare no conflicts of interest.
Human and Animal Rights and Informed Consent
This article does not contain any studies with human or animal subjects performed by any of the authors.
Additional information
This article is part of the Topical Collection on Nexus of Food, Water, Energy
FEW Nexus Workshop on Integrated Science, Engineering, and Policy: A Multi Stakeholder Dialogue
January 26–27, 2017, College Station Texas
About this article
Cite this article
Daher, B., Saad, W., Pierce, S.A. et al. Trade-offs and Decision Support Tools for FEW Nexus-Oriented Management. Curr Sustainable Renewable Energy Rep 4, 153–159 (2017). https://doi.org/10.1007/s40518-017-0075-3
Keywords
Decision support

Participatory modeling

Trade-offs

Integrative assessments

Resource allocation and planning

Sustainability evaluation

Dialog