Abstract
Weak soils comprise of saturated clays, fine silts and loose sand. These soils are susceptible to failure and pose problems of stability. Therefore, the aim of this study was to study the strength behaviour of weak soil treated with different optical densities (0.4 and 1.5) of a microbe Bacillus pasteurii along with a binding solution of urea and calcium chloride at two different molarities of 0.5 and 1.0 by unconfined compressive strength and plate load tests. The soil specimens of 38-mm and 70-mm diameter treated with microbe Bacillus were also cured for 7 days and subjected to unconfined compressive strength (UCS) tests. Plate load tests were performed at the top of the treated soil on a 0.3-m2 model footing in a 1-m3 test tank to simulate field conditions. The experimental test results showed that the UCS values of treated soil specimen increased by 3 times for 38-mm diameter samples and 3.5 times for 70-mm diameter samples respectively. Similarly, plate load test results showed that there was significant enhancement (2 times) in the bearing capacity of treated soil. The improvement was attributed to the formation of calcium carbonate (CaCO3) precipitation by microbial stabilization of weak soils and with curing period. The x-ray diffraction, energy dispersive x-ray spectroscopy tests and the scanning electron microscopy micrographs also confirmed the formation of CaCO3, which binds the stabilized soil particles and increases flocculation. Thus, the key purpose of this study was to balance out weak soils and utilize them for a variety of field applications as a construction material.
Access options
Buy single article
Instant access to the full article PDF.
US$ 39.95
Tax calculation will be finalised during checkout.
Subscribe to journal
Immediate online access to all issues from 2019. Subscription will auto renew annually.
US$ 79
Tax calculation will be finalised during checkout.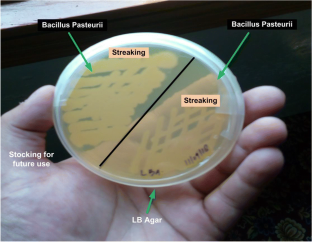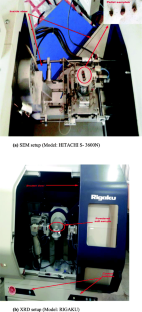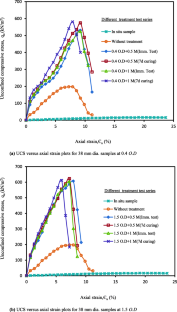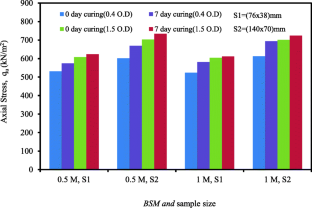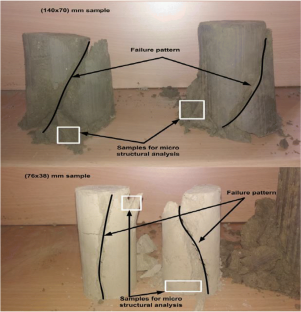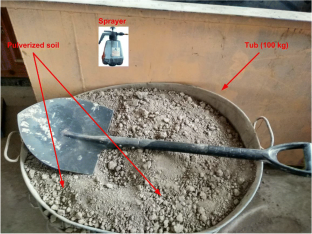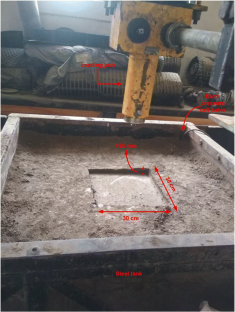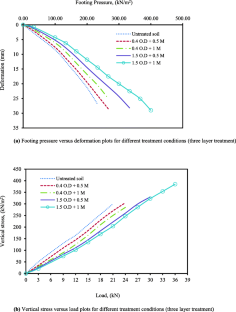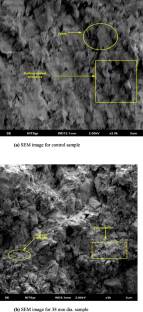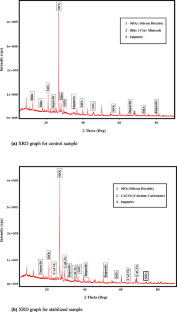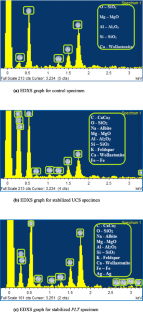 References
Ajayi, M.A., Grissom, W.A., Smith, L.S., Jones, E.E.: Epoxy–resin–based chemical stabilization of a fine, poorly graded soil system. Transp. Res. Rec. 1295, 95–108 (1991)

Al Qabany, A., Soga, K., Santamarina, C.: Factors affecting efficiency of microbially induced calcite precipitation. J. Geotech. Geoenviron. 138(8), 992–1001 (2012)

Al-Amoudi, O.S.: Chemical stabilization of sabkha soils at high moisture contents. Eng. Geol. 36(3–4), 279–291 (1994)

Arunachalam, K.D., Sathyanarayanan, K.S., Darshan, B.S., Raja, R.B.: Studies on the characterisation of biosealant properties of Bacillus sphaericus. Int. J. Eng. Sci. Technol. 2(3), 270–277 (2010)

ASTM Committee D-18 on Soil and Rock: Standard test methods for liquid limit, plastic limit, and plasticity index of soils. ASTM International (2010)

ASTM D. 2166/D 2166M: Standard test method for unconfined compressive strength of cohesive soil. ASTM International, West Conshohocken (2013)

ASTM D6528-17: Standard Test Method for Consolidated Undrained Direct Simple Shear Testing of Fine Grain Soils (2017)

ASTM Committee D18 on Soil and Rock: Standard test methods for particle-size distribution (gradation) of soils using sieve analysis. ASTM International (2004)

ASTM D: Standard test methods for laboratory determination of water (moisture) content of soil and rock by mass. In: Annual Book of ASTM Standards (2010)

ASTM D: Standard test method for California bearing ratio (CBR) of laboratory-compacted soils, West Conshohocken (2016)

Baskar, S., Baskar, R., Mauclaire, L., McKenzie, J.A.: Microbially induced calcite precipitation in culture experiments: possible origin for stalactites in Sahastradhara caves, Dehradun, India. Curr. Sci. 10, 58–64 (2006)

Bergado, D.T., Anderson, L.R., Miura, N., Balasubramaniam, A.S.: Soft ground improvement in lowland and other environments. ASCE (1996)

Brooks, R., Udoeyo, F.F., Takkalapelli, K.V.: Geotechnical properties of problem soils stabilized with fly ash and limestone dust in Philadelphia. J. Mater. Civ. Eng. 23(5), 711–716 (2011)

Chen KB, Bin Kassim KA. Microbial induced cementation on tropical residual soil (2015)

Cheng, L., Shahin, M.A., Cord-Ruwisch, R., Addis, M., Hartanto, T., Elms, C.: Soil stabilisation by microbial-induced calcite precipitation (micp): investigation into some physical and environmental aspects. In: 7th International Congress on Environmental Geotechnics: iceg 2014, p. 1105. Engineers Australia (2014)

Cheng, L., Shahin, M.A., Mujah, D.: Influence of key environmental conditions on microbially induced cementation for soil stabilization. J. Geotech. Geoenviron. 143(1), 04016083 (2017)

Consoli, N.C., Schnaid, F., Milititsky, J.: Interpretation of plate load tests on residual soil site. J. Geotech. Geoenviron. 124(9), 857–867 (1998)

Consoli, N.C., Casagrande, M.D., Prietto, P.D., Thomé, A.N.: Plate load test on fiber-reinforced soil. J. Geotech. Geoenviron. 129(10), 951–955 (2003)

DeJong, J.T., Fritzges, M.B., Nüsslein, K.: Microbially induced cementation to control sand response to undrained shear. J. Geotech. Geoenviron. 132(11), 1381–1392 (2006)

Harkes, M.P., Van Paassen, L.A., Booster, J.L., Whiffin, V.S., van Loosdrecht, M.C.: Fixation and distribution of bacterial activity in sand to induce carbonate precipitation for ground reinforcement. Ecol. Eng. 36(2), 112–117 (2010)

Hino, T., Jia, R., Sueyoshi, S., Harianto, T.: Effect of environment change on the strength of cement/lime treated clays. Front. Struct. Civ. Eng. 6(2), 153–165 (2012)

Kang, C.H., Kwon, Y.J., So, J.S.: Soil bioconsolidation through microbially induced calcite precipitation by Lysinibacillus sphaericus WJ-8. Geomicrobiol J. 33(6), 473–478 (2016)

Kumar, S.P.: Cementitious compounds formation using pozzolans and their effect on stabilization of soils of varying engineering properties. In: Proceedings of the International Conference on Environment Science and Engineering, pp. 26–28. IPCBEE, Singapore (2011)

Leroueil, S., Vaughan, P.R.: Discussion: the general and congruent effects of structure in natural soils and weak rocks. Géotechnique. 41(2), 281–284 (1991)

Ley, G.J., Mullins, C.E., Lal, R.: Hard-setting behaviour of some structurally weak tropical soils. Soil Tillage Res. 13(4), 365–381 (1989)

Li, M., Li, L., Ogbonnaya, U., Wen, K., Tian, A., Amini, F.: Influence of fiber addition on mechanical properties of MICP-treated sand. J. Mater. Civ. Eng. 28(4), 04015166 (2016)

Li, M., Fang, C., Kawasaki, S., Achal, V.: Fly ash incorporated with biocement to improve strength of expansive soil. Sci. Rep. 8(1), 1–7 (2018)

Li, X., Wang, L., Sun, X., Cong, Y.: Analysis of mobilization of inorganic ions in soil by electrokinetic remediation. Front. Struct. Civ. Eng. 13(6), 1463–1473 (2019)

Majeed, Z.H., Taha, M.R.: A review of stabilization of soils by using nanomaterials. Aust. J. Basic Appl. Sci. 7(2), 576–581 (2013)

Martinez, B.C., DeJong, J.T., Ginn, T.R., Montoya, B.M., Barkouki, T.H., Hunt, C., Tanyu, B., Major, D.: Experimental optimization of microbial-induced carbonate precipitation for soil improvement. J. Geotech. Geoenviron. 139(4), 587–598 (2013)

Mitchell, J.K., Santamarina, J.C.: Biological considerations in geotechnical engineering. J. Geotech. Geoenviron. 131(10), 1222–1233 (2005)

Mortensen, B.M., Haber, M.J., DeJong, J.T., Caslake, L.F., Nelson, D.C.: Effects of environmental factors on microbial induced calcium carbonate precipitation. J. Appl. Microbiol. 111(2), 338–349 (2011)

Ng, W.S., Lee, M.L., Hii, S.L.: An overview of the factors affecting microbial-induced calcite precipitation and its potential application in soil improvement. World Acad. Sci. Eng. Technol. 62(2), 723–729 (2012a)

Ng, W.S., Lee, M.L., Hii, S.L.: An overview of the factors affecting microbial-induced calcite precipitation and its potential application in soil improvement. World Acad. Sci. Eng. Technol. 62(2), 723–729 (2012b)

Omar, M.T., Das, B.M., Puri, V.K., Yen, S.C.: Ultimate bearing capacity of shallow foundations on sand with geogrid reinforcement. Can. Geotech. J. 30(3), 545–549 (1993)

Ramachandran, S.K., Ramakrishnan, V., Bang, S.S.: Remediation of concrete using micro-organisms. ACI Mater. J.-American Concrete Institute. 98(1), 3–9 (2001)

Ramberg, H.: The origin of metamorphic and metasomatic rocks: a treatise on recrystallization and replacement in the earth's crust. University of Chicago Press (1952)

Shahrokhi-Shahraki, R., Zomorodian, S.M., Niazi, A., O'Kelly, B.C.: Improving sand with microbial-induced carbonate precipitation. Proc. Inst. Civ. Eng.-Ground Improv. 168(3), 217–230 (2015)

Standard AS. Standard Test Methods for Specific Gravity of Soil Solids by Water Pycnometer. 2005

Stocks-Fischer, S., Galinat, J.K., Bang, S.S.: Microbiological precipitation of CaCO3. Soil Biol. Biochem. 31(11), 1563–1571 (1999)

Ta HX. Microbial biofilm in porous sediments: Effects on soil behaviour (2016)

Tani, N.K., Tamine, T., Pluvinage, G.: Reliability analysis-based stress intensity factors and biaxiality rates for shallow cracked foundations in interaction with elasto-plastic soils. Arab. J. Sci. Eng. 44(10), 8931–8938 (2019)

Umar, M., Kassim, K.A., Chiet, K.T.: Biological process of soil improvement in civil engineering: a review. J. Rock Mech. Geotech. Eng. 8(5), 767–774 (2016)

Van Paassen, L.A.: Microbes turning sand into sandstone, using waste as cement. In: 4th International Young Geotechnical Engineers Conference, pp. 135–138 (2009)

Wani, K.S., Mir, B.A.: Influence of microbial geo-technology in the stabilization of dredged soils. Int. J. Geotech. Eng. 20, 1–0 (2019a)

Wani, K.S., Mir, B.A.: Effect of biological cementation on the mechanical behaviour of dredged soils with emphasis on micro-structural analysis. Int. J. Geosynth. Ground Eng. 5(4), 32 (2019b)

Wu, J.J., Cheng, Q.G., Liang, X., Cao, J.L.: Stability analysis of a high loess slope reinforced by the combination system of soil nails and stabilization piles. Front. Struct. Civ. Eng. 8(3), 252–259 (2014)

Xu, R., Guo, Y., Liu, Z.: Mechanical properties of stabilized artificial organic soil. Front. Archit. Civ. Eng. China. 2(2), 161–165 (2008)

Yang, D., Duan, M.: Seismic responses of subway station with different distributions of soft soil in Tianjin. Front. Struct. Civ. Eng. 8(2), 187–193 (2014)

Yu, H., Wang, Y., Zou, C., Wang, P., Yan, C.: Study on subgrade settlement characteristics after widening project of highway built on weak foundation. Arab. J. Sci. Eng. 42(9), 3723–3732 (2017)

Zhao, Q., Li, L., Li, C., Li, M., Amini, F., Zhang, H.: Factors affecting improvement of engineering properties of MICP-treated soil catalyzed by bacteria and urease. J. Mater. Civ. Eng. 26(12), 04014094 (2014a)

Zhao, Q., Li, L., Li, C., Zhang, H., Amini, F.: A full contact flexible mold for preparing samples based on microbial-induced calcite precipitation technology. Geotech. Test. J. 37(5), 917–921 (2014b)
Acknowledgements
The present work has been benefited from the Ph.D. research work of the corresponding author. The experimental work was conducted in the Geo-Tech Engineering Laboratory I and II of the National Institute of Technology, Srinagar, India. The authors would like to present their gratitude to the anonymous reviewers for carefully reviewing the manuscript and providing valuable suggestions.
Funding
No direct funding was received for this research. The first author receives a doctoral fellowship from the Govt. of India, Ministry of Human Resource Development (MHRD).
Ethics declarations
Competing Interests
The authors declare that there is no conflict of interest.
Additional information
Publisher's Note
Springer Nature remains neutral with regard to jurisdictional claims in published maps and institutional affiliations.
About this article
Cite this article
Wani, K.M.N.S., Mir, B.A. Effect of Microbial Stabilization on the Unconfined Compressive Strength and Bearing Capacity of Weak Soils. Transp. Infrastruct. Geotech. 8, 59–87 (2021). https://doi.org/10.1007/s40515-020-00110-1
Accepted:

Published:

Issue Date:
Keywords
Weak soil

Bacillus pasteurii

Unconfined compressive strength

Plate load test

Bearing capacity

Calcium carbonate