Abstract
Gametophytic self-incompatibility (SI) controlled by the multiallelic S-locus, that include tightly linked SRNase and SLF genes has been reported extensively in wild and diploid potatoes. The widely cultivated tetraploid are reported to overcome SI through a phenomenon called 'competition interaction' or 'heteroallelic pollen' effect. Here we report the activated Gametophytic SI in a tetraploid, non-fruiting popular Indian cultivar Kufri Girdhari through pollen and gene expressional studies. The results revealed highly stage-specific expression of S-RNase in contrast to ubiquitous SLFs in flower. Our preliminary studies found that S-RNase expressed in flower stigma and style after the pollination provide the evidence for the general mechanism SI. The recombination event and later fixing of the genetic composition may have lead to homomorphic condition that causes SI in the variety despite being a tetraploid. The study reveals the functional SI system acting in a tetraploid first time and further in-depth investigation of allele composition would provide complete understanding that would help in designing the future breeding programs.
Access options
Buy single article
Instant access to the full article PDF.
USD 39.95
Price excludes VAT (USA)
Tax calculation will be finalised during checkout.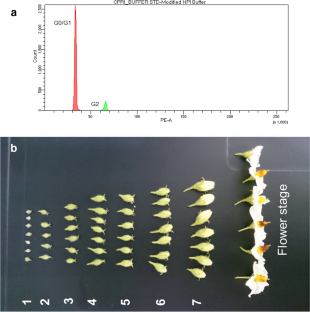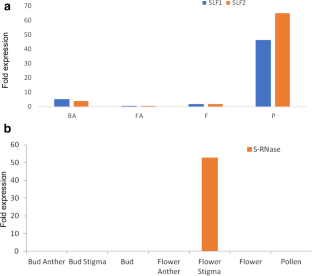 References
Alexander, M. P. (1969). Differential staining of aborted and non-aborted pollen. Stain Technology, 44, 117–122.

Brewbacker, J. L., & Kwack, B. H. (1963). The essential role of calcium ion in pollen germination and pollen tube growth. American Journal of Botany, 50, 859.

Covey, P. A., Kondo, K., Welch, L., Frank, E., Sianta, S., Kumar, A., Nunez, R., Lopez-Casado, G., van der Knaap, E., Rose, J. K. C., McClure, B. A., & Bedinger, P. A. (2010). Multiple features that distinguish unilateral incongruity and self-incompatibility in the tomato clade. Plant Jornal, 64, 367–378.

De Nettancourt, D. (1977). Incompatibility in angiosperms. Springer.

Dolezel, J., Greilhuber, J., & Suda, J. (2007). Estimation of Nuclear DNA content in plants using Flow Cytometry. Nature Protocols, 2(9), 2233–2244.

Enciso-Rodriguez, F., Manrique-Carpintero, N. C., Nadakuduti, S. S., Robin Buell, C., Zarka, D., & Douches, D. (2019). Overcoming self-incompatibility in diploid potato using CRISPR-Cas9. Frontiers in Plant Science, 10, 376.

Frankel, R., & Galun, E. (1977). Pollination mechanisms, reproduction and plant breeding. Springer.

Goldberg, E. E., & Igic, B. (2012). Tempo and mode in plant breeding system evolution. Evolution, 66, 3701–3709.

Grun, P., Aubertin M. & Radlow, A. (1962) Multiple differentiation of plasmons of diploid species of Solanum. Journal Series of the Penusylvania Agriculture Experiment Station 10, 1921–1333.

Hawkes, J. G. (1990). Potato: Evolution, biodiversity and genetic resources. Belhaven Press.

Hosaka, K., & Hanneman, R. E. (1998). Genetics of self compatibility in a self incompatible wild diploid potato species Solanum chacoense: 2—Localization of S locus inhibitor (Sli) gene on the potato genome using DNA markers. Euphytica, 103, 265–271.

Jansky, S. H., Chung, Y. S., & Kittipadukal, P. (2014). M6: A diploid potato inbred line for use in breeding and genetics research. Journal of Plant Registration, 8(2), 195–199.

Kardile, H. B., Sharma, N. K., Sharma, A., Singh, D., Karkute, S. G., Bist, C. M., Patil, V. U., Vanishree, G., Sood, S., Siddappa, S., Tiwari, J. K., Sharma, S., Bhardwaj, V., & Chakrabarti, S. K. (2018). Investigating the role of R8 gene in late blight resistant cultivar K. Girdhari and its male parents. Potato Journal, 45(2), 140–151.

Kaur, R. P., Vanishree, G., Kumar, V., & Bhardwaj, V. (2019). Preliminary investigations for exploring scope of pollen cryopreservation for conservation of potato genetic resources. Potato Journal, 46(1), 39–47.

Kumar, V., Luthra, S.K., Bhardwaj, V. & Singh, B.P. (2014) Indian Potato Varieties and their Salient Features. CPRI Technical Bulletin No. 78 (revised) ICAR-Central Potato Research Institute.

Luthra, S.K., Gupta, V.K., Tiwari, J.K., Kumar, V., Bhardwaj, V., Sood, S., Dalamu, Kaur, R.P., Kumar, R., Vanishree, G., Kumar, D., Mhatre P. & Chakrabarti, S.K. (2020) Potato breeding in India. CPRI Technical Bulletin No 74 (revised), ICAR-Central Potato Research Institute. p214.

Luu, D., Qin, K., Morse, D., & Cappadocia, M. (2000). S-RNase uptake by compatible pollen tubes in gametophytic self-incompatibility. Nature, 407, 649–651.

McClure, B. (2006). New views of S-RNase-based self-incompatibility. Current Opinion in Plant Biol., 9, 639–646.

Patil, V.U., Sundaresha, S., Kawar, P.G. & Bhardwaj, V. (2016). Biology of Solanum tuberosum L. (Potato): Series of crop specific biology documents. Book by Ministry of Environment, Forest and Climate change. Pp 1–40.

Patil, V. U., Singh, B., Vanishree, G., & Chakrabarti, S. K. (2020). Confirmation of transformability of markers for high carotenoid content in tetraploid potato from diploids. Plant Physiology Report, 25(1), 65–73.

Pushkarnath, P. (1942). Studies on sterility in potatoes: 1—The genetics of self- and cross-incompatibilities. Indian Journal of Genetics and Plant Breeding, 2, 11–36.

Silva, N. F., & Goring, D. R. (2001). Mechanisms of self-incompatibility in flowering plants. Cellular and Molecular Life Sciences, 58, 1988–2007.

Singh, A. K., Tolety, J., Chakrabarti, S. K., Bhardwaj, V., & Tiwari, J. K. (2018). Indian potato varieties (pp. 1–179). ICAR-Central Potato Research Institute.

Sood, S., Bhardwaj, V., Pandey, S. K., & Chakrabarti, S. K. (2017). History of potato breeding: Improvement, diversification and diversity. In S. K. Chakrabarti, C. Xie, & J. K. Tiwari (Eds.), The potato genome. Springer.

Tovar-Mendez, A., Miernyk, J. A., Hoyos, E., & Randall, D. D. (2014). A functional genomic analysis of Arabidopsis thaliana PP2C clade D. Protoplasma, 251, 265–327.

Vanishree, G., Patil, V. U., Kaur, R. P., Bhardwaj, V., Chakrabarty, S. K., & Kumar, M. (2021). Cytoplasmic types of Indian Potato cultivars and their effect on important agronomic traits. Agricultural Research. https://doi.org/10.1007/s40003-021-00580-w

Xu, Y., Li, P., Zou, C., Lu, Y., Xie, C., Zhang, X., Boddupalli, P. M., & Olsen, M. S. (2017). Enhancing genetic gain in the era of molecular breeding. Journal of Experimental Botany, 68(11), 2641–2666.

Ye, M., Peng, Z., Tang, D., Yang, Z., Li, D., Xu, Y., Zhang, C., & Huang, S. (2018). Generation of self-compatible diploid potato by knockout of S RNase. Nature Plants, 4(9), 651–654.
Additional information
Publisher's Note
Springer Nature remains neutral with regard to jurisdictional claims in published maps and institutional affiliations.
About this article
Cite this article
Kardile, H.B., Patil, V.U., Sharma, N.K. et al. Expression dynamics of S locus genes defining self-incompatibility in tetraploid potato (Solanum tuberosum L.) Cv. Kufri Girdhari. Plant Physiol. Rep. 27, 180–185 (2022). https://doi.org/10.1007/s40502-021-00612-1
Received:

Accepted:

Published:

Issue Date:

DOI: https://doi.org/10.1007/s40502-021-00612-1
Keywords
Self-incompatibility

Flower

Pollen

Stigma

Gene expression