Abstract
Rice is one of the major crops but rice productivity is adversely affected by salinity stress. The rice seedling and reproductive stages are the most sensitive growth stages against salinity stress with very poor association, suggesting that they are regulated by different processes and sets of genes/QTLs. Reproductive stage salinity tolerance is most important as it is translated into grain yield. There are hardly any studies on reproductive-stage salinity tolerance that exist mainly because of the lack of reliable reproductive stage-specific phenotyping techniques and incomplete knowledge of the stage-specific mechanisms of salinity tolerance. Establishing a precise and accurate phenotyping approach for reproductive stage is the utmost crucial step in identifying the genomic regions appropriate for marker-assisted breeding programs. Two major challenges for screening exclusively for the reproductive stage are (1) how to stress plants at the reproductive stage without stressing them at the seedling or late vegetative stages, and (2) how to impose the stress on different genotypes or mapping populations at equivalent growth stages of development because of the variability in the basic vegetative phase of the developmental stages. By cutting the old leaves, this study standardised a methodology that allows salt translocation to the reproductive organs as quickly as possible just at the initiation of booting which was growth stage-specific rather than growth duration-dependent. The results showed cutting the old leaves of the rice plant, leaving only the flag leaf and penultimate leaf, had no significant effect on yield components and that way salt reached to the reproductive parts very quickly after 2 or 3 days of stress treatment in the leaf pruning method. However, there is no high Na+ accumulation in the top two leaves even after 9 days of stress treatment in the untrimmed plants. The exclusive reproductive stage effect of salinity stress (10 dSm−1) to rice plants for 20 days from the day of 'flag leaf appearance' proved the efficacy of the methodology by clear discrimination between the salt-sensitive and salt-tolerant genotypes, which is being used to screen several mapping populations.
Access options
Buy single article
Instant access to the full article PDF.
USD 39.95
Price excludes VAT (USA)
Tax calculation will be finalised during checkout.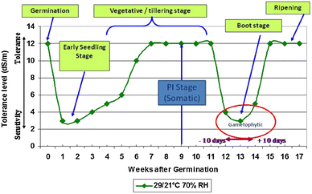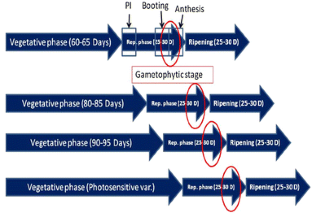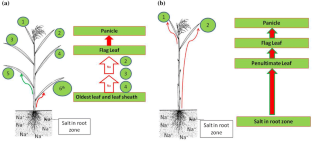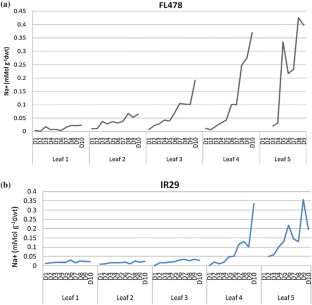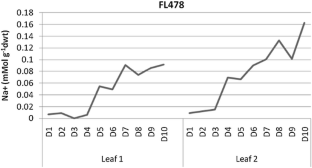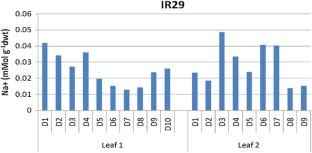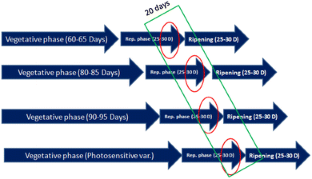 References
Abou-khalifa, A., Misra, A. N., & Salem, A. E. A. K. (2008). Effect of leaf cutting on physiological traits and yield of two rice cultivars. African Journal of Plant Science, 2(12), 147–150.

Ammar, M. H. M., Pandit, A., Singh, R. K., Sameena, S., Chauhan, M. S., Singh, A. K., et al. (2009). Mapping of QTLs Controlling Na+, K+ and CI− ion concentrations in salt tolerant indica rice variety CSR27. Journal of Plant Biochemistry and Biotechnology, 18(2), 139–150.

Bishnoi, U., Jain, R. K., Rohilla, J. S., Chowdhury, V. K., Gupta, K. R., & Chowdhury, J. B. (2000). Anther culture of recalcitrant indica × Basmati rice hybrids. Euphytica, 114(2), 93–101.

Calapit-Palao, C. D., Viña, C. B., Gregorio, G. B., & Singh, R. K. (2013). A new phenotyping technique for salinity tolerance at the reproductive stage in rice. ORYZA, 50(3), 199–207.

Collins, N. C., Tardieu, F., & Tuberosa, R. (2008). Quantitative trait loci and crop performance under abiotic stress: Where do we stand? Plant Physiology, 147(2), 469–486.

Enyi, B. A. C. (1962). The contribution of different organs to grain weight in upland and swamp rice. Annals of Botany, 26(4), 529–531.

Hossain, N. (2014). Molecular characterization of rice genotypes for salinity tolerance at different growth stages. M.Sc. thesis, Mymensingh: Bangladesh Agricultural University.

Hossain, H., Rahman, M. A., Alam, M. S., & Singh, R. K. (2015). Mapping of quantitative trait loci associated with reproductive-stage salt tolerance in rice. Journal of Agronomy and Crop Science, 201(1), 17–31.

Ismail, A. M., Heuer, S., Thomson, M. J., & Wissuwa, M. (2007). Genetic and genomic approaches to develop rice germplasm for problem soils. Plant Molecular Biology, 65(4), 547–570.

Khan, S., Javed, D. M. A., Jahan, N., & Manan, D. F. A. (2016). A short review on the development of salt tolerant cultivars in rice. International Journal of Public Health Science (IJPHS), 5(2), 201–212.

Lee, K.-S., Choi, W.-Y., Ko, J.-C., Kim, T. S., & Gregorio, G. B. (2003). Salinity tolerance of japonica and indica rice (Oryza sativa L.) at the seedling stage. Planta, 216(6), 1043–1046.

Lisa, L. A., Seraj, Z. I., Fazle Elahi, C. M., Das, K. C., Biswas, K., Islam, M. R., et al. (2004). Genetic variation in microsatellite DNA, physiology and morphology of coastal saline rice landraces of Bangladesh. Plant and Soil, 263(1), 213–228.

Mondal, M., Puteh, A., Malek, M., & Rafi, M. (2013). Salinity induced morphophysiological characters and yield attributes in rice genotypes. Journal of Food, Agriculture and Environment, 11(2), 610–614.

Moradi, F., & Ismail, A. M. (2007). Responses of photosynthesis, chlorophyll fluorescence and ROS-scavenging systems to salt stress during seedling and reproductive stages in rice. Annals of Botany, 99(6), 1161–1173.

Munns, R., & Tester, M. (2008). Mechanisms of salinity tolerance. Annual Review of Plant Biology, 59(1), 651–681.

Pires, I. S., Negrão, S., Oliveira, M. M., & Purugganan, M. D. (2015). Comprehensive phenotypic analysis of rice (Oryza sativa) response to salinity stress. Physiologia Plantarum, 155(1), 43–54.

Raina, S. K. (1989). Tissue culture in rice improvement: Status and potential. Advances in Agronomy, 42, 339–398.

Roshandel, P., & Flowers, T. (2009). The ionic effects of NaCl on physiology and gene expression in rice genotypes differing in salt tolerance. Plant and Soil, 315(1–2), 135–147.

Saleque, M. A., Choudhury, N. N., Rezaul Karim, S. M., & Panaullah, G. M. (2005). Mineral nutrition and yield of four rice genotypes in the farmers' fields of salt-affected soils. Journal of Plant Nutrition, 28(5), 865–875.

Sarhadi, E., Bazargani, M. M., Sajise, A. G., Abdolahi, S., Vispo, N. A., Arceta, M., et al. (2012). Proteomic analysis of rice anthers under salt stress. Plant Physiology and Biochemistry, 58, 280–287.

Singh, R., & Flowers, T. (2010). Physiology and molecular biology of the effects of salinity on rice (pp. 899–939). doi:10.1201/b10329-44.

Singh, R. K., Gregorio, G., & Ismail, A. (2008). Breeding rice varieties with tolerance to salt stress. Journal of the Indian Society of Coastal Agricultural Research, 26, 16–21.

Singh, R. K., Redoña, E. D., & Refuerzo, L. (2010). Varietal improvement for abiotic stress tolerance in crop plants: Special reference to salinity in rice. In: A. Pareek, S. K. Sopory & H. J. Bohnert (Eds.), Abiotic stress adaptation in plants: Physiological, molecular and genomic foundation (pp. 387–415). Netherland: Springer.

Singh, M. P., Singh, D. K., & Rai, M. (2007). Assessment of growth, physiological and biochemical parameters and activities of antioxidative enzymes in salinity tolerant and sensitive basmati rice varieties. Journal of Agronomy and Crop Science, 193(6), 398–412.

Turan, S., Cornish, K., & Kumar, S. (2012). Salinity tolerance in plants: Breeding and genetic engineering. Australian Journal of Crop Science, 6(9), 1337–1348.

Turan, S., & Tripathy, B. C. (2013). Salt and genotype impact on antioxidative enzymes and lipid peroxidation in two rice cultivars during de-etiolation. Protoplasma, 250(1), 209–222.

Wang, Z., Cheng, J., Chen, Z., Huang, J., Bao, Y., Wang, J., et al. (2012). Identification of QTLs with main, epistatic and QTL× environment interaction effects for salt tolerance in rice seedlings under different salinity conditions. Theoretical and Applied Genetics, 125(4), 807–815.

Wang, Z., Wang, J., Bao, Y., Wu, Y., & Zhang, H. (2011). Quantitative trait loci controlling rice seed germination under salt stress. Euphytica, 178(3), 297–307.

Yeo, A. R., & Flowers, T. J. (1982). Accumulation and localisation of sodium ions within the shoots of rice (Oryza sativa) varieties differing in salinity resistance. Physiologia Plantarum, 56(3), 343–348.

Yeo, A. R., Lee, S., Izard, P., Boursier, P. J., & Flowers, T. J. (1991). Short- and long-term effects of salinity on leaf growth in rice (Oryza sativa L.). Journal of Experimental Botany, 42(7), 881–889.

Yoshida, S. (1981). Fundamentals of rice crop science. Retrieved from https://www.google.com/books?hl=en&lr=&id=wS-teh0I5d0C&oi=fnd&pg=PP2&dq=Fundamentals+of+rice+crop+science&ots=VB0AoW-i4M&sig=imaB60INi3xyXZ_gMFK54O8mM8k.

Zhu, J. K. (2002). Salt and drought stress signal transduction in plants. Annual Review of Plant Biology, 53, 247–273.
About this article
Cite this article
Ahmadizadeh, M., Vispo, N.A., Calapit-Palao, C.D.O. et al. Reproductive stage salinity tolerance in rice: a complex trait to phenotype. Ind J Plant Physiol. 21, 528–536 (2016). https://doi.org/10.1007/s40502-016-0268-6
Received:

Accepted:

Published:

Issue Date:

DOI: https://doi.org/10.1007/s40502-016-0268-6
Keywords
Ion accumulation

Phenotyping

Quantitative trait

Reproductive stage salinity tolerance

Salt screening