Abstract
Pot experiments were conducted to evaluate the possibility of use of treated and untreated wastewater for irrigation. Wastewater samples collected from electroplating, steel processing industrial units and common effluent treatment plant (CETP) were treated with Salvinia biomass. Wheat (Triticum aestivum), the staple food crop was chosen for the study. Seeds were sown in pots and irrigated with treated and untreated wastewater. Plants irrigated with tap water were designated as control. The growth of wheat was assessed at seedling and pre-flowering stages using various physiological and biochemical indices. The results obtained from the studies conducted for two consecutive seasons in net house indicated that levels of total chlorophyll, glucose, protein and photosynthetic efficiency was not significantly affected in plants irrigated with treated wastewater in comparison to those irrigated with tap water at both seedling and pre-flowering stages. In contrast, plants irrigated with untreated wastewater showed significant alteration in all the parameters at all the growth stages in comparison to control. The studies suggested that the treated wastewater can be used for irrigating crop plants as plant growth was not significantly affected.
Access options
Buy single article
Instant access to the full article PDF.
USD 39.95
Price excludes VAT (USA)
Tax calculation will be finalised during checkout.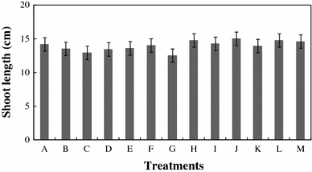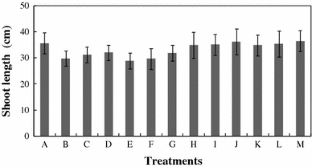 References
Alderfasi, A. A. (2009). Agronomic and economic impacts of reuse secondary treated wastewater in irrigation under arid and semi-arid regions. World Journal of Agriculture Science, 5(3), 369–374.

Arceivala, S. (1999). Design of Wastewater Irrigation Systems. Journal IWWA.

Asano, T. (1998). Wastewater reclamation and reuse, water quality management library (Vol. 10). Lancaster: Technomic Publishing Co.Inc.

Bose, S., & Bhattacharyya, A. K. (2007). Heavy metal accumulation in wheat plant grown in soil amended with industrial sludge. Chemosphere, 70, 1264–1272.

Dhir, B., Sharmila, P., Pardha Saradhi, P., Sharma, S., Kumar, R., & Mehta, D. (2011). Heavy metal induced physiological alterations in Salvinia natans. Ecotoxicology and Environmental Safety, 74(6), 1678–1684.

Dhir, B., & Srivastava, S. (2011). Heavy metal removal from a multi-metal solution and wastewater by Salvinia natans. Ecological Engineering, 37, 893–896.

Dhir, B., & Srivastava, S. (2013). Heavy metal tolerance in metal hyperaccumulator plant, Salvinia natans. Bulletin of Environmental Contamination and Toxicology, 90, 720–724.

Gajewska, E., Skłodowska, M., Słaba, M., & Mazur, J. (2006). Effect of nickel on antioxidative enzyme activities, proline and chlorophyll contents in wheat shoots. Biologia Plantarum, 50, 653–659.

He, J. Y., Ren, Y. F., Zhu, C., Yan, Y. P., & Jiang, D. A. (2008). Effect of Cd on growth, photosynthetic gas exchange, and chlorophyll fluorescence of wild and Cd-sensitive mutant rice. Photosynthetica, 46, 466–470.

Ladwani, K. D., Ladwani, K. D., Manik, V. S., & Ramteke, D. S. (2012). Impact of domestic wastewater irrigation on soil properties and crop yield. International Journal of Scientific Research Publications, 2, 1–7.

Liu, X., Zhang, S., Shan, X., & Christie, P. (2007). Combined toxicity of cadmium and arsenate to wheat seedlings and plant uptake and antioxidative enzyme responses to cadmium and arsenate co-contamination. Ecotoxicology and Environmental Safety, 68, 305–313.

Martínez, S., Suay, R., Moreno, J., & Segura, M. L. (2013). Reuse of tertiary municipal wastewater effluent for irrigation of Cucumis melo L. Irrigation Science, 31, 661–672.

Mollahoseini, H. (2013). Long term effects of municipal wastewater irrigation on some properties of a semiarid region soil of Iran. International Journal of Agronomy and Plant Production, 4, 1023–1028.

Singh, P. K., Deshbhratar, P. B., & Ramteke, D. S. (2012). Effects of sewage wastewater irrigation on soil properties, crop yield and environment. Agricultural Water Management, 103, 100–104.

Singh, D., Nath, K., & Sharma, Y. K. (2007). Response of wheat seed germination and seedling growth under copper stress. Journal of Environmental Biology, 28, 409–414.

Tanyolaç, D., Ekmekçi, Y., & Ünalan, S. (2007). Changes in photochemical and antioxidant enzyme activities in maize (Zea mays L.) leaves exposed to excess copper. Chemosphere, 67, 89–98.

Vassilev, A., Lidon, F., Campos, P. S., Ramalho, J. C., Barrerio, M. G., & Yordanov, I. (2003). Copper induced changes in chloroplast lipids and PS II activity in barley plants. Bulgarian Journal of Plant Physiology, 29, 33–43.
Acknowledgments
The financial assistance from Department of Science and Technology to Bhupinder Dhir is gratefully acknowledged.
About this article
Cite this article
Dhir, B., Srivastava, S. Effect of short term irrigation with treated and untreated wastewater on growth and physio-biochemical parameters of wheat. Ind J Plant Physiol. 19, 257–262 (2014). https://doi.org/10.1007/s40502-014-0098-3
Received:

Accepted:

Published:

Issue Date:

DOI: https://doi.org/10.1007/s40502-014-0098-3
Keywords