Effects of Equine Therapy on Individuals with Autism Spectrum Disorder: a Systematic Review
Abstract
Literature on effects of equine therapy in individuals with autism spectrum disorder (ASD) has grown in recent times. Equine therapy is an alternative multimodal intervention that involves utilizing a horse to remediate core impairments in ASD. Recent systematic reviews in this area have several limitations including inclusion of populations other than ASD, assessment of a variety of animal-assisted interventions other than equine therapy, and a failure to conduct quantitative analyses to provide accurate effect size estimates. We conducted a focused systematic review to address these limitations. Our review suggested that equine therapy has beneficial effects on behavioral and to some extent on social communication skills in ASD. The evidence for positive effects of equine therapy on perceptuo-motor, cognitive, and functional skills is currently limited.
Keywords
Equine therapy 
Hippotherapy 
Therapeutic horseback riding 
Social communication 
Behavior 
Autism 
Autism spectrum disorder (ASD) is a neurodevelopmental disorder that affects multiple subsystems including social communication, behavioral, cognitive, and perceptuo-motor domains. Core impairments in ASD include social communication difficulties as well as the presence of stereotyped and repetitive behaviors and interests (American Psychiatric Association 2013). More specifically, social communication impairments include poor reciprocity during social interactions, reduced social gaze/eye contact, as well as delays in nonverbal and verbal communication (Mundy and Newell 2007; Tager-Flusberg 1999; Dawson et al. 2004). In addition, children with ASD also demonstrate several comorbidities such as significant difficulties with behavioral and emotional regulation (i.e., anxiety, aggression, depression, hyperactivity, temper tantrums, and self-injurious behaviors) (Bodfish et al. 2000; Lecavalier 2006; Loh et al. 2007; Mazefsky et al. 2012) and cognitive difficulties in attentional focus, executive functioning, and working memory (Ozonoff et al. 2006; Williams et al. 2006). There is also substantial evidence for sensorimotor impairments in children with ASD (Fournier et al. 2010; Bhat et al. 2011) including difficulty modulating sensory inputs (Tomchek and Dunn 2007; Baranek et al. 2005) and pervasive motor impairments during coordinated arm/leg movements (Fournier et al. 2010; Green et al. 2009; Vilensky et al. 1981; Hallett et al. 1993), balance tasks (Minshew et al. 2004), as well as imitation and praxis tasks (Mostofsky et al. 2006; Dewey et al. 2007). Furthermore, comorbidities in sensorimotor performance correlate with and influence social communication performance of individuals with ASD (Dziuk et al. 2007; Lord and Ulrich 2014). Limited movement exploration and motor clumsiness may lead to missed opportunities to develop social connections with peers and caregivers (Bhat et al. 2011; Leary and Hill 1996; Jansiewicz et al. 2006). Overall, individuals with ASD face difficulties in multiple developmental domains; this necessitates the use of multimodal interventions to effectively address both diagnostic impairments as well as comorbidities in this population.
Mainstream autism interventions based on principles of applied behavioral analysis such as Discrete Trial Training (Lovaas 1987), Pivotal Response Therapy (Koegel and Koegel 2006), Early Start Denver Model (Rogers and Dawson 2009), and Picture Exchange Communication System (Bondy and Frost 2003) as well as more recent developmental approaches such as Floortime, Social Communication, Emotional Regulation and Transactional Support (SCERTS), Developmental Individual-Difference, Relationship-based model (DIR) (Greenspan and Wieder 1997; Wieder and Greenspan 2003; Prizant et al. 2006; Kasari et al. 2008; Landa et al. 2011), mainly focus on improving social communication, behavioral and academic skills of children with ASD. While ABA-based approaches use structured environments and incremental prompting to promote positive behaviors (Lovaas 1987; Bondy and Frost 2003; Mesibov et al. 2005), developmental approaches focus on facilitating specific early social communication skills such as joint attention and imitation (Landa et al. 2011; Kasari et al. 2008). Although these approaches have substantial evidence for improving social communication and functional/academic skills, they may not address the sensorimotor needs of the children with ASD. Through this systematic review (SR), we summarize the evidence for the use of equine therapy as a multimodal intervention to address diagnostic impairments in social communication skills as well as behavioral and sensorimotor comorbidities in individuals with ASD.
Equine therapy involves activities completed in the presence of a horse, including mounted activities such as hippotherapy and therapeutic horseback riding as well as non-mounted, equine-focused activities such as grooming and caring for the horse (Lentini and Knox 2015). Hippotherapy (HIP) involves purposeful manipulation of equine movement based on clinical reasoning of occupational therapists (OTs), physical therapists (PTs), and speech language pathologists (SLPs) to engage an individual's sensory, neuromotor, and cognitive systems and achieve certain functional outcomes (American Hippotherapy Association 2017). The focus in HIP is on using the horse and its movement as a tool by allied health professionals to achieve therapeutic goals such as improvement of balance, sensory processing skills, and arousal in clients. In contrast, in THR the focus is on teaching the student different types of riding skills (PATH International 2017). A typical THR session involves mounted and non-mounted equine-assisted activities to promote the physical, cognitive, emotional, and social well-being of individuals with special needs (Ward et al. 2013). Compared to HIP accreditation, THR instructor certification is accessible to a broader group of trainers including special educators, counselors, as well as equestrians, following completion of online coursework and 25 hours of training experience.
To date, few SRs have been conducted on the effects of equine therapy in individuals with ASD (O'Haire 2013, 2017; Lentini and Knox 2015; Weise et al. 2016; McDaniel and Wood 2017). O'Haire (2013, 2017) conducted a qualitative analysis of the effects of animal-assisted interventions as a whole (vs. equine therapy only) in ASD and reported positive effects in terms of social, communication/language, and stress/behavior, as well as a reduction in autism symptoms. Similarly, based on their broad review of 47 studies in individuals with diverse types of special needs, Lentini and Knox (2015) reported qualitative improvements in social emotional skills, self-regulation, self-esteem, and levels of anxiety and depression following equine therapy (Lentini and Knox 2015). Weise et al. (2016) reviewed 8 studies that assessed the effects of equine therapy on only social behavioral skills of individuals with ASD. Lastly, based on a comprehensive systematic review of equine-assisted interventions, McDaniel and Wood (2017) offered proof of concept evidence that equine therapies can benefit children and adolescents with ASD. Taken together, past SRs have focused on broader topics of animal-assisted interventions (vs. focusing on equine therapies) and diverse populations (special needs with various diagnoses or mental health issues), and used more qualitative as opposed to quantitative analytical methods (none of the reviews assessed the quality of research evidence in conjunction with the size of treatment effects obtained in each study). The current study addresses these limitations by conducting a comprehensive (qualitative and quantitative) review of the effects of equine therapy on impairments in multiple subsystems/domains in individuals with ASD. Our first aim was to examine the effects of equine therapy on specific domains including social, communication, behavioral, and sensorimotor skills as well as broader functional outcomes including overall adaptive functioning and quality of life. Our second aim was to systematically assess the methodological quality (using Sackett's level of evidence and PEDro scores) of the published research evidence to date and calculate the size of the treatment effects for all outcomes measured in individual studies included in the review.
Methods
Search Protocol
Studies were searched from five common electronic databases associated with the fields of health, psychology, allied health, and education, i.e., PubMed (1950–present), PsycINFO (1969–present), ERIC (1966–present), Scopus (1966–present), and CINAHL (1937–present). We searched for terms associated with "equine therapy" and "autism" (see details in Appendix
1
). We also searched the reference sections of included articles and previously published reviews for additional relevant articles (see Fig. 
1
for details).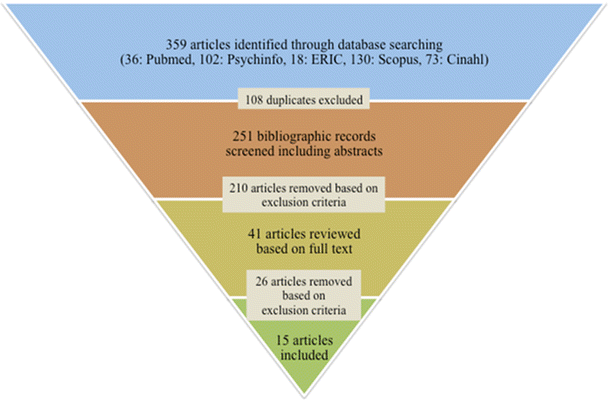 Eligibility Criteria
Studies were screened based on the following inclusion criteria—(a) peer-reviewed articles and (b) studies reporting data on treatment effects of "equine" therapy using experimental or quasi-experimental study designs—and exclusion criteria—(a) foreign language; (b) case reports, opinions, narrative reports, etc.; (c) animal-assisted or pet therapy not equine in nature, for example, using dolphins and dogs; and (d) unrelated topics, for example, PET imaging.
Data Extraction and Evaluation
After applying the eligibility criteria, we were left with 15 articles in this review. We used the levels of evidence described by Sackett et al. (1996) to classify the methodological quality of studies. These guidelines provide systematic criteria that can be used to classify individual studies based on study design into 5 levels of evidence from levels I–V. Level I studies provide the highest level of evidence and include randomized controlled trials, whereas level V studies include case reports and narrative statements. In addition, we used the Physiotherapy Evidence Database (PEDro) scale (Moseley et al. 2002) to evaluate the internal validity and interpretability of the randomized controlled trials (RCTs) and controlled clinical trials (CCTs) included in this review. The PEDro scale contains 11 items of which the last 10 items are scored to obtain the total PEDro score (Moseley et al. 2002). We coded each study for sample and study characteristics, methodological quality, assessment measures, dependent variables, and treatment effects (see Appendix 2 for the coding sheet). In addition to the qualitative coding of treatment effects based on the original study reports, we also report on quantitative effect size measures from each study. We used data reported in the original studies (wherever available) to calculate effect sizes using the standardized mean difference (d) index (Hedges 1981; Lipsey and Wilson 2001; Huedo-Medina and Johnson 2011). We used the excel code developed by Heudo-Medina and Johnson to calculate effect sizes and their 95% confidence intervals for all studies (Huedo-Medina and Johnson 2011). For studies that reported effect sizes within the original paper, we compared the reported (from original study) and calculated (based on our calculations) effect sizes. We also summarized the treatment effects reported per domain based on the reviewed studies, i.e., effects on social communication skills and motor skills. All three authors who are physical therapists by training were involved in the search process, extraction of data, and coding of studies. For the purpose of reliability, all three authors coded five out of the 15 articles using the coding form listed in Appendix A. We used intraclass correlation coefficients to calculate reliability on all the parameters coded for the individual studies. Each of the three authors achieved inter-rater reliability of over 87.5% after establishing consensus on scores they disagreed on. Each coder also established intra-rater reliability of over 99%. Following reliability, the remaining 10 articles were divided for review between the three authors.
Discussion
Summary of Results
In the present review, we aimed to assess the quality and quantity of evidence in support of equine therapies as an adjunct therapy tool for individuals with ASD. While past reviews have provided a qualitative summary of the literature in this field, ours is the first review to report on the actual size of the treatment effects by calculating effect size estimates and their 95% CI wherever possible from data presented in individual study reports. We believe that a fair judgment of the merits of equine therapy as a treatment tool for ASD require consideration of the methodological quality of studies (PEDro rating and Sackett's level of evidence) in conjunction with the magnitude and direction of treatment effects on different outcomes.
Our review was based on 15 experimental and quasi-experimental studies that assessed the impact of THR and HIP interventions in 294 children and adolescents with ASD. In terms of methodological quality (Sackett et al. 1996), a little over half (8 out of 15) of these studies offered level I or II evidence, whereas the remaining qualified as level III or IV evidence. Eight of the studies designed their interventions by adhering to standard guidelines offered by national or international equine therapy certification agencies. Although most of the studies provided an adequate description of the study procedures including the setting of the study, personnel involved, and activities conducted, it was surprising that only about a quarter of the studies actually assessed treatment fidelity/integrity across training weeks. Similarly, only 4 of the studies assessed long-term benefits or generalization of training following short-term equine experiences in individuals with ASD.
Equine therapy by its very nature has the potential to impact multiple subsystems. Accordingly, we found that most studies assessed the effects of equine therapies on multiple skills in ASD. As is clear from Table 6, maximum work so far has been dedicated towards evaluating equine therapy effects on social communication, behavioral, and motor outcomes. Going by dual criteria of amount of positive evidence (# of studies demonstrating gains and # of significant non-zero ES) and strength of positive evidence (level I or II studies), our review suggests consistent and reliable positive effects of short-term equine therapies on behavioral skills in ASD. Although similar promising evidence is emerging with respect to the utility of equine therapies in enhancing social communication, sensory and perceptuo-motor skills in ASD, given the small number of studies (of high quality) in this area and somewhat conflicting results across studies using the same outcome measures (for example, Bass et al. 2009 and Kern et al. 2011 for the Sensory Profile), we see a clear need for rigorous research in these domains. Moreover, in case of sensory-motor skills, currently, the literature seems biased as a result of the few studies that calculated multiple ES (Wuang et al. 2010; Ward et al. 2013). Lastly, the current state of evidence on equine therapies does not allow us to make any claims with respect to the effects of these therapies on cognitive skills, physiological variables, functional skills or QOL of individuals with ASD.
Clinical Implications
In this section, based on our review, we provide recommendations pertaining to assessment and treatment, for clinicians working with children and adolescents with ASD. In terms of assessment measures, a majority of studies used caregiver-rated questionnaires followed by standardized tests to assess dependent variables (Table
7
). In a related vein, some studies used broad assessment tools that evaluated treatment effects on multiple developmental domains, whereas others used tools specific to the domain assessed. The choice of instruments typically depends on multiple factors such as participants' functional skills including their ability to comprehend and comply with instructions, their ability to imitate others, and their motor and intellectual skill levels. Nevertheless, we recommend that wherever possible, clinicians use a combination of qualitative and quantitative tools (parent questionnaires, standardized tests, video coding) to assess the impact of equine-assisted activities in ASD. Similarly, by using both domain-general and domain-specific measures, clinicians will be able to gauge impact of the intervention on the overall development of the child as well as detect subtle and more-nuanced treatment effects within specific domains (see Table
6
for details).
Table 7
Types of assessors/raters and methods for blinding
First author (year)

Type of assessment

Blinding of assessor (s)

Raters/informants

Authors/research staff

Parent/teacher

Bass et al. (2009)

Parent questionnaires

None specified

 

x

Wuang et al. (2010)

Clinical assessments

Blinded to groups

x

 

Kern et al. (2011)

Observational assessment, questionnaires

None specified

x

x

Gabriels et al. (2012)

Questionnaires, parent interview, clinical assessments

Not blinded

x

x

Steiner et al. (2012)

Observational assessment, kinematic and kinetic gait analysis

None specified

x

x

Tabares et al. (2012)

Biochemical

None specified

x

 

Ajzenman et al. (2013)

Parent questionnaires/interviews, motion/force analysis

Not blinded

x

x

Jenkins et al. (2013)

Teacher questionnaire, video recordings for behavioral coding

None specified

x

x

Ward et al. (2013)

Parent/expert questionnaire

None specified

x

x

Garcia-Gomez et al. (2014)

Parent questionnaires

None specified

 

x

Lanning et al. (2014)

Parent questionnaires

None specified

 

x

Gabriels et al. (2015)

Parent questionnaires, clinical assessments

Blinded to treatment

x

x

Anderson and Meints (2016)

Parent questionnaires, interviews

Blinded to study goals

 

x

Borgi et al. (2016)

Parent interview, clinical assessment

Testers blinded to group

x

x

Llambias et al. (2016)

Video coding of behaviors

Blinded to study goals

x

x
In terms of treatment, our review suggests that in order to obtain appreciable behavioral changes in individuals with ASD, equine-based interventions should be provided for at least 1 month, although more robust improvements are seen only if the equine activities are continued for at least 3 to 6 months. A longer duration of intervention provides the individual sufficient time to get accustomed to the horse, overcome the anxiety associated with novel activities, and build a rapport with the horse. Interventions were mostly provided at the frequency of 1 session/week (with few studies providing 2 sessions/week) with each session ranging from 30 to 60 min in duration (see Table
8
). Therapeutic activities practiced should focus on horsemanship skills, riding skills, as well as games and group activities that focus on addressing the core social communication and perceptuo-motor impairments in ASD. Given the novelty and dynamic nature of the activities involved, clinicians may need 1 to 3 trained volunteers to assist participants with mounting-dismounting, guiding, and steering the horse and also provide cues and prompts as needed during the session. Since ASD is a spectrum disorder and the challenges faced by individuals with this diagnosis varies significantly, we recommend that clinicians tailor the intervention to the specific needs of the individual, including the choice of activities, level of support provided, individual or group nature of the training, amount of practice provided, and the progression of activities during training.
Table 8
Recommendations for equine therapy treatment parameters
Characteristics

Recommendations for clinicians

Duration

30–60 min per session

Frequency

1–2 sessions per week

Time

3 to 6 months (1 month minimum)

Type

Therapeutic horseback riding or hippotherapy

Setting

Horse barn and nearby trails and/or therapy room for carryover activities

Environment

Outdoor and indoor environments

Providers

Certified riding instructors or OT/PT/SLP clinicians with hippotherapy certification

Assistants

2 side walkers, therapist/instructor could be horse leader

Components

- Warm up activities—whole body exercises or play activities

- Greet horse and mount on horse using a mounting block

- Travel while mounted—leader changes horse's pace/path or child's body position

- Goal-oriented/functional activities on horse

- Treat/groom/care for horse

- Dismounting and carryover activities off-horse
Limitations and Future Directions for Research
Although we demonstrated preliminary support for the utility of equine therapy in ASD, our review highlights several lacunae in this literature that need to be addressed in future studies. There is a clear need for large sample size studies that employ narrow and clear inclusion criteria to study the impact of equine therapies on homogenous samples of individuals with ASD in terms of age range, diagnosis, adaptive behavior, and functional skills. Moreover, future studies need to ensure methodological rigor by using standardized tests for confirming participant diagnosis, employing well-matched control groups, random assignment of subjects, blinding of assessors, and strict controls on treatment fidelity. In order to strongly establish the utility of equine therapy in the treatment of ASD, more studies need to assess the short-term and long-term effects of equine therapy (THR and HIP) compared to conventional modes of therapy on multiple subsystems (social communication, sensory-motor, behavioral, and cognitive) and functional skills in individuals with ASD across the lifespan.
In the current review, we attempted to go beyond providing a qualitative summary of the current equine therapy literature by calculating quantitative ES estimates for each skill domain. We found that several studies did not report ES appropriate to their study design and also did not provide enough data to enable us to independently calculate ES. For some other studies that allowed independent ES estimation, there were conflicts between reported and calculated ES. Future studies should ensure adequate reporting of ES along with their 95 or 99% CI or at least provide necessary data to allow estimation of ES and their CI. Such reporting standards would enable a quantitative synthesis of the equine therapy literature in the form of a meta-analysis. A meta-analysis would be able to provide an aggregate estimate of the treatment effect in ASD and systematically account for the large heterogeneity in effect sizes (see Table 6) using moderator analyses.
Conclusions
Our literature review aimed at summarizing the evidence to date on the effects of equine-assisted activities and therapies including both THR and HIP in individuals with ASD. We searched several relevant health-related databases and finally selected and reviewed 15 articles assessing the impact of equine therapies on several different outcomes in children and adolescents with ASD. Although there was considerable variability between studies in terms of sample characteristics, intervention characteristics, outcomes and assessment tools used, as well as the magnitude and direction of treatment effects reported for different types of outcomes, our combined qualitative and quantitative analysis suggested promising immediate effects of short-term equine therapy interventions on behavioral skills in ASD. There is currently some limited evidence supporting the utility of equine therapies in enhancing social communication and perceptuo-motor skills in individuals with ASD. The effects of equine-assisted activities on cognitive and functional skills/QOL of individuals with ASD are at present poorly researched. Future studies should employ methodologically rigorous study designs with large sample sizes to evaluate the role of equine therapies in the standard-of-care treatment of individuals with ASD.
Notes
Funding
DC and AB's work on this manuscript was supported by the Leadership Education in Neurodevelopmental and Related Disabilities (LEND) grant from the Maternal & Child Health Bureau (MCHB) of the Health Resources and Service Administration (HRSA) under grant number T73MC30116 (PI: Beth Mineo and Co-I: Brian Freedman). AB's work on this manuscript was also supported by an Institutional Development Award (IDeA) from the National Institute of General Medical Sciences of the National Institutes of Health under grant number U54-GM104941 (PI: Binder-Macleod).
Compliance with Ethical Standards
Conflict of Interest
The author declare that they have no conflict of interest.
Copyright information
© Springer Science+Business Media, LLC, part of Springer Nature 2018