Abstract
Parents of children with autism spectrum disorders should have access to interventions to help them understand and support their child. This literature review examines the existing evidence for group-based parent training interventions that support parents of children with autism. From the literature, core intervention processes and outcomes are identified and include parenting and parent behaviour, parent health, child behaviour and peer and social support. Results show a positive trend for intervention effectiveness, but findings are limited by low-quality studies and heterogeneity of intervention content, outcomes and outcome measurement. Future research should focus on specifying effective intervention ingredients and modes of delivery, consistent and reliable outcome measurement, and improving methodological rigour to build a more robust evidence base.
This is a preview of subscription content, log in to check access.
Access options
Buy single article
Instant access to the full article PDF.
US$ 39.95
Price includes VAT for USA
Subscribe to journal
Immediate online access to all issues from 2019. Subscription will auto renew annually.
US$ 99
This is the net price. Taxes to be calculated in checkout.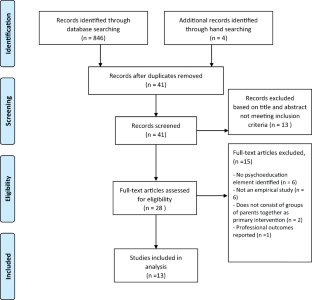 References
American Psychiatric Association. (2013). Diagnostic and statistical manual of mental disorders (5th Ed.). Washington, DC: Author.

Armitage, S., Swallow, V., & Kolehmainen, N. (2016). Ingredients and change processes in occupational therapy for children: a grounded theory study. Scandinavian Journal of Occupational Therapy, 1–6. https://doi.org/10.1080/11038128.2016.1201141.

Barlow, J., Smailagic, N., Huband, N., Roloff, V., & Bennett, C. (2014). Group-based parent training programmes for improving parental psychosocial health. The Cochrane Database of Systematic Reviews, 17(5), Art. No.: CD002020. https://doi.org/10.1002/14651858.CD002020.pub4.

Bearss, K., Johnson, C., Smith, T., et al. (2015). Effect of parent training vs parent education on behavioral problems in children with autism spectrum disorder: a randomized clinical trial. JAMA, 313(15), 1524–1533. https://doi.org/10.1001/jama.2015.3150.

Clubb, M. (2012). An evaluation of EarlyBird and EarlyBird Plus over seven years: the benefits of parents and school staff being trained together. Good Autism Practice (GAP), 13(1), 69–77.

Craig, P., Dieppe, P., Macintyre, S., Michie, S., Nazareth, I., & Petticrew, M. (2008). Developing and evaluating complex interventions: the new Medical Research Council guidance. BMJ, 337, a1655.

Cutress, A. L., & Muncer, S. J. (2014). Parents' views of the National Autistic Society's EarlyBird Plus Programme. Autism, 18(6), 651–657.

Farmer, J., & Reupert, A. (2013). Understanding autism and understanding my child with autism: An evaluation of a group parent education program in rural Australia. Australian Journal of Rural Health, 21(1), 20–27.

Green, G., Ricciardi, J., & Boyd, B. (2009). The National Standards Project–addressing the need for evidence-based practice guidelines for autism spectrum disorders. National Standards Report. Randolph: Author.

Hastings, R. P., & Johnson, E. (2001). Stress in UK families conducting intensive home-based behavioral intervention for their young child with autism. Journal of Autism and Developmental Disorders, 31(3), 327–336. https://doi.org/10.1023/a:1010799320795.

Hoffmann, T. C., Glasziou, P. P., Boutron, I., Milne, R., Perera, R., Moher, D., et al. (2014). Better reporting of interventions: Template for intervention description and replication (TIDieR) checklist and guide. Bmj, 348, g1687.

Leijten, P., Raaijmakers, M. A., Orobio de Castro, B., van den Ban, E., & Matthys, W. (2017). Effectiveness of the incredible years parenting program for families with socioeconomically disadvantaged and ethnic minority backgrounds. Journal of Clinical Child & Adolescent Psychology, 46(1), 59–73.

Mattejat, F., & Remschmidt, H. (1998). Fragebogen zur Beurteilung der Behandlung (FBB) [Treatment Evaluation Questionnaire]. Gottingen: Hogrefe.

McAleese, A., Lavery, C., & Dyer, K. F. (2014). Evaluating a psychoeducational, therapeutic group for parents of children with autism spectrum disorder. Child Care in Practice, 20(2), 162–181.

Michie, S., Johnston, M., Francis, J., Hardeman, W., & Eccles, M. (2008). From theory to intervention: mapping theoretically derived behavioural determinants to behaviour change techniques. Applied Psychology, 57(4), 660–680.

Morpeth, L., Blower, S., Tobin, K., Taylor, R. S., Bywater, T., Edwards, R. T., et al. (2017). The effectiveness of the incredible years pre-school parenting programme in the United Kingdom: a pragmatic randomised controlled trial. Child Care in Practice, 23(2), 141–161.

National Institute for Health and Care Excellence. (2013). Autism spectrum disorder in under 19s: support and management. Retrieved from https://www.nice.org.uk/guidance/cg170.

Postorino, V., Sharp, W. G., McCracken, C. E., Bearss, K., Burrell, T. L., Evans, A. N., & Scahill, L. (2017). A systematic review and meta-analysis of parent training for disruptive behavior in children with autism spectrum disorder. Clinical Child and Family Psychology Review, 20(4), 391–402.

Probst, P., & Glen, I. (2011). TEACCH-based interventions for families with children with autism spectrum disorders: outcomes of a parent group training study and a home-based child–parent training single case study. Life Span and Disability, 14(2), 111–138.

Reed, H. E., McGrew, S. G., Artibee, K., Surdkya, K., Goldman, S. E., Frank, K., et al. (2009). Parent-based sleep education workshops in autism. Journal of Child Neurology, 24(8), 936–945.

Ritchie, J., Lewis, J., Nicholls, C. M., & Ormston, R. (2013). Qualitative research practice: A guide for social science students and researchers. London: Sage.

Roberts, D., & Pickering, N. (2010). Parent training programme for autism spectrum disorders: an evaluation. Community Practitioner, 83(10), 27–31.

Scahill, L., Bearss, K., Lecavalier, L., Smith, T., Swiezy, N., Aman, M. G., et al. (2016). Effect of parent training on adaptive behavior in children with autism spectrum disorder and disruptive behavior: results of a randomized trial. Journal of the American Academy of Child & Adolescent Psychiatry, 55(7), 602–609.e603.

Shu, B. C., & Lung, F. W. (2005). The effect of support group on the mental health and quality of life for mothers with autistic children. Journal of Intellectual Disability Research, 49(1), 47–53.

Sofronoff, K., & Farbotko, M. (2002). The effectiveness of parent management training to increase self-efficacy in parents of children with Asperger syndrome. Autism, 6(3), 271–286.

Stuttard, L., Beresford, B., Clarke, S., Beecham, J., Todd, S., & Bromley, J. (2014). Riding the rapids: Living with autism or disability—an evaluation of a parenting support intervention for parents of disabled children. Research in Developmental Disabilities, 35(10), 2371–2383.

Todd, S., Bromley, J., Ioannou, K., Harrison, J., Mellor, C., Taylor, E., & Crabtree, E. (2010). Using group-based parent training interventions with parents of children with disabilities: a description of process, content and outcomes in clinical practice. Child and Adolescent Mental Health, 15(3), 171–175.

Tonge, B., Brereton, A., Kiomall, M., Mackinnon, A., King, N., & Rinehart, N. (2006). Effects on parental mental health of an education and skills training program for parents of young children with autism: a randomized controlled trial. Journal of the American Academy of Child & Adolescent Psychiatry, 45(5), 561–569.

Tonge, B., Brereton, A., Kiomall, M., Mackinnon, A., & Rinehart, N. J. (2014). A randomised group comparison controlled trial of 'preschoolers with autism': a parent education and skills training intervention for young children with autistic disorder. Autism, 18(2), 166–177.

Wright, B. & Williams, C. (2007). Intervention and support for parents and carers of children and young people on the autism spectrum: A resource for trainers. London: Jessica Kingsley.
Acknowledgements
We thank Judith Mitchell and Colette Beecher, Sheffield Hallam University, for their time, knowledge and expertise at the beginning of the study. We also thank Sarah Massey and the team of information specialists at Illingworth Library, Sheffield Children's NHS Foundation Trust for their help and support with protocol development and for implementing the search.
Ethics declarations
Conflict of Interest
The authors declare that they have no conflict of interest.
Ethical Approval
This article does not contain any studies with human participants performed by any of the authors.
Additional information
Publisher's Note
Springer Nature remains neutral with regard to jurisdictional claims in published maps and institutional affiliations.
About this article
Cite this article
O'Donovan, K.L., Armitage, S., Featherstone, J. et al. Group-Based Parent Training Interventions for Parents of Children with Autism Spectrum Disorders: a Literature Review. Rev J Autism Dev Disord 6, 85–95 (2019). https://doi.org/10.1007/s40489-018-00155-6
Received:

Accepted:

Published:

Issue Date:
Keywords
Autism spectrum disorder

Parent training

Psychoeducation

Interventions