Whole-exome sequencing and microRNA profiling reveal PI3K/AKT pathway's involvement in juvenile myelomonocytic leukemia
Abstract
Background
Clinical studies and genetic analyses have revealed that juvenile myelomonocytic leukemia (JMML) is caused by somatic and/or germline mutations of genes involved in the RAS/MAPK signalling pathway. Given the vastly different clinical prognosis among individual patients that have had this disease, mutations in genes of other pathways may be involved.
Methods
In this study, we conducted whole-exome and cancer-panel sequencing analyses on a bone marrow sample from a 2-year old juvenile myelomonocytic leukemia patient. We also measured the microRNA profile of the same patient's bone marrow sample and the results were compared with the normal mature monocytic cells from the pooled peripheral blood.
Results
We identified additional novel mutations in the PI3K/AKT pathway and verified with a cancer panel targeted sequencing. We have confirmed the previously tested PTPN11 gene mutation (exon 3 181G > T) in the same sample and identified new nonsynonymous mutations in NTRK1, HMGA2, MLH3, MYH9 and AKT1 genes. Many of the microRNAs found to be differentially expressed are known to act as oncogenic MicroRNAs (onco-MicroRNAs or oncomiRs), whose target genes are enriched in the PI3K/AKT signalling pathway.
Conclusions
Our study suggests an alternative mechanism for JMML pathogenesis in addition to RAS/MAPK pathway. This discovery may provide new genetic markers for diagnosis and new therapeutic targets for JMML patients in the future.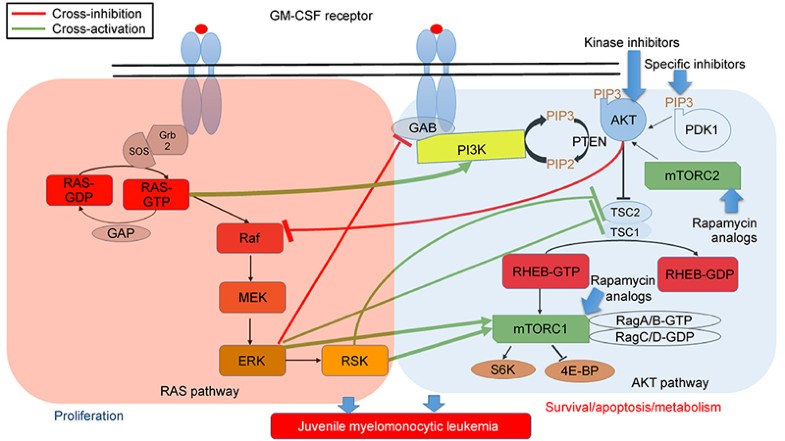 Keywords
single-cell 
RNA-Seq 
differential expression 
Notes
Acknowledgements
This work was partially supported by the Mizzou Advantage Program at the University of Missouri and National Institute of Health (R01-GM100701). The authors would like to thank the Informatics Core of the University of Missouri for providing the computing resources of this work. The authors would also like to thank Mr. Miqdad O. Dhariwala for providing access to and help with Canvas image manipulation software.
Copyright information
© Higher Education Press and Springer-Verlag GmbH Germany, part of Springer Nature 2018