SynBioEcoli: a comprehensive metabolism network of engineered E. coli in three dimensional visualization
Abstract
Background
A comprehensive metabolism network of engineered E. coli is very important in systems biology and metabolomics studies. Many tools focus on two-dimensional space to display pathways in metabolic network. However, the usage of three-dimensional visualization may help to understand better the intricate topology of metabolic and regulatory networks.
Methods
We manually curated large amount of experimental data (including pathways, reactions and metabolites) from literature related with different types of engineered E. coli and then utilized a novel technology of three dimensional visualization to develop a comprehensive metabolic network named SynBioEcoli.
Results
SynBioEoli contains 740 biosynthetic pathways, 3,889 metabolic reactions, 2,255 chemical compounds manually curated from about 11,000 metabolism publications related with different types of engineered E. coli. Furthermore, SynBioEcoli integrates with various informatics techniques.
Conclusions
SynBioEcoli could be regarded as a comprehensive knowledgebase of engineered E. coli and represents the next generation cellular metabolism network visualization technology. It could be accessed via web browsers (such as Google Chrome) supporting WebGL, at http://www.rxnfinder.org/synbioecoli/.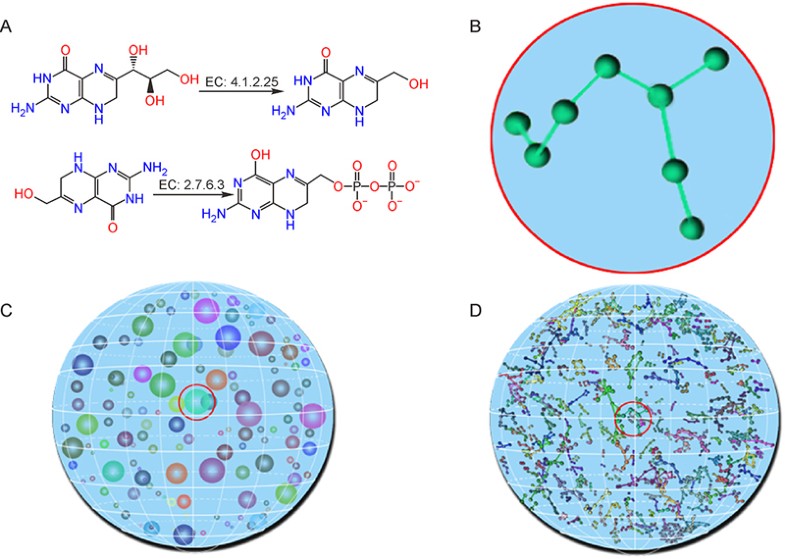 Keywords
engineered E. coli 
three dimensional metabolic network 
biosynthetic ability 
Notes
Acknowledgements
This work was supported by the National Science Foundation of China (Nos. 31270101 and 31570092), the National High Technology Research and Development Program (No. 2012CB721000) and the Natural Science Foundation of Tianjin, China.
Copyright information
© Higher Education Press and Springer-Verlag GmbH 2017