Abstract
Purpose
In this study, we aimed to determine vascular changes in the testes in patients with varicocele using the two-dimensional color superb microvascular imaging vascular index (2DcSMIVI) and compared them with those of the normal contralateral testes of the same patients as well as the normal testes of control subjects without varicocele.
Methods
A total of 114 participants and 228 testes were included in the study. 63 patients with varicocele and 51 asymptomatic volunteers were included. In total, 70 testes with varicocele (group A), 56 normal contralateral testes (Group B), and 102 bilateral normal testes were classified (Group C). Participants' testicular volume and 2DcSMIVI values were obtained via superb microvascular imaging. Testes with varicocele were graded according to Sarteschi classification.
Results
Statistically significant differences in mean testicular volume were observed among the three groups. The volume and 2DcSMIVI values of the varicocele side testes were significantly lower than those of groups B and C. Significant differences were also observed between Sarteschi grade and 2DcSMIVI values in group A.
Conclusion
We can determine impaired microcirculation of varicocele side testes quantitatively with the 2DcSMIVI technique, and obtained VI values can be used effectively in diagnosis and follow-up of the damage in testes. Our results show that 2DcSMIVI values can play a significant role in the evaluation of testicular blood flow as a predictive sign of testicular damage.
Access options
Buy single article
Instant access to the full article PDF.
USD 39.95
Price excludes VAT (USA)
Tax calculation will be finalised during checkout.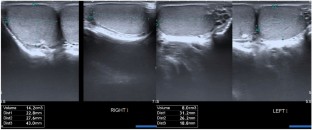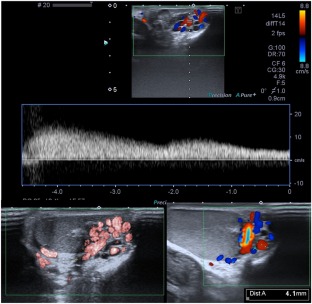 References
Sekhar IC, Rao AVM (2017) Clinical study of management of varicocele. J Evolution Med Dent Sci 6(32):2609–2614

Morteza T, Ehsan A. Quantıtatıve doppler assessment of flow Characterıstıcs ın pampınıform venous plexus, ın Patıents wıth varıcocele: ıs there any relatıonshıp wıth Semen analysıs? PJR July-September 2010; 20(3).

Bogaert GA (2014) Adolescent varicocele: limited indications for treatment during puberty and adolescence. Transl Androl Urol 3(4):398–401

Akand M, Koplay M, Islamoglu N, Altintas E, Kilic O, Gul M et al (2017) Color Doppler ultrasound characteristics after subinguinal microscopic varicocelectomy. Med Ultrason 19(1):59–65

Camoglio FS, Bruno C, Peretti M, Bianchi F, Bucci A, Scirè G et al (2017) The Role of Sonoelastography in the Evaluation of Testes With Varicocele. Urology 100:203–206

Lipshultz LI, Corriere JN (1977) Progressive testicular atrophy in the varicocele patient. J Urol 117(2):175–176

Erdogan H, Durmaz MS, Arslan S, Gokgoz Durmaz F, Cebeci H, Ergun O et al (2020) Shear Wave Elastography Evaluation of Testes in Patients With Varicocele. Ultrasound Q 36(1):64–68

Vanlangenhove P, Dhondt E, Everaert K, Defreyne L (2014) Pathophysiology, diagnosis and treatment of varicoceles: a review. Minerva Urol Nefrol 66:257–282

Tarhan S, Gumus S, Gunduz I, Ayyildiz V, Goktan C (2003) Effect of varicocele on testicular artery blood flow in men–color Doppler investigation. Scand J Urol Nephrol 37(1):38–42

Durmaz MS, Sivri M (2018) Comparison of superb micro-vascular imaging (SMI) and conventional Doppler imaging techniques for evaluating testicular blood flow. J Med Ultrason 45:443–452

Durmaz MS, Akyurek N, Kara T, Ates F, Ozbakir B, Durmaz FG et al (2019) Quantitative assessment of thyroid gland vascularization with vascularization index using color superb microvascular imaging in pediatric patients with hashimoto thyroiditis. Ultrasound Q 35(3):281–289

Freeman S, Bertolotto M, Richenberg J, Belfield J, Dogra V, Yuang DY et al (2020) Ultrasound evaluation of varicoceles: guidelines and recommendations of the European Society of Urogenital Radiology Scrotal and Penile Imaging Working Group (ESUR-SPIWG) for detection, classification, and grading. Eur Radiol 30:11–25

Stassen CM, Weil EH, Janevski BK (1989) Left renal vein compression syndrome ("nutcracker phenomenon"). RoFo 150:708–710

Hannick JH, Blais AS, Kim JK, Traubici J, Shiff M, Book R et al (2019) Prevalence, Doppler Ultrasound Findings, and Clinical Implications of the Nutcracker Phenomenon in Pediatric Varicoceles. Urology 128:78–83

Reyes TDL, Locke J, Afshar K (2017) Varicoceles in the pediatric population: Diagnosis, treatment, and outcomes. Rev Can Urol Assoc J 11(1–2):34–39

Belay RE, Huang GO, Chie Shen JK, Kun Ko EY (2016) Diagnosis of clinical and subclinical varicocele: how has it evolved? Asian J Androl 18:182–185

Feng Wang S, Jen Chiang I, On Lo W, Chiang Chen K, Sheng Hsieh T, Ming Lin C (2016) Intratesticular Arterial Pulsatility and Resistance Index in Males with Scrotal Varicocele. Fu-Jen J Med 14(1):1–7

Lung PF, Jaffer OS, Sellars ME, Sriprasad S, Kooiman GG, Sidhu PS (2012) Contrast-enhanced ultrasound in the evaluation of focal testicular complications secondary to epididymitis. AJR Am J Roentgenol 199:345–354

Dogra VS, Rubens DJ, Gottlieb RH, Bhatt S (2004) Torsion and beyond: new twists in spectral Doppler evaluation of the scrotum. J Ultrasound Med 23:1077–1085

Bonnet Q, Coppens L, Delvigne A, Waltregny D (2020) Favorable impact of left antegrade sclerotherapy of clinical left varicocele on spermogram. Prog Urol 30(5):281–287

World Health Organization (1985) Comparison among different methods for the diagnosis of varicocele. Fertil Steril 43(4):575–582

Sakamoto H, Ogawa Y (2009) Does a clinical varicocele influence the relationship between testicular volume by ultrasound and testicular function in patients with infertility? Fertil Steril 92(5):1632–1637

Pinggera GM, Mitterberger M, Bartsch G, Strasser H, Gradl J, Aigner F et al (2008) Assessment of the intratesticular resistive index by colour Doppler ultrasonography measurements as a predictor of spermatogenesis. BJU Int 101(6):722–726

Bertolotto M, Freeman S, Richenberg J et al (2020) Ultrasound evaluation of varicoceles: systematic literature review and rationale of the ESUR-SPIWG Guidelines and Recommendations. J Ultrasound 23:487–507

Fertility: assessment and treatment for people with fertility problems. National Institute for Health and Clinical Excellence: Guidance [CG11]. London (UK) 2004. www.nice.org.uk/guidance/cg11. Accessed April 2019.

Lotti F, Maggi M (2014) Ultrasound of the male genital tract in relation to male reproductive health. Hum Reprod Update 21(1):56–83

Sarteschi LM (1993) Lo studio del varicocele con eco-color-Doppler.G Ital Ultrasonologia 4:43e9.

Foroughi AB, Yazdanpanah E, Nazeri M, Eghbali T, Arasteh P (2019) Clinical grading and color Doppler ultrasonography-based grading of varicocele: how compatible are the two grading systems? World J Urol 37:1461–1465

Onozawa M, Endo F, Suetomi T, Takeshima H (2002) Clinical study of varicocele: statistical analysis and the results of long-term follow-up. Int J Urol 9(8):455–461
Ethics declarations
Conflict of interest
The authors declare no conflict of interest.
Ethical approval
The approval of the ethics committee was obtained before the initiation of the study. All the procedures performed in the studies on humans were in line with the ethical institutional and/or national research committee standards and with the 1964 Helsinki declaration and its amendments or comparable ethical standards.
Informed consent
Parents of all participants were previously informed about the study, and a written informed consent was obtained before the US examination.
Additional information
Publisher's Note
Springer Nature remains neutral with regard to jurisdictional claims in published maps and institutional affiliations.
About this article
Cite this article
Ates, F., Durmaz, M.S., Sara, H.I. et al. Comparison of testicular vascularity via superb microvascular imaging in varicocele patients with contralateral normal testis and healthy volunteers. J Ultrasound 25, 59–65 (2022). https://doi.org/10.1007/s40477-020-00553-9
Received:

Accepted:

Published:

Issue Date:

DOI: https://doi.org/10.1007/s40477-020-00553-9
Keywords