Abstract
Spontaneous rectus sheath hematoma (SRSH) is an uncommon cause of acute abdominal pain characterized by bleeding within the rectus sheath; it is a benign condition and, in most cases, it is treated conservatively. Bleeding of the abdominal wall is an unusual condition that is quite challenging to identify promptly and can be easily overlooked during a routine physical examination. In daily practice, anticoagulant therapy is one of the main risk factors for hemorrhagic events. In this respect, we report a rare case of spontaneous hematoma of the abdominal wall (diagnosed and monitored through an ultrasound examination) that arose after sneezing in a patient receiving anticoagulant treatment.
Access options
Buy single article
Instant access to the full article PDF.
USD 39.95
Price excludes VAT (USA)
Tax calculation will be finalised during checkout.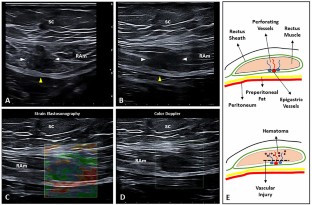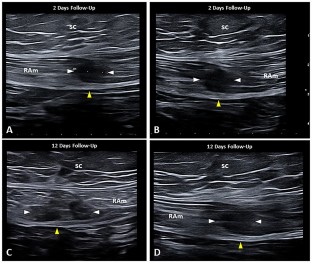 References
Klingler PJ, Wetscher G, Glaser K et al (1999) The use of ultrasound to differentiate rectus sheath hematoma from other acute abdominal disorders. Surg Endosc 13(11):1129–1134

Sanchis-Moysi J, Idoate F, Dorado C et al (2010) Large asymmetric hypertrophy of rectus abdominis muscle in professional tennis players. PLoS ONE 5:e15858

Ozaras R, Yilmaz MH, Tahan V et al (2003) Spontaneous hematoma of the rectus abdominis muscle: a rare cause of acute abdominal pain in the elderly. Acta Chir Belg 103:332–333

Lee JC, Mitchell AW, Healy JC (2012) Imaging of muscle injury in the elite athlete. Br J Radiol 85:1173–1185

Draghi F, Cocco G, Richelmi FM et al (2020) Abdominal wall sonography: a pictorial review. J Ultrasound https://doi.org/10.1007/s40477-020-00435-0(published online ahead of print, 2020 Mar 3)

Grevious MA, Cohen M, Shah SR et al (2006) Structural and functional anatomy of the abdominal wall. Clin Plast Surg 33:169–v

Parikh KR, Al-Hawary M, Millet JD et al (2017) Incisional hernia repair: what the radiologist needs to know. AJR Am J Roentgenol 209:1239–46

Hellinger A, Roth I, Biber FC, Frenken M et al (2016) Chirurgische anatomie der bauchdecke [Surgical anatomy of the abdominal wall] [published correction appears in Chirurg. 2017 Jun; 88(6):536]. Chirurg 87:724–30

Punekar IRA, Khouri JS, Catanzaro M et al (2018) Redefining the rectus sheath: implications for abdominal wall repair. Plast Reconstr Surg 141:473–9

Naraynsingh V, Maharaj R, Dan D et al (2012) Stronglinea alba: myth or reality? Med Hypotheses 78:291–2

Bianchi S, Martinoli C (2007) Ultrasound of the musculoskeletal system. Springer, Berlin, pp 198–332

Hatjipetrou A, Anyfantakis D, Kastanakis M (2015) Rectus sheath hematoma: a review in literature. Int J Surg 13:267–71

Setzen S, Platt M (2019) The dangers of sneezing: a review of injuries. Am J Rhinol Allergy 33:331–7

Hasegawa T, Katsuhira J, Matsudaira K et al (2014) Biomechanical analysis of low back load when sneezing. Gait Posture 40:670–5

Salemis NS (2009) Spontaneous rectus sheath hematoma presenting as acute surgical abdomen: an important differential in elderly coagulopathic patients. Geriatr Gerontol Int 9:200–2

Cherry WB, Mueller PS (2006) Rectus sheath hematoma: review of 126 cases at a single institution. Med (Baltimore) 85:105–10

Cocco G, Ricci V, Boccatonda A et al (2020) Focused ultrasound for the diagnosis of non-palpable endometriotic lesions of the abdominal wall: a not-uncommon surgical complication. J Ultrasound https://doi.org/10.1007/s40477-019-00425-x

Ruff AN, Cornelson SM, Panter AS et al (2019) Rectus abdominis muscle tear diagnosed with sonography and its conservative management. J Ultrasound https://doi.org/10.1007/s40477-019-00416-y(published online ahead of print, 2019 Nov 12)

Draghi F, Zacchino M, Canepari M et al (2013) Muscle injuries: ultrasound evaluation in the acute phase. J Ultrasound 16:209–14

Lehto M, Alanen A (1987) Healing of a muscle trauma: correlation of sonographic and histological findings in an experimental study in rats. J Ultrasound Med 6:425–9

Lee JC, Healy JC (2004) Sonography of lower limb muscle injury. AJR Am J Roentgenol 182:341–51

Pieri S, Agresti P, Buquicchio GL et al (2015) Endovascular management of the rectus muscle hematoma. Radiol Med 120:951–8

Stensby JD, Baker JC, Fox MG (2016) Athletic injuries of the lateral abdominal wall: review of anatomy and MR imaging appearance. Skeletal Radiol 45:155–62

Karapolat B, Tasdelen HA, Korkmaz HAA (2019) Conservative treatment of spontaneous rectus sheath hematomas: single center experience and literature review. Emerg Med Int 2019:2406873

Dhaliwal JK, Garmel GM (2012) Image diagnosis: abdominal wall hematoma. Perm J 16:58–59
Ethics declarations
Conflict of interest
The authors declare that they have no conflict of interest.
Ethical approval
All procedures performed in studies involving human participants were in accordance with the ethical standards of the institutional and/or national research committee and with the 1964 Helsinki Declaration and its later amendments or comparable ethical standards.
Human or animal participants
This article does not contain any studies with human participants or animals performed by any of the authors.
Informed consent
Informed consent was obtained from all individual participants included in the study.
Additional information
Publisher's Note
Springer Nature remains neutral with regard to jurisdictional claims in published maps and institutional affiliations.
About this article
Cite this article
Cocco, G., Ricci, V., Boccatonda, A. et al. Sonographic demonstration of a spontaneous rectus sheath hematoma following a sneeze: a case report and review of the literature. J Ultrasound 24, 125–130 (2021). https://doi.org/10.1007/s40477-020-00493-4
Received:

Accepted:

Published:

Issue Date:

DOI: https://doi.org/10.1007/s40477-020-00493-4
Keywords