Abstract
Purpose
This is a rare case of a post-traumatic rectus abdominis muscle tear in an adolescent female diagnosed by ultrasonography (US). Conservative management is also described.
Methods
A 14-year-old female presented to a chiropractic clinic with extreme pain and tenderness in the right lower quadrant (RLQ) after post-plyometric power kneel box jumps. Movement aggravated her pain and she demonstrated active abdominal guarding with RLQ palpation. Ultrasonography revealed a subacute Grade 2 right rectus abdominis muscle tear, without evidence of hyperemia or a hematoma. Following the diagnosis of a right rectus abdominis muscle tear, she was treated with spinal manipulation and a course of musculoskeletal rehabilitation directed at truncal stabilization.
Results
After treatment, the patient was able to return to play 5 week post-injury without any pain or discomfort. A follow-up US at 3 months provided evidence of muscle healing without complications.
Conclusion
This case demonstrates the diagnosis of a rare rectus abdominis muscle tear managed conservatively. To our knowledge, less than a dozen cases are reported using US in the evaluation and diagnosis of a rectus abdominis tear.
Access options
Buy single article
Instant access to the full article PDF.
US$ 39.95
Tax calculation will be finalised during checkout.
Subscribe to journal
Immediate online access to all issues from 2019. Subscription will auto renew annually.
US$ 79
Tax calculation will be finalised during checkout.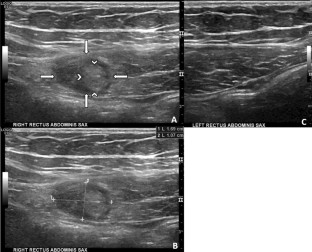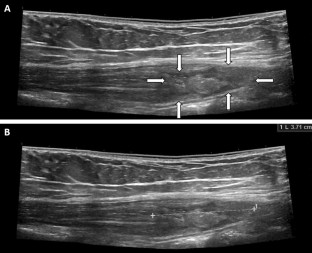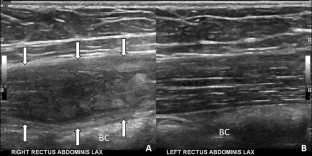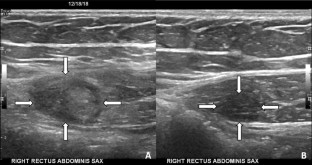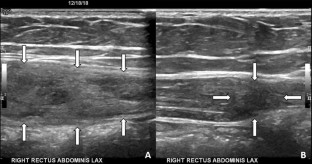 References
1.

Megliola A, Eutropi F, Scorzelli A et al (2006) Ultrasound and magnetic resonance imaging in sports-related muscle injuries. Radiol Med 111(6):836–845

2.

Peetrons P (2002) Ultrasound of muscles. Eur Radiol 12(1):35–43

3.

Guermazi A, Roemer FW, Robinson P, Tol JL, Regatte RR, Crema MD (2017) Imaging of muscle injuries in sports medicine: sports imaging series. Radiology 285(3):1063

4.

Grassi A, Quaglia A, Canata GL, Zaffagnini S (2016) An update on the grading of muscle injuries: a narrative review from clinical to comprehensive systems. Joints 4(1):39–46

5.

Jarvinen TA, Jarvinen TL, Kaariainen M, Kalimo H, Jarvinen M (2005) Muscle injuries: biology and treatment. Am J Sports Med 33(5):745–764

6.

Minardi J, Shaver E, Monseau A, Pratt A, Layman SM (2015) Right lower quadrant pain in a young female: ultrasound diagnosis of rectus abdominis tear. J Emerg Med 49(5):623–626

7.

Connell D, Ali K, Javid M, Bell P, Batt M, Kemp S (2006) Sonography and MRI of rectus abdominis muscle strain in elite tennis players. AJR Am J Roentgenol 187(6):1457–1461

8.

Forney MC, Delzell PB (2018) Musculoskeletal ultrasonography basics. Cleve Clin J Med 85(4):283–300

9.

Hashimoto BE, Kramer DJ, Wiitala L (1999) Applications of musculoskeletal sonography. J Clin Ultrasound 27(6):293–318

10.

Pillen S, Boon A, Van Alfen N (2016) Muscle ultrasound. Handb Clin Neurol 136:843–853

11.

Chan O, Del Buono A, Best TM, Maffulli N (2012) Acute muscle strain injuries: a proposed new classification system. Knee Surg Sports Traumatol Arthrosc 20(11):2356–2362

12.

Draghi F, Zacchino M, Canepari M, Nucci P, Alessandrino F (2013) Muscle injuries: ultrasound evaluation in the acute phase. J Ultrasound 16(4):209–214

13.

Jarvinen TA, Jarvinen TL, Kaariainen M et al (2007) Muscle injuries: optimising recovery. Best Pract Res Clin Rheumatol 21(2):317–331

14.

Maffulli N, Del Buono A, Oliva F et al (2015) muscle injuries: a brief guide to classification and management. Transl Med UniSa 12:14–18

15.

Lacroix VJ (2000) A complete approach to groin pain. Phys Sportsmed 28(1):66–86

16.

Tanizaki R, Takemura Y (2017) Anterior cutaneous nerve entrapment syndrome with pain present only during Carnett's sign testing: a case report. BMC Res Notes 10(1):503

17.

Lee JC, Healy J (2004) Sonography of lower limb muscle injury. AJR Am J Roentgenol 182(2):341–351

18.

Jacobson JA, Khoury V, Brandon CJ (2015) Ultrasound of the groin: techniques, pathology, and pitfalls. AJR Am J Roentgenol 205(3):513–523

19.

Arend CF (2013) Static and dynamic sonography for diagnosis of abdominal wall hernias. J Ultrasound Med 32(7):1251–1259

20.

Kumbhare D, Shaw S, Ahmed S, Noseworthy MD (2018) Quantitative ultrasound of trapezius muscle involvement in myofascial pain: comparison of clinical and healthy population using texture analysis. J Ultrasound. https://doi.org/10.1007/s40477-018-0330-5

21.

Barbuto L, Di Serafino M, Della Vecchia N et al (2018) Pediatric musculoskeletal ultrasound: a pictorial essay. J Ultrasound 22(4):491–502

22.

Takebayashi S, Takasawa H, Banzai Y et al (1995) Sonographic findings in muscle strain injury: clinical and MR imaging correlation. J Ultrasound Med 14(12):899–905

23.

Cocco G, Ricci V, Boccatonda A, Iannetti G, Schiavone C (2018) Migration of calcium deposit over the biceps brachii muscle, a rare complication of calcific tendinopathy: ultrasound image and treatment. J Ultrasound 21(4):351–354

24.

Souza J, Gottfried C (2013) Muscle injury: review of experimental models. J Electromyogr Kinesiol 23(6):1253–1260

25.

Frank C, Kobesova A, Kolar P (2013) Dynamic neuromuscular stabilization and sports rehabilitation. Int J Sports Phys Ther. 8(1):62–73

26.

Baoge L, Van Den Steen E, Rimbaut S et al (2012) Treatment of skeletal muscle injury: a review. ISRN Orthop 2012:689012
Ethics declarations
Conflict of interest
The authors declare that they have no conflict of interest.
Ethical approval
All procedures performed in studies involving human participants were in accordance with the ethical standards of the institutional and/or national research committee and with the 1964 Helsinki Declaration and its later amendments or comparable ethical standards. This article does not contain any studies with animals performed by any of the authors.
Informed consent
Informed consent was obtained from all individual participants included in the study.
Additional information
Publisher's Note
Springer Nature remains neutral with regard to jurisdictional claims in published maps and institutional affiliations.
About this article
Cite this article
Ruff, A.N., Cornelson, S.M., Panter, A.S. et al. Rectus abdominis muscle tear diagnosed with sonography and its conservative management. J Ultrasound 23, 401–406 (2020). https://doi.org/10.1007/s40477-019-00416-y
Received:

Accepted:

Published:

Issue Date:
Keywords
Rectus abdominis tear

Ultrasonography

Spinal manipulation

Muscle tear

Rehabilitation