Abstract
Discrimination between plantar fasciitis and partial tears of the plantar fascia can be difficult on ultrasound given laxity of the plantar fascia in the region of its calcaneal insertion and anisotropy. Dynamic assessment with great toe dorsiflexion can improve visualisation of the proximal portion of the plantar fascia on ultrasound, by straightening the plantar fascia due to the windlass mechanism. This article describes the technique and its anatomical basis.
Access options
Buy single article
Instant access to the full article PDF.
US$ 39.95
Tax calculation will be finalised during checkout.
Subscribe to journal
Immediate online access to all issues from 2019. Subscription will auto renew annually.
US$ 79
Tax calculation will be finalised during checkout.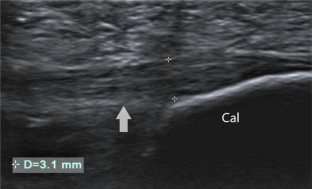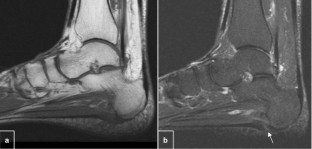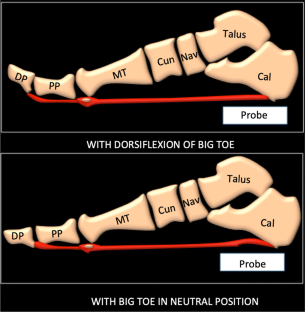 References
1.

Theodorou DJ, Theodorou SJ, Kakitsubata Y, Lektrakul N, Gold GE, Roger B, Resnick D (2000) Plantar fasciitis and fascial rupture: MR imaging findings in 26 patients supplemented with anatomic data in cadavers. Radiographics 20(suppl 1):S181–S197

2.

Jeswani T, Morlese J, McNally EG (2009) Getting to the heel of the problem: plantar fascia lesions. Clin Radiol 64(9):931

3.

Hoffman D, Bianchi S (2013) Sonographic evaluation of plantar hindfoot and midfoot pain. J Ultrasound Med 32(7):1271–1284

4.

Fessell DP, Jacobson JA (2008) Ultrasound of the hindfoot and midfoot. Radiol Clin N Am 46(6):1027–1043

5.

Cardinal E, Chhem RK, Beauregard CG, Aubin B, Pelletier M (1996) Plantar fasciitis: sonographic evaluation. Radiology 201(1):257–259

6.

McMillan AM, Landorf KB, Barrett JT, Menz HB, Bird AR (2009) Diagnostic imaging for chronic plantar heel pain: a systematic review and meta-analysis. J Foot Ankle Res 2(1):32

7.

Wu J, Zhang YZ, Gao Y, Luo TY (2019) Assessment the reliability of ultrasonography in the imaging of the plantar fascia: a comparative study. BMC Med Imaging 19(1):1–7

8.

Fantino O (2014) Role of ultrasound in posteromedial tarsal tunnel syndrome: 81 cases. J Ultrasound 17(2):99–112

9.

Wu WT, Chang KV, Özçakar L (2019) Ultrasound facilitates the diagnosis of tarsal tunnel syndrome: intraneural ganglion cyst of the tibial nerve. J Ultrasound 22(1):95–98

10.

Stecco C, Corradin M, Macchi V, Morra A, Porzionato A, Biz C, De Caro R (2013) Plantar fascia anatomy and its relationship with Achilles tendon and paratenon. J Anat 223(6):665–676

11.

Do Carmo CC, de Almeida Melão LI, de Lemos Weber MF, Trudell D, Resnick D (2008) Anatomical features of plantar aponeurosis: cadaveric study using ultrasonography and magnetic resonance imaging. Skelet Radiol 37(10):929–935

12.

Sellman JR (1994) Plantar fascia rupture associated with corticosteroid injection. Foot Ankle Int 15(7):376–381

13.

Kim C, Cashdollar MR, Mendicino RW, Catanzariti AR, Fuge L (2010) Incidence of plantar fascia ruptures following corticosteroid injection. Foot Ankle Special 3(6):335–337

14.

Lee HS, Choi YR, Kim SW, Lee JY, Seo JH, Jeong JJ (2014) Risk factors affecting chronic rupture of the plantar fascia. Foot Ankle Int 35(3):258–263

15.

Hicks JH (1954) The mechanics of the foot: II. The plantar aponeurosis and the arch. J Anat 88(Pt 1):25

16.

Fuller EA (2000) The windlass mechanism of the foot. A mechanical model to explain pathology. J Am Podiatr Med Assoc 90(1):35–46

17.

Mohseni-Bandpei MA, Nakhaee M, Mousavi ME, Shakourirad A, Safari MR, Kashani RV (2014) Application of ultrasound in the assessment of plantar fascia in patients with plantar fasciitis: a systematic review. Ultrasound Med Biol 40(8):1737–1754

18.

Ahn JH, Lee CW, Park C, Kim YC (2016) Ultrasonographic examination of plantar fasciitis: a comparison of patient positions during examination. J Foot Ankle Res 9(1):38

19.

Granado MJ, Lohman EB, Gordon KE, Daher NS (2018) Metatarsophalangeal joint extension changes ultrasound measurements for plantar fascia thickness. J Foot Ankle Res 11(1):20

20.

Krishnan A, Sharma Y, Singh S (2012) Evaluation of therapeutic effects of extracorporeal shock wave therapy in resistant plantar fasciitis patients in a tertiary care setting. Med J Armed Forces India 68(3):236

21.

Roerdink RL, Dietvorst M, van der Zwaard B, Van der Worp H, Zwerver J (2017) Complications of extracorporeal shockwave therapy in plantar fasciitis: systematic review. Int J Surg 1(46):133–145
Ethics declarations
Conflict of interest
The authors declare that they have no conflict of interest.
Ethical approval
All procedures performed in studies involving human participants were in accordance with the ethical standards of the institutional research committee and with the 1964 Helsinki declaration and its later amendments or comparable ethical standards.
Informed consent
Informed consent was obtained from all individual participants included in the study.
Additional information
Publisher's Note
Springer Nature remains neutral with regard to jurisdictional claims in published maps and institutional affiliations.
About this article
Cite this article
Kho, J.S.B., Almeer, G., McGarry, S. et al. Technical report: dynamic assessment of plantar fasciitis and plantar fascia tears utilising dorsiflexion of the great toe. J Ultrasound 23, 397–400 (2020). https://doi.org/10.1007/s40477-019-00411-3
Received:

Accepted:

Published:

Issue Date:
Keywords
Ultrasound

Plantar fascia

Plantar fasciitis

Plantar fascia rupture

Dynamic ultrasound

Dorsiflexion