Abstract
Purpose
To obtain a complete response with thermal ablation, the margin and entire tumor volume must be treated. Real-time ultrasound visualization is limited during ablation due to gas production. This study assesses the feasibility of fusing volumetric contrast-enhanced ultrasound (CEUS), obtained immediately prior to microwave ablation, with real-time CEUS during and following ablation in a machine-perfused porcine liver.
Methods
Ten, 3–4 cm microwave ablations were performed in five explanted perfused livers. Prior to ablation, microbubbles were injected into the vasculature while an ultrasound sweep across the liver captured a volumetric image during maximum enhancement. This volumetric image was then fused to overlay the real-time ultrasound imaging. Since the perfused livers did not have tumors, a spherical marker circumscribing a target volume was placed on the images. Approximatively, 75% of the total intended circumscribed spherical volume was ablated. Following ablation, a second bolus injection of ultrasound contrast was administered demonstrating continued enhancement of the intentionally non-ablated 25%. A second volumetric image of the post-ablation CEUS was then fused to overlay the real-time ultrasound images for guidance during ablation of the remaining enhancing volume.
Results
Technical success was achieved in 100% of the cases. The pre- and then the post-ablation CEUS volume was fused with real-time imaging during antenna placement for initial and subsequent ablation.
Conclusion
CEUS–CEUS fusion during thermal ablation is feasible and greatly improves the workflow. The approach may augment the use of dynamic CEUS for guidance, improving antenna placement, and aiding in the identification and ablation of initial and residual enhancing tissue.
Access options
Buy single article
Instant access to the full article PDF.
US$ 39.95
Tax calculation will be finalised during checkout.
Subscribe to journal
Immediate online access to all issues from 2019. Subscription will auto renew annually.
US$ 79
Tax calculation will be finalised during checkout.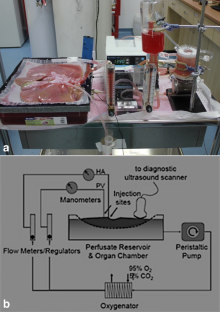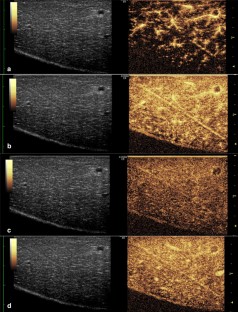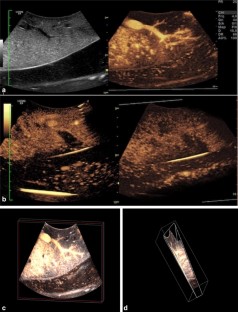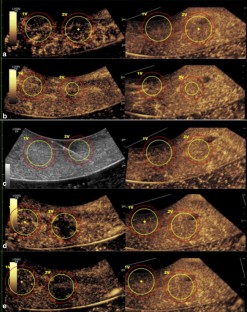 References
1.

Bruix J, Sherman M (2011) American Association for the Study of Liver Diseases. Management of hepatocellular carcinoma: an update. Hepatology 53:1020–1022

2.

Gillams A, Goldberg N, Ahmed M, Bale R, Breen D, Callstrom M et al (2015) Thermal ablation of colorectal liver metastases: a position paper by an international panel of ablation experts, The Interventional Oncology Sans Frontières meeting 2013. Eur Radiol 25(12):3438–3454

3.

Lencioni R, Crocetti L (2012) Local-regional treatment of hepatocellular carcinoma. Radiology 262(1):43–58

4.

Forner A, Llovet JM, Bruix J (2012) Hepatocellular carcinoma. Lancet 379:1245–1255

5.

Gervais DA, Goldberg SN, Brown DB, Soulen MC, Millward SF, Rajan DK (2009) Society of Interventional Radiology position statement on percutaneous radiofrequency ablation for the treatment of liver tumors. J Vasc Interv Radiol 20(Suppl. 7):S342–S347

6.

Llovet JM, Di Bisceglie AM, Bruix J, Kramer BS, Lencioni R, Zhu AX et al (2008) Design and endpoints of clinical trials in hepatocellular carcinoma. J Natl Cancer Inst 100(10):698–711

7.

Yu J, Liang P, Yu XL, Cheng ZG, Han ZY, Mu MJ et al (2015) Local tumour progression after ultrasound-guided microwave ablation of liver malignancies: risk factors analysis of 2529 tumours. Eur Radiol 25(4):1119–1126

8.

Solbiati L, Ahmed M, Cova L, Ierace T, Brioschi M, Goldberg SN (2012) Small liver colorectal metastases treated with percutaneous radiofrequency ablation: local response rate and long-term survival with up to 10-year follow-up. Radiology 265(3):958–968

9.

Hammill CW, Billingsley KG, Cassera MA, Wolf RF, Ujiki MB, Hansen PD (2011) Outcome after laparoscopic radiofrequency ablation of technically resectable colorectal liver metastases. Ann Surg Oncol 18(7):1947–1954

10.

Li K, Su Z, Xu E, Huang Q, Zeng Q, Zheng R (2017) Evaluation of the ablation margin of hepatocellular carcinoma using CEUS–CT/MR image fusion in a phantom model and in patients. BMC Cancer 19(17(1)):61

11.

Lee HY, Rhim H, Lee MW, Kim YS, Choi D, Park MJ et al (2013) Early diffuse recurrence of hepatocellular carcinoma after percutaneous radiofrequency ablation: analysis of risk factors. Eur Radiol 23(1):190–197

12.

Wang X, Sofocleous CT, Erinjeri JP, Petre EN, Gonen M, Do KG et al (2013) Margin size is an independent predictor of local tumor progression after ablation of colon cancer liver metastases. Cardiovasc Intervent Radiol 36(1):166–175

13.

Dodd GD 3rd, Frank MS, Aribandi M, Chopra S, Chintapalli KN (2001) Radiofrequency thermal ablation: computer analysis of the size of the thermal injury created by overlapping ablations. Am J Roentgenol 177:777–782

14.

Choi D, Lim HK, Lee WJ, Kim SH et al (2003) Early assessment of the therapeutic response to radio frequency ablation for hepatocellular carcinoma: utility of gray scale harmonic ultrasonography with a microbubble contrast agent. J Ultrasound Med 22:1163–1172

15.

Minami Y, Kudo M, Chung H, Kawasaki T, Yagyu Y, Shimono T et al (2007) Contrast harmonic sonography-guided radiofrequency ablation therapy versus B-mode sonography in hepatocellular carcinoma: prospective randomized controlled trial. Am J Roentgenol 188:489–494

16.

Claudon M, Dietrich CF, Choi BI, Cosgrove DO, Kudo M, Nolsoe CP et al (2013) Guidelines and good clinical practice recommendations for contrast enhanced ultrasound (CEUS) in the liver—update 2012: a WFUMB-EFSUMB initiative in cooperation with representatives of AFSUMB, AIUM, ASUM, FLAUS and ICUS. Ultraschall Med 34(1):11–29

17.

Mauri G, Porazzi E, Cova L, Restelli U, Tondolo T, Bonfanti M et al (2014) Intraprocedural contrast-enhanced ultrasound (CEUS) in liver percutaneous radiofrequency ablation: clinical impact and health technology assessment. Insights Imaging 5(2):209–216

18.

Mauri G, Cova L, De Beni S, Ierace T, Tondolo T, Cerri A et al (2015) Real-time US–CT/MRI image fusion for guidance of thermal ablation of liver tumors undetectable with US: results in 295 cases. Cardiovasc Intervent Radiol 38(1):143–151

19.

Mauri G, Gennaro N, De Beni S, Ierace T, Goldberg SN, Rodari M et al (2019) Real-time US-(18)FDG–PET/CT image fusion for guidance of thermal ablation of (18)FDG–PET-positive liver metastases: the added value of contrast enhancement. Cardiovasc Intervent Radiol 42(1):60–68

20.

Mauri G, De Beni S, Forzoni L, D'Onofrio S, Kolev V, Laganà MM et al (2014) Virtual navigator automatic registration technology in abdominal application. Conf Proc IEEE Eng Med Biol Soc 2014:5570–5574

21.

Turtulici G, Orlandi D, Corazza A, Sartoris R, Derchi LE, Silvestri E et al (2014) Percutaneous radiofrequency ablation of benign thyroid nodules assisted by a virtual needle tracking system. Ultrasound Med Biol 40(7):1447–1452

22.

Minami Y, Minami T, Chishina H et al (2016) US–US fusion imaging in radiofrequency ablation for liver metastases. Dig Dis 34(6):687–691

23.

Toshikuni N, Matsue Y, Ozaki K et al (2017) An image fusion system for estimating the therapeutic effects of radiofrequency ablation on hepatocellular carcinoma. Radiol Oncol 51(3):263–269

24.

Minami Y, Minami T, Hagiwara S et al (2018) Ultrasound–ultrasound image overlay fusion improves real-time control of radiofrequency ablation margin in the treatment of hepatocellular carcinoma. Eur Radiol 28(5):1986–1993

25.

Chang S, Lanctot AC, McCarter MD, Roberts KM, Glueck DH, Dodd GD III (2017) The prediction of radiofrequency ablation zone volume using vascular indices of 3-dimensional volumetric colour Doppler ultrasound in an in vitro blood-perfused bovine liver model. Br J Radiol 90(1070):20160661

26.

Izamis ML, Efstathiades A, Keravnou C, Leen EL, Averkiou M (2014) Dynamic contrast-enhanced ultrasound of slaughterhouse porcine livers in machine perfusion. Ultrasound Med Biol 40(9):2217–2230

27.

Averkiou MA, Keravnou C, Izamis ML, Leen E (2018) Evaluation of perfusion quantification methods with ultrasound contrast agents in a machine-perfused pig liver. Ultraschall Med 39(1):69–79

28.

Zaidi N, Okoh A, Yigitbas H, Yazici P, Ali N, Berber E (2016) Laparoscopic microwave thermosphere ablation of malignant liver tumors: an analysis of 53 cases. J Surg Oncol 113(2):130–134

29.

Kim TK, Khalili K, Jang HJ (2015) Local ablation therapy with contrast-enhanced ultrasonography for hepatocellular carcinoma: a practical review. Ultrasonography 34(4):235–245

30.

Leen E, Kumar S, Khan SA, Low G, Ong KO, Tait P (2009) Contrast-enhanced 3D ultrasound in a radiofrequency ablation of liver tumors. World J Gastroenterol 15(3):289–299

31.

Kim EJ, Kim YS, Shin SK, Kwon OS, Choi DJ et al (2017) Contrast-enhanced ultrasound-guided radiofrequency ablation in inconspicuous hepatocellular carcinoma on B-mode ultrasound. Turk J Gastroenterol 28(6):446–452

32.

Shin SK, Kim YS, Choi SJ, Shim YS, Jung DH, Kwon OS et al (2015) Contrast-enhanced ultrasound for the differentiation of small atypical hepatocellular carcinoma from dysplastic nodules in cirrhosis. Dig Liv Dis 47(9):775–782

33.

Abi-Jaoudeh N, Kobeiter H, Xu S, Wood BJ (2013) Image fusion during vascular and nonvascular image-guided procedures. Tech Vasc Interv Radiol 16(3):168–176

34.

Lee MW (2014) Fusion imaging of real-time utrasonography with CT or MRI for hepatic intervention. Ultrasonography 33(4):227–239

35.

Oliveira FP, Tavares JM (2014) Medical image registration: a review. Comput Methods Biomech Biomed Eng 17(2):73–93

36.

Lencioni R, Llovet JM (2010) Modified RECIST (mRECIST) assessment for hepatocellular carcinoma. Semin Liv Dis 30:52–60

37.

Shiozawa K, Watanabe M, Takayama R, Takahashi M, Wakui N, Ida K et al (2010) Evaluation of local recurrence after treatment for hepatocellular carcinoma by contrast-enhanced ultrasonography using Sonazoid: comparison with dynamic computed tomography. J Clin Ultrasound 38(4):182–189

38.

Kisaka Y, Hirooka M, Kumagi T, Uehara T, Hiasa Y, Kumano S et al (2006) Usefulness of contrast-enhanced ultrasonography with abdominal virtual ultrasonography in assessing therapeutic response in hepatocellular carcinoma treated with radiofrequency ablation. Liv Int 26(10):1241–1247
Funding
This study was funded by an investigator-initiated grant funded by General Electric. The funding bodies had no involvement in the design of the study and collection, analysis, and interpretation of data or in writing the manuscript.
Ethics declarations
Conflict of interest
The Author A has received a research grant from General Electric. General Electric lent the ultrasound system for use during this study. Medtronic/Covidien lent the microwave ablation system for use in this study. Author B is a co-investigator on the investigator-initiated grant funded by General Electric, as mentioned.
Ethical approval
This article does not contain any studies with human participants or animals performed by any of the authors.
Informed consent
For this type of study, formal consent is not required. Consent for publication was obtained for every individual person's data included in the study.
Additional information
Publisher's Note
Springer Nature remains neutral with regard to jurisdictional claims in published maps and institutional affiliations.
About this article
Cite this article
Monsky, W., Keravnou, C. & Averkiou, M. Contrast-enhanced ultrasound to ultrasound fusion during microwave ablation: feasibility study in a perfused porcine liver model. J Ultrasound 22, 323–335 (2019). https://doi.org/10.1007/s40477-019-00366-5
Received:

Accepted:

Published:

Issue Date:
Keywords
Contrast-enhanced ultrasound

Image fusion

Microwave ablation