Abstract
Acute swelling and discoloration of scrotum in new born can have many localized causes like testicular torsion, inguinal hernia, scrotal or testicular edema, hydrocele, or even remote causes like adrenal hemorrhage. We report a neonate of adrenal hemorrhage presenting clinically as acute scrotum misguiding the clinician to rule out a local scrotal pathology. As the local clinical examination is not reliable in a newborn, it definitely requires an imaging evaluation to establish the diagnosis. This case report emphasizes being aware of the clinical association of acute adrenal hemorrhage and an acute scrotum and the role of ultrasonography in the evaluation of the various differential diagnoses leading to an acute scrotum. An optimum sonographic examination helps in suspecting an abdominal pathology as a cause of acute scrotum and in establishing the specific diagnosis of adrenal hemorrhage to avoid an unnecessary surgical exploration.
Sommario
La tumefazione acuta con pallore dello scroto nel neonato può avere molteplici cause come la torsione testicolare, l'ernia inguinale, l'edema scrotale o testicolare, l'idrocele e anche cause remote come l'emorragia surrenalica. Riportiamo il caso di emorragia surrenalica di un neonato che si presenta clinicamente come scroto acuto, portando il medico al dubbio di una patologia scrotale locale. Poiché l'esame clinico nel neonato è difficile, si richiede necessariamente una valutazione di imaging per formulare la diagnosi. Il caso riportato vuole sottolineare la possibilità di una associazione di emorragia surrenalica acuta con scroto acuto, nonché il ruolo dell'ecografia nella valutazione delle varie diagnosi differenziali dello scroto acuto. Un esame ecografico ottimale aiuta nell'identificare il sospetto di patologia addominale come causa di scroto acuto e a stabilire la diagnosi specifica dell'emorragia surrenalica al fine di evitare un'inutile esplorazione chirurgica.
This is a preview of subscription content, log in to check access.
Access options
Buy single article
Instant access to the full article PDF.
US$ 39.95
Price includes VAT for USA
Subscribe to journal
Immediate online access to all issues from 2019. Subscription will auto renew annually.
US$ 99
This is the net price. Taxes to be calculated in checkout.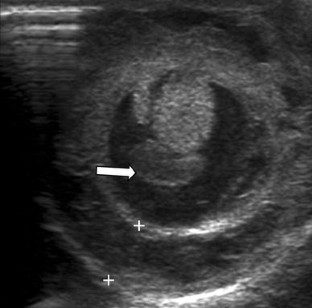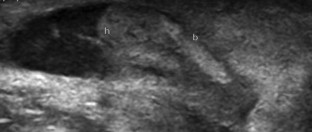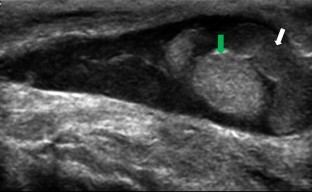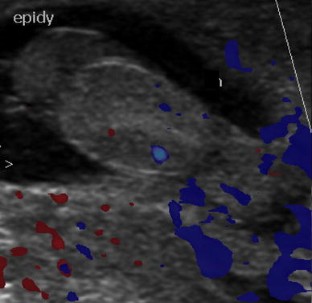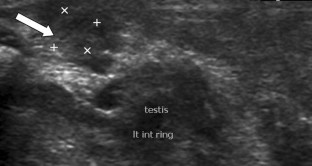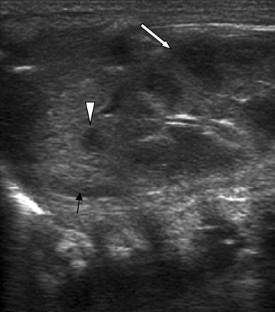 References
1.

Kreeftenberg HG Jr, Zeebregts CJ, Tamminga RY, de Langen ZJ, Zijlstra RJ (1999) Scrotal hematoma, anemia and jaundice as manifestations of adrenal neuroblastoma in a newborn. J Pediatr Surg 34:1856–1857

2.

Sencan A, Karaca I, Bostanci Sencan A, Mir E (2000) Inguinoscrotal hematocele of the newborn. Turk J Pediatr 42:84–86

3.

Adorisio O, Mattei R, Ciardini E, Centonze N, Noccioli B (2007) Neonatal adrenal hemorrhage mimicking an acute scrotum. J Perinatol 27:130–132

4.

Noviello C, Cobellis G, Muzzi G, Pieroni G, Amici G, Martino A (2007) A Neonatal adrenal hemorrhage presenting as contralateral scrotal hematoma. Minerva Pediatr 59:157–159

5.

Velaphi SC, Perlman JM (2001) Neonatal adrenal hemorrhage: clinical and abdominal sonographic findings. Clin Pediatr (Phila) 40:545–548

6.

Mangurten HH (2006) Birth injuries. In: Martin RJ, Fanaroff AA, Walsh MC (eds) Fanaroff and Martin's neonatal perinatal medicine-diseases of the fetus and newborn, 8th edn. Mosby Elsevier, Philadelphia, pp 529–559

7.

Avolio L, Fusillo M, Ferrari G, Chiara A, Bragheri R (2002) Neonatal adrenal hemorrhage manifesting as acute scrotum: timely diagnosis prevents unnecessary surgery. Urology 59:601viii–601x

8.

Tulassay T, Seri I, Evans J (1998) Renal vascular disease in the newborn. In: Taeugah HW, Ballard RA, Avery ME (eds) Schaffer's and Avery's Diseases of Newborn, 7th edn. WB Saunders Company, Philadelphia, pp 1177–1187

9.

Miele V, Galluzzo M, Patti G, Mazzoni G, Calisti A, Valenti M (1997) Scrotal hematoma due to neonatal adrenal hemorrhage: the value of ultrasonography in avoiding unnecessary surgery. Pediatr Radiol 27:672–674

10.

Duman N, Oren H, Gülcan H, Kumral A, Olguner M, Ozkan H (2004) Scrotal hematoma due to neonatal adrenal hemorrhage. Pediatr Int 46:360–362

11.

Rumińska M, Welc-Dobies J, Lange M, Maciejewska J, Pyrzak B, Brzewski M (2008) Adrenal hemorrhage in neonates: risk factors and diagnostic and clinical procedure. Med Wieku Rozwoj 12:457–462

12.

Chang TA, Chen CH, Liao MF, Chen CH (1998) Asymptomatic neonatal adrenal hemorrhage. Clin Neonatal 5:23–26

13.

Black J, Williams DI (1973) Natural history of adrenal hemorrhage in the newborn. Arch Dis Child 48:183–190

14.

Wang CH, Chen SJ, Yang LY, Tang RB (2008) Neonatal adrenal hemorrhage presenting as a multiloculated cystic mass. J Chin Med Assoc 71:481–484

15.

Qureshi UA, Ahmad N, Rasool A, Choh S (2009) Neonatal adrenal hemorrhage presenting as late onset neonatal jaundice. J Indian Assoc Pediatric Surg 14(4):221–223

16.

Simon DR, Palese MA (2009) Clinical update on the management of adrenal hemorrhage. Curr Urol Rep 10:78–83

17.

Jordan E, Poder L, Courtier J, Sai V, Jung A, Coakley FV (2012) Imaging of nontraumatic adrenal hemorrhage. AJR Am J Roentgenol 199(1):91–98

18.

Tuchman M, Ramnaraine ML, Woods WG, Krivit W (1987) Three years of experience with random urinary homovanillic and vanillylmandelic acid levels in the diagnosis of neuroblastoma. Pediatrics 79:203–205

19.

Huang CY, Lee YJ, Lee HC, Huang FY (2000) Picture of the month. Neonatal adrenal hemorrhage. Arch Pediatr Adolesc Med 154:417–418

20.

Francis XS, Mark FB (2007) Abnormalities of the testes and scrotum and their surgical management. In: Wein AJ, Kavoussi LR, Novick AC, Peters CA (eds) Campbell-Walsh urology 9, vol. 4. Elsevier, Philadelphia, pp 3789–3793

21.

O'Neill JMD, Hendry GMA, MacKinlay GA (2002) An unusual presentation of neonatal adrenal hemorrhage. Eur J Ultrasound 16:261–264

22.

Bergami G, Malena S, Di Mario M, Fariello G (1990) Sonographic follow-up of neonatal adrenal hemorrhage. Fourteen case reports. Radiol Med 79:474–478

23.

Putnam MH (1989) Neonatal adrenal hemorrhage presenting as a right scrotal mass. JAMA 261:2958

24.

Karpe B, Nybonde T (1989) Adrenal hemorrhage versus testicular torsion-a diagnostic dilemma in the neonate. Pediatr Surg Int 4:337–340

25.

Sufi PA (2007) A rare case of leaking abdominal aneurysm presenting as isolated right testicular pain. Can J Emerg Med 9:124–126
Ethics declarations
Conflict of interest
There is no conflict of interest (financial of non-financial) declared by any author/s.
Ethical approval
This case report complies with the ethical standards laid down in the Helsinki Declaration of 1975 and its late amendments. The confidentiality of the patient has been maintained. The manuscript has been read and approved by all the authors and all have significantly contributed towards the article.
Informed consent
The written informed consent had been obtained from the patient's parents for publication of the case details and the images as well.
About this article
Cite this article
Bhatt, S., Ahmad, M., Batra, P. et al. Neonatal adrenal hemorrhage presenting as "Acute Scrotum"-looking beyond the obvious: a sonographic insight. J Ultrasound 20, 253–259 (2017). https://doi.org/10.1007/s40477-017-0248-3
Received:

Accepted:

Published:

Issue Date:
Keywords
Adrenal hemorrhage

Ultrasonography

Acute scrotum