Abstract
The purpose of this case report is to describe the value of musculoskeletal ultrasound (US) in diagnosing both distal intersection syndrome (DIS) and rupture of the extensor pollicis longus (EPL) tendon in the same patient. A 38-year-old female presented for evaluation of a painful bump of unknown etiology on the dorsolateral aspect of her non-dominant wrist. US demonstrated tenosynovitis distal to Lister's tubercle of the EPL and extensor carpi radialis tendon sheaths, consistent with DIS. Immobilization therapy was employed, during which time the patient suffered rupture of the EPL tendon. Follow-up US examination confirmed this additional diagnosis. Characteristic US findings of DIS and EPL tendon rupture were observed. Surgical intervention was required and the patient recovered without complication. Although EPL rupture is relatively common in the literature, DIS is rare. This is the first known case of imaging-proven DIS progressing to EPL tendon rupture. This case underscores the value of US as a widely available, cost effective, and dynamic imaging modality for evaluation of wrist complaints.
Sommario
Lo scopo di questo caso clinico è quello di descrivere l'utilità dell'ecografia (US) muscolo-scheletrica nella diagnosi della sindrome da intersezione distale (DIS) e della rottura del tendine estensore lungo del pollice (EPL) in uno stesso paziente. Il caso riguarda una donna di 38 anni, valutatain merito ad una tumefazione dolente di eziologia sconosciuta sulla superficie dorsolaterale del polso non dominante. L'ecografia dimostrava una tenosinovite distale al tubercolo di Lister della EPL e delle guaine tendinee dell'estensore radiale del carpo, coerente con la diagnosi di DIS. Tale lesione è stata trattata con immobilizzazione dell'arto, durante il quale la paziente ha subito rottura del tendine EPL. L'esame ecografico di follow-up ha confermato questa ulteriore diagnosi. L'ecografia ha quindi evidenziato reperti caratteristici della DIS e di rottura del tendine EPL, sulla base dei quali la paziente è stata sottoposta ad intervento chirurgico che è stato effettuato senza complicazioni, permettendo il recupero funzionale dell'arto. Anche se la rottura del EPL è relativamente comune nella letteratura, la DIS è rara. Questo è il primo caso a noi noto di imagingche dimostra la DIS con progressione verso rottura del tendine del EPL. Questo caso sottolinea il valore dell'ecografia come modalità di diagnostica di imaging dinamico,ampiamente disponibile ed economica per valutare le lesioni del polso.
Access options
Buy single article
Instant access to the full article PDF.
USD 39.95
Price includes VAT (USA)
Tax calculation will be finalised during checkout.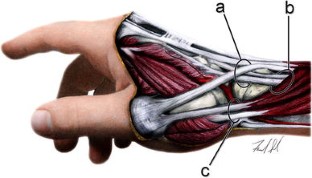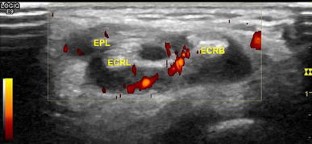 References
1.

Parellada AJ, Gopez AG, Morrison WB, Sweet S, Leinberry CF, Reiter SB, Kohn M (2007) Distal intersection tenosynovitis of the wrist: a lesser-known extensor tendinopathy with characteristic MR imaging features. Skelet Radiol 36(3):203–208. doi:10.1007/s00256-006-0238-6

2.

Draghi F, Bortolotto C, Draghi AG, Gregoli B (2015) Musculoskeletal sonography for evaluation of anatomic variations of extensor tendon synovial sheaths in the wrist. J Ultrasound Med 34(8):1445–1452. doi:10.7863/ultra.34.8.1445

3.

Wakefield RJ, Balint PV, Szkudlarek M, Filippucci E, Backhaus M, D'Agostino MA, Sanchez EN, Iagnocco A, Schmidt WA, Bruyn GA, Kane D, O'Connor PJ, Manger B, Joshua F, Koski J, Grassi W, Lassere MN, Swen N, Kainberger F, Klauser A, Ostergaard M, Brown AK, Machold KP, Conaghan PG, Group OSI (2005) Musculoskeletal ultrasound including definitions for ultrasonographic pathology. J Rheumatol 32(12):2485–2487

4.

Cvitanic OA, Henzie GM, Adham M (2007) Communicating foramen between the tendon sheaths of the extensor carpi radialis brevis and extensor pollicis longus muscles: imaging of cadavers and patients. AJR Am J Roentgenol 189(5):1190–1197. doi:10.2214/AJR.07.2281

5.

Engkvist O, Lundborg G (1979) Rupture of the extensor pollicis longus tendon after fracture of the lower end of the radius—a clinical and microangiographic study. Hand 11(1):76–86

6.

Draghi F, Bortolotto C (2014) Intersection syndrome: ultrasound imaging. Skelet Radiol 43(3):283–287. doi:10.1007/s00256-013-1786-1

7.

Huang HW, Strauch RJ (2000) Extensor pollicis longus tenosynovitis: a case report and review of the literature. J Hand Surg Am 25(3):577–579. doi:10.1053/jhsu.2000.5988

8.

Abe Y, Tsue K, Nagai E, Katsube K, Miyoshi T (2004) Extensor pollicis longus tenosynovitis mimicking de Quervain's disease because of its course through the first extensor compartment: a report of 2 cases. J Hand Surg Am 29(2):225–229. doi:10.1016/j.jhsa.2003.11.012

9.

De Maeseneer M, Marcelis S, Jager T, Girard C, Gest T, Jamadar D (2009) Spectrum of normal and pathologic findings in the region of the first extensor compartment of the wrist: sonographic findings and correlations with dissections. J Ultrasound Med 28(6):779–786

10.

Nishijo K, Kotani H, Miki T, Senzoku F, Ueo T (2000) Unusual course of the extensor pollicis longus tendon associated with tenosynovitis, presenting as de Quervain disease–a case report. Acta Orthop Scand 71(4):426–428. doi:10.1080/000164700317393484

11.

Santiago FR, Plazas PG, Fernandez JM (2008) Sonography findings in tears of the extensor pollicis longus tendon and correlation with CT, MRI and surgical findings. Eur J Radiol 66(1):112–116. doi:10.1016/j.ejrad.2007.05.007

12.

Alfredson H, Ohberg L, Forsgren S (2003) Is vasculo-neural ingrowth the cause of pain in chronic Achilles tendinosis? An investigation using ultrasonography and colour Doppler, immunohistochemistry, and diagnostic injections. Knee Surg Sports Traumatol Arthrosc 11(5):334–338. doi:10.1007/s00167-003-0391-6

13.

De Maeseneer M, Marcelis S, Osteaux M, Jager T, Machiels F, Van Roy P (2005) Sonography of a rupture of the tendon of the extensor pollicis longus muscle: initial clinical experience and correlation with findings at cadaveric dissection. AJR Am J Roentgenol 184(1):175–179. doi:10.2214/ajr.184.1.01840175

14.

Bonatz E, Kramer TD, Masear VR (1996) Rupture of the extensor pollicis longus tendon. Am J Orthop (Belle Mead NJ) 25(2):118–122

15.

de Lima JE, Kim HJ, Albertotti F, Resnick D (2004) Intersection syndrome: MR imaging with anatomic comparison of the distal forearm. Skelet Radiol 33(11):627–631. doi:10.1007/s00256-004-0832-4
Ethics declarations
Conflict of interest
The authors declare they have no conflicts of interest to disclose.
Ethical approval
All procedures performed in studies involving human participants were in accordance with the ethical standards of the institutional and/or national research committee and with the 1964 Helsinki Declaration and its later amendments or comparable ethical standards. This article does not contain any studies with animals performed by any of the authors.
Informed consent
Informed consent was obtained from all individual participants included in the study.
Electronic supplementary material
Below is the link to the electronic supplementary material.
Supplementary material 1 (WMV 1961 kb)
Supplementary material 2 (WMV 1835 kb)
About this article
Cite this article
Mattox, R., Battaglia, P.J., Scali, F. et al. Distal intersection syndrome progressing to extensor pollicis longus tendon rupture: a case report with sonographic findings. J Ultrasound 20, 237–241 (2017). https://doi.org/10.1007/s40477-016-0223-4
Received:

Accepted:

Published:

Issue Date:
Keywords
Ultrasonography

Wrist

Tendons

Tenosynovitis

Overuse syndrome

Intersection syndrome