Abstract
The following case study examines the muscle and fat thickness of the trunk in a 25-year-old, former collegiate gymnast. Previous studies have quantified total and regional skeletal muscle mass using magnetic resonance imaging and muscle volume and distribution using ultrasound. However, to the best of our knowledge, the distribution and symmetry of skeletal muscle and subcutaneous adipose tissue (AT) of the anterior and posterior trunk have never been investigated. Ultrasound was used to identify skeletal muscle and AT thickness of 143 data points on the anterior portion of the trunk and 140 data points on the posterior portion of the trunk. Muscle thickness values in the anterior trunk ranged from 0.5 to 5.6 cm, and muscle thickness of the posterior trunk ranged from 0.6 to 6.6 cm. Total muscle volume of the trunk was 2935 and 4195 cm3 for the anterior and posterior portions, respectively. The total predicted muscle mass in the anterior and posterior trunk was 7.4 kg. This case study begins to provide a picture of the distribution and symmetry of skeletal muscle and AT of the trunk. Future studies are necessary to confirm these findings and examine relationships among different populations.
Astratto
Il caso che presentiamo esamina lo spessore del muscolo e grasso del tronco di un venticinquenne ex ginnasta professionista. Precedenti studi hanno quantificato la massa muscolare scheletrica totale e regionale utilizzando la risonanza magnetica, il volume muscolare e la distribuzione con l'ecografia. Tuttavia, per quanto a nostra conoscenza, la distribuzione e la simmetria della muscolatura scheletrica e del tessuto adiposo sottocutaneo (AT) del tronco anteriore e posteriore, non sono mai stati indagati. Pertanto, lo scopo di questo studio è stato valutare la quantità assoluta e relativa di muscolo e del grasso in tutta la regione tronco, in un atleta altamente qualificato. Metodi: Il soggetto si trovava nella posizione fondamentale, l'ecografia è stata usata per identificare lo spessore della muscolo scheletrico e del AT in 143 punti prestabiliti sulla parte anteriore del tronco e in 140 punti prestabiliti nulla parte posteriore del tronco. Il volume muscolare è stato calcolato per ciascun segmento del tronco moltiplicando lo spessore muscolare (cm) per la lunghezza e la larghezza di ogni segmento (3 cm × 3 cm). Risultati: I valori di spessore del muscolo nella parte anteriore del tronco variavano da 0.5 cm a 5.6 centimetri e lo spessore del muscolo nella parte posteriore del tronco variavano da 0.6 centimetri a 6.6 centimetri. Il volume totale dei muscoli del tronco era 2935 cm3 e 4195 cm3, rispettivamente per la parte anteriore e posteriore. Il totale previsto della massa muscolare della parte anteriore e posteriore del tronco era di 7.4 kg. Conclusioni: Questo studio inizia a fornire un quadro della distribuzione e della simmetria della muscolatura scheletrica e dell'AT del tronco. Ulteriori studi sono necessari per confermare questi risultati e valutarli nelle diverse popolazioni.
This is a preview of subscription content, log in to check access.
Access options
Buy single article
Instant access to the full article PDF.
US$ 39.95
Tax calculation will be finalised during checkout.
Subscribe to journal
Immediate online access to all issues from 2019. Subscription will auto renew annually.
US$ 79
Tax calculation will be finalised during checkout.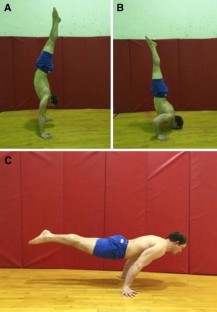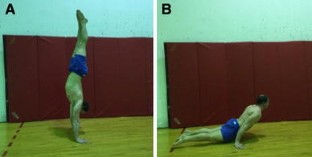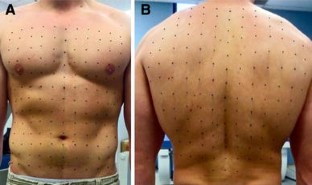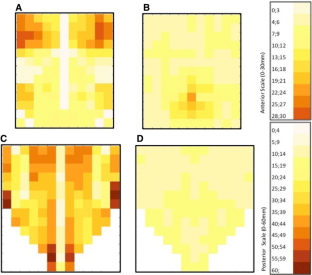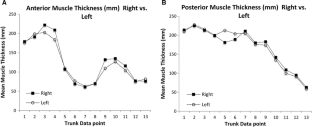 References
1.

Hedbávný P, Bago G, Kalichová M (2013) Influence of Strength Abilities on Quality of the Handstand. Int J Med Health Biomed Bioeng Pharm Eng 7:294–300

2.

Kibler WB, Press J, Sciascia A (2006) The role of core stability in athletic function. Sports Med 36:189–198

3.

Midorikawa T, Kondo M, Beekley MD, Koizumi K, Abe T (2007) High REE in Sumo wrestlers attributed to large organ–tissue mass. Med Sci Sports Exerc 39:688–693

4.

Abe T, Kojima K, Kearns CF, Yohena H, Fukuda J (2003) Whole body muscle hypertrophy from resistance training: distribution and total mass. Br J Sports Med 37:543–545

5.

Rankin G, Stokes M, Newham DJ (2006) Abdominal muscle size and symmetry in normal subjects. Muscle Nerve 34:320–326

6.

O'Sullivan C, Meaney J, Boyle G, Gormley J, Stokes M (2009) The validity of rehabilitative ultrasound imaging for measurement of trapezius muscle thickness. Man Ther 14:572–578

7.

Watanabe K, Miyamoto K, Masuda T, Shimizu K (2004) Use of ultrasonography to evaluate thickness of the erector spinae muscle in maximum flexion and extension of the lumbar spine. Spine 29:1472–1477

8.

Kawakami Y, Abe T, Fukunaga T (1993) Muscle-fiber pennation angles are greater in hypertrophied than in normal muscles. J Appl Physiol 74:2740–2744

9.

Abe T, Kondo M, Kawakami Y, Fukunaga T (1994) Prediction equations for body composition of Japanese adults by B-mode ultrasound. Am J Hum Biol 6:161–170

10.

Miyatani M, Kanehisa H, Ito M, Kawakami Y, Fukunaga T (2004) The accuracy of volume estimates using ultrasound muscle thickness measurements in different muscle groups. Eur J Appl Physiol 91:264–272

11.

Sanada K, Kearns CF, Midorikawa T, Abe T (2006) Prediction and validation of total and regional skeletal muscle mass by ultrasound in Japanese adults. Eur J Appl Physiol 96:24–31

12.

Abe T, Loenneke JP, Thiebaud RS, Fahs CA, Sekiguchi O (2014) Influence of strength training on distribution of trunk and appendicular muscle mass. J Aging Res Clin Pract 3:28–30

13.

Yuasa K, Fukunaga T (1987) B-Mode ultrasonic assessment for the fat thickness distribution pattern on the whole body. Japn Soc Phys Fit Sport Med 36:36–41

14.

Koskelo EK, Kivisaari LM, Saarinen UM, Siimes MA (1991) Quantitation of muscles and fat by ultrasonography: a useful method in the assessment of malnutrition in children. Acta Paediatr Scand 80:682–687
Ethics declarations
Conflict of interest
The authors are not aware of any affiliations, memberships, funding, or financial holdings that might be perceived as affecting the objectivity of this manuscript. This study was not supported by any funding.
Informed consent
All procedures followed were in accordance with the ethical standards of the responsible committee on human experimentation (institutional and national) and with the Helsinki Declaration of 1975, as revised in 2000. The participant provided written informed consent to enrollment in the study and to the inclusion in this article of information that could potentially lead to their identification.
About this article
Cite this article
Buckner, S.L., Abe, T., Counts, B.R. et al. Muscle and fat mapping of the trunk: a case study. J Ultrasound 18, 399–405 (2015). https://doi.org/10.1007/s40477-015-0179-9
Received:

Accepted:

Published:

Issue Date:
Keywords
Ultrasound

Volume

Gymnastics

Hypertrophy