Access options
Buy single article
Instant access to the full article PDF.
US$ 39.95
Tax calculation will be finalised during checkout.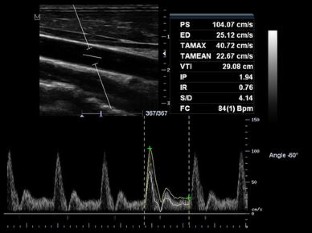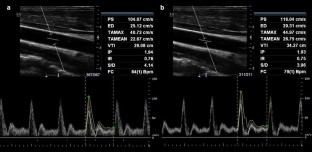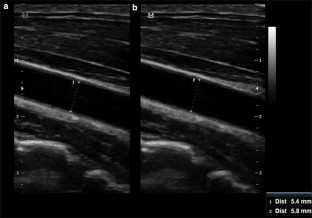 References
1.

Gassner M, Killu K, Bauman Z, Coba V, Rosso K, Blyden D (2014) Feasibility of common carotid artery point of care ultrasound in cardiac output measurements compared to invasive methods. J Ultrasound. doi:10.1007/s40477-014-0139-9

2.

Gill RW (1985) Measurement of blood flow by ultrasound: accuracy and sources of error. Ultrasound Med Biol 11(4):625–641

3.

Holland CK, Brown JM, Scoutt LM, Taylor KJ (1998) Lower extremity volumetric arterial blood flow in normal subjects. Ultrasound Med Biol 24(8):1079–1086

4.

Li S, Hoskins PR, Anderson T, McDicken WN (1993) Measurement of mean velocity during pulsatile flow using time-averaged maximum frequency of Doppler ultrasound waveforms. Ultrasound Med Biol 19(2):105–113

5.

Daigle RJ (2008) Arterial hemodynamics, anatomy and physiology. In: Daigle RJ (ed) Techniques in non-invasive vascular diagnosis: an encyclopedia of vascular testing, 3rd edn. Summer Publishing, Littleton, pp 141–158

6.

Scheel P, Ruge C, Schöning M (2000) Flow velocity and flow volume measurements in the extracranial carotid and vertebral arteries in healthy adults: reference data and the effects of age. Ultrasound Med Biol 26(8):1261–1266

7.

Yazici B, Erdoğmuş B, Tugay A (2005) Cerebral blood flow measurements of the extracranial carotid and vertebral arteries with doppler ultrasonography in healthy adults. Diagn Interv Radiol 11(4):195–198

8.

Beach KW, Bergelin RO, Leotta DF, Primozich JF, Sevareid PM, Stutzman ET, Zierler RE (2010) Standardized ultrasound evaluation of carotid stenosis for clinical trials: University of Washington Ultrasound Reading Center. Cardiovasc Ultrasound 8:39. doi:10.1186/1476-7120-8-39
Conflict of interest
The author has no conflict of interest to disclose.
Human and animal studies
The study described in this article does not contain studies with human or animal subjects performed by the author.
About this article
Cite this article
Blanco, P. Volumetric blood flow measurement using Doppler ultrasound: concerns about the technique. J Ultrasound 18, 201–204 (2015). https://doi.org/10.1007/s40477-015-0164-3
Received:

Accepted:

Published:

Issue Date:
Keywords
Velocity Profile

Cardiac Cycle

Volume Flow

Angle Correction

Calculated Velocity