Abstract
Penile Mondor's disease (superficial thrombophlebitis of the penis dorsal vein) is an uncommon and benign pathology that affects sexually active men. Although the diagnosis is made by physical examination in most patients, sonography may be required in some cases. Color-Doppler ultrasonography clearly visualizes dorsal vein thrombosis and the associated hemodynamic alterations. We describe the symptoms, the sonographic findings and treatment of this disease in a 26-year-old male with superficial thrombophlebitis of the penis dorsal vein.
Riassunto
La malattia di Mondor a livello del pene (tromboflebite della vena dorsale superficiale del pene) rappresenta una patologia non comune a carattere benigno che interessa gli uomini sessualmente attivi. Anche se la diagnosi viene fatta la maggior parte dei pazienti con l'esame obiettivo, l'ecografia viene molto spesso richiesta in aiuto in alcuni casi. L'eco Color-Doppler visualizza in maniera chiara la trombosi venosa dorsale e le alterazioni emodinamiche ad essa associate. Riportiamo la sintomatologia, i risultati ecografici e il trattamento di questa patologia in un ragazzo di 26 anni affetto da tromboflebite superficiale della vena dorsale del pene.
Access options
Buy single article
Instant access to the full article PDF.
USD 39.95
Price excludes VAT (USA)
Tax calculation will be finalised during checkout.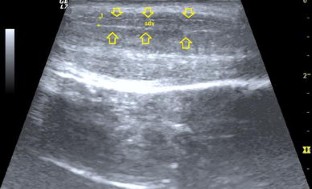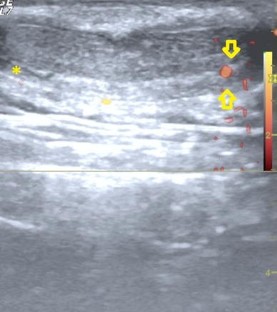 References
Mondor H (1939) Tronculite sous-cutanee subaigue de la patoi thoragigue antero-laterale. Mem Acad Chir 65:1271–1278

Helm J, Hodge I (1958) Thrombophlebitis of dorsal vein of penis: report of a case treated by phenylbutazone (Butazolidin) 1958. J Urol 79:306–308

Mayor M, Buron I, Calvo-Mora J et al (2000) Mondor's disease. Int J Dermatol 39:922–925

Al-Mwalad M, Loertzer H, Witcht A et al (2006) Subcutaneous penile vein thrombosis (penile Mondor's disease): pathogenesis, diagnosis and therapy. Urology 67:586–588

Kumar B, Narang T, Radotra BD et al (2005) Mondor's disease of penis: a forgotten disease. Sex Transm Infect 81:480–482

Rodriguez Faba O, Parra Muntaner L, Gomez Cisneros SC, Martin Benito JL, Escaf Barmadah S (2006) Thrombosis of the dorsal penis vein (of Mondor's phlebitis). Presentation of a new case. Actas Urol Esp 30:80–82

Virchow R (1845) Ein vortag uber be thromboses vom jahre. Medizin. Meidinger, Frankfurt, pp 478–486

Shapiro RS (1996) Superficial dorsal penile vein thrombosis (penile Mondor's phlebitis): ultrasound diagnosis. J Clin Ultrasound 24:272

Han HY, Chung DJ, Kim KW et al (2008) Pulsed and color Doppler sonographic findings of penile Mondor's disease. Korean J Radiol 9:179

Khan SA, Smith NL, Hu KN (1982) New perspectives in diagnosis and management of thrombophlebitis of the dorsal vein of the penis. J Dermato Surg Oncol 8:1063–1067
Conflict of interest
Lucio Dell'Atti declares that he has no conflict of interest.
Informed consent
All procedures followed in accordance with the ethical standards of the responsible committee on human experimentation (institutional and national) and with the Helsinki Declaration of 1975, as revised in 2000 (5). All patients provided written informed consent to enrolment in the study and the inclusion in this article of information that could potentially lead to their identification.
Human and animal studies
The study was conducted in accordance with all institutional and national guidelines for the care and use of laboratory animals.
About this article
Cite this article
Dell'Atti, L. Role of ultrasonography with color-Doppler in diagnosis of penile Mondor's disease. J Ultrasound 17, 239–241 (2014). https://doi.org/10.1007/s40477-013-0035-8
Received:

Accepted:

Published:

Issue Date:

DOI: https://doi.org/10.1007/s40477-013-0035-8
Keywords