Abstract
Purpose of Review
The purpose of this study is to provide an up-to-date review of the clinical presentation, classification system, and treatment of leprosy (also known as Hansen's disease).
Recent Findings
Leprosy is a chronic infectious disease caused by Mycobacterium leprae. Leprosy affects mainly the skin and peripheral nerves with serious clinical complications, including blindness and physical deformities of the hands and feet. Leprosy is a complex microbial disease with a wide spectrum of clinical presentations and severity of disease progression and outcome. Disease classification based on bacterial indicators and the Ridley-Jopling system are standard classification systems for leprosy that enable proper categorization of different types of leprosy for evaluation and treatment purposes. Early disease detection and treatment can significantly impact the prevalence and severity of leprosy. Long term follow-up as well as disability evaluation and prevention are important measures to prevent disease relapse and to achieve a good clinical outcome for patients.
Summary
Early disease detection, multidrug therapy, frequent clinical follow-up, and proper management of tissue damage and physical disabilities as a result of peripheral nerve damage are key factors to ensure a good outcome for patients.
This is a preview of subscription content, log in to check access.
Access options
Buy single article
Instant access to the full article PDF.
US$ 39.95
Price includes VAT for USA
Subscribe to journal
Immediate online access to all issues from 2019. Subscription will auto renew annually.
US$ 99
This is the net price. Taxes to be calculated in checkout.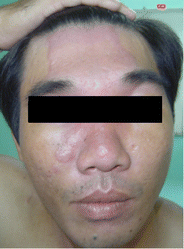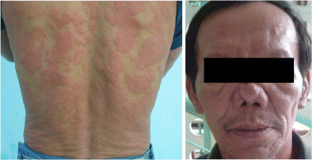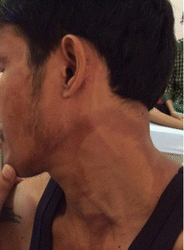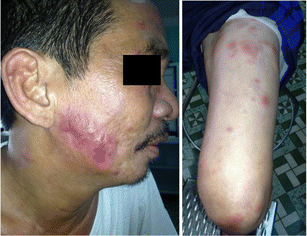 References
Papers of particular interest, published recently, have been highlighted as: • Of importance
1.

Yawalkar SJ, editor. Leprosy for medical practitioners and paramedical workers. 8th revised ed. Basle, Swizerland: Novartis Foundation for Sustainable Development; 2009. p. 152.

2.

Klaus Wolff RAJ, Saavedra AP, editors. Fitzpatrick's color atlas and synopsis of clinical dermatology. 7th edition. Color atlas & synopsis of clinical dermatology (Fitzpatrick). New York: McGraw-Hill Medical; 2013. p. 960.

3.

Talhari C, Talhari S, Penna GO. Clinical aspects of leprosy. Clin Dermatol. 2015;33(1):26–37.

4.

Odom RB, James W, Berger TG, editors. Berger Andrew's diseases of the skin. Clinical Dermatology: USA; 2000. p. 713.

5.

Butlin CR, Saunderson P. Children with leprosy. Lepr Rev. 2014;85(2):69–73.

6.

Talwar BH, Nirmala C, Somnath L. Nerve FNAC in diagnosing Hansen's disease: a prospective study. J Evol Med Dent Sci. 2016;5(15):711–6.

7.

Grossetete G et al. Leprosy. Developmental modalities. Rev Prat. 1992;42(5):606–12.

8.

• Parkash O. Classification of leprosy into multibacillary and paucibacillary groups: an analysis. FEMS Immunol Med Microbiol. 2009;55(1):1–5. This paper reviews the classification of leprosy based on bacterial burden.

9.

• Features of the Ridley-Jopling classification. Int J Lepr Other Mycobact Dis. 1979;47(4): 611–2. This publication describes the widely accepted Ridley-Jopling classification of leprosy based on a combination of clinical, immunologic, bacteriologic and histopathologic characteristics of the disease.

10.

Pardal-Fernandez JM et al. Pure neural leprosy. Diagnostic aspects of a clinical case. Rev Neurol. 2016;63(6):257–61.

11.

Jardim MR et al. Criteria for diagnosis of pure neural leprosy. J Neurol. 2003;250(7):806–9.

12.

Bezerra Da Cunha FM et al. Pure neural leprosy: diagnostic value of the polymerase chain reaction. Muscle Nerve. 2006;33(3):409–14.

13.

Saoji V, Salodkar A. Lucio leprosy with lucio phenomenon. Indian J Lepr. 2001;73(3):267–72.

14.

Kim JY, Chung KY, Kim WJ, Jung SY. Lucio phenomenon in non-endemic area of Northeast Asia. J Eur Acad Dermatol Venereol. 2016. doi:10.1111/jdv.13920.

15.

Kaur C, Thami GP, Mohan H. Lucio phenomenon and Lucio leprosy. Clin Exp Dermatol. 2005;30(5):525–7.

16.

Gupta SK. Histoid leprosy: review of the literature. Int J Dermatol. 2015;54(11):1283–8.

17.

Walker SL, Lockwood DN. Leprosy type 1 (reversal) reactions and their management. Lepr Rev. 2008;79(4):372–86.

18.

Cuevas J et al. Erythema nodosum leprosum: reactional leprosy. Semin Cutan Med Surg. 2007;26(2):126–30.

19.

Kar HK, Gupta R. Treatment of leprosy. Clin Dermatol. 2015;33(1):55–65.

20.

• Shen J et al. Six years' follow-up of multibacillary leprosy patients treated with uniform multi-drug therapy in China. Int J Dermatol. 2015;54(3):315–8. This paper describes the efficacy and importance of multi-drug therapy for multibacillary leprosy.

21.

Legendre DP, Muzny CA, Swiatlo E. Hansen's disease (Leprosy): current and future pharmacotherapy and treatment of disease-related immunologic reactions. Pharmacotherapy. 2012;32(1):27–37.

22.

Maia MV, Cunha Mda G, Cunha CS. Adverse effects of alternative therapy (minocycline, ofloxacin, and clofazimine) in multibacillary leprosy patients in a recognized health care unit in Manaus, Amazonas, Brazil. An Bras Dermatol. 2013;88(2):205–10.

23.

Fajardo Jr TT et al. Minocycline in lepromatous leprosy. Int J Lepr Other Mycobact Dis. 1995;63(1):8–17.

24.

Grosset JH. Newer drugs in leprosy. Int J Lepr Other Mycobact Dis. 2001;69(2 Suppl):S14–8.

25.

Setia MS et al. Is there a role for rifampicin, ofloxacin and minocycline (ROM) therapy in the treatment of leprosy? Systematic review and meta-analysis. Trop Med Int Health. 2011;16(12):1541–51.

26.

Narang T, Arshdeep, Dogra S. Minocycline in leprosy patients with recent onset clinical nerve function impairment. Dermatol Ther. 2016. doi:10.1111/dth.12404.

27.

Matsuoka M. Global surveillance system to monitor the development of drug resistance in Mycobacterium leprae. Research and Reports in Tropical Medicine. 2015;6:75–83.

28.

Alberts CJ et al. Potential effect of the World Health Organization's 2011–2015 global leprosy strategy on the prevalence of grade 2 disability: a trend analysis. Bull World Health Organ. 2011;89(7):487–95.

29.

Thappa DM. Disability grading in leprosy: current status. Indian J Lepr. 1994;66(3):299–306.
Acknowledgments
We would like to thank Mahmoud Bokhary, MD, for his valuable assistance with the bibliography of this article.
Ethics declarations
Conflict of Interest
Minh Van Hoang, Duc Van Bui, and Thuy Linh Phung declare that they have no conflict of interest.
Human and Animal Rights and Informed Consent
This article does not contain any studies with human or animal subjects performed by any of the authors.
About this article
Cite this article
Van Hoang, M., Van Bui, D. & Phung, T.L. Clinical Characteristics and Treatment of Leprosy. Curr Trop Med Rep 3, 138–143 (2016). https://doi.org/10.1007/s40475-016-0095-x
Keywords
Leprosy

Mycobacterium leprae

Paucibacillary leprosy

Multibacillary leprosy

Erythema nodosum leprosum

Reversal reaction