Abstract
The link between the geostatistical modeling of multiscale carbonate heterogeneities and representative simulation flow models remains a challenge because conventional upscaling procedures often disregard the complex dynamic behavior that links the geostatistical static properties, dynamic rock/fluid data and reservoir operational conditions. This work proposes a methodology to build robust simulation models for naturally fractured carbonate reservoirs with multiscale geological characterizations. The development of this work follows three main steps: (1) hierarchical upscaling procedure by flow units, (2) integration of flow units into a reservoir-scale simulation model, (3) validation of simulation model. The hierarchical upscaling procedure was applied to three inter-well regions and extrapolated to three flow units. The proposed workflow is applied to a reservoir based on a combination of real and synthetic data from a Brazilian offshore carbonate reservoir. The methodology shows several advantages: it represents static and dynamic behavior from multiscale heterogeneities in reservoir simulation; it minimizes risk in the selection of well position and completion through well characterization of representative static and dynamic data for each flow unit; and, improved selection process for the simulation flow model. The methodology shows that the relative permeability defined in reservoir simulation can be different from the laboratory measured curve because it needs to match the dynamic behavior from the reference solution. This result shows that a proper characterization and upscaling approach are crucial to sufficiently represent geological heterogeneous scenarios in reservoir simulation. The methodology we present here is useful for multidisciplinary areas of expertise as it ensures the appropriate link between the fine scale geomodelling and the coarser scale reservoir simulation, considering the development of complex carbonate reservoirs.
Access options
Buy single article
Instant access to the full article PDF.
USD 39.95
Price excludes VAT (USA)
Tax calculation will be finalised during checkout.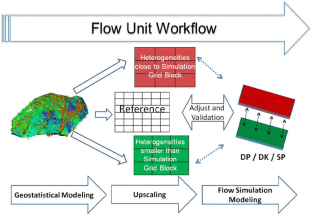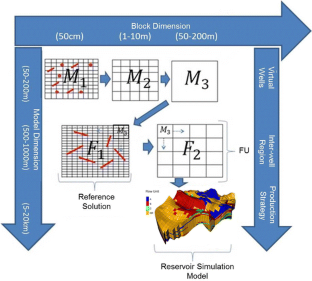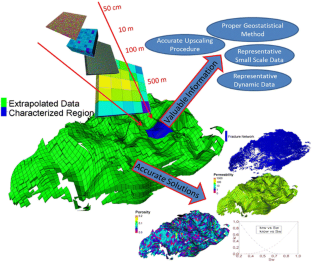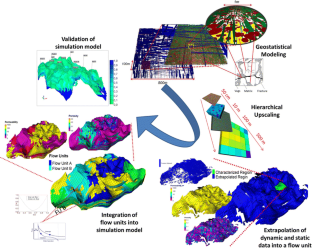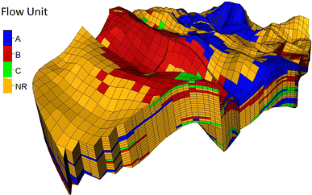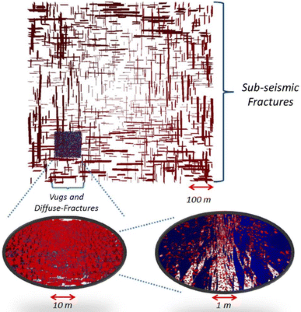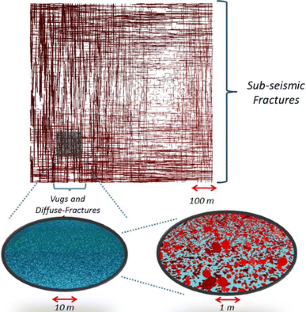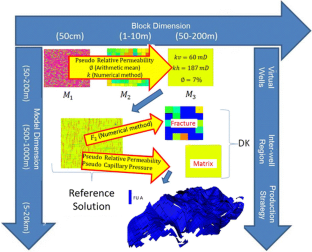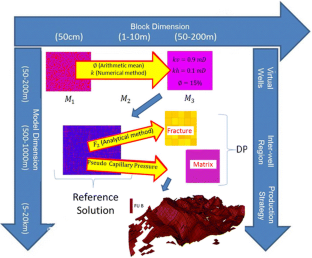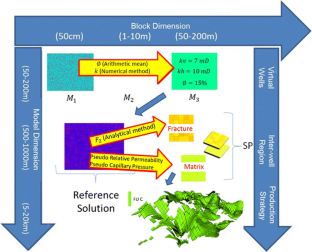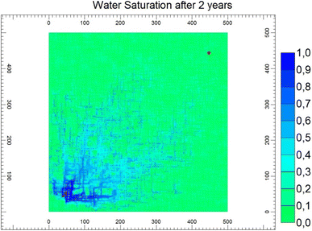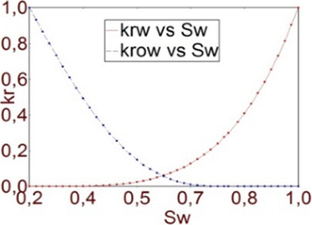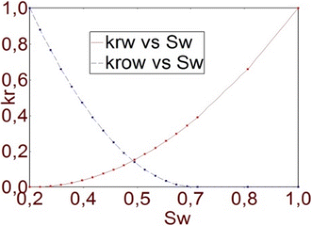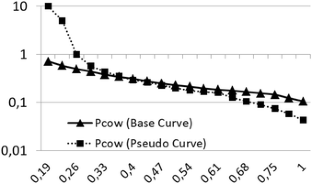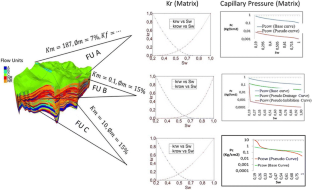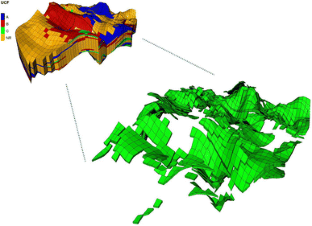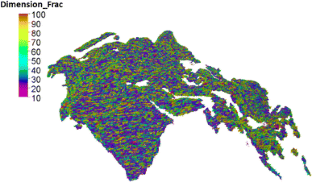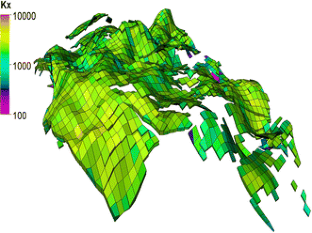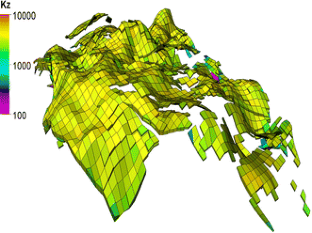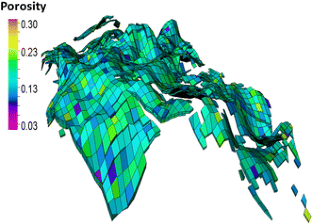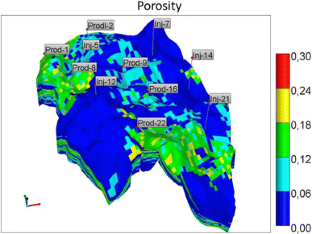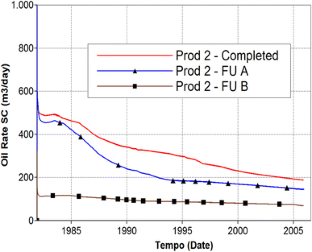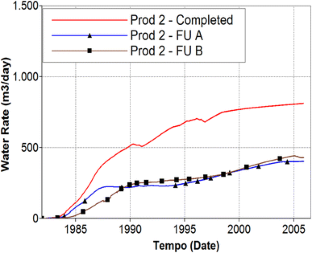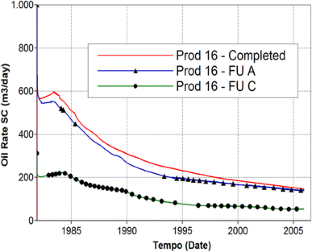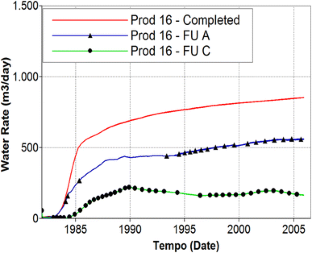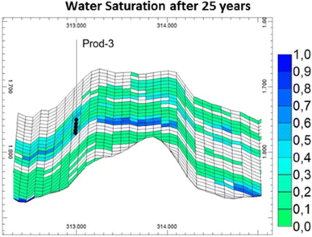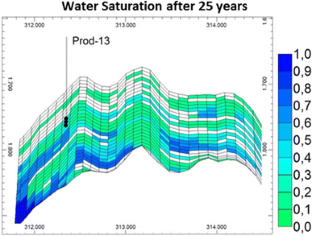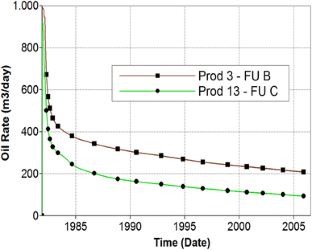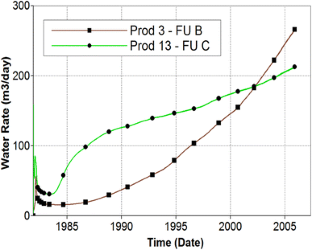 References
Agada S, Chen F, Geiger S, Toigulova G, Agar S, Shekhar R, Benson G, Hehmeyer O, Amour F, Mutti M, Christ N, Immenhauser A (2014) Numerical simulation of fluid-flow processes in a 3D high-resolution carbonate reservoir analogue. Petroleum Geoscience 20:125–142

Agar S, Geiger S (2015) Fundamental controls on fluid flow in carbonates: current workflows to emerging technologies. Geolog Soc London Spec Pub 406:1–59

Amaefule JO, Altunbay M, Tiab D, Kersey DG, Keelan DK (1993) Enhanced reservoir description: using core and log data to identify hydraulic (flow) units and predict permeability in uncored intervals/wells, SPE 26435, Annual technical conference and exhibition, Houston

Barenblatt GE, Zheltov IP, Kochina IN (1960) Basic Concepts in the Theory of Homogeneous Liquids in Fissured Rocks. Journal of Applied Mathematical Mechanics (USSR) 24:852–864

Bear J (1972) Dynamics of fluids in porous media. Courier Corporation, New York 764p

Beltrão, R. L. C., Sombra, C. L., Lage, A. C. V. M., Fagundes Netto, J. R., Henriques, C. C. D., 2009. Challenges and New Technologies for the Development of the Pre-Salt Cluster, Santos Basin, Brazil. OTC 19880, Offshore Technology Conference, Texas, 4–7 May

Bourbiaux, B., 2010. Fractured Reservoir Simulation: A Challenging and Rewarding Issue. Oil and Gas Science and Technology – Rev. IFP, v. 65, No.2, pp. 227–238

Chandra V, Barnett A, Corbett P, Geiger S, Wright P, Steele R, Milroy P (2014) Effective integration of reservoir rock-typing and simulation using near-wellbore upscaling. Mar Pet Geol 67:307–326

Corbett, P. W. M., 2013. The role of Geoengineering in Oil field Development: Chapter 8 in Gomes et al., Eds "New Technologies in Oil and Gas Industry". ISBN 980-1-56080-153-5

Corbett PWM (2009) Petroleum Geoengieering: integration of Static and Dynamic Models. SEG/EAGE Distinguished Instructor Series 12:100p

Corbett PWM, Estrela R, Shoier A, Morales A, Boghi L (2016) Integration of cretaceous Morro do Chaves rock properties (NE Brazil) with the Holocene Hamelin Coquina architecture (Shark Bay, Western Australia) to model effective permeability. Petroleum Geosci 22:105–122

Corbett PWM, Potter DK (2004) Petrotyping: a basemap and atlas for navigation through permeability and porosity data for reservoir comparison and permeability prediction. International Symposium of the Society of Core Analysts. Abu Dhabi, UAE, 5–9 October

Correia MG, Maschio C, Schiozer D (2015) Integration of multiscale carbonate reservoir heterogeneities in reservoir simulation. J Petrol Sci Eng 131:34–50

Cosentino L (2001) Integrated Reservoir Studies. Editions Tecnip, Paris Cedex 310p

Ebanks WJ, Scheihing MH, Atkinson CD (1992) Flow units for reservoir characterization. In: Morton-Thompson D, Woods AM (eds) Development geology reference manual. Methods in exploration series 10, American Association of Petroleum Geologists, pp 282–284

Deutsch CV (2002) Geostatistical Reservoir Modelling. Oxford University Press, New York 376p

Fitch PJR, Jackson MD, Hampson GJ, John CM (2014) Interaction of stratigraphic and sedimentological heterogeneities with flow in carbonate ramp reservoirs: impact of fluid properties and production strategy. Petroleum Geoscience 20:7–26

Gunter G, Finneran J, Hartmann D, Miller J (1997) Early determination of reservoir flow units using an integrated petrophysical method. SPE 38679, Annual technical conference and exhibition, San Antonio, Texas

Hearn CL, Ebanks WJ, Tye RS, Ranganathan V (1984) Geological factors influencing reservoir performance of the Hartzog draw field, Wyoming. J Petrol Technol 36(8):1–335

Oda M (1985) Permeability Tensor for Discontinuous Rock Mass. Geotechnique 35(4):483–495

Rangel-German ER, Kovscek AR, Akin S (2010) Time-dependent shape factors for uniform and non-uniform pressure boundary conditions. Transport of Porous Media 83(3):591–601

Ringrose PS, Bentley M (2015) Reservoir model design: a practitioner´s guide. Springer, Berlin, p 249

Strijker G, Bertotti G, Luthi S (2012) Multi-scale fracture network analysis from an outcrop analogue: a case study from the Cambro-Ordovician clastic succession in Petra, Jordan. Mar Pet Geol 38:104–116

Sun S, Sloan R (2003) Quantification of uncertainty in recovery efficiency predictions: lessons learned from 250 mature carbonate fields. SPE Annual Technical Conference and Exhibition, Denver, 5–8 October

Warren, J. E., Root, P.J., 1963. The Behavior of Naturally Fractured Reservoirs.SPE Journal, September, p. 245-255

Whitaker FF, Felce GP, Benson BS, Amour F, Mutti M, Smart PL (2015) Simulating flow through forward sediment model stratigraphies: insights into climatic control of reservoir quality in isolated carbonate platforms. Petrol Geosci 20:27–40
Acknowledgments
The authors are grateful to the Center of Petroleum Studies (Cepetro-Unicamp/Brazil), PETROBRAS S/A, UNISIM and the Petroleum Engineering Department (DEP-FEM-Unicamp/Brazil) for their support of this work. The authors are also grateful to Schlumberger Information Solution for the use of Petrel®, and CMG for the use of IMEX.
Additional information
Technical Editor: Celso Kazuyuki Morooka.
About this article
Cite this article
Correia, M.G., Maschio, C. & Schiozer, D.J. Development of complex layered and fractured reservoir models for reservoir simulation. J Braz. Soc. Mech. Sci. Eng. 39, 219–233 (2017). https://doi.org/10.1007/s40430-016-0606-7
Received:

Accepted:

Published:

Issue Date:

DOI: https://doi.org/10.1007/s40430-016-0606-7
Keywords
Carbonate reservoir

Dual porosity

Multiscale heterogeneities

Reservoir simulation