Abstract
Purpose of Review
The current study reviews popular theoretical perspectives that cover motives for video gaming and confronts them with findings from interviews with children.
Recent Findings
Psychological and behavioral engagements with games have been explained using a number of theoretical approaches, which can be crudely categorized into three major groups: (1) active choice, such as Uses and Gratifications Theory; (2) social cognitive learning, such as Social Cognitive Theory; and (3) basic psychological needs, such a Self-Determination Theory.
Summary
Considerable overlap was found between theories and many theoretical aspects were confirmed in the interviews. However, the interviews reveal that current models insufficiently account for the dynamic nature of gaming over time (e.g., in-game asset ownership, notification systems, or in-game timers) and the crucial role of game-external context (e.g., parental regulation, weather conditions, game accessibility). Accounting for these dynamics in future work would help us to better understand and contribute to balanced, non-problematic video gaming behavior.
Access options
Buy single article
Instant access to the full article PDF.
USD 39.95
Price includes VAT (USA)
Tax calculation will be finalised during checkout.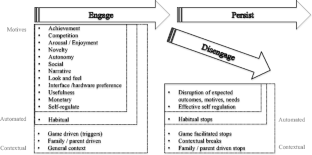 References
Papers of particular interest, published recently, have been highlighted as: • Of importance •• Of major importance
1.

Hamari J, Koivisto J, Sarsa H. Does gamification work a literature review of empirical studies on gamification. Proceedings of the 47th Hawaii International Conference on System Sciences, Hawaii, USA, 6-9 Jan. 2014: 3025–3034. http://ieeexplore.ieee.org/document/6758978/.

2.

Baranowski T, Abdelsamad D, Baranowski J, O'Connor TM, Thompson D, Barnett A, et al. Impact of an active video game on healthy children's physical activity. Pediatrics. 2012;129:e636–42.

3.

McCallum S. Gamification and serious games for personalized health. Stud Health Technol Inform. 2012;177:85–96.

4.

Granic I, Lobel A, Engels RCME. The benefits of playing video games. Am Psychol. 2014;69:66–78.

5.

Nikken P, Schols M. How and why parents guide the media use of young children. J Child Fam Stud. 2015;24:3423–35.

6.

Benrazavi R, Teimouri M, Griffiths MD. Utility of parental mediation model on youth's problematic online gaming. Int J Ment Health Addict. 2015;13:712–27.

7.

Baranowski T, Blumberg F, Buday R, et al. Games for health for children—current status and needed research. Games Health J. 2016;5:1–12.

8.

Griffiths MD, Van Rooij AJ, Kardefelt-Winther D, et al. Working towards an international consensus on criteria for assessing internet gaming disorder: a critical commentary on Petry et al. (2014). Addiction. 2016;111:167–75.

9.

Olson CK. Children's motivations for video game play in the context of normal development. Rev Gen Psychol. 2010;14:180–7.

10.

Boyle EA, Connolly TM, Hainey T, Boyle JM. Engagement in digital entertainment games: a systematic review. Comput Human Behav. 2012;28:771–80.

11.

De Grove F, Cauberghe V, Van Looy J. In pursuit of play: toward a social cognitive understanding of determinants of digital play. Commun Theory. 2014;24:205–23.

12.

•• De Grove F, Cauberghe V, Van Looy J. Development and validation of an instrument for measuring individual motives for playing digital games. Media Psychol. 2016;19:101–25. A broad, well-validated, and standardized implementation a multi-theory instrument that covers both behavior and various motivations for play

13.

Wu J-H, Wang S-C, Tsai H-H. Falling in love with online games: the uses and gratifications perspective. Comput Human Behav. 2010;26:1862–71.

14.

• Sherry JL, Lucas K, Greenberg BS, Lachlan K. Video game uses and gratifications as predictors of use and game preferences. In: Vorderer P, Bryant J, editors. Play. video games. Motives, responses, consequences. New York, NY: Routledge; 2006. p. 213–24. A clear implementation of the Uses and Gratifications paradigm in the area of video game research.

15.

• Bartle R. Hearts, clubs, diamonds, spades: players who suit MUDs. J MUD Res. 1996;1:19. One of the first papers that searched for motivations in relation to online video games

16.

• Yee N. Motivations for play in online games. Cyberpsychology. Behav Soc Netw. 2006;9:772–5. A refinement and more modern take on motivations, in modern MMORPG video games

17.

Bandura A. Social cognitive theory of self-regulation. Organ Behav Hum Decis Process. 1991;50:248–87.

18.

Lee D, Larose R. A socio-cognitive model of video game usage. J Broadcast Electron Media. 2007;51:632–50.

19.

Yoon G, Duff BRL, Ryu S. Gamers just want to have fun? Toward an understanding of the online game acceptance. J Appl Soc Psychol. 2013;43:1814–26.

20.

LaRose R. The problem of media habits. Commun Theory. 2010;20:194–222.

21.

Neys JLD, Jansz J, Tan ESH. Exploring persistence in gaming: the role of self-determination and social identity. Comput Human Behav. 2014;37:196–209.

22.

Przybylski AK, Ryan RM, Rigby CS. The motivating role of violence in video games. Personal Soc Psychol Bull. 2009;35:243–59.

23.

Castellar EPN, Antons J-N, Marinazzo D, Van LJ. Being in the zone: using behavioral and EEG recordings for the indirect assessment of flow. PeerJ Prepr. 2016:1–30.

24.

Csikszentmihalyi M. Flow and the foundations of positive psychology. The Collected Works of Mihaly Csikszentmihalyi. 2014; doi:10.1007/978-94-017-9088-8.

25.

Billieux J, Van Der Linden M, Achab S, Khazaal Y, Paraskevopoulos L, Zullino D, et al. Why do you play World of Warcraft? An in-depth exploration of self-reported motivations to play online and in-game behaviours in the virtual world of Azeroth. Comput Human Behav. 2013;29:103–9.

26.

Männikkö N, Billieux J, Nordström T, Koivisto K, Kääriäinen M. Problematic gaming behaviour in Finnish adolescents and young adults: relation to game genres, gaming motives and self-awareness of problematic use. Int J Ment Health Addict. 2017;15:324–38.

27.

Kuss DJ, Louws J, Wiers RW. Online gaming addiction? Motives predict addictive play behavior in massively multiplayer online role-playing games. Cyberpsychology, Behav Soc Netw. 2012;15:480–5.

28.

Billieux J, Chanal J, Khazaal Y, Rochat L, Gay P, Zullino D, et al. Psychological predictors of problematic involvement in massively multiplayer online role-playing games: illustration in a sample of male cybercafé players. Psychopathology. 2011;44:165–71.

29.

Williams D, Yee N, Caplan SE. Who plays, how much, and why? Debunking the stereotypical gamer profile. J Comput Commun. 2008;13:993–1018.

30.

Bandura A. Social cognitive theory: an agentic perspective. Annu Rev Psychol. 2001;52:1–26.

31.

•• LaRose R, Eastin MS. A social cognitive theory of internet uses and gratifications: toward a new model of media attendance. J Broadcast Electron Media. 2004;48:358–77. Central study that introduces the concept of habit and expected outcomes in relationship to media behavior

32.

De Grove F, Breuer J, Chen V, Ratan R, Quandt T, Van Looy J. Validating the digital games motivation scale for comparative research between countries and sexes. Comput Educ. 2016;94:1–17.

33.

Ajzen I. The theory of planned behaviour: reactions and reflections. Psychol Health. 2011;26:1113–27.

34.

Venkatesh V, Davis FD. A theoretical extension of the technology acceptance model: four longitudinal studies. Manag Sci. 2000;46:186–205.

35.

Davis FD. User acceptance of information technology: system characteristics, user perceptions and behavioral impacts. Int J ManMachine Stud. 1993;38:475–87.

36.

Venkatesh V, Morris MG, Davis GB, Davis FD. User acceptance of information technology: toward a unified view. MIS Q. 2004;27:425–78.

37.

Deci EL, Ryan RM. Self-determination theory: a macrotheory of human motivation, development, and health. Can Psychol Can. 2008;49:182–5.

38.

Ryan RM, Deci EL. Self-determination theory and the facilitation of intrinsic motivation, social development, and well-being. Am Psychol. 2000;55:68–78.

39.

• Ryan RM, Rigby CS, Przybylski A. The motivational pull of video games: a self-determination theory approach. Motiv Emot. 2006;30:347–63. An important paper describing the application and argumentation for applying the Self-Determination Theory to the subject of video games

40.

Sherry JL. Flow and media enjoyment. Commun Theory. 2004;14:328–47.

41.

Rau P-LP, Peng S-Y, Yang C-C. Time distortion for expert and novice online game players. CyberPsychology Behav. 2006;9:396–403.

42.

Hsu C, Lu H. Why do people play on-line games? An extended TAM with social influences and flow experience. Inf Manag. 2004;41:853–68.

43.

Birk M V., Atkins C, Bowey JT, Mandryk RL. Fostering intrinsic motivation through avatar identification in digital games. In: Proc. 2016 CHI Conf. Hum. Factors Comput. Syst.—CHI '16. ACM Press, New York, New York, USA, 2016 pp 2982–2995.

44.

Zaman B, Vanden Abeele V. Laddering with young children in user eXperience evaluations: theoretical groundings and a practical case. Qual Res. 2010:156–65.

45.

LaRossa R. Grounded theory methods and qualitative family research. J Marriage Fam. 2005;67:837–57.

46.

Kardefelt-Winther D, Heeren A, Schimmenti A, Van Rooij AJ, Maurage P, Colder Carras M, et al. How can we conceptualize behavioural addiction without pathologizing common behaviours? Addiction. 2017; doi:10.1111/add.13763.

47.

Merikivi J, Tuunainen V, Nguyen D. What makes continued mobile gaming enjoyable? Comput Human Behav. 2017;68:411–21.

48.

Lewis ML, Weber R, Bowman ND. "They may be pixels, but they're MY pixels:" developing a metric of character attachment in role-playing video games. CyberPsychology Behav. 2008;11:515–8.

49.

Teng C-I. Strengthening loyalty of online gamers: goal gradient perspective. Int J Electron Commer. 2016;21:132–51.

50.

Smith LJ, Gradisar M, King DL, Short M. Intrinsic and extrinsic predictors of video-gaming behaviour and adolescent bedtimes: the relationship between flow states, self-perceived risk-taking, device accessibility, parental regulation of media and bedtime. Sleep Med. 2017;30:64–70.

51.

Petry NM, Rehbein F, Gentile DA, et al. An international consensus for assessing internet gaming disorder using the new DSM-5 approach. Addiction. 2014;109:1399–406.

52.

King DL, Kaptsis D, Delfabbro PH, Gradisar M. Effectiveness of brief abstinence for modifying problematic internet gaming cognitions and behaviors. J Clin Psychol. 2017;0:1–13.
Ethics declarations
Conflict of Interest
Dr. Antonius J. Van Rooij, Rowan Daneels, Sien Liu, Sarah Anrijs, and Dr. Jan Van Looy declare that they have no conflicts of interest.
Human and Animal Rights and Informed Consent
Ethical approval was obtained for the interviews via the internal Ghent University ethical board.
Additional information
This article is part of the Topical Collection on Technology Addiction
About this article
Cite this article
Van Rooij, A.J., Daneels, R., Liu, S. et al. Children's Motives to Start, Continue, and Stop Playing Video Games: Confronting Popular Theories with Real-World Observations. Curr Addict Rep 4, 323–332 (2017). https://doi.org/10.1007/s40429-017-0163-x
Keywords
Video games

Motivation

Persistence

Disengagement

Player retention

Responsible gaming

Churn