Abstract
Purpose of Review
In this study, we present a systematic review of empirical studies that have addressed the relationship between Internet gaming disorder (IGD) and personality in the last 10 years (2007–2016). A systematic search of scientific literature identified 27 peer-reviewed empirical studies that examined the relationship between IGD and personality dimensions.
Recent Findings
The findings of recent empirical studies suggest that IGD is linked to a wide range of personality traits, domains, and disorders.
Summary
Although some personality factors such as high neuroticism, high impulsivity, and high aggressiveness emerged quite consistently as significant predictors of IGD across the studies, the overall result of this systematic review showed that different personality traits (more frequently, in combination) may play a pivotal role in the acquisition, development, and maintenance of IGD. Therefore, further research is needed to understand whether specific patterns of personality traits may predispose people to IGD.
Access options
Buy single article
Instant access to the full article PDF.
USD 39.95
Price excludes VAT (USA)
Tax calculation will be finalised during checkout.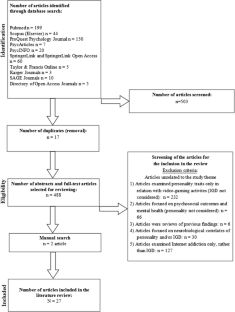 References
Papers of particular interest, published recently, have been highlighted as • Of importance •• Of major importance
Starcevic V, Billieux J. Does the construct of internet addiction reflect a single entity or a spectrum disorders? Clin Neuropsychiatry. 2017;14(1):5–10.

•• Gentile D, Choo H, Liau A, et al. Pathological video game use among youths: a two-year longitudinal study. Pediatr. 2011;127(2):e319–29. doi:10.1542/peds.2010-1353. In a 2-year prospective study on a large sample of 2,532 primary and secondary school students in Singapore, Gentile and colleagues showed through a longitudinal growth model that impulsivity was a critical variable fostering the onset, development, and maintenance of pathological gaming among children.

Montag C, Bey K, Sha P, et al. Is it meaningful to distinguish between generalized and specific Internet addiction? Evidence from a cross-cultural study from Germany, Sweden. Taiwan and China Asia-Pac Psychiatry. 2014;7(1):20–6. doi:10.1111/appy.12122.

Diagnostic and statistical manual of mental disorders. Fifth edition. Washington, DC: American Psychiatric Association. 2013.

• Aarseth E, Bean AM, Boonen H, et al. Scholars' open debate paper on the World Health Organization ICD-11 gaming disorder proposal. J Behav Addict. 2016; doi:10.1556/2006.5.2016.088. This large group of scholars considers the diagnosis of Internet gaming disorder as theoretically problematic, lacking sufficient empirical support, and potentially stigmatizing for gamers.

King D, Delfabbro P, Zwaans T, Kaptsis D. Clinical features and axis I comorbidity of Australian adolescent pathological internet and video game users. Aust N Z J Psychiatry. 2013;47(11):1058–67. doi:10.1177/0004867413491159.

Kardefelt-Winther D, Heeren A, Schimmenti A, van Rooij A, MaurageP CM, Edman J, et al. How can we conceptualize behavioural addiction without pathologizing common behaviours? Addiction. 2017; doi:10.1111/add.13763.

Billieux J, Thorens G, Khazaal Y, Zullino D, Achab S, Van der Linden M. Problematic involvement in online games: a cluster analytic approach. Comput Human Behav. 2015;43:242–50. doi:10.1016/j.chb.2014.10.055.

Winkler A, Dörsing B, Rief W, Shen Y, Glombiewski J. Treatment of internet addiction: a meta-analysis. Clin Psychol Rev. 2013;33(2):317–29. doi:10.1016/j.cpr.2012.12.005.

Kuss D, Griffiths M, Binder J. Internet addiction in students: prevalence and risk factors. Comput Human Behav. 2013;29(3):959–66. doi:10.1016/j.chb.2012.12.024.

Griffiths M. A 'components' model of addiction within a biopsychosocial framework. J Subst Use. 2005;10(4):191–7. doi:10.1080/14659890500114359.

Ferguson C, Coulson M, Barnett J. A meta-analysis of pathological gaming prevalence and comorbidity with mental health, academic and social problems. J Psychiatr Res. 2011;45(12):1573–8. doi:10.1016/j.jpsychires.2011.09.005.

Kuss D, Griffiths M. Internet and gaming addiction: a systematic literature review of neuroimaging studies. Brain Sci. 2012;2(4):347–74. doi:10.3390/brainsci2030347.

Mentzoni R, Brunborg G, Molde H, et al. Problematic video game use: estimated prevalence and associations with mental and physical health. Cyber psychol Behav Soc Netw. 2011;14(10):591–6. doi:10.1089/cyber.2010.0260.

Van Rooij A, Schoenmakers T, Vermulst A, Van Den Eijnden R, Van De Mheen D. Online video game addiction: identification of addicted adolescent gamers. Addict. 2010;106(1):205–12. doi:10.1111/j.1360-0443.2010.03104.x.

King D, Delfabbro P, Griffiths M. Clinical interventions for technology-based problems: excessive internet and video game use. J Cogn Psychother. 2012;26(1):43–56. doi:10.1891/0889-8391.26.1.43.

Lortie C, Guitton M. Internet addiction: actual status of assessment tools. Eur Psychiatry. 2013;28(1):2664. doi:10.1016/s0924-9338(13)77290-0.

Lortie C, Guitton M. Internet addiction assessment tools: dimensional structure and methodological status. Addict. 2013;108(7):1207–16. doi:10.1111/add.12202.

Mehroof M, Griffiths M. Online gaming addiction: the role of sensation seeking, self-control, neuroticism, aggression, state anxiety, and trait anxiety. Cyberpsychol Behav Soc Netw. 2010;13(3):313–6. doi:10.1089/cyber.2009.0229.

•• Montag C, Flierl M, Markett S, Walter N, Jurkiewicz M, Reuter M. Internet addiction and personality in first-person-shooter video gamers. J Media Psychol. 2011;23(4):163–73. doi:10.1027/1864-1105/a000049. In a sample of 610 late adolescent online gamers, Montag and colleagues found that scores for Internet gaming disorder were positively correlated with neuroticism and aggressiveness and were negatively correlated with extraversion, openness to experience, agreeableness, conscientiousness, self-directedness, and cooperativeness.

Cole S, Hooley J. Clinical and personality correlates of MMO gaming: anxiety and absorption in problematic internet use. Soc Sci Comput Rev. 2013;31(4):424–36. doi:10.1177/0894439312475280.

Collins E, Freeman J, Chamarro-Premuzic T. Personality traits associated with problematic and non-problematic massively multiplayer online role playing game use. Pers Indiv Differ. 2012;52(2):133–8. doi:10.1016/j.paid.2011.09.015.

• Khazaal Y, Chatton A, Rothen S, et al. Psychometric properties of the 7-item game addiction scale among French and German speaking adults. BMC Psychiatry. 2016;16:132. doi:10.1186/s12888-016-0836-3. This study on a large sample of 5,983 participants showed weak to moderate association between gaming addiction scores and several personality features.

Eysenck H. Dimensions of personality: 16, 5 or 3? Criteria for a taxonomic paradigm. Pers Individ Dif. 1991;12(8):773–90. doi:10.1016/0191-8869(91)90144-z.

Moher D, Liberati A, Tetzlaff J, Altman D. Prefer reporting items for systematic reviews and meta-analyses: the PRISMA statement. PLoS Med. 2009;6(7):e1000097. doi:10.1371/journal.pmed.1000097.

Costa P, McCrae R. The NEO personality inventory. 1st ed. Odessa, Fl: PAR - Psychological Assessment Resources; 1985.

Whiteside S, Lynam D. The five factor model and impulsivity: using a structural model of personality to understand impulsivity. Pers Individ Dif. 2001;30(4):669–89. doi:10.1016/s0191-8869(00)00064-7.

McCrae RR, Robert R, Corinna E, Löckenhoff. Self-regulation and the five-factor model of personality traits. In: Hoyle RH, editor. Handbook of personality and self-regulation. New York: Wiley; 2013.

Hoyle RH, editor. Handbook of personality and self-regulation. New York: Wiley; 2013.

Billieux J, Chanal J, Khazaal Y, Rochat L, Gay P, Zullino D, et al. Psychological predictors of problematic involvement in massively multiplayer online role-playing games (MMORPG): illustration in a sample of male cybercafé players. Psychopathology. 2011;44(3):165–71. doi:10.1159/000322525.

Blinka L, Škařupová K, Mitterova K. Dysfunctional impulsivity in online gaming addiction and engagement. Cyberpsychol: J Psychosoc Res on Cyberspace. 2016;10(3):1. doi:10.5817/cp2016-3-5.

Braun B, Stopfer J, Müller K, Beutel M, Egloff B. Personality and video gaming: comparing regular gamers, non-gamers, and gaming addicts and differentiating between game genres. Comput Human Behav. 2016;55:406–12. doi:10.1016/j.chb.2015.09.041.

Choi S, Kim H, Kim G, et al. Similarities and differences among internet gaming disorder, gambling disorder and alcohol use disorder: a focus on impulsivity and compulsivity. J Behav Addict. 2014;3(4):246–53. doi:10.1556/jba.3.2014.4.6.

Collins E, Freeman J. Do problematic and non-problematic video game players differ in extraversion, trait empathy, social capital and prosocial tendencies? Comput Human Behav. 2013;29(5):1933–40. doi:10.1016/j.chb.2013.03.002.

Festl R, Scharkow M, Quandt T. Problematic computer game use among adolescents, younger and older adults. Addict. 2012;108(3):592–9. doi:10.1111/add.12016.

Jiménez-Murcia S, Fernández-Aranda F, Granero R, et al. Video game addiction in gambling disorder: clinical, psychopathological, and personality correlates. Biomed Res Int. 2014;2014:1–11. doi:10.1155/2014/315062.

Kim E, Namkoong K, Ku T, Kim S. The relationship between online game addiction and aggression, self-control and narcissistic personality traits. Eur Psychiatry. 2008;23(3):212–8. doi:10.1016/j.eurpsy.2007.10.010.

Lehenbauer-Baum M, Fohringer M. Towards classification criteria for internet gaming disorder: debunking differences between addiction and high engagement in a German sample of World of Warcraft players. Comput Human Behav. 2015;45:345–51. doi:10.1016/j.chb.2014.11.098.

Lehenbauer-Baum M, Klaps A, Kovacovsky Z, Witzmann K, Zahlbruckner R, Stetina B. Addiction and engagement: an explorative study toward classification criteria for internet gaming disorder. Cyberpsychol Behav and Soc Netw. 2015;18(6):343–9.

Li H, Zou Y, Wang J, Yang X. Role of stressful life events, avoidant coping styles, and neuroticism in online game addiction among college students: a moderated mediation model. Front Psychol. 2016;7 doi:10.3389/fpsyg.2016.01794.

•• Martín-Fernández M, Matalí J, García-Sánchez S, Pardo M, Lleras M, Castellano-Tejedor C. Adolescents with internet gaming disorder (IGD): profiles and treatment response. Adicciones. 2016; doi:10.20882/adicciones.890. In this study on the relationship between personality disorder and IGD, 11% of patients with IGD within a hospital unit also showed Cluster C personality disorders.

Müller K, Beutel M, Egloff B, Wölfling K. Investigating risk factors for internet gaming disorder: a comparison of patients with addictive gaming, pathological gamblers and healthy controls regarding the big five personality traits. Eur Addict Res. 2014;20(3):129–36. doi:10.1159/000355832.

• Müller K, Dreier M, Beutel M, Wölfling K. Is sensation seeking a correlate of excessive behaviors and behavioral addictions? A detailed examination of patients with gambling disorder and internet addiction. Psychiatry Res. 2016;242:319–25. doi:10.1016/j.psychres.2016.06.004. In this study, Muller and colleagues compared patients with Internet gaming disorder, patients with gambling disorder, and healthy controls, and they found that sensation seeking was lower in addicted gamers and gamblers than in controls.

Nuyens F, Deleuze J, Maurage P, Griffiths M, Kuss D, Billieux J. Impulsivity in multiplayer online battle arena gamers: preliminary results on experimental and self-report measures. J Behav Addict. 2016;5(2):351–6. doi:10.1556/2006.5.2016.028.

Peters C, Malesky L. Problematic usage among highly-engaged players of massively multiplayer online role playing games. Cyber psychol Behav. 2008;11(4):481–4. doi:10.1089/cpb.2007.0140.

•• Škařupová K, Blinka L. Interpersonal dependency and online gaming addiction. J Behav Addict. 2016;5(1):108–14. doi:10.1556/2006.5.2016.002. The authors found in a large sample of 4,074 online gamers that the negative dimensions of interpersonal dependency—destructive overdependence and dysfunctional detachment—were positively associated with IGD.

Vollmer C, Randler C, Horzum M, Ayas T. Computer game addiction in adolescents and its relationship to chronotype and personality. SAGE Open. 2014;4(1). doi:10.1177/2158244013518054.

Walther B, Morgenstern M, Hanewinkel R. Co-occurrence of addictive behaviours: personality factors related to substance use, gambling and computer gaming. Eur Addict Res. 2012;18(4):167–74.

Wang C, Ho R, Chan C, Tse S. Exploring personality characteristics of Chinese adolescents with internet-related addictive behaviors: trait differences for gaming addiction and social networking addiction. Addict Behav. 2015;42:32–5. doi:10.1016/j.addbeh.2014.10.039.

Charlton J, Danforth I. Distinguishing addiction and high engagement in the context of online game playing. Comput Human Behav. 2007;23(3):1531–48. doi:10.1016/j.chb.2005.07.002.

Hoyle R, Feifar M, Miller J. Personality and sexual risk taking: a quantitative review. J Pers. 2000;68(6):1203–31. doi:10.1111/1467-6494.00132.

Zuckerman M, Kuhlman D, Joireman J, Teta P, et al. A comparison of three structural models for personality: the Big Three, the Big Five, and the Alternative Five. J Pers Soc Psychol. 1993;65(4):757–68. doi:10.1037//0022-3514.65.4.757.

Krueger R, Caspi A, Moffitt T, White J, Stouthamer-Loeber M. Delay of gratification, psychopathology, and personality: is low self-control specific to externaiizing problems? J Pers. 1996;64(1):107–29. doi:10.1111/j.1467-6494.1996.tb00816.x.

Kardefelt-Winther D. The moderating role of psychosocial well-being on the relationship between escapism and excessive online gaming. Comput Human Behav. 2014;38:68–74. doi:10.1016/j.chb.2014.05.020.

Schimmenti A, Caretti V. Linking the overwhelming with the unbearable: developmental trauma, dissociation, and the disconnected self. Psychoanal Psychol. 2016;33(1):106–28. doi:10.1037/a0038019.

Schimmenti A, Caretti V. Psychic retreats or psychic pits?: unbearable states of mind and technological addiction. Psychoanal Psychol. 2010;27(2):115–32. doi:10.1037/a0019414.

Schimmenti A, Guglielmucci F, Barbasio C, Granieri A. Attachment disorganization and dissociation in virtual worlds: a study on problematic internet use among players of online role playing games. Clin Neuropsychiatry. 2012;9(5):187–95.

Schimmenti A, Passanisi A, Caretti V, et al. Traumatic experiences, alexithymia, and Internet addiction symptoms among late adolescents: a moderated mediation analysis. Addict Behav. 2017;64:314–20. doi:10.1016/j.addbeh.2015.11.002.

Schimmenti A, Passanisi A, Gervasi A, Manzella S, Famà F. Insecure attachment attitudes in the onset of problematic internet use among late adolescents. Child Psychiatry Hum Dev. 2013;45(5):588–95. doi:10.1007/s10578-013-0428-0.

Hussain Z, Griffiths M, Baguley T. Online gaming addiction: classification, prediction and associated risk factors. Addict Res Theory. 2011;20(5):359–71. doi:10.3109/16066359.2011.640442.

Seay AF, & Kraut RE. Project massive: self-regulation and problematic use of online gaming. In CHI 2007: proceedings of the ACM conference on human factors in computing systems. New York: ACM Press; 2007. 829–838.

Yu H, Cho J. Prevalence of internet gaming disorder among Korean adolescents and associations with non-psychotic psychological symptoms, and physical aggression. Am J Health Behav. 2016;40(6):705–16. doi:10.5993/ajhb.40.6.3.

Griffiths M, Hunt N. Computer game playing in adolescence: prevalence and demographic indicators. J Community Appl Soc Psychol. 1995;5(3):189–93. doi:10.1002/casp.2450050307.

Ko C, Yen J, Chen C, Yeh Y, Yen C. Predictive values of psychiatric symptoms for internet addiction in adolescents. Arch Pediatr Adolesc Med. 2009;163(10):937. doi:10.1001/archpediatrics.2009.159.

Lemmens J, Bushman B, Konijn E. The appeal of violent video games to lower educated aggressive adolescent boys from two countries. Cyber psychol Behav. 2006;9(5):638–41. doi:10.1089/cpb.2006.9.638.

Loas G, Guilbaud O, Perez-Diaz F, et al. Dependency and suicidality in addictive disorders. Psychiatry Res. 2005;137(1–2):103–11. doi:10.1016/j.psychres.2004.06.022.

Porcerelli J, Bornstein R, Markova T, Huprich S. Physical health correlates of pathological and healthy dependency in urban women. J Nerv Ment Dis. 2009;197(10):761–5. doi:10.1097/nmd.0b013e3181b97bbe.

Pincus A, Wilson K. Interpersonal variability in dependent personality. J Pers. 2001;69(2):223–51. doi:10.1111/1467-6494.00143.

Niemz K, Griffiths M, Banyard P. Prevalence of pathological internet use among university students and correlations with self-esteem, the general health questionnaire (GHQ), and disinhibition. Cyberpsychol Behav. 2005;8(6):562–70. doi:10.1089/cpb.2005.8.562.

Ng B, Wiemer-Hastings P. Addiction to the internet and online gaming. Cyberpsychol Behav. 2005;8(2):110–3. doi:10.1089/cpb.2005.8.110.
Ethics declarations
This systematic review is in compliance with the PRISMA (Preferred Reporting Items for Systematic Reviews and Meta-Analyses) guidelines for the search, systematization, and reporting of systematic reviews [25].
Conflict of Interest
Dr. Alessia Maria Gervasi, Dr. Luana La Marca, Antonino Costanzo, Dr. Ugo Pace, Dr. Fanny Guglielmucci, and Dr. Adriano Schimmenti declare that they have no conflict of interest.
Human and Animal Rights and Informed Consent
This article does not contain any studies with human or animal subjects performed by any of the authors.
Additional information
This article is part of the Topical Collection on Technology Addiction
About this article
Cite this article
Gervasi, A.M., La Marca, L., Costanzo, A. et al. Personality and Internet Gaming Disorder: a Systematic Review of Recent Literature. Curr Addict Rep 4, 293–307 (2017). https://doi.org/10.1007/s40429-017-0159-6
Published:

Issue Date:

DOI: https://doi.org/10.1007/s40429-017-0159-6
Keywords