Abstract
Exploring the density-dependence theory is crucial to understanding how size patterns among individuals are established. This study tested if percent cover affects the morphological and allometric relationship variation of individuals of Eichhornia azurea (Swart) Kunth, an emergent perennial mat-forming macrophyte commonly found in the lower Amazon region. We predicted that (1) E. azurea found in sites with high percent coverage would have larger, thicker, heavier leaves and longer petioles than individuals found in sites with low percent coverage; (2) the percent coverage affects the allometric relationship between branch length and number of leaves. To test our predictions, we sampled sites with low and high E. azurea percent cover. Sampling occurred in Caxiuanã Bay located in Caxiuanã National Forest on the lower Amazon. The results supported our predictions, in which individuals of high percent cover sites had longer petioles, more leaves, thicker leaves and higher leaf mass per area. Individuals in low percent cover sites showed a positive relationship between branch length and number of leaves. These results indicate that E. azurea exhibits morphological and allometric plasticity in response to plant density which may help explain the success of E. azurea in a variety of habitats across South America.
Access options
Buy single article
Instant access to the full article PDF.
US$ 39.95
Tax calculation will be finalised during checkout.
Subscribe to journal
Immediate online access to all issues from 2019. Subscription will auto renew annually.
US$ 79
Tax calculation will be finalised during checkout.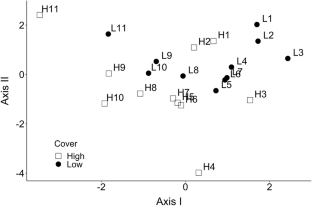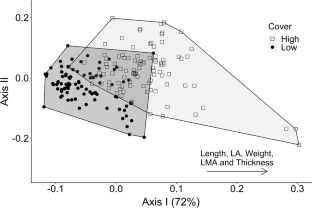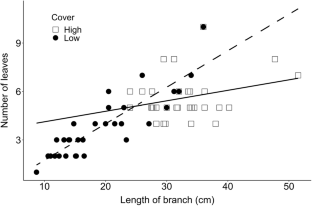 References
Agostinho AA, Thomaz SM, Gomes LC, Baltar SLSMA (2007) Influence of the macrophyte Eichhornia azurea on fish assemblage of the Upper Paraná River floodplain (Brazil). Aquat Ecol 41:611–619. https://doi.org/10.1007/s10452-007-9122-2

Anderson MJ (2001) A new method for nonparametric multivariate analysis of variance. Aust Ecol 26:32–46. https://doi.org/10.1111/j.1442-9993.2001.01070.pp.x

Anderson MJ (2006) Distance-based tests for homogeneity of multivariate dispersions. Biometrics 62:245–253. https://doi.org/10.1111/j.1541-0420.2005.00440.x

Andrade EA, Barbosa MEA, Demetrio GR (2013) Density-dependent morphological plasticity and trade-offs among vegetative traits in Eichhornia crassipes (Pontederiaceae). Acta Amaz 43:455–459. https://doi.org/10.1590/s0044-59672013000400007

Barrett SC (1978) Floral biology of Eichhornia azurea (Swartz) Kunth (Pontederiaceae). Aquat Bot 5:217–228. https://doi.org/10.1016/0304-3770(78)90064-5

Bornette G, Puijalon S (2011) Response of aquatic plants to abiotic factors: a review. Aquat Sci 73:1–14. https://doi.org/10.1007/s00027-010-0162-7

Boschilia SM, Thomaz SM, Piana PA (2006) Plasticidade morfológica de Salvinia herzogii (de La Sota) em resposta à densidade populacional. Acta Sci Biol Sci 28:35–39. https://doi.org/10.4025/actascibiolsci.v28i1.1056

Catian G, da Silva DM, Súarez YR, Scremin-Dias E (2018) Effects of flood pulse dynamics on functional diversity of macrophyte communities in the Pantanal Wetland. Wetlands 38:975–991. https://doi.org/10.1007/s13157-018-1050-5

Center TD, Spencer NR (1981) The phenology and growth of water hyacinth (Eichhornia crassipes (Mart.) Solms) in a eutrophic north-central Florida lake. Aquat Bot 10:1–32. https://doi.org/10.1016/0304-3770(81)90002-4

Clement CR, Junqueira AB (2010) Between a pristine myth and an impoverished future. Biotropica 42:534–536. https://doi.org/10.1111/j.1744-7429.2010.00674.x

Coelho FF, Lopes FS, Sperber CF (2000) Density-dependent morphological plasticity in Salvinia auriculata aublet. Aquat Bot 66:273–280. https://doi.org/10.1016/S0304-3770(99)00084-4

Coelho FF, Deboni L, Santos Lopes F (2005) Density-dependent reproductive and vegetative allocation in the aquatic plant Pistia stratiotes (Araceae). Rev Biol Trop 53:369–376. https://doi.org/10.15517/rbt.v53i3-4.14599

Costa ML, Kern DC, Behling H, Borges MS (2002) Geologia. In: PLB Lisboa (ed) Caxiuanã: populações tradicionais, meio físico e diversidade biológica, pp 179–205

Going B, Simpson J, Even T (2008) The influence of light on the growth of watercress (Nasturtium officinale R. Br.). Hydrobiologia 607:75–85. https://doi.org/10.1007/s10750-008-9368-2

Grime JP (2006) Plant strategies, vegetation processes, and ecosystem properties. Wiley, New York

Hanley ME, Lamont BB, Fairbanks MM, Rafferty CM (2007) Plant structural traits and their role in anti-herbivore defence. Persp Plant Ecol Evol Syst 8:157–178. https://doi.org/10.1016/j.ppees.2007.01.001

Kay SH, Hoyle ST (2001) Mail order, the Internet, and invasive aquatic weeds. J Aquat Plant Manag 39:88–91

Köhler J, Hachoł J, Hilt S (2010) Regulation of submersed macrophyte biomass in a temperate lowland river: Interactions between shading by bank vegetation, epiphyton and water turbidity. Aquat Bot 92:129–136. https://doi.org/10.1016/j.aquabot.2009.10.018

Lankau RA (2011) Intraspecific variation in allelochemistry determines an invasive species' impact on soil microbial communities. Oecologia 165:453–463. https://doi.org/10.1007/s00442-010-1736-8

Legendre L, Legendre P (2012) Numerical ecology. Elsevier, Amsterdam

Lopes A, Parolin P, Piedade MTF (2016) Morphological and physiological traits of aquatic macrophytes respond to water chemistry in the Amazon Basin: an example of the genus Montrichardia Crueg (Araceae). Hydrobiologia 766:1–15. https://doi.org/10.1007/s10750-015-2431-x

Medeiros JCC, Silva JCF, Teodoro GS, Coelho FF (2017) Effects of shade on individual ramet growth and on clonal growth of the aquatic fern Salvinia auriculata (Salviniaceae). Am Fern J 107:21–29. https://doi.org/10.1640/0002-8444-107.1.21

Medeiros JCC, Silva JCF, Resende TSC, Teodoro GS, Pereira FJ, Coelho FF (2018) Ramet versus sporocarp production in the aquatic fern Salvinia auriculata (Salviniaceae): the role of shading. Aust J Bot 66:583–588. https://doi.org/10.1071/BT18062

Michelan TS, Thomaz SM, Bando FM, Bini LM (2018) Competitive effects hinder the recolonization of native species in environments densely occupied by one invasive exotic species. Front Plant Sci 9:1–9. https://doi.org/10.3389/fpls.2018.01261

Milne JM, Murphy KJ, Thomaz SM (2006) Morphological variation in Eichhornia azurea (Kunth) and Eichhornia crassipes (Mart.) Solms in relation to aquatic vegetation type and the environment in the floodplain of the Rio Paraná. Braz Hydrobiol 570:19–25. https://doi.org/10.1007/s10750-006-0157-5

Oksanen J, Blanchet FG, Friendly M, Kindt R, Legendre P, McGlinn D, Minchin PR, O'Hara RB, Simpson GL, Solymos P, Stevens MHH, Szoecs E, Wagner H (2019) Vegan: community ecology package. https://CRAN.R-project.org/package=vegan. Accessed 10 Oct 2019

Padial AA, Thomaz SM, Agostinho AA (2009) Effects of structural heterogeneity provided by the floating macrophyte Eichhornia azurea on the predation efficiency and habitat use of the small Neotropical fish Moenkhausia sanctaefilomenae. Hydrobiologia 624:161–170. https://doi.org/10.1007/s10750-008-9690-8

Perez-Harguindeguy N, Díaz S, Garnier E, Lavorel S, Poorter H, Jaureguiberry P (2013) New handbook for standardised measurement of plant functional traits worldwide. Aust J Bot 61:167–234. https://doi.org/10.1071/BT12225

Petit C, Thompson JD, Bretagnolle F (1996) Phenotypic plasticity in relation to ploidy level and corm production in the perennial grass Arrhenatherum elatius. Can J Bot 74:1964–1973. https://doi.org/10.1139/b96-235

Pfister CA, Stevens FR (2002) The genesis of size variability in plants and animals. Ecology 83:59–72. https://doi.org/10.1890/0012-9658(2002)083[0059:TGOSVI]2.0.CO;2

Poorter H, Niinemets Ü, Poorter L, Wright IJ, Villar R (2009) Causes and consequences of variation in leaf mass per area (LMA): a meta-analysis. New Phytol 182:565–588. https://doi.org/10.1111/j.1469-8137.2009.02830.x

R Development Core Team (2016) R: A language and environment for statistical computing. R Foundation for Statistical Computing, Vienna

Sarkar D (2008) Lattice: multivariate data visualization with R. Springer, New York

Silva MC, Teodoro GS, Bragion EFA, van den Berg E (2019) The role of intraspecific trait variation in the occupation of sharp forest savanna ecotones. Flora 253:35–42. https://doi.org/10.1016/j.flora.2019.03.003

Simpson GL (2019) Permute: functions for generating restricted permutations of data. R package version 0.9–5. https://CRAN.R-project.org/package=permute. Accessed 11 Dec 2019

Stripari NL, Henry R (2002) The invertebrate colonization during decomposition of Eichhornia azurea Kunth in a lateral lake in the mouth zone of Paranapanema River into Jurumirim reservoir (São Paulo, Brazil). Braz J Biol 62:293–310. https://doi.org/10.1590/S1519-69842002000200014

van Kleunen M, Fischer M, Schmid B (2003) Effects of intraspecific competition on size variation and reproductive allocation in a clonal plant. Oikos 94:515–524. https://doi.org/10.1034/j.1600-0706.2001.940313.x

Venables WN, Ripley BD (2002) Modern applied statistics with S, 4th edn. Springer, New York. ISBN: 0-387-95457-0

Violle C, Navas ML, Vile D, Kazakou E, Fortunel C, Hummel I, Garnier E (2007) Let the concept of trait be functional! Oikos 116:882–892. https://doi.org/10.1111/j.0030-1299.2007.15559.x

Weiner J (1990) Asymmetric competition in plant populations. Trends Ecol Evol 5:360–364

Wickham H (2016) ggplot2: elegant graphics for data analysis. Springer, New York

Wright IJ, Reich PB, Westoby M, Ackerly DD, Baruch Z, Bongers F, Cavender-Bares J, Chapin T, Cornelissen JHC, Diemer M, Flexas J, Garnier E, Groom PK, Gulias J, Hikosaka K, Lamont BB, Lee Y, Lee W, Lusk C, Midgley JJ, Navas ML, Niinemets U, Oleksyn J, Osada N, Poorter H, Poot P, Prior L, Pyankov VI, Roumet C, Thomas SC, Tjoelker MG, Veneklaas EJ, Villar R (2004) The worldwide leaf economics spectrum. Nature 428:821. https://doi.org/10.1038/nature02403

Zou Y, Wang J (2010) Vegetative and reproductive traits of Sagittaria trifolia (Alismataceae) in response to sediment heterogeneity and plant density. Fund Appl Limnol/Arch Hydrobiol 177:197–208. https://doi.org/10.1127/1863-9135/2010/0177-0197
Acknowledgements
We are grateful to the Universidade Federal do Pará (UFPA), University of Oslo, The Norwegian University of Life Sciences, Museu Paraense Emílio Goeldi (MPEG), Universidade Federal Rural da Amazônia (UFRA) and Biodiversity Research Consortium Brazil-Norway (BRC) for the opportunity to be part of the first Field Ecology Course in Caxiuanã, Melgaço, Brazil. We are deeply indebted to Bigode, a boat helper and a native from Melgaço who identified and navigated us to the exact location of the macrophyte mats. We want to thank the entire team of professors and students in the course; we learned a lot from this experience. We also thank the Conselho Nacional de Desenvolvimento Científico e Tecnológico (CNPq) for financial support to ACA (process 134389/2011–5) and Coordenação de Aperfeiçoamento de Pessoal de Nível Superior—Brasil (CAPES)—for providing a scholarship to COC.
Funding
This work was supported by the project Establishing a Brazilian-Norwegian master course in tropical rainforest ecology and biodiversity by UTFORSK 2017 number UTF-2017-four-year/10053 and in part by the Coordenação de Aperfeiçoamento de Pessoal de Nível Superior—Brasil (CAPES)—Finance Code 001".
Additional information
Publisher's Note
Springer Nature remains neutral with regard to jurisdictional claims in published maps and institutional affiliations.
About this article
Cite this article
Carvalho, C.O., Barnhill, K.A., Ascenso, A.C. et al. Morphological and allometric variation due to percentage of cover in Eichhornia azurea (Swart) Kunth (Pontederiaceae). Braz. J. Bot 43, 389–395 (2020). https://doi.org/10.1007/s40415-020-00610-x
Received:

Revised:

Accepted:

Published:

Issue Date:
Keywords
Allometric plasticity

Amazonian biome

Aquatic plants

Competition

Functional traits