Abstract
Water shortage is one of the major environmental constraints that hamper the crop productivity worldwide. The present study was aimed to examine the drought tolerance potential of seven cultivars/lines of Vigna mungo L. depending upon their germination behavior, seedling growth, antioxidative defense mechanism, and nutrient acquisition. An experiment was conducted in the growth chamber using petri-plates and laid out in a completely randomized design (CRD). Hoagland's nutrient solution supplemented with 12 % PEG-8000 (drought treatment) or without PEG-800 (control) was used. Drought stress significantly altered the germination attributes as well as biomass production of all the studied cultivars/lines. Least adversative effects of drought stress were recorded in lines M-01001-1 and M-6036-21, respectively. The studied cultivars/lines exhibited differential response for various biochemical attributes under drought stress. The maximum increase in MDA and SOD activities and protein content was recorded in line M-6036-21, while the maximum AsA was recorded in line M-01001-1. Drought stress resulted in a significant reduction of plant N, P, K, Ca, and Mg contents, while the plant iron (Fe) contents remained unaffected. Results revealed that cultivars/lines M-01001-1 and M-6036-21 exhibited enhanced performance in terms of nutrient acquisition when stressed by drought. Based upon seed germination behavior, plant biomass production, biochemical attributes and mineral elements, the cultivars/lines M-01001-1 and M-6036-21 were identified as drought tolerant, while M-97 and Arroj-II were identified as drought sensitive.
Access options
Buy single article
Instant access to the full article PDF.
US$ 39.95
Tax calculation will be finalised during checkout.
Subscribe to journal
Immediate online access to all issues from 2019. Subscription will auto renew annually.
US$ 79
Tax calculation will be finalised during checkout.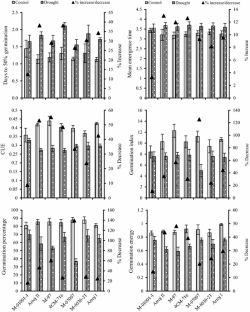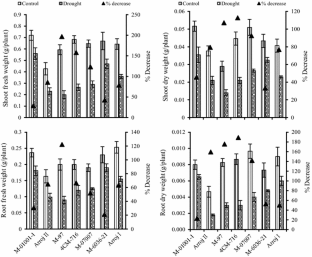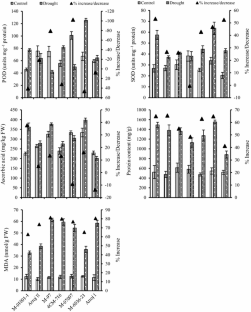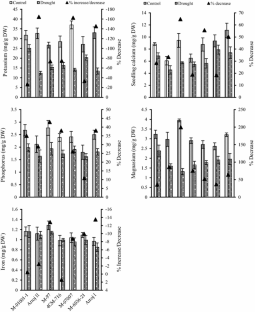 Abbreviations
AsA:

Ascorbic acid

MDA:

Malondialdehyde

POD:

Peroxidase

SOD:

Superoxide dismutase
References
Agnihotri RK, Palni LMS, Pandey DK (2007) Germination and seeding growth under moisture stress: screening of landraces of rice (Oryza sativa L.) from Kumaun region of Indian Central Himalaya. J Plant Biol 34:21–27

Ali Q, Ashraf M (2011) Induction of drought tolerance in maize (Zea mays L.) due to exogenous application of trehalose: growth, photosynthesis, water relations and oxidative defense mechanism. J Agron Crop Sci 197:258–271

Ali MA, Abbas A, Awan SI, Jabran K, Gardezi SDA (2011) Correlated response of various morpho-physiological characters with grain yield in sorghum landraces at different growth phases. J Anim Plant Sci 21:671–679

Anonymous (2001) Economic Survey of Pakistan, Government of Pakistan, Ministry of Food, Agriculture and Livestock, EconomicWing, Islamabad

Aono M, Kubo A, Saji H, Tanaka K, Kondo N (1993) Enhanced tolerance to photooxidative stress of transgenic Nicotiana tabacum with high chloroplastic glutathione reductase activity. Plant Cell Physiol 34:129–135

Aouani ME, Mhamdi R, Mars M, Grir R (1998) Nodulation and growth of common bean under NaCl-stress. Soil Biol Biochem 30:1473–1475

Association of Official Seed Analysis (AOSA) (1983) Seed vigor testing handbook. Contribution No. 32 to the handbook on seed testing. Association of Official Seed Analysis, Springfield, III

Atak M, Kaya MD, Kaya G, Cikili Y, Ciftci CY (2006) Effects of NaCl on the germination, seedling growth and water uptake of triticales. Turk J Agric For 30:39–47

Azymi S, Sofalian O, Jahanbakhsh G, Khomari S (2012) Effect of chilling stress on soluble protein, sugar and proline accumulation in cotton (Gossypium hirsutum L.) genotypes. Int J Agric Crop Sci 4:825–830

Bewley JD, Black M (1985) Seeds physiology of development and germination. Plenum Press, New York

Bibi A, Sadaqat HA, Akram HM, Mohammed MI (2010) Physiological markers for screening sorghum (Sorghum bicolor) germplasm under water stress condition. Int J Agric Biol 12:451–455

Bibi A, Sadaqat HA, Tahir MHN, Akram HM (2012) Screening of sorghum (sorghum bicolor var moench) for drought tolerance at seedling stage in polyethylene glycol. J Anim Plant Sci 22:671–678

Bot AJ, Nachtergaele FO, Young A (2000) Land resource potential and constraints at regional and country levels. World soil resources reports 90. Land and Water Development Division, FAO, Rome

Bradford MM (1976) A rapid and sensitive method for the quantitation of microgram quantities of protein utilizing the principle of protein-dye binding. Anal Biochem 72:248–254

Cairns JE, Sanchez C, Vargas M, Ordoñez R, Araus JL (2012) Dissecting maize productivity: ideotypes associated with grain yield under drought stress and well-watered conditions. J Integr Plant Biol 54:1007–1020

Cakmak I, Horst WJ (1991) Effect of aluminium on lipid peroxidation, superoxide dismutase, catalase, peroxidase activities in root tips of soybean (Glycine max L.). Plant Physiol 83:463–468

Chance B, Maehly AC (1955) Assay of catalase and peroxidase. Methods Enzymol 2:764–775

Chaves MM, Maroco JP, Pereira JS (2003) Understanding plant responses to drought–from genes to the whole plant. Funct Plant Biol 30:239–264

Coolbear P, Francis A, Grierson D (1984) The effect of low temperature pre-sowing treatment under germination performance and membrane integrity of artificially aged tomato seeds. J Exp Bot 35:1609–1617

Cui YY, Pandey DM, Hahn EJ, Paek KY (2004) Effect of drought on physiological aspects of Crassulacean acid metabolism in Doritaenopsis. Plant Sci 167:1219–1226

Dhanda SS, Sethi GS, Behl RK (2004) Indices of drought tolerance in wheat genotypes at early stages of plant growth. J Agron Crop Sci 190:1–6

Ellis RA, Roberts EH (1981) The qualification of aging and survival in orthodox seeds. Seed Sci Technol 9:373–409

Farooq M, Basra SMA, Ahmad N, Hafeez K (2005) Thermal hardening: a new seed vigor enhancement tool in rice. J Integr Plant Biol 47:187–193

Fazeli F, Ghorbanli M, Niknam V (2007) Effect of drought on biomass, protein content, lipid peroxidation and antioxidant enzymes in two sesame cultivars. Biol Plant 51:98–103

Foyer CH, Souriau N, Perret S, Lelandais M, Kunert KJ, Pruvost C et al (1995) Overexpression of glutathione reductase but not glutathione synthetase leads to increases in antioxidant capacity and resistance to photo inhibition in poplar trees. Plant Physiol 109:1047–1057

Giannopolitis CN, Ries SK (1977) Superoxide occurrence in higher plants. Plant Physiol 59:309–314

Gobin A (2012) Impact of heat and drought stress on arable crop production in Belgium Nat Hazards Earth. Syst Sci 12:1911–1922

Heidari M, Karami V (2014) Effects of different mycorrhiza species on grain yield, nutrient uptake and oil content of sunflower under water stress. J Saudi Soc Agric Sci 13:9–13

Hu Y, Schmidhalter U (2005) Drought and salinity: a comparison of their effects on mineral nutrition of plants. J Plant Nutr Soil Sci 168:541–549

Jaleel CA, Manivannan P, Wahid A, Farooq M, Al-Juburi HJ, Somasundaram R et al (2009) Drought stress plants: a review on morphological characteristics and pigments composition. Int J Agric Biol 11:100–105

Kaya MD, Okcu G, Atak M, Cikili Y, Kolsarici O (2006) Seed treatments to overcome salt and drought stress during germination in sunflower (Helianthus annuus L.). Eur J Agron 24:291–295

Kumar RR, Karajol K, Naik GR (2011) Effect of polyethylene glycol induced water stress on physiological and biochemical responses in pigeon pea (Cajanus cajan L. Millsp.). Recent Res Sci Technol 3:148–152

Lai Q, Zhi-yi B, Zhu-Jun Z, Qiong-Qiu Q, Bi-Zeng M (2007) Effects of osmotic stress on antioxidant enzymes activities in leaf discs of PSAG12-IPT modified gerbera. J Zhejiang Univ Sci B 8:458–464

Marschner P (2011) Mineral nutrition of higher plants. Academic Press, London

Mohammadi A, Habibi D, Rohami M, Mafakheri S (2011) Effect of drought stress on antioxidant enzymes activity of some chickpea cultivars. Am Eurasian J Agric Environ Sci 11:782–785

Mukherjee SP, Choudhuri MA (1983) Implications of water stress-induced changes in the levels of endogenous ascorbic acid and hydrogen peroxide in vigna seedlings. Plant Physiol 58:166–170

Pan Y, Wu LJ, Yu ZL (2006) Effect of salt and drought stress on antioxidant enzymes activities and SOD isoenzymes of liquorice (Glycyrrhiza uralensis Fisch). Plant Growth Regul 49:157–165

Patane C, Saita A, Sortino O (2013) Comparative effects of salt and water stress on seed germination and early embryo growth in two cultivars of sweet sorghum. J Agron Crop Sci 199:30–37

Rana V, Singh D, Dhiman R, Chaudhary HK (2014) Evaluation of drought tolerance among elite indian bread wheat cultivars. Cereal Res Commun 42:91–101

Ruan S, Xue Q, Tylhowska K (2002) The influence of priming on germination of rice (Oryza sativa L.) seeds and seedlings emergence and performance in flooded soils. Seed Sci Technol 30:61–67

Smirnoff N (2000) Ascorbic acid: metabolism and functions of a multifaceted molecule. Curr Opin Plant Biol 3:229–235

Solanki YB, Jain SM (2010) Immunostimolatory activities of Vigna mungo L. extract in male Sprague-Dawley rats. J Immunotoxicol 7:213–218

Srivalli B, Sharma G, Khanna-Chopra R (2003) Antioxidative defense system in an upland rice cultivar subjected to increasing intensity of water stress followed by recovery. Plant Physiol 119:503–512

Vanaja M, Ratnakumar P, Vagheera P, Jyothi M, Raghuram Reddy P, Jyothi Lakshmi N et al (2006) Initial growth responses of blackgram (Vigna mungo L. Hepper) under elevated and CO2 and moisture stress. Plant soil Environ 52:490–504

Waraich EA, Amad R, Ashraf MY, Saifullah Ahmad M (2011) Improving agricultural water use efficiency by nutrient management. Acta Agr Scand 61:291–304

Yamada M, Morishita H, Urano K, Shiozaki N, Yamaguchi-Shinozaki K, Shinozaki K et al (2005) Effects of free proline accumulation in petunias under drought stress. J Exp Bot 56:1975–1981

Yang Y, Han C, Liu Q, Lin B, Wang J (2008) Effect of drought and low light on growth and enzymatic antioxidant system of Picea asperata seedlings. Acta Physiol Plant 30:433–440

Zhang L, Chen B, Zhang G, Li J, Wang Y, Meng Y, Zhou Z (2013) Effect of soil salinity, soil drought, and their combined action on the biochemical characteristics of cotton roots. Acta Physiol Plant 35:3167–3179

Zhuang L, Chen YN (2006) Physiological responses of three contrasting plant species of groundwater level changes in arid environment. J Integ Plant Biol 48:520–530
Acknowledgments
The authors gratefully acknowledge the financial support provided by Higher Education Commission (HEC), Pakistan for current research work project number (PM-IPFP/HRD/HEC/2011/). We are also thankful to Dr. M. Sohail Akram for critically reading the manuscript and valuable suggestions.
About this article
Cite this article
Ali, Q., Haider, M.Z., Iftikhar, W. et al. Drought tolerance potential of Vigna mungo L. lines as deciphered by modulated growth, antioxidant defense, and nutrient acquisition patterns. Braz. J. Bot 39, 801–812 (2016). https://doi.org/10.1007/s40415-016-0282-y
Received:

Accepted:

Published:

Issue Date:
Keywords
Antioxidants

Drought tolerance

Germination

Growth attributes

Minerals

Vigna mungo L.