Abstract
The current study represents the effect of varying concentrations (0, 25, 50, 75, and 100 %) of sugar mill wastewater on growth, biochemistry, and physiology of two maize cultivars (Pak-Afgoi and EV-5098) at seedling, silking, and grain-filling growth stages. It was observed that lower levels of sugar mill wastewater (25 and 50 %) resulted in increase in chlorophyll contents and plant fresh and dry masses. In addition, sugar mill wastewater caused a consistent increase in RMP, SOD activity, MDA and H2O2 concentrations, and decrease in ascorbic acid concentration and activities of POD and CAT. Of the two cultivars, hazardous effects of high concentrations of sugar mill wastewater were more prominent in cv. EV-5098 that exhibited lower chlorophyll contents, fresh and dry masses and lower activities of enzymatic antioxidants and concentrations of non-enzymatic antioxidants. However, cv. Pak-Afgoi tolerated higher levels of sugar mill wastewater in terms of lower endogenous concentrations of MDA and H2O2 and better antioxidant defense system. Of different growth stages, seedling and grain-filling stages proved to be more sensitive to the application of sugar mill wastewater. Overall, the results suggested that diluted sugar mill wastewater (≤50 %) can be used safely for irrigation purpose of maize plants.
Access options
Buy single article
Instant access to the full article PDF.
US$ 39.95
Tax calculation will be finalised during checkout.
Subscribe to journal
Immediate online access to all issues from 2019. Subscription will auto renew annually.
US$ 79
Tax calculation will be finalised during checkout.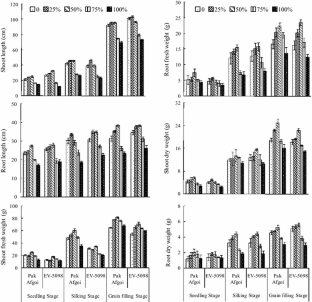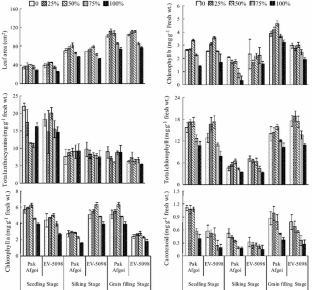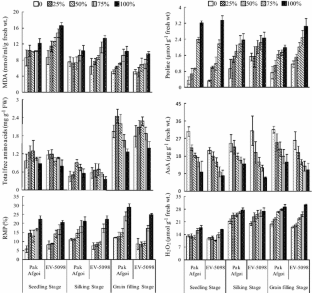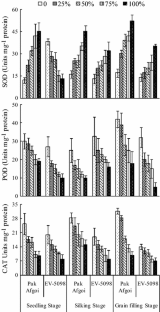 Abbreviations
SOD:

Superoxide dismutase

POD:

Peroxidase

CAT:

Catalase

MDA:

Malondialdehyde

H2O2 :

Hydrogen peroxide

RMP:

Relative membrane permeability
References
Abbas ST, Sarfraz M, Mehdi SM, Hassan G, Rehman OU (2007) Trace elements accumulation in soil and rice plants irrigated with the contaminated water. Soil Tillage Res 94:503–509

Aina OA, Ilelabayo MO, Oju RI, Azubuike VC, Isaac AA, Ebenezer OF (2012) Long-term exposure to industrial effluent induces oxidative stress and affects growth in Clarias gariepinus. Res J Environ Earth Sci 4:738–746

Ajmal M, Khan A (1985) Effect of textile industry effluent on soil and crop plant. Environ Pollut A137:131–148

Arnon DI (1949) Copper enzyme in isolated chloroplasts Polyphenoloxidase in Beta vulgaris. J Plant Physiol 24:1–15

Ashraf M (2009) Biotechnological approach of improving plant salt tolerance using antioxidants as markers. Biotechnol Adv 27:84–93

Ashraf MA, Ashraf M, Shabaz M (2012) Growth stage based modulation in antioxidant defense system and proline accumulation in two haploid wheat (Triticum aestivum L.) cultivars differing in salinity tolerance. Flora 207:388–397

Ayyasamy PM, Yasodha R, Rajakumar S, Lakshmanaperumalsamy P, Rahman PKSM, Lee S (2008) Impact of sugar factory effluent on the growth and biochemical characteristics of terrestrial and aquatic plants. Bull Environ Contam Toxicol 81:449–454

Baskran L, Sundaramoorthy P, Chidambaram ALA, Ganesh KS (2009) Growth and physiological activity of green gram (Vigna radiata L.) under effluent stress. Bot Res Int 2:107–114

Bates IS, Waldren RP, Teare ID (1973) Rapid determination of free proline for water stress studies. Plant Soil 39:205–207

Beauchamp C, Fridovich I (1971) Superoxide dismutase: improved assays and an assay applicable to acrylamide gels. Anal Biochem 44:276–287

Bharagava RN, Chandra R, Rai V (2010) Phytoextraction of trace elements and physiological changes in Indian mustard plants (Brassica nigra L.) grown in postmethunated distillery effluent (PMDE) irrigated soil. Bioresour Technol 99:8316–8324

Bradford MM (1976) A rapid and sensitive method for the quantitation of microgram quantities of protein utilizing the principle of protein-dye binding. Anal Biochem 72:248–254

Cakmak I, Strbac D, Marschner H (1993) Activities of hydrogen peroxide scavenging enzymes in germinating wheat seeds. J Exp Bot 44:127–132

Chandra R, Bharagava RN, Yadav S, Mohan D (2009) Accumulation and distribution of toxic metals in wheat (Triticum aestivum) and Indian mustard irrigated with distillery and tannery effluent. J Hazard Mater 162:1514–1521

Davis BH (1976) Carotenoids. In: Goodwin TW (ed) chemistry and biochemistry of plant pigments. Academic press, London, San Francisco, pp 138–165

Ezhilvannan D, Sharavanan PS, Vijayaragavan M (2011) Effect of sugar mills effluent on changes of growth and amino acids and protein contents of maize (Zea mays L.) plants. J Ecobiotechnol 3:26–29

Gallego SM, Benavides MP, Tomaro ML (1996) Effect of heavy metal ion excess on sunflower leaves: evidence for involvement of oxidative stress. Plant Sci 121:151–159

Gomathi V, Oblisami G (1992) Effect of pulp and paper mill effluent on germination of tree species. Ind J Environ Health 34:326–328

Gupta AK, Sinha S (2007) Phytoextraction capacity of the plants growing on tannery sludge dumping sites. Bioresour Technol 9:1788–1794

Hamilton PB, Van-Slyke DD (1943) Amino acid determination with ninhydrin. J Biol Chem 150:231–233

Heath RL, Packer L (1968) Photoperoxidation in isolated chloroplasts. Arch Environ Contam Toxicol 125:189–198

Hussain I, Iqbal M, Nawaz M, Rasheed R, Perveen A, Mahmood S, Yasmeen A, Wahid A (2013) Effect of sugar mill effluent on growth and antioxidative potential of maize seedling. Int J Agric Biol 15:1227–1235

Iqbal S, Younas U, Chan KM, Saeed Z, Shaheen MA (2013) Growth and antioxidant response of Brassica rapa var. rapa L. (turnip) irrigated with different compositions of paper and board mill (PBM) effluent. Chemosphere 91:1196–1202

Kannan K, Upreti RK (2008) Influence of distillery effluent on germination and growth of mung bean (Vigna radiata) seeds. J Hazard Mater 153:609–615

Kaushik A, Nisha R, Jagjeeta K, Kaushik CP (2005) Impact of long and short term irrigation of a sodic soil with distillery effluent in combination with bio amendments. Bioresour Technol 96:1860–1866

Lasa B, Frechilla S, Aleu M, Gonzalez-Moro B, Lamsfus C, Aparicio-Tejo PM (2000) Effects of low and high levels of magnesium on the response of sunflower plants grown with ammonium and nitrate. Plant Soil 225:167–174

Misra RN, Behera PK (1991) The effects of paper mill industry effluent on growth, pigment, carbohydrates and protein content of rice seedling. Environ Pollut 72:159–167

Mukherjee SP, Choudhuri MA (1983) Implication of water stress induced changes in the levels of endogenous ascorbic acid and hydrogen peroxide in Vigna seedlings. Physiol Plant 58:166–170

Oncel I, Keles Y, Ustun AS (2000) Interactive effects of temperature and heavy metal stress on the growth and some biochemical compounds in wheat seedlings. Environ Pollut 107:315–320

Pulver EL, Ries SK (1973) Action of simazine in increasing plant protein contents. Weed Sci Soc Am 21:233–237

Rathore NP, Iqbal SA, Pawan KS (2000) Role of sugar Industry effluent in agriculture. Ind J Appl Pure Biol 19:91–94

Rowe DR, Abdel-Magid IM (1995) Hand book of waste water reclamation and reuse. CRC Press Inc, Boca Raton, p 550

Sairam RK, Rao KV, Srivastava GC (2002) Differential response of wheat genotypes to long-term salinity stress in relation to oxidative stress, antioxidant activity and osmolyte concentration. Plant Sci 163:1037–1046

Salequzzaman M, Islam SMT, Tasnuva A, Kashem MA, Masud MMA (2008) Environmental impact of sugar industry a case study on Kushtia sugar mills in Bangladesh. J Innov Dev Strat 2:31–35

Singh S, Sinha S (2005) Accumulation of metals and its effects in Brassica juncea L. (cv. Rohini) grown on various amendments of tannery waste. Ecotoxicol Environ Saf 62:118–127

Snedecor GW, Cochran WG (1980) Statistical methods, 7th edn. The Iowa State University Press, Ames, Iowa

Thambavani D, Sabitha MA (2011) Impact of sugar mill effluent on physico-chemical profile of affected soil. Environ Pollut 5:49–54

Velikova V, Yordanova I, Edreva A (2000) Oxidative stress and some antioxidant systems in acid rain-treated bean plants: protective role of exogenous polyamines. Plant Sci 151:59–66

WHO (2004) Guidelines for drinking water quality. Recommendations, vol 1, 3rd edn WHO, Geneva. http://www.who.int/water_sanitation_health/wastewater/en/. Accessed 27 Nov 2014

Yang X, Baligar VC, Martens DC, Clark PB (1996) Plant tolerance to nickel toxicity: II nickel effect on influx and transport of mineral nutrients in four plant species. J Plant Nutr 19:265–279
About this article
Cite this article
Rasheed, R., Ashraf, M.A., Hussain, I. et al. Physiological and biochemical markers to optimize sugar mill wastewater for irrigation in maize (Zea mays L.) crop. Braz. J. Bot 38, 51–61 (2015). https://doi.org/10.1007/s40415-014-0122-x
Received:

Accepted:

Published:

Issue Date:
Keywords
Cadmium

Enzymatic and non-enzymatic antioxidants

Industrial wastewaters

Lead

Zinc